Introduced in 1977 the first 7 series model, the E23, arrived pioneering new electric equipment and advanced safety features – setting the trend for models to come with many of the new features and options trickling down through to the rest of the BMW range. The 7 series continues to be a leader in the luxury market, all the while being praised and coveted for its driving abilities and performance. Offered with various iterations of 6 cylinder, V8 and V12 engines – in both petrol and diesel form – there's something for every driver's needs.
"To own a 7 series is to own the ultimate in comfort, safety, refinement and specification that BMW has to offer – every bit the true BMW drivers car posing as a luxury car with all the bells and whistles to fit the part."
Welcome to the 7 Series Register. Here we look after the needs of both the owner and the enthusiast of the 7 in all its incarnations. Normally through a network of people and contacts, spares can be located regardless of the model 7 you own or aspire to and we do hold a good knowledge base for many versions, but if we don't know the answer can normally be found for you.
Currently we do not arrange a specific meet for the 7s as owners of these are spread far and wide and to organise a meet where all can team up is quite an arduous task to do; however, you are perfectly welcome to attend any Club meet or event in your 7 where you will be warmly welcomed by all.
E23:
Available in 1977, the E23 was the newly introduced flagship model of the BMW range taking the mantle from the E3 and having many features that took BMW forward. It was available in a variety of engine combinations throughout its life starting from the double Solex carburettor equipped straight-six 2.8 and 3.0, to the fuel injected 3.3, and culminating in the fuel injected 2.8s 3.2s and 3.5s. There were even 725 and 3.5 turbocharged cars (for Europe only). South Africa even got its own 24v motorsport-engined 745i. You could buy an E23 in eight different variations.
The cars were available with a 4-speed and later a 5-speed manual transmission, as well as the earlier 3-speed, 4-speed and later switchable 4-speed auto gearboxes, and an exhaustive options list which included the likes of air conditioning, full electrics (seats etc.) electric windows, sunroof, variety of stereos, telephones, you name it, it was available. These earlier 7s became popular with company directors and latterly enthusiasts of the range offering good specifications and an exceptional handling balance for a car of this size. BMW ensured that the handling would enhance its sporting pedigree, and that it would not be a hard car to drive on the country roads.
E32:
The E32 took the 7 onto greater heights, more advanced than the earlier model, it offered refinement, up to date looks, and continued the handling achievements obtained in the E23. The car was larger, more comfortable and although it retained the looks that were unmistakeably BMW, it was a completely new style. The E32 also came with BMW's new V8 engines, with the two versions initially available being the 3.0 and the 4.0, and although the car was sold primarily with the switchable automatic gearbox, you could if desired have a 5-speed manual gearbox fitted. Again the options were exhaustive.
E38:
Looking similar to the previous and very successful E32, this new version was a different car. The engines were again varied, with the V8s being present, and the only straight-six being the 2.8. The 3.5, 4.0 were V8s and the range topper was the 750 V12. However, both the 740 and 750 were available in the LWB guises. These later cars were obviously technically very advanced, with all the safety devices fitted that the current laws required, and were very highly specified from new from alloy wheels right through to the luxurious leather trimmed interiors that executive buyers expected from a BMW of this calibre.
This was a very successful model for BMW, and it is one that enthusiasts and drivers still look for and compare the new E65 version to.
E65/66:
This is the version that created probably the biggest disagreements over BMW's styling for many years. Designed by Chris Bangle, it was a complete departure from the previous models. Aimed purely at the higher end of the market, it boasted BMW's new iDrive system that controls everything from the suspension settings to the radio and air condition interior. Controversial styling apart, the new E65 is a superb car, and one who's styling is what decides whether you like it or not, but which ever version you decide to have, it will be an excellent car to use. But due to its styling, prices did drop, and BMW released a face lifted version of the car showing that they too were concerned about the way it looks.
Packed with electronics, and the majority sold with a very high specification, these are set to be the ultimate 7 that will be available to enthusiasts and company directors alike. Today these can be purchased from respected dealers and within the private ads and represent fantastic value for money.
F01/02:
BMW's latest incarnation of its flagship 7 series saloon is bigger in all directions, more powerful thanks to revised, and larger power-plants and raises the bar where comfort and driver/passenger cosseting is concerned. According to BMW the new 7 is available in a variety of engine sizes in both diesel and petrol guises. Available in their sporting set up as well the standard offering (which let's face it, is far from a standard car).
You can have your desired 7 as either a 730d right up to the range topping 760. As with the majority of the past 7 Series, this one is also available as a long wheel base version and this is also available with an engine ranging from the lowly 740 right up the 544bhp twin-turbo 760Li Sport with an 8-speed automatic transmission. The rest of the range is available with a 6-speed auto transmission and the options list appears endless.
BMW are also developing a Hydrogen 7 which is undergoing tests and the Active Hybrid 7 using a twin turbo 4.4 V8 that produces 407bhp and around 400Ibft of torque, is coupled with an electric motor that increases these outputs and improves economy over the current 750.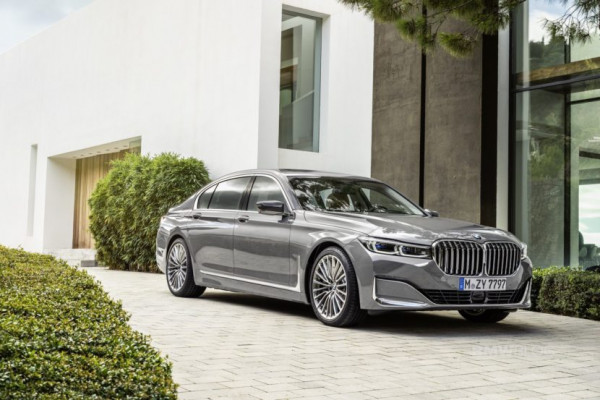 16.01.2020 | BMWBLOGThe BMW 7 Series, 8 Series, X5, X6 and X7 are all getting enhanced as BMW is...
Technical material and resources
IMPORTANT NOTICE: The BMW Car Club will never contact you to offer an advert (i.e. half page, full page, etc) in the BMW Car Club magazine.
Welcome to the BMW Car Club GB classifieds. Whether you are looking to buy or sell a new or used BMW, parts or collectibles, the classifieds can cater for your requirements. We offer automobiles from both like minded enthusiasts who have lovingly cared for and enjoyed their BMW's as well as those selected by our club's team of experts. With almost 5,000 members in the club, adverts will have huge reach for sellers and variety for those buying.
There were no listings found.
Specifications List
Models in Series: E23, E32, E38, E65, F01, G11
Oldest Models: E23
Newest Models: G11
Rarest Specific Model: Alpina B12
Smallest Engine: 725tds – 2.5 diesel
Largest Engine: 6.6 litre V12 twin turbo in the 760Li (G11)
Fact: The E38 750iL was the famed bond car from Tomorrow Never Dies with Pierce Brosnan.
Most Difficult Repair Job: Rust repair to sills and arches on older vehicles and valve stem seals on N62 engines.