15th – 16th June 2024 at Thruxton Circuit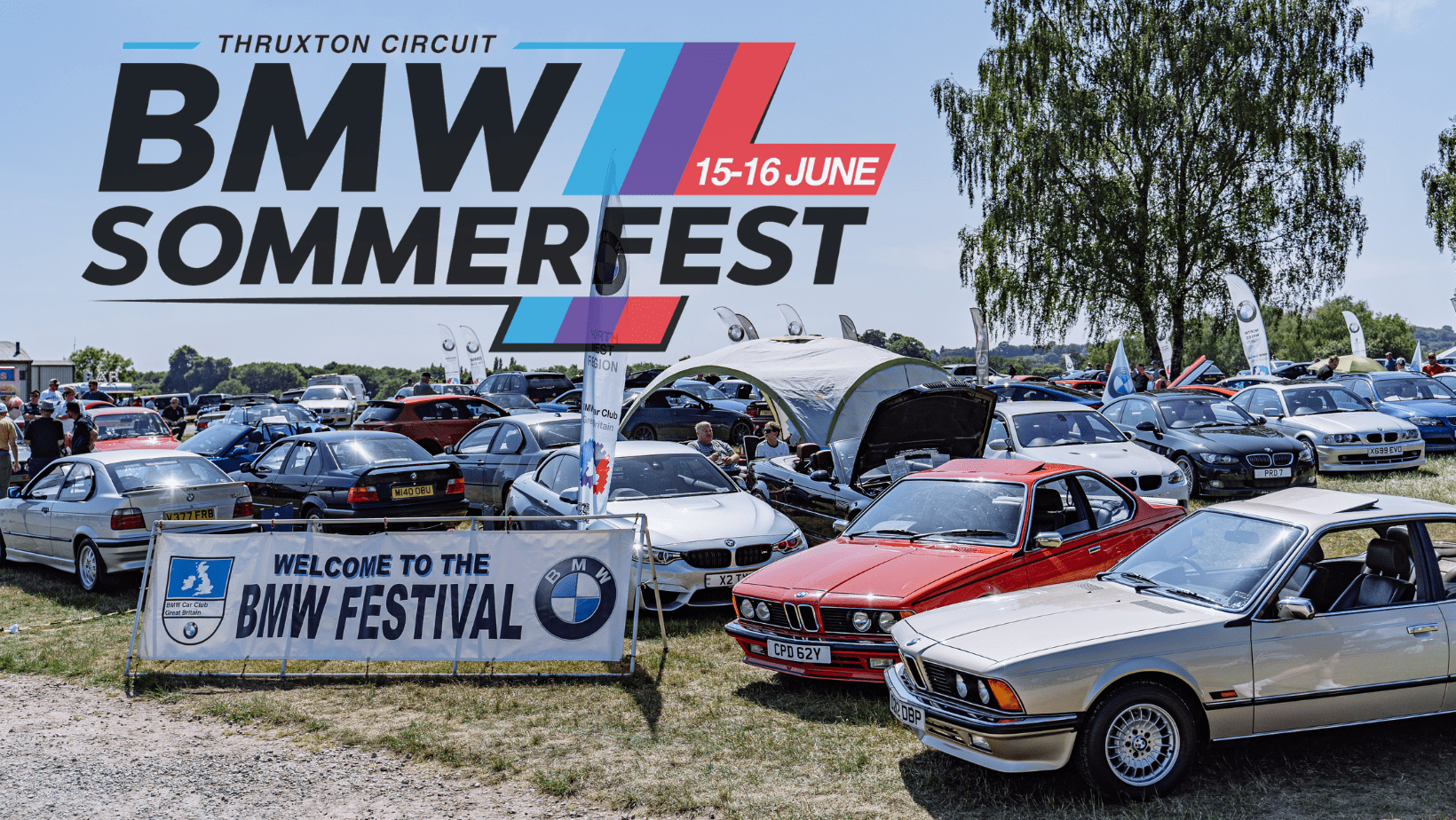 Just Announced – BMW Sommerfest 2024!
15th – 16th June at Thruxton Circuit
Sign up to BMW Sommerfest Newsletters to keep up to date with ticket releases, important announcements and competitions
HERE
.
The rumors are true – BMW Sommerfest will take place over two days in 2024 on the weekend of 15th and 16th June.
Following on from the trend over the last two years, the show is also moving to another popular circuit venue, this time Thruxton Circuit in Andover.
We are still in early stages of planning, so keep your eyes glued to to Club emails for updates, or follow the BMW Sommerfest Facebook page at
BMW Sommerfest
.
2023 Highlights
BMW Sommerfest took place on Saturday 3rd June at Oulton Park, and welcomed the best BMWs in the country to the rolling countryside of Cheshire.
2024 date and location will be announced later this year, however please enjoy the show highlights and photos in the meantime.
Click here for show gallery.
Click here for parade lap photos. Parade lap photos can be purchased for £5 each, call 01970 267 989 for more info.
Show highlights will be released soon!
What was featured:
BMW Displays
Circuit Racing
Trade Stands
National Concours
New BMW Reveals
Prizes & Raffles
Entertainment & Fun Fair
Live Streaming
Special Guest – Helen Stanley
Friday Evening Get-Together

Display parking is in Decades. If you're not sure which decade to choose, go for the decade your model was first registered in; i.e. a 1991 E30 3 Series may fit best in the 80s decade. However, if this does not sound right to you, pick the decade which you feel more comfortable with.
We are also honoured to be joined by some of the best independent BMW club's in the country:
BMW E39 CLUB
BMW E36 Classics GB
Z3M Coupes
Clubsport Owners Club
MURDEREDBMWGXNG
Trade Stands
Thank you to all of our traders for supporting this year's BMW Sommerfest.
If your business would like to trade for FREE at next year's event, please call 01970 267 989.
Ticketing Structure
 
Adult
Teen
Child under 13
Senior Citizen
Ages 13-15
Ages 65 and above
Online
Gate
Online
Gate
Online
Gate
 
Standard
£22.00
£25.00
£13.00
£14.00
FREE
N/A
£18.00
Advance
Member Display
£17.00
£25.00
£13.00
£14.00
FREE
N/A
£18.00
Non-member Display
£19.00
£25.00
£13.00
£14.00
FREE
N/A
£18.00
Single ticket price applies to Car & Driver, passenger tickets may be purchased at the applicable additional cost if purchased in the same transaction
PLEASE NOTE : Display parking will be planned in accordance with advance ticket sales only. On the day ticket purchases will be directed to general public parking areas with pedestrian access to the event. Thank you.
DOGS & DRONES ARE SPECIFICALLY PROHIBITED AT ALL TIMES

BMW Sommerfest 2022 Highlights:
Race Highlights:
Parade Lap Highlights:
BMW Sommerfest Live Stream, courtesy of Alpha Live – watch below.
Here's what happened over the weekend of Saturday 6th and Sunday 7th August 2022.
The BMW Car Club GB launches its new festival on 7th August at Donington Park Circuit.
Saturday 6th August 
Sunday 7th August – The BMW Sommerfest show
BMW Car Club Village

Members Display

New Car Village

Trade Village

Guest/Forum Displays

Children's entertainment

BMW Car Club Racing and other track action

Parade Laps
Join us for the return of your Club National Event to celebrate 70 Years of BMW Car Club GB and 50 Years of M.
There will be plenty on offer to entertain the whole family, from children's bouncy castle, total wipe out, football skill shot and live music, to motor racing, parade laps, and more… Both members AND non-members are encouraged to attend to create the biggest BMW festival in the country this year.
ENTRY TICKETS
Sign up ticket alerts HERE
Forums, Groups & Non-members
Don't own a BMW – Live it.