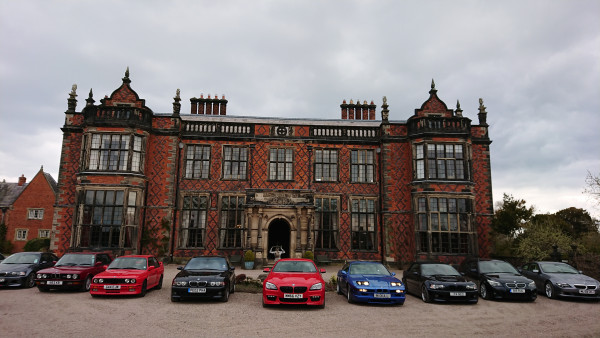 The North West Region covers an area stretching to the Southern Border of Cumbria to North Cheshire, and includes the county of Lancashire and the metropolitan counties of Greater Manchester and Merseyside.
The role of the committee in the North West Region is to provide a variety of activities throughout the year for club members. The region is very active, and we strive to organise at least one event per month for club members to enjoy. These include displays at car shows, tours, fun-runs, plus visits to various museums and places of interest. Our 'fun-runs' are essentially a drive-out over challenging roads in the region, including runs through North Wales, the Pennines, Lake District, Cheshire, Trough of Bowland, and the Peak District.
We arrange dealer visits to BMW dealers that allow our members the chance to drive all the latest new models from BMW. We have an excellent relationship with all the BMW dealers in the region, who give good support to the club and its members. The NW Region club stand can be seen at many Classic Car Shows throughout the north west. These shows allow our members to proudly display their cars to the public.
Regional Pub Meets We also meet socially for a chat and a drink at our famous "North West Natter & Quiz" at The Kilton Inn, Hoo Green, Cheshire, WA16 0PZ. These bi-monthly meetings are always held on a Sunday and start at 12noon.
Our Manchester Branch also hold their own monthly 'meet' on the first Tuesday of every month at The Sheldon Arms, Ashton Under Lyme M34 5QL. The meet starts at 7.30pm although many arrive earlier to grab a bite to eat before the meeting.
Region Overview
Welcome to the North West Region. This Region incorporates the BB, BL, FY, IM, L, M, OL, PR, SK, WA and WN postcodes.
Region Contacts
North West Rep: Jeff Heywood
Monthly Meets
Manchester Pub Meet: First Tuesday of the month from 19:30 at The Kingfisher, Greenfield, Saddleworth, OL3 7AE
North West Region Sunday Lunch & Quiz – Sunday of alternate months (all at 12:00 noon) at The Kilton Inn, Hoo Green, Cheshire, WA16 0PZ.