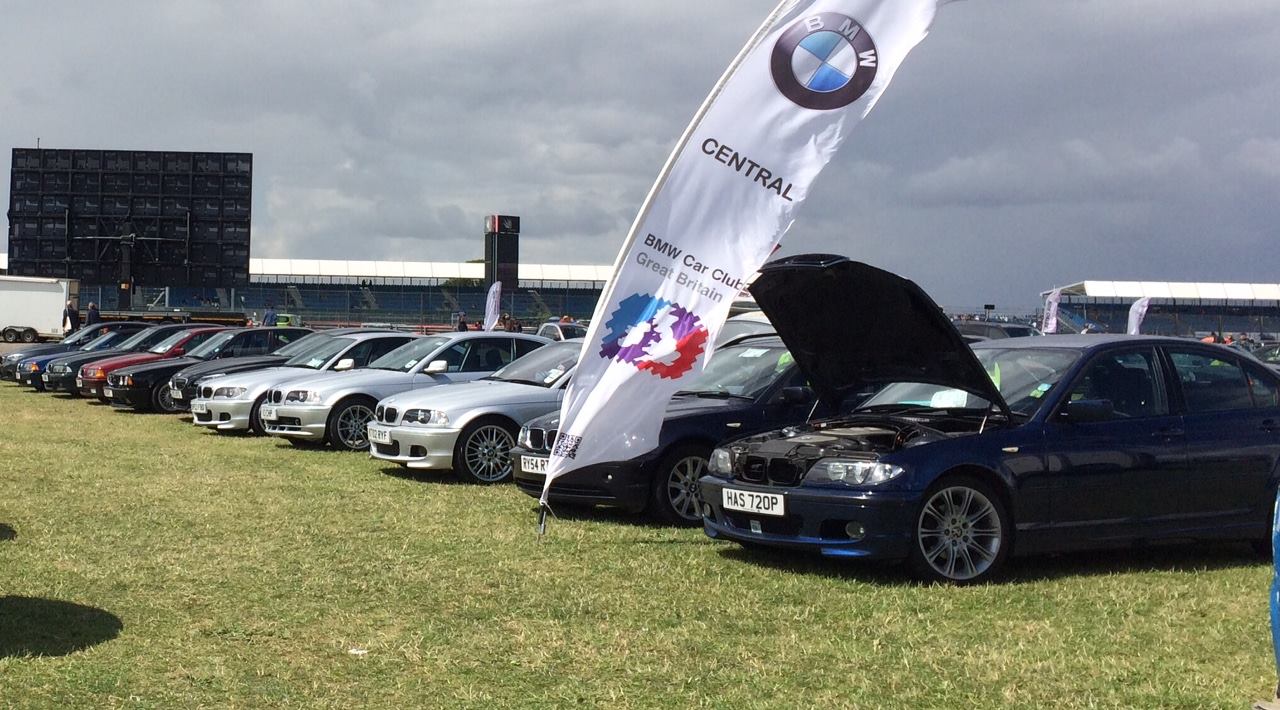 The Central Region covers postcodes CV, LE, MK, NN.
The actual area covered West to East, is from the Welsh Border to approximately between the M1 and A1, and from the North of Birmingham to a line that is roughly along the M4 in the South.
In the East, we have Silverstone, the home of British Motor Sport, at which we hold our annual display at the Silverstone Classic historic racing weekend at the end of July.
We also attend large car shows at Duxford Air Museum in May and August, in conjunction with the 7 Series Register. the 2002 Register, East Anglia Region and the South East Region.
From March to October, we try to arrange outdoor events for most weekends, that have a family interests as well as car content. We welcome all ages of cars (and people!), with all types of BMW's (and derivatives).
To the North of the Region is Birmingham and all that goes with the country's second city.
In August, the Club's National Festival is held right here in the Central Region, at the National Heritage Motor Museum, Gaydon, Warwickshire.. The BMW display is the largest car display in Europe.
Over the winter months, the BMW CC normally have display stands at national cars shows at the NEC in Birmingham.
As you can see, there is something for everyone: most importantly, something for all BMW enthusiasts.
SO WHY NOT JOIN US?
There are more details of national and central region events in the main events calendar page, on the club forum, Facebook, and in the monthly magazine.
We are pleased to advise that all branches of Barons BMW Group (including Chandlers BMW) are Regional Sponsors for East Anglia, Central, Wessex, South East and London Regions.
This means ALL club members, no matter where you live, can now enjoy a discount of 15% off all parts on production of your current BMW Car Club (GB) Ltd membership card and quoting reference which can be found in your copy of Straight Six.
In addition they offer generous discounts off the new BMW and MINI range, a minimum discount of £500 off approved used cars in stock, 10% discount on all service work including labour (15% on cars over 4 years old).
Region Overview
Welcome to the Central Region. This Region incorporates the CV, LE, MK, and NN postcodes. 
Monthly Meets
Central Region Meeting – The Aviator Hotel Sywell Northampton NN3 2QX – second or third entrance on your left Northampton. Avoid the Hotel Car Park. To avoid delays in food service please order by 6.30pm.
Date/timing : The second Monday of each Month at 7.30pm