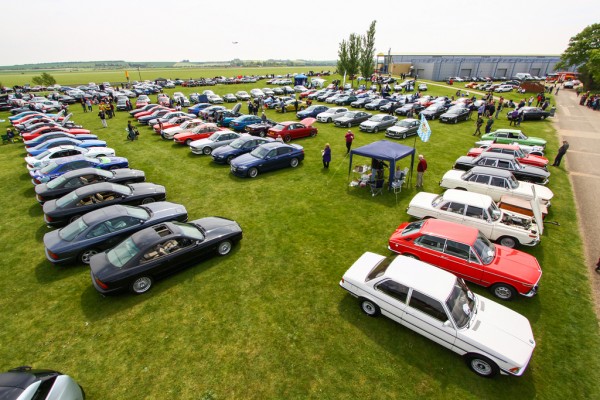 The East Anglia Region is one of the largest and most successful in the country. It extends from the river Thames in the South to the North Sea and the Wash in the North. Encompassing the Counties of Essex, Suffolk, Norfolk, Cambridgeshire, Bedfordshire and South Lincolnshire. Each has its own branch representative who looks after same as well as being on the committee.
Each county has its own separate branch representative and Norfolk, Essex and Suffolk have Deputy Assistant as well. Pub meets take place every month in each county and so you are never far away from one if you would like to meet up for a social chat with fellow BMW Car enthusiasts. Help and advice is available on technical matters or indeed specialists that come recommended for such things as bodywork repairs or wheel refurbishment and often a discount is available for Club members.
Apart from the National Events that we support, the East Anglia Region holds a number of social and motor sport based events throughout the year, to which all members and their friends and family are invited to. These events range from visits to places of interest and activity days such as Go-karting and Skid Pan Training days. In addition, we often visit other Regional events and even combine with neighbouring Regions for others.
The highlight of our Regional calendar is the Spring Show at Duxford Imperial War Museum. We also support Track Days at Snetterton and this offers members the chance to drive their own car on a track and experience the real thrill of driving a BMW at speed. With full tuition provided for beginners this is an ideal way to really get to know your car and improve your driving technique.
Our varied programme of events ranges from visits to leisurely motoring activities and social gatherings. I am sure that you will find something to suit both yourself and your family during the coming months. Our Regional events are advertised in the Club Magazine and you are always welcome at the events run by other Regions. If you ensure we have your e-mail address you will be kept right up to date as soon as something is happening.
If you would like to help organise one of the events that we have at a variety of venues around the Region you would be most welcome! Or indeed if you have any ideas or suggestions you would like to put forward we are more than happy to consider them and schedule them in if at all possible. Please remember this is your club, run for your benefit so any ideas or suggestions are always welcome.
Should you ever wish to contact me concerning the Club or you just want to find out who's who or what's going on then please do not hesitate to contact me on at eastanglia@bmwcarclubgb.co.uk.
I look forward to seeing you at one of our forthcoming events.
We also have close ties with many of the main BMW Dealers from whom you can often receive discounts on parts and servicing. We regularly supply Members' cars for special showroom displays to sit alongside specific new BMW model launches. We look forward to welcoming you into joining our successful and happy Region.
We also now have a Facebook page, BMW Car Club GB Essex Branch where you can follow and comment on what is going on in the Region, please like and follow our page.
We are pleased to advise that all branches of Barons BMW Group (including Chandlers BMW) are now Regional Sponsors for East Anglia, Central, Wessex, South East and London Regions.
This means ALL club members, no matter where you live, can now enjoy a discount on production of your current BMW Car Club (GB) Ltd membership card and quoting reference which can be found in your copy of Straight Six.
Region Overview
Welcome to the East Anglia Region. This Region incorporates the CB, CM, CO, IP, NR, PE, RM, SS postcodes.
Monthly Meets
– Norfolk Pub Meet:
Last Thursday evening of the month, location and times vary. Check with Richard Howard.
– Norfolk/ South Lincs. and Peterborough pub meet:
First breakfast meet to be held on 5th March from 9am at OK Diner, A1 Southbound, New Fox, Colsterworth, Grantham, NG33 5LN. Contact Chris Greenall for more info on f7series@bmwcarclubgb.co.uk
– Suffolk Pub Meet:
Third Thursday evening of the month at 7.30pm, Location – White Horse, Stoke Ash, IP23 7ET – Representative David Adams.
– Cambs/Beds Pub Meet:
Summer meetings (April-Oct): Fourth Tuesday evening of the month at 7.00pm at The Royal Oak, Barrington CB22 7RZ. Winter meetings (Oct-April): 2nd Sunday of the month, Bury Lane Farm Shop north of Royston on A10, 10am.
– Essex Pub Meet:
Resuming in April 2023. 9am every second Sunday of the month at The White Hart, Little Waltham, CM3 3NY, refer to Facebook BMW Car Club (GB) Essex Region. Contact Anthony Shilson on essex@bmwcarclubgb.co.uk.