Advertorial: How Custodian makes owning cars even more enjoyable
You sit down to your morning coffee, a magazine laid out in front of you – Straight Six, of course – and your phone chirps. A gentle reminder from Custodian that your BMW's MOT is due next month. Just the right amount of time for you to check the car over and get it booked in with your trusted garage. Exactly the right time, in fact, because you set the reminder to give you a month's notice. And you asked Custodian, as if it were your own personal assistant, to remind you in the morning, around the time you have your breakfast because you like to sort your car admin before work.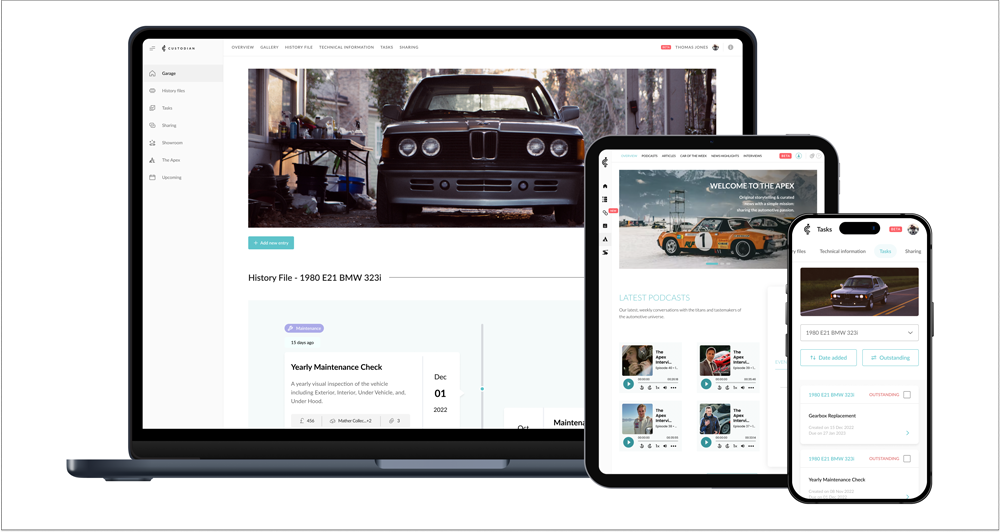 Custodian is a platform created by a group of enthusiasts, Charles Clegg, Nathalia Rus and Jeremy Hindle, to simplify car ownership and collecting with technology. Custodian is a home for all of your car's information, it gives you the tools to organise its history and uses that information to help you manage the everyday tasks required to care for a car or a collection of cars. Its features are designed to enhance the way we use and look after our cars without imposing itself on our lives.
Your breakfast-time Custodian notification sends a wave of anticipation over you as you think about rolling off the car's cover, unhitching the battery conditioner and waking the engine up for the first time this year. You look forward to driving out with the winter sun low in the sky, the first signs of spring emerging, reigniting the petrol in your veins that lights the passion inside of you for another summer of motoring adventures.
The thought of hearing that engine bark as you drop a gear is overwhelming, but you're not taking your car out today. The frost on the ground roads reminds you why you've kept your beloved BMW sheltered over the winter… it's not the day for it. Instead, you open the Custodian app on your phone and reminisce about last year's summer of road trips, early morning blasts, shows and meets, and convoys across the countryside with your friends. Photos from each event are stored with your car for you to flick through. No screenshots to interrupt your flow. No pictures of the broken garden step or awkward selfies. This is a space just for your car.
All of these colourful and expressive pictures of your pride and joy in glorious landscapes, sit right next to your own vehicle's history. All of it. Every MOT certificate, service invoice, and part replacement, plus the photos and documentation you added when you replaced the brake pads. All there, the extensive history of your car, all easy to search through and every aspect referenced with a mileage figure. You know it's all present and correct because you uploaded it. It took an entire Sunday afternoon; laying it all out, getting everything in order and being thorough is what took the time. Not forgetting the distracting memories that each sheet of paper is weighed down with. Actually getting it onto your car's Custodian profile, that was the easy bit. You're halfway through your coffee as you peer into the virtual version of your garage. The task list you created reminds you of a few easy jobs you wanted to do once the chill was out of the air, roll the car out of the garage and polish the hazy headlamps and re-grease the boot lock. And like your actual garage, all of your information on Custodian is private and secure. For as long as you want it to be, anyway.
Last summer you swept back the garage doors as the sun just peaked out over the horizon, woke up the street at an ungodly hour as the exhaust reverberated around your garage walls and you crept off to an early morning cars and coffee get-together. On your windscreen, right where you'd expect to find a tax disc, because you're still old enough to remember those, you'd fixed in place a QR code, because you're young enough to know about those too. Bespoke and customised with matching colours, the QR code allowed other people who saw your car in the metal to view certain pictures on your car's Custodian profile, basic information and little snippets of history, too. Only the elements you wanted to share. Over winter, however, you decided to make it all private again. It seemed correct as the car was in storage, and because it was easy to do so in Custodian.
The last sip from your mug makes you wonder whether you'll keep the car after this year. You love it, you've had some excellent times in it, you've cared for it and kept on top of any issues, and it has not wanted for anything. But you might want a change. If only you had space for more cars because keeping abreast of MOTs, insurance renewals, servicing schedules, and any little jobs that need doing, that's no longer an issue, you've got Custodian after all. The real question isn't what to get next, the list of cars you want to own is as long as your current car's history file. No, it's who to buy it from. You want someone who is just as fastidious at documenting their car's life as you have been, someone who cares deeply about all of the work carried out on a car, even the small tasks. You want to buy a car from another Custodian member. And along with the transferring of money, registration documents and passing of keys, you want to adopt the car's Custodian profile into your own online garage. Of course, that's entirely possible and with the soon-to- be-launched Showroom section of the Custodian platform, it will be easy to find cars with a well-documented past, ones with histories you can easily look through from your breakfast table. You may even buy the car over your morning coffee. If only your physical garage had the unlimited space that your Custodian one does.
Custodian is free to sign up and use. To create your own car collection, listen to the podcast and offer any suggestions for future features, go to www.custodian.club