It's Friday lunchtime, and I'm seriously tempted to chuck it all in and go driving this weekend. I've got some light plans but I can break them easily, and there's a BMW sitting outside my Cambridgeshire home, its keys sitting temptingly on my desk.
We've long espoused that one of the primary advantages of many BMW models are their sheer turn-the-key usability, and the idea of doing just that is gnawing at my better judgement. And here in the UK, we're temptingly close to the best driving roads in the world, just across the channel. Roads that people travel halfway around the world to drive, and I could be there tonight if I really wanted to.
What I'm talking about isn't a planned scenic tour, it's not a trip to stop for wine tasting and to sample the local cheese and find a delightful little bolthole to stay in. This is a jaunt for the sheer thrill of driving and driving alone. Cans of Red Bull, minimal sleep, over a thousand miles with the top down for no other reason than experiencing 'The Ultimate Driving Machine' for myself.
So, with no requirements other than being back where I started by 9am Monday morning, what would I do?
I'd start by spending my lunch break on Google Maps, which I've just done. I'd sweet-talk my way out the door a little early, call past home to grab the BMW and a change of clothes, and make a sprint for Dover. Booking last minute, I can get a 930pm Euro Tunnel train for 112, and that'll do just fine.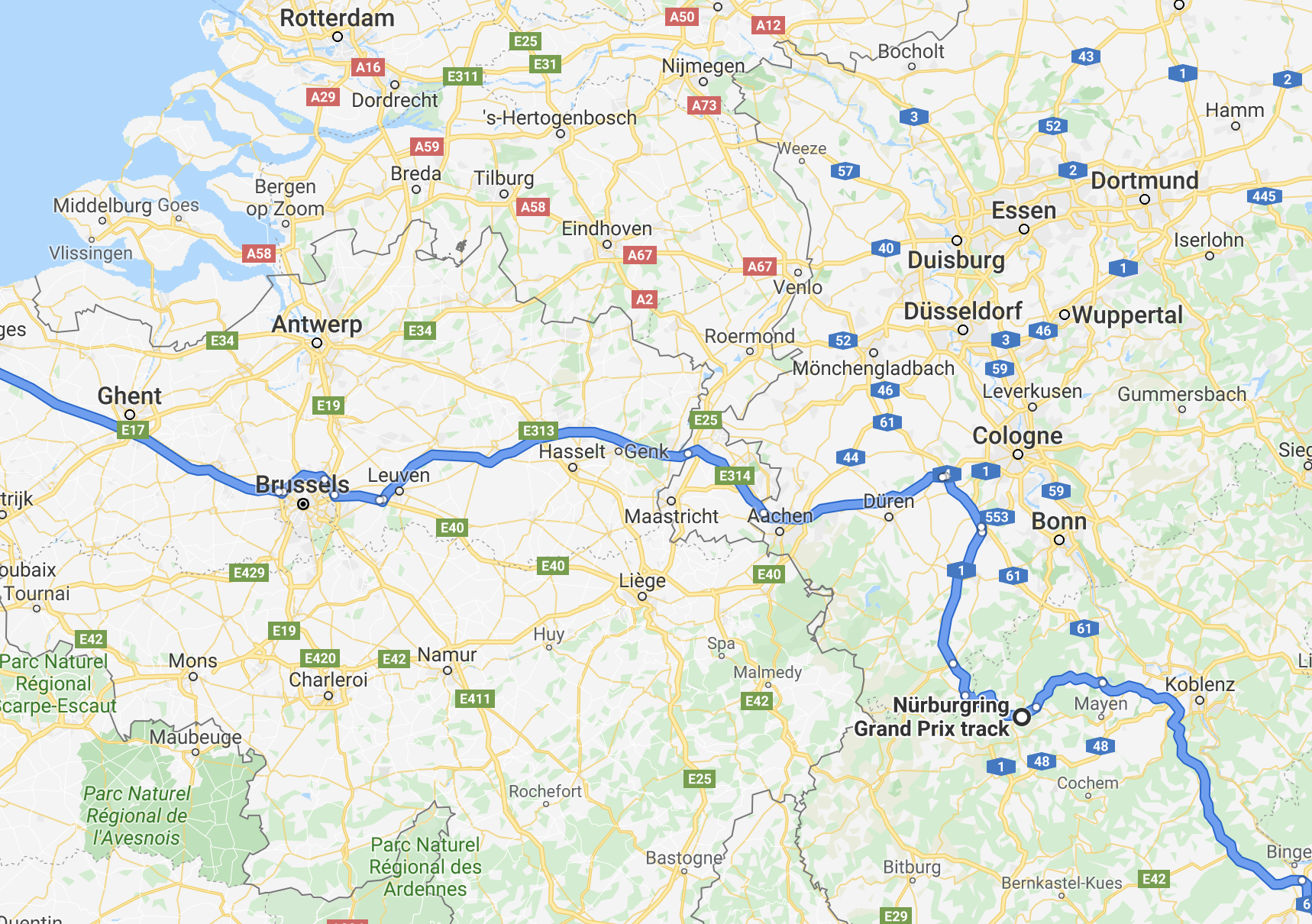 Sprinting across Belgium in the dark, I figure I could reach the German border by 1am and I'd find a cheap truckers hotel and catch a few hours' sleep.
Saturday morning, I'd aim to be on the road by 7am, and I'd point the BMW toward the Nrburgring. Not to lap the Nordscheife, there's not enough time for that, but because the surrounding roads in the Eiffel Mountains region are spectacular in their own right.
I'd head east through the region and then jump on a highway south-east past Stuttgart, where I'd head South on country roads, around the eastern tip of Lake Constance and into Switzerland.
The Bernina Gran Turismo hillclimb was held a few weeks ago, and ever since seeing the images on Instagram I've been dying to drive the Bernina Mountain Pass, so I'd point the BMW up that twisty bit of tarmac, with the aim of stopping for a traditional Swiss lunch in the ski resort of St Moritz.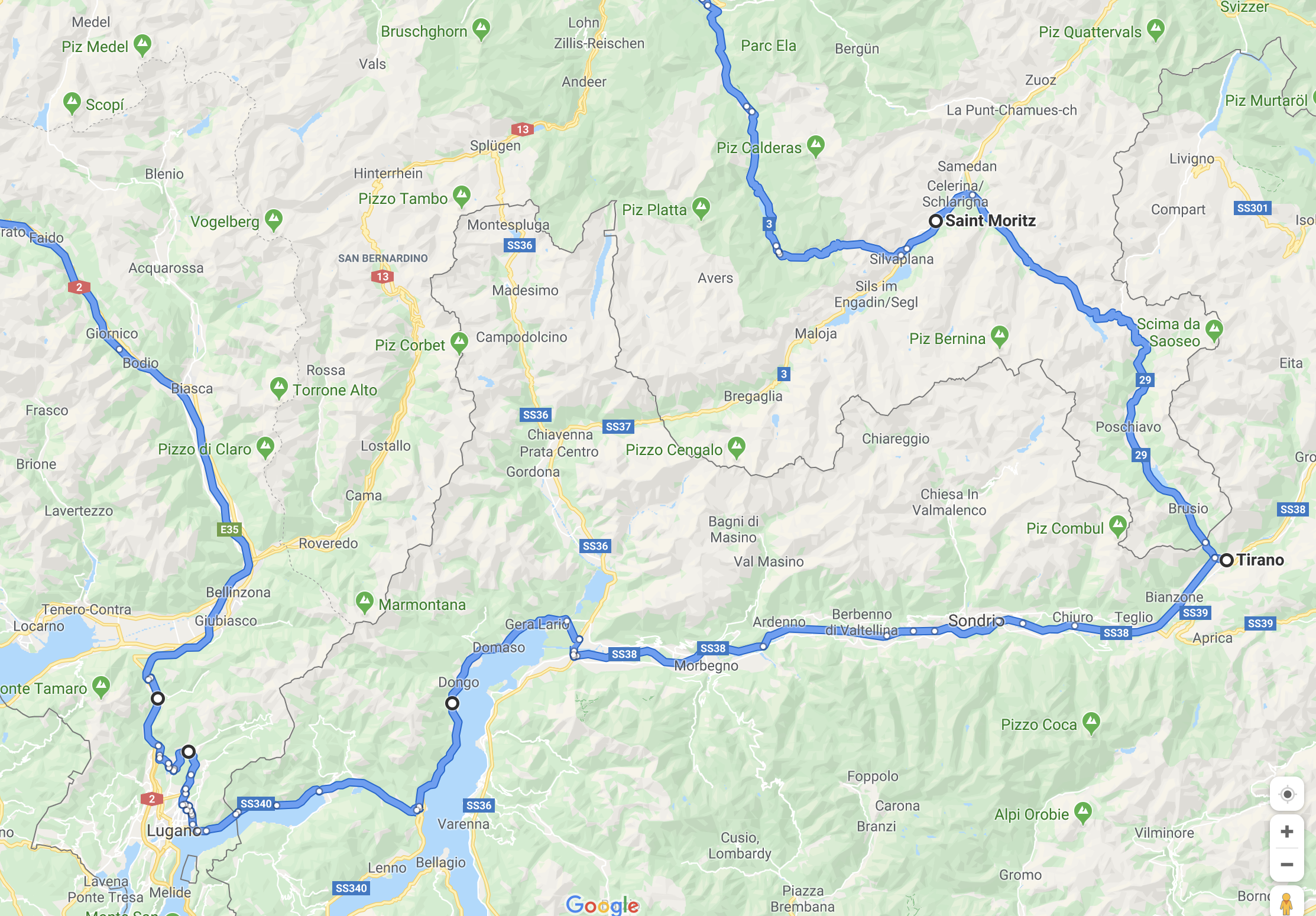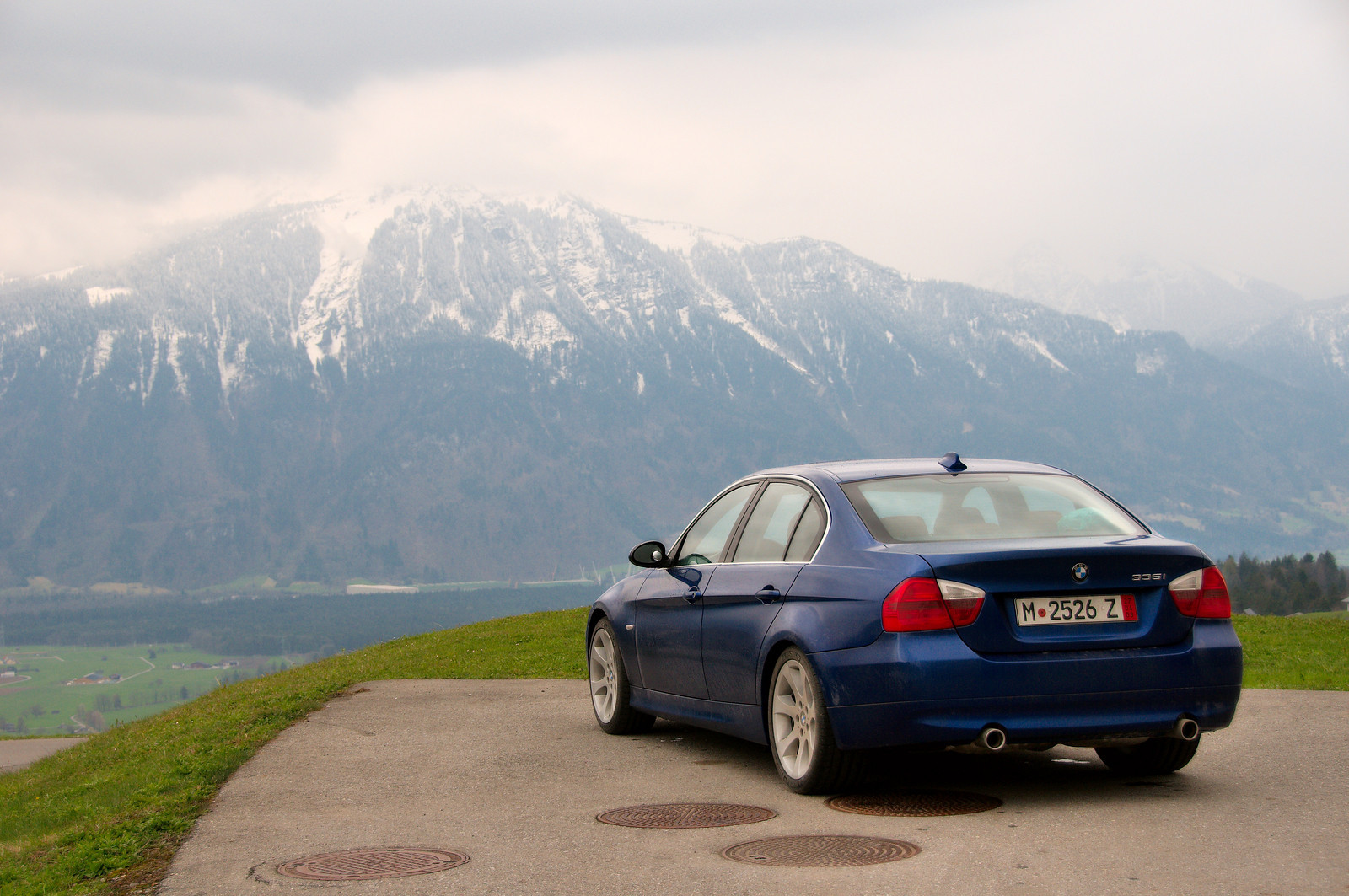 With hunger replenished by fondue, I'd drop over the other side and cross into Italy at Tirano. My sprint would turn westwards toward Lake Como, kissing its north-eastern shore at sunset. I'd pause for an Aperol Spritz and a bowl of pasta in the pretty village of Varenna because, well, that's what you do at Lake Como, irrespective of the circumstance. I'd then head inland and cross back into Switzerland, aiming to find another cheap highway hotel near Lugano. If I was feeling up to it, I'd down a can of Red Bull and make the highway schlep in the darkness a few hours north, putting me in a prime location to spend Sunday morning in the Alps.
The Sustenpass is one of Switzerland's best Alpine passes, and I'd aim to be at its base at dawn for the best chances of an empty road to play on before the tourist traffic arrives. Over the other side, I'd turn right toward Brienzwiler and then north ticking off Lucerne, Basel, and across the French border to Mulhouse.
From here it's just a matter of heading north-west across France, and time would dictate my path. If I could I'd find deserted rural country roads. It's been my experience in France that the best and most memorable roads are often the ones you've never heard of and will likely never drive again, so I'd hope to make a few new memories here.
Of course, in a trip like this there's no escaping the fact that at some point you'll need to jump on the Autoroute to cover ground back to Calais. It's boring, rather expensive with the tolls and not particular comfortable certain sportier or classic BMWs, but it's the only way to do it. I assume I'd be rather fatigued by this stage, so there'd be plenty of service station espressos and Haribo consumed along the way.
I'd aim for an 85 EuroTunnel crossing back at 10pm, and then I'd shoot back up the deserted Sunday night English motorways, and home by 1am.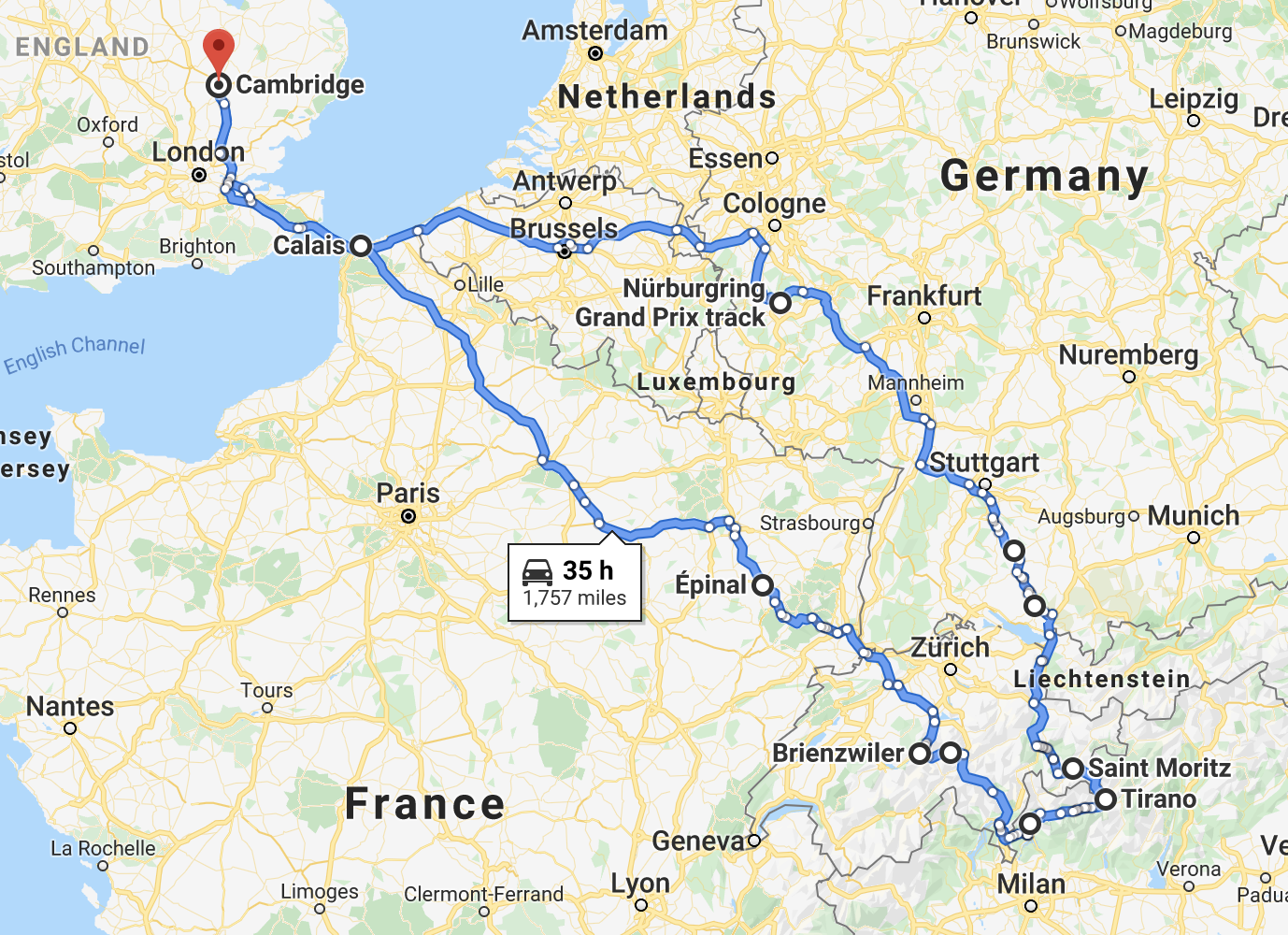 Will I actually do this in a couple of hours' time? Probably not, one day I'd like to. But the lunchtime escapism has been fun.
And that right there is one of the best parts of BMW ownership – the latent possibility. Would you actually go and drive 1,700 miles in 50 hours? Probably not, and we'd salute you if you did. But it's the knowledge that you could if you really wanted to that makes these cars such brilliant things to own.
Words by Andrew Coles
Image credits: Title Image, Second Image