About Meguiar's
For more than 115 years, Meguiar's has provided Car Crazypeople with specialized state-of-the-art formulations for making every car's appearance show car perfect. Meguiar's provides high performance car care products for every automotive surface. To learn more visit www.meguiars.co.uk
MEGUIAR'S ANNOUNCES THE RELEASE OF THEIR NEW CARPET & UPHOLSTERY CLEANER WITH ODOUR ELIMINATING TECHNOLOGY
Instantly Clean, Freshen Interiors and Eliminate OdoUrs in One Easy Step!
Meguiar's G192119EU Carpet & Upholstery Cleaner 539g
Meguiar's, the worldwide leader in car care, today introduced an exciting new product to its impressive line of premium car care products, Carpet & Upholstery Cleaner. This professional strength carpet and upholstery cleaner is formulated specifically for stain removal, performing general cleaning and freshening the entire interior with odour eliminating technology.
This specialized formula is a fast-acting foam that quickly penetrates and dissolves stains from the bottom up for deep down cleaning. An effective blend of cleaners and surface-active agents remove the toughest of stains and help to restore a like-new appearance on automotive carpet and Upholstery without leaving behind any unwanted residue. Meguiar's Carpet & Upholstery Cleaner also implements Meguiar's Re-Fresher Technology that permanently* removes unwanted odours while leaving behind a refreshing New Car Scent. The newly redesigned canister comes equipped with a removable carpet scrubber top to maximize your results. Carpet& Upholstery Cleaner can quickly remove stains and odours while refreshing your car's interior making it as fresh and clean as the day you drove it home!
Meguiar's Carpet & Upholstery Cleaner comes in a 19 oz. / 539g aerosol foam with an MSRP of 12.50 and can be found in stores from July 2019.
*Meguiar's Re-Fresher technology permanently removes existing bad odours through chemical bonding at a molecular level.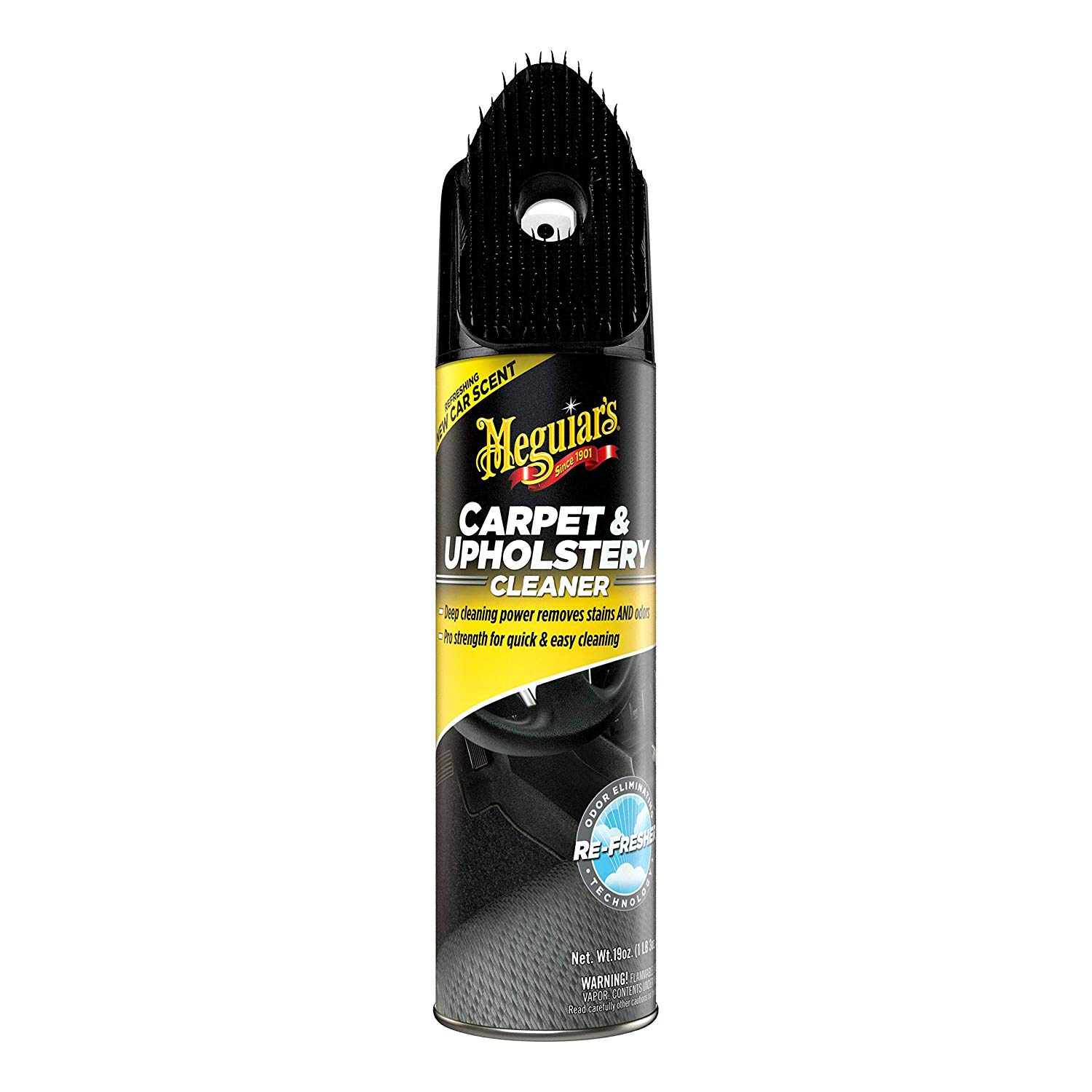 MEGUIAR'S INTRODUCES THEIR MOST ADVANCED HIGH GLOSS TYRE COATING
Delivering the Ultimate Depth and Gloss on Tyres to Date
Meguiar's G192315EU Ultimate Tyre Shine 425g
Meguiar's, the world's leader in car care products, introduced a new addition to its premium Ultimate line of products, Meguiar's Ultimate Tyre Shine. This brand-new formula is Meguiar's highest gloss tyre shine to date for customers who want a soaking wet look shine for their tyres.
With advanced synthetic polymer chemistry, this aerosol spray formula delivers extreme, attention-grabbing depth with amazing gloss and shine. Not only does this tyre coating deliver tremendously glossy shine, but it also contains enhanced resin technology producing an amazing bond for a long-lasting finish. Included Anti-ozonates also protect tyres against cracking and fading over time while the self-spreading formula is easy to work with reducing streaks and runs. So, if you are looking for a tyre coating that offers protection, is easy to use with a shine that looks like its soaking wet, Meguiar's Ultimate Tyre Shine is for you!
Meguiar's Ultimate Tyre Shine comes in a 15 oz. / 425g aerosol and has an MSRP of 14.00 and can be found on store shelves from July 2019.