The new Z4 has arrived with funky new styling and a host of new technology. Was it worth the wait? Bob Harper finds out…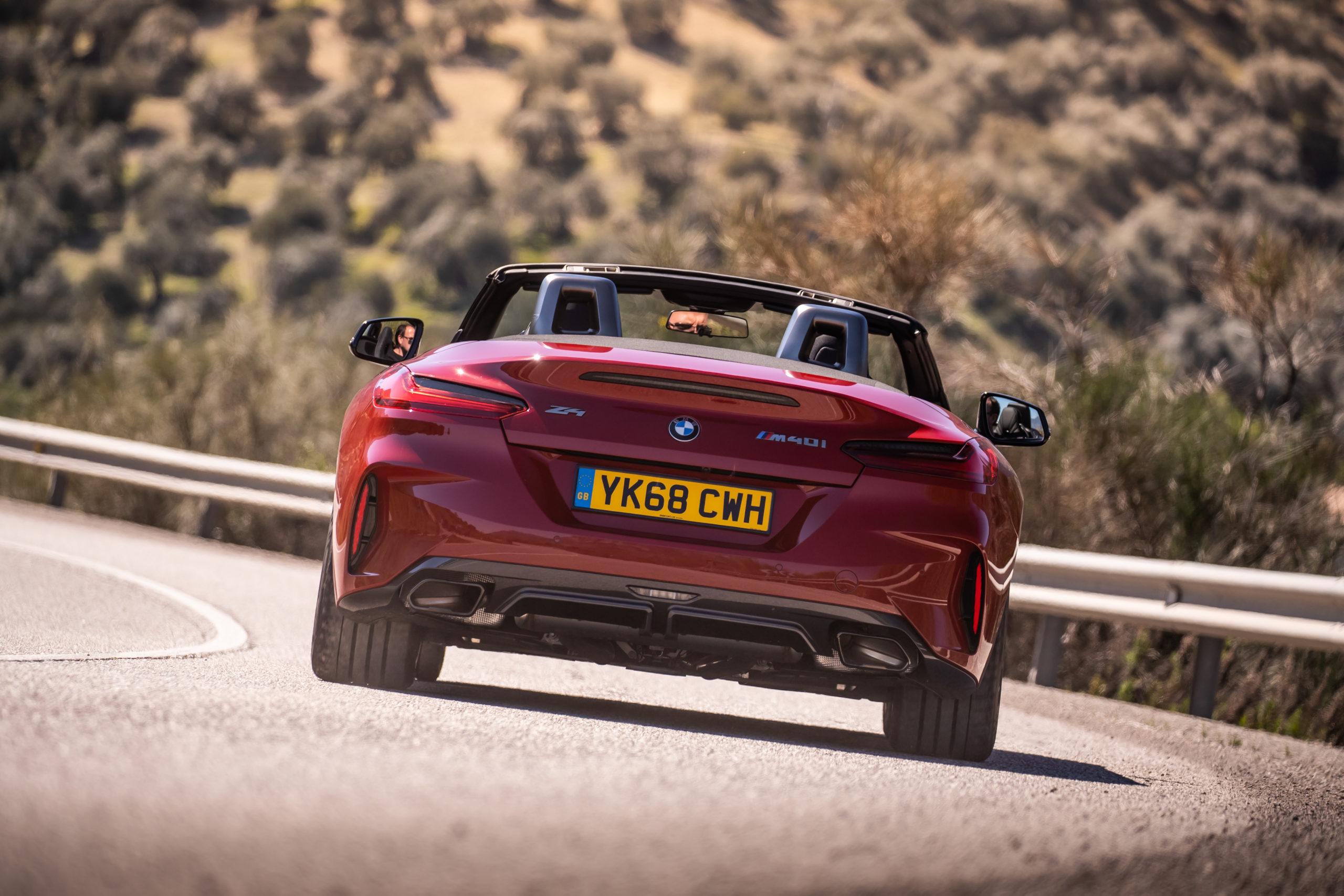 It would seem that the future of the roadster is uncertain – word has it that Audi won't be replacing its TT when the recently facelifted model has completed its production run and I can't remember the last time I saw a Mercedes SLC – its SLK predecessor used to be a common sight. The problem is that development costs for what are now seen as low volume niche models are so high that the bean counters struggle to make a business case for them. Which is why we're starting to see joint efforts such as the new Z4 and its coupe relation, the new Toyota Supra.
I'm quite fond of the Z4 in all of its guises – the original was suitably sporting, especially in its larger-engined incarnations, if not quite the Boxster-beater BMW was hoping for. The E89 was also an excellent machine, less overtly sporting, but that's how BMW wanted it to be. To me it was more or a mini-GT that happened to have a folding roof and as such it was a refined companion for longer hauls yet moderately entertaining when you were after something more sporting.
And I think this is what BMW's planned with this new incarnation as it's very refined, despite ditching the folding roof for a conventional soft-top, yet in BMW's press briefings it's also keen to highlight its agility and dynamic character. Of course, the infernally good Boxster is still the machine it will be judged by, but you'll need at least 45k to bag one of those and in top spec 'S' trim it's 5k more than the M40i. Add the equipment the Z4 has as standard and you're looking at 60k… and the Boxster will still have its aurally-appalling four-pot that sounds like a bag of nails going through your washing machine's spin cycle.
So, what's on offer as far as the Z4 is concerned? There are three versions to choose from – sDrive20i, sDrive30i and the range-topping M Performance model, the M40i. The 20i and 30i both feature the B48 four-cylinder turbocharged engine for outputs of 197 and 258hp respectively while the M40i uses the familiar B58 3.0-litre turbocharged 'six which in this guise is good for 340hp. Prices start at 36,995 for the 20i Sport and rise to 40,695 for the 30i Sport and nigh-on 50k for the M40i. The two four-cylinder cars can also be had in M Sport guise – and the expectation is that most buyers will go down this route – for an additional 1,750.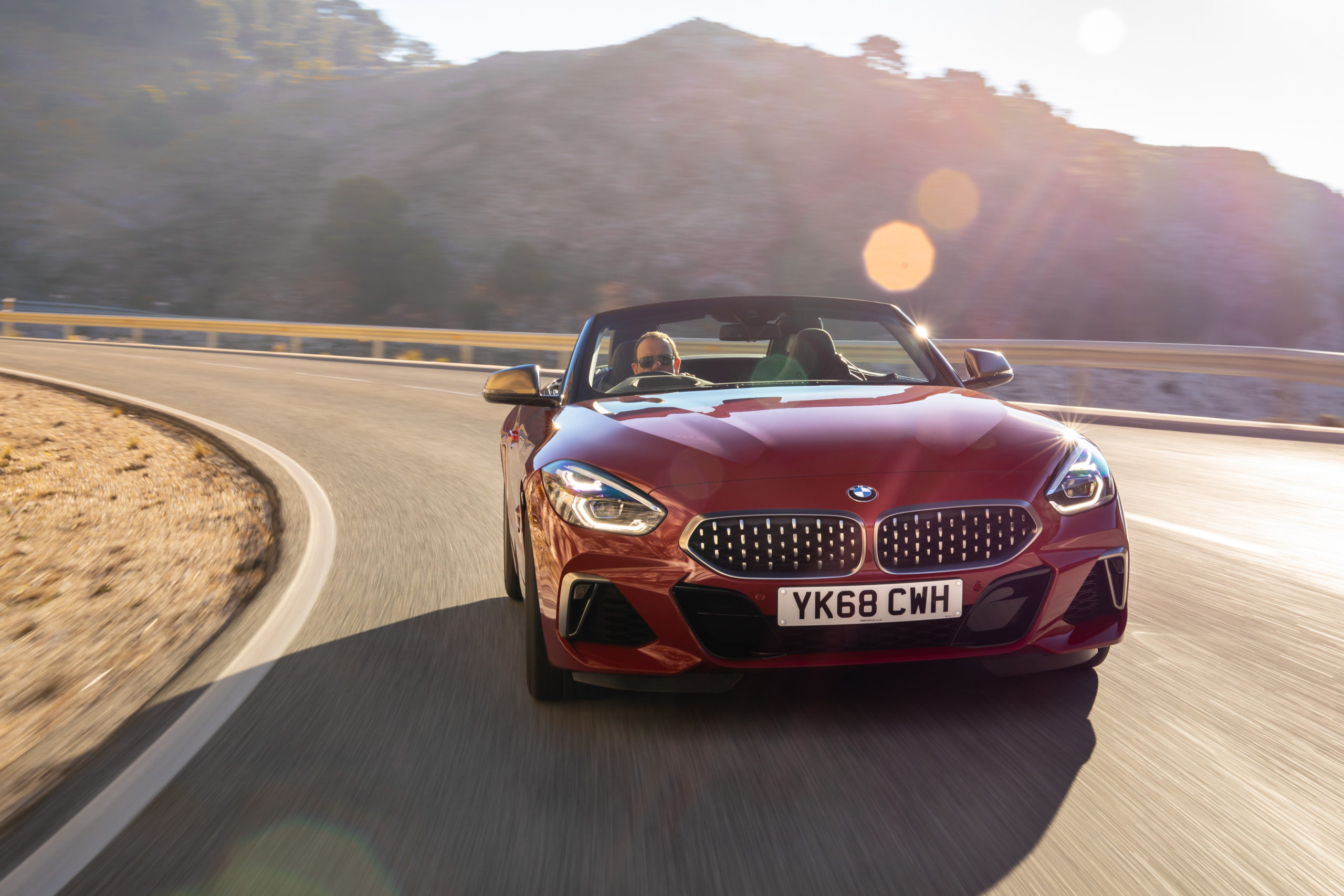 They're well equipped too, with all models featuring Vernasca leather, M Sport seats, two-zone air, cruise control, LED lights front and rear, heated seats, 18-inch alloys and Professional Navigation. All Z4s also receive BMW's new Live Cockpit Professional which means you can chat to your Z4 using the voice prompt 'Hey BMW' and also features new digital instruments. M Sport models add the usual accoutrements – M double spoke 18-inch alloys, M aero kit, high-gloss shadowline exterior trim and M Sport suspension, and if you opt for a 30i M Sport, bigger brakes, too. Along with its bigger engine the M40i adds electric seats, Adaptive M suspension, the bigger brakes and an M limited slip differential, too.
As far as its looks go I'll leave you to make up your own minds. In the flesh and in the right colour I think it looks pretty good, although as is often the case it's not quite as svelte and lithe as the Concept. Somehow the detailing seems to have got a little fussier, particularly on the M Sport and I feel the proportions are a little off. It sits on a shorter wheelbase than before but is actually 85mm longer than the old E89 Z4 which means its overhangs are considerable, which doesn't endow it with the best-looking profile – but maybe that's just me!
Inside we're treated to the full-on new BMW design language and it's a pretty comfy place to be, albeit one that doesn't actually shout sporting ambiance. The Z4 actually uses a shortened version of the 5 Series' platform and as a result it's packed full of the latest tech. The centre console is relatively wide with the gear lever and iDrive controller taking up most of the space along with the start/stop button, iDrive short cut buttons and the Sport/Comfort/Eco Pro switches. My only criticism is that these buttons and switches have been flattened – they used to stand proud of the surrounding surface, but now they're just separated by a small raised divider between each different function button which makes them harder to find without taking your eyes off the road. Aesthetically it's very pleasing but in terms of functionality it feels like a retrograde step.
The BMW UK press launch event gave us the opportunity to sample the 20i – in both Sport and M Sport guises – along with the range-topping M40i. First up was the six-cylinder model and it's immediately obvious where the M40i really scores over the Boxster – it sounds divine, whether pootling along or chasing the red line. All Z4s come as standard with an eight-speed automatic transmission – the 20i will be offered with a manual 'box later this year – and while it might seem a bit of an anathema to equip such a car with an auto it's obviously what the majority of buyers want. It goes about its business very well though, shuffling between ratios imperceptibly when simply pootling around.
But we didn't come on the launch to potter about and the test route offers a good blend of everything – motorways, a modicum of town work and some challenging, twisting mountain roads, too. On the motorway it's suitably refined – hood up or down – although you'll need the wind deflector in place for top down motoring for which BMW has the cheek to charge an additional 170. Over about 80mph wind noise does intrude with the hood down so that voices have to be raised for conversation but overall it's a machine you could drive for long distances without it becoming wearing.
On the mountainous back roads the M40i exhibits not only exceptional pace – it feels every bit as quick as its 4.6-second 0-62mph time would suggest – but also plenty of grip and poise, too. The steering's nice and precise allowing you to place the car accurately and apply small corrections when necessary without fear of upsetting its balance. The front end's grip is simply prodigious and resolutely resists understeer unless you're unreasonably ambitious with your entry speed, while the rear stays similarly planted unless you switch out the DSC and get brutal with the throttle. Body control is excellent with the adaptive dampers in their Sport setting, and the ride quality remains compliant too – even on the optional 19-inch rims – although the vast majority of the roads we encountered were exceptionally smooth.
Overall it's an impressive beast, but perhaps one that doesn't immediately stir the soul… perhaps it's a little too clinical to feel truly sporting as there's not quite enough interaction between the car and the driver. It's incredibly fast, grips like superglue and is admirably refined and as an allrounder it's hard to beat bar the slightly sterile driving experience when you're looking to have some fun.
With a price tag of nearly 50k the M40i may well be a rare sight and the 20i is bound to sell in far greater numbers. With 'only' 197hp and 236lb ft of torque (143hp and 133lb ft less than the M40i) it's hardly surprising it feels considerably slower than its more potent sibling, but in isolation it feels quick enough, recording a 6.6-second 0-62mph time. While it lacks the more aggressive styling of the M Sport model the entry-level Sport will be all that many owners need but there wasn't a huge difference between the way the two models drove.
While the four-cylinder isn't as inspiring as the 'six in the M40i it doesn't sound bad – certainly not Boxster bad – and when in Sport mode it does emit the odd pop and bang on the overrun or when swapping cogs, which makes it feel a little more sporting. On the standard, non-adaptive, suspension it also felt ever so slightly more playful than the M40i – its lighter weight and slightly less rubber on the road working in its favour here. It just felt more interactive than the larger-engined machine with a touch more body roll and perhaps a little more feel through the steering. If it were my money I'd be sorely tempted to save 14k and opt for the 20i over the M40i.
But perhaps the 30i will be the pick of the range? It's 3,700 more expensive than the 20i but a chunk faster with a 5.4-second 0-62mph time yet virtually identical economy figures. Ultimately though BMW should be applauded for continuing with the Z4 roadster. In this third generation it perhaps blends the best bits of the first two generations in a very appealing package.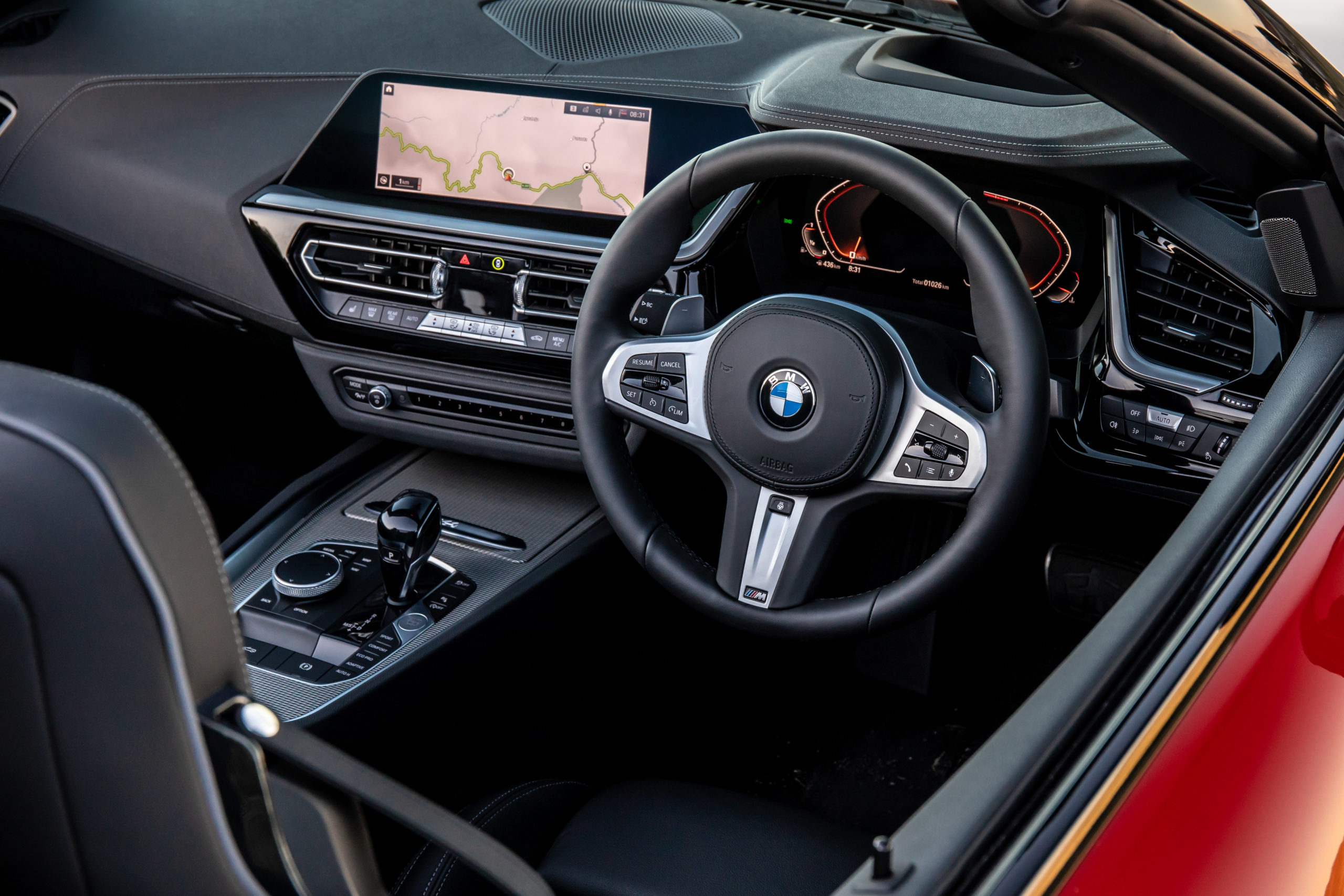 G29 Z4 sDrive20i and M40i
Z4 sDrive20i Z4 M40i
Engine: B48B20 four-cylinder turbo B58B30 six-cylinder turbo
Capacity: 1998cc 2998cc
Max power: 197hp @ 4500-6500rpm 340hp @ 5000-6500rpm
Max torque: 236lb ft @ 1450-4200rpm 369lb ft @ 1600-4500rpm
0-62mph: 6.6 seconds 4.6 seconds
Top speed: 149mph 155mph
Economy: 38.7-39.8mpg 33.2mpg
Emissions: 138g/km 165g/km
Weight (EU): 1480kg 1610kg
Price: From 36,995 49,065