Most articles written about the BMW Z1 have the number of cars produced at either 8,000 or 8,012. Rumour has it there were 8,000, ten pre-production cars, and two Z1M cars, built by engineers working on the project at the time. Plausible?
One thing we do know for certain, of those 8,012 cars, 66 were immortalised by ALPINA as the Roadster Limited Edition, or as I prefer, Limited Edition Roadster. As far as rarity goes, the Z1 is a summer stroller, most get seen between April showers and the beautiful colours of autumn, but the RLE ranks alongside the Aston Martin One 77, Lamborghini Aventador and 25th anniversary Mazda MX-5; there were better odds of you spotting Lord Lucan in Liverpool than one of these.
When Greg Smith, Z1 owner and Area Manager at Sytner BMW Nottingham, called to say they had not one, but two RLEs for sale in their showroom, Magic Violet RLE 42 and Dream Black RLE 53 (which I will refer to as MV42 and DB53), accepting his invite for a behind-the-scenes tour was but a mere formality.
Sytner BMW history is well-documented, sole UK concessionaire for ALPINA since 1985, the birthplace of the RLE and my first visit to their premises. Racer Frank Sytner always had a passion for classic cars, and it shows; his original E30 M3 racecar and a lovingly restored ALPINA E21 are proudly on display in the window, with Greg and his colleague Phillip Hall actively sourcing and supplying classic cars to clients. Since expanding the group, Sytner have been trading in exotic cars since 1997, so it was a surprise to me at least, to see a line of Italian supercars littering their forecourt next door.
In the 1980s, ALPINA wanted their cars built in a certain way, and the man given the task of doing so was senior engineer Mark Adkins, who offered this insight: "The Z1 arrived in complete but basic form, steel wheels, plastic steering wheel, chassis number crossed out, all the ALPINA parts arrived separately. The engine is then removed and sent back to ALPINA for conversion, with a high-lift camshaft, different pistons, stroker kit, limited slip and 6-Branch manifold.
"The ALPINA C1 was the first evolution in the series developed for the BMW 323, followed by the Evo II C2 2.7 and reprogrammed ECU for the 325, as featured in the RLE. The box of RLE parts includes springs, shocks, gold decal strips, emblems, plaque, twin-pipe exhaust, and those timeless classic 17″ wheels, resulting in a 0-60 time of 7.1s from 200hp and 142mph top speed."
In truth the RLE has nothing to do with 0-60 times, there were cheaper and faster cars available, and as much as I am a huge fan of the Z1 and it is a fantastic car, only colour differentiates them, whereas the RLE on the other hand, is just so much more special. Unfortunately I didn't have permission to drive this 114 mile car, but I did get to 'move' it from point A to B, at a crawl. There was the briefest of nerves as I turned the key, not sure what to expect, then the instant growl as it burst into life, I wondered how many times it had ever been started in its life.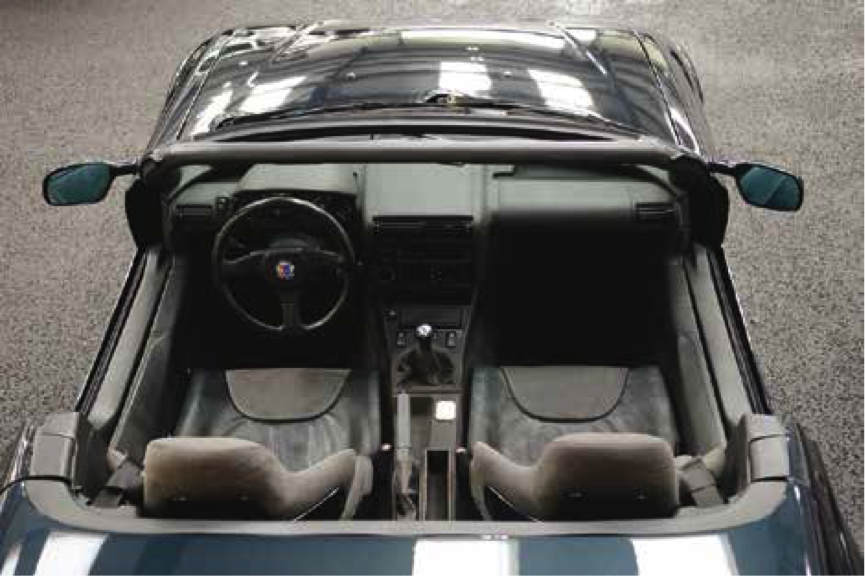 At idle the exhaust note was nothing like the quiet Z1, and there is this sense of personal touch about it, the special edition plaque, the Weber Carburettor and Crankshaft emblem adorning the wheels, gear knob and steering wheel, the engine number included the initials of the engineer who built it, even the fuel flap label is branded.
In 1989 the Z1 was being sold for 36K (88K today), and the RLE was 47K (115K today), buyers were advised to put them straight into collections, and that's where most are, even today. MV42 and DB53 are both being recommissioned for the road after years of inactivity, by the only man I have met to have built one. Mark is back with Sytner after taking a sabbatical to work on Group B Rally cars; BMW, he tells me, are his true passion.
So what's involved in recommissioning a 28-year-old car, one of which has only done 114miles? Despite its rarity, there are challenges Mark will face, as they all suffer from age related issues, such as the centre caps, panel cracks, discontinued parts, and be extra careful with those 'Nicole Automobile' fitted flared arches, a feature of the Japanese cars. "All Sytner cars are given a full front to back nut and bolt inspection, tyres, fluids, filters, pipes, gearbox oil, diff and engine oil, valves adjusted, fuel tank drained, cambelt, ancillary belts, hoses, antifreeze, water pump, radiator and braking system flushed, callipers dismantled and sprayed, bodywork checked, and just about anything else it needs to ensure it is of the highest mechanical and cosmetic standard possible."
Is it possible to convert an existing Z1 into an RLE? ALPINA may modify a customer's car as a one-off, but as a rule they will only convert brand new cars, in order to guarantee the work and integrity of the components. Interest in these cars was as expected by the time I got there: MV42 with 68k miles and at 65k, had already been sold, it was on ramps being prepped for export to its German owner.
Fitted with a Weismann hardtop, BTB double-skinned dual exhaust and a very unusual tonneau cover, as you might find on an Austin Healey, it is a good idea in principle but meant fitting press studs to the fragile interior. DB53 was available at the time of writing for 135k, and had completed its mechanical road-worthiness checks, but was awaiting its beauty treatment.
The Nottingham showroom definitely had the wow factor. Staff were very friendly and accommodating, seemingly worthy winners of the award for 'Best big company to work for 2017', but what I found most impressive was that Greg Smith, Phillip Hall and Mark Adkins are enthusiasts, drifting off topic several times to talk about their interests. They are just as passionate about cars as we are in the Club, and the two classics on display on the showroom floor, a touch of class.