Featured in February 2019 issue of Straight Six
Words by Steve Carter and images by Dean Grossmith
I have to admit, I'm not a particularly patient sort of chap. Since first seeing the stunning 8 series concept displayed at Goodwood FoS a couple of years back, time has, frankly, been dragging. A lot. Part of this is to do with my lack of tolerance for waiting. Part of this is very likely to do with my love affair with the original 8 and my own treasured 850CSi. And part for sure is the mix of great excitement and nail-biting worry (in equal measure), that our brethren in Munich have truly nailed the production 8er version and not tainted a legacy.
Launching any new flagship model is fraught with risk for any premium automotive manufacturer like BMW. The need to differentiate itself from the rest of the model range, whilst at the same time driving desirability across that very range to the potential customer base is a careful, but potentially highly lucrative, balancing act. Get it wrong and the accountants' faces will drain of blood quicker than the M850 accelerates to 62mph (3.7 seconds in case you are wondering).
So, it was with great excitement, and a little trepidation if I'm honest, that I attended the 8 series launch night at Chandlers BMW Brighton in late November. As Sales Director Chris Rooney pulled off the cover, all my worries evaporated: "All hail the Grand Turismo Gods!" Under the showroom lights, the stunningly coloured Dravit Grey 840d looked mightily impressive! Never being a shy or retiring type, it didn't take me too long to agree a loan of the car with James Wells for Part 3 of our 100k Car Club. But where to go and when?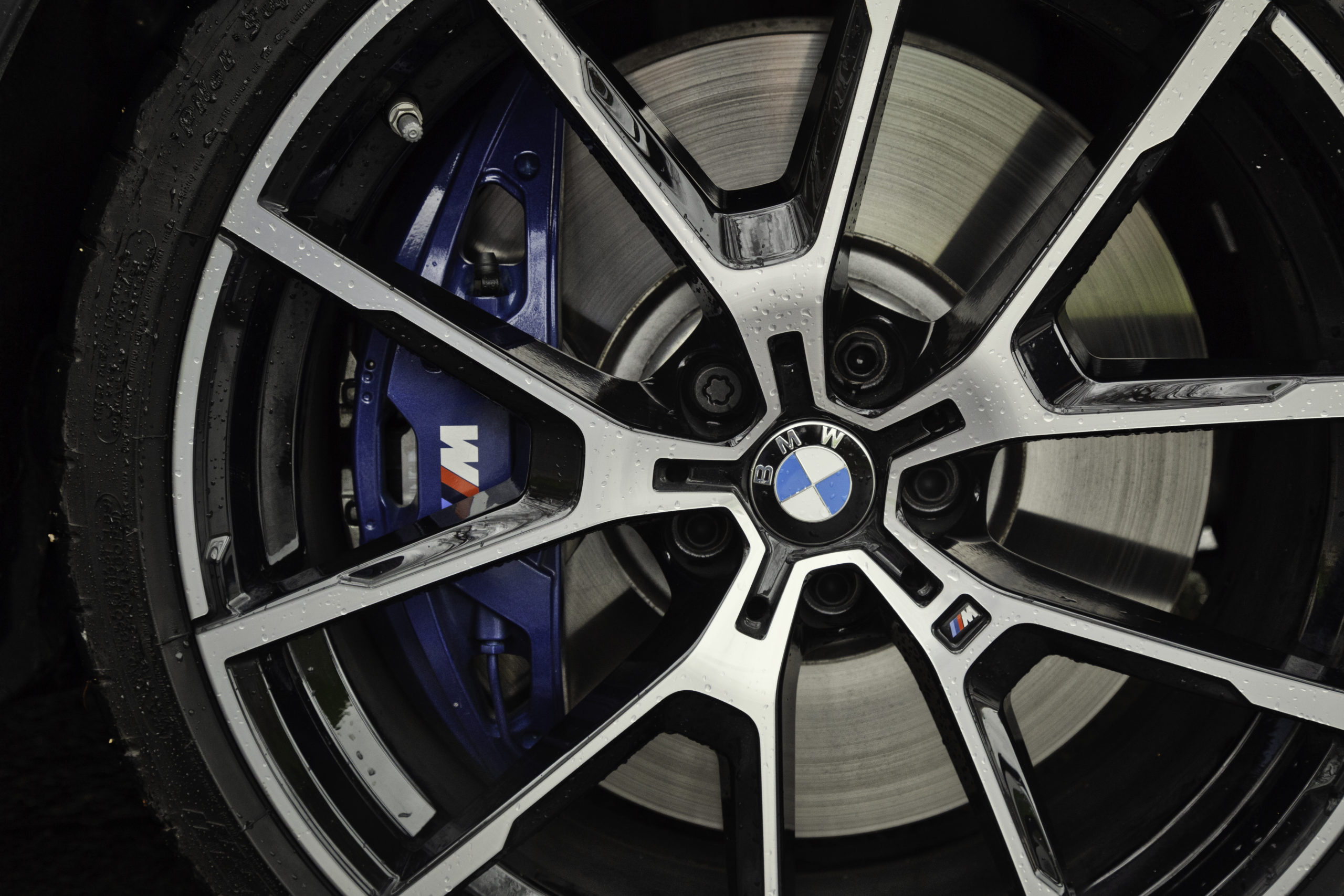 That last question was easily answered after speaking with Dean Grossmith, one of our newer South East members. Dean and I had been introduced at one of our Shoreham Micro Meets hosted by Nigel Hole. We started talking, and as things often do, one thing led to another and Dean kindly offered to help out on the photography for my next article. "Why don't we go to Goodwood? It has a great back drop of the race tower." Yes. Back to the location where I first clapped eyes on that 8 series Concept, and the home of the elegant racer. Perfect.
And so it was that one early December morning I picked up the 840d MSport from Chandlers. With Ian Bryant riding shot gun, I pointed the 8er's aggressive and very wide nose out in to the mirth of the British winter weather.
It is the sheer width of the car that first grabs your attention. However, with that dimension quickly calibrated I could start to fully appreciate the cockpit. And what a great place it is. This particular example was swathed in soft Ivory Merino leather. The deep and multi adjustable seats are just superb. The carpet pile deep. But it's the feel of the cockpit as you sit low down within the Carbon core that really grabs the attention.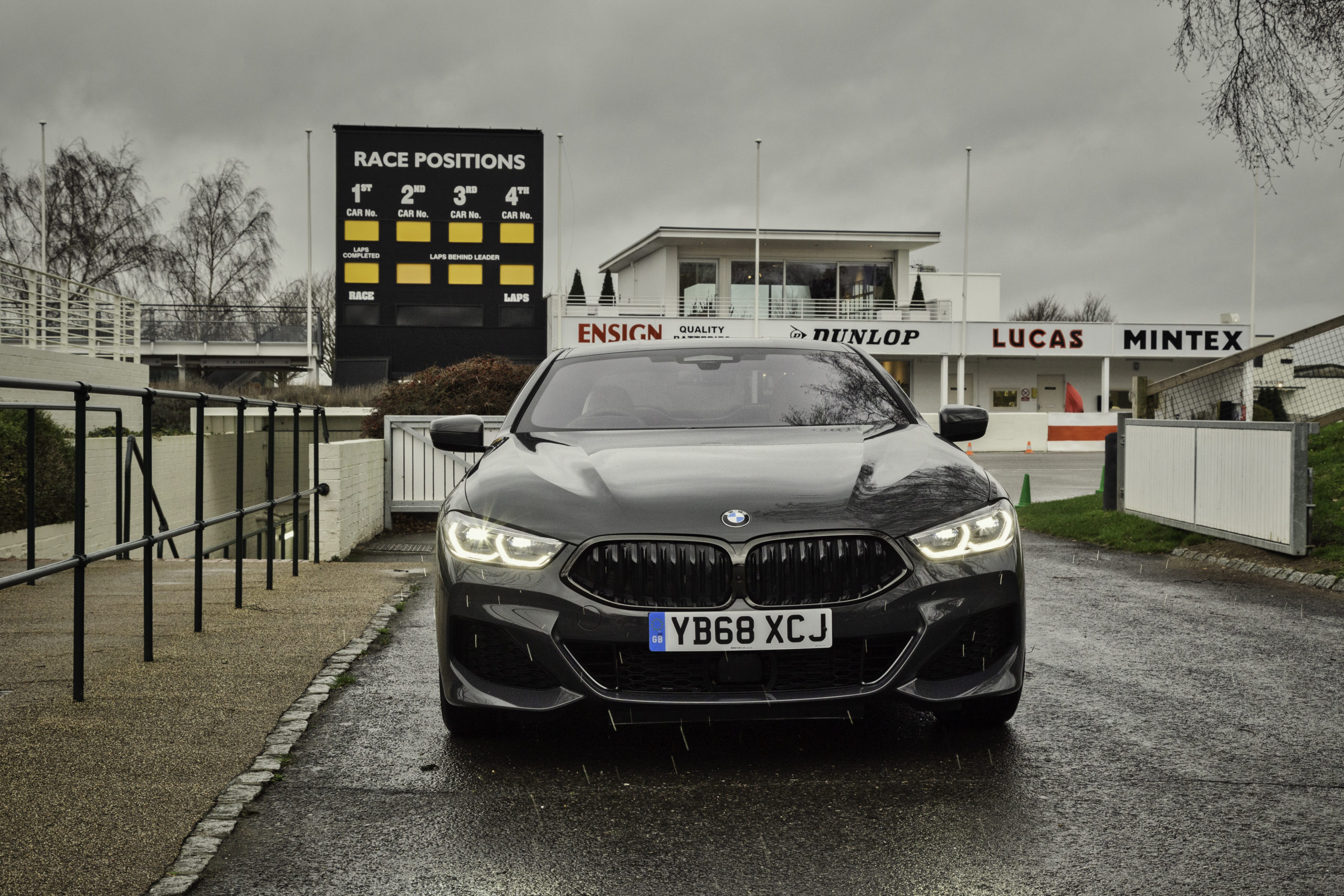 Making the interior distinctive and an obvious move on from BMW's volume models has been no easy task, but overall the clear impression is of it being better and more upmarket than the rest of the range. Adrian van Hooydonk, chief designer at the BMW Group, states: "Luxury must arouse emotions". And it does feel luxurious and does deliver a feel-good factor. No doubt the crystal toppings to a number of the interfaces helped, officially named 'Glass application 'CraftedClarity' for interior elements' (no comment), and the stunning 10.25″ Touch Screen and 12'5″ full digital display helped. The multi-programmable mood lighting (Almond/Beige worked best) is great. And the iDrive is now referred to as 'Operating System 7.0' and in my opinion, it's as slick as it's ever been.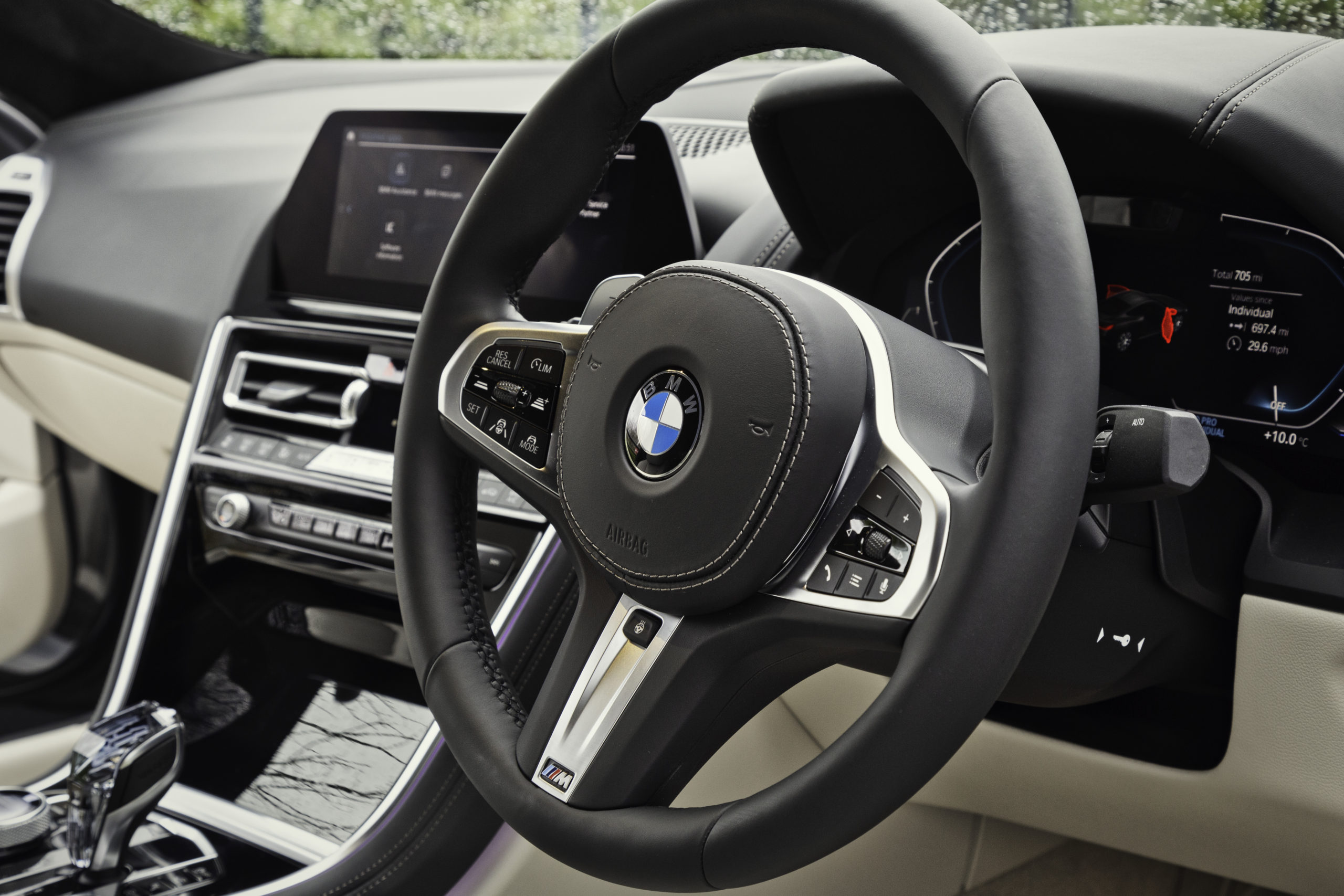 It is not all perfect though, and the 8er does let itself down in a couple of places. I have reflected whether I am being a little picky here, but this is a flagship model and if I or you are about to spend between 76k and 100k on the 840d and M850 base models respectively, (a few options will easily add another 15k), then we want things to be the very best they can be. Some of the touch surfaces are just at the standard they need to be in terms of touch and feel. Remember this car is competing against the Mercedes S Class Coupe and Porsche 911. For example, the dash top cover behind the Touch Screen needs to be upgraded as it is cheap and rattly plastic. The indicator stalks need to be changed to bespoke models, not dragged off a lower series; same with the door pack buttons. And the back seats. Well put it this way, the 8 is definitely more of a 2+2. And who cares, they were useless on the original E31 8 series too, so let's call this a retro carry over. Lastly, and this did have the three of us in stitches, it looks like a few euros under the bonnet have been saved by using a couple of old camping chair legs for a strut brace. I kid you not.
As the morning commuting traffic clears, opportunities present themselves to explore what this 3.0 straight six diesel motor with XDrive system can deliver. A quick change to Sport mode and there is a pleasingly clear and throaty noise emanating from the dual exhausts; it really sounds quite petrol like. Like all modern BMW six-cylinder diesel engines this is an impressive piece of engineering. Delivering 316bhp and a frankly orbit axis changing 680Nm of torque, this 840d slings itself down the road like its life depends on it. Keeping everything together is the highly impressive all wheel drive XDrive system. The way this system goes about controlling nearly 1,900kg of heavyweight is deeply impressive, only spoilt by various nanny state lane departure warning and steering correcting features. With these disabled, the 8 becomes a real sporting Gran Turismo drive as we charge westbound along the A27, though Arundel, then Fontwell and eventually Chichester.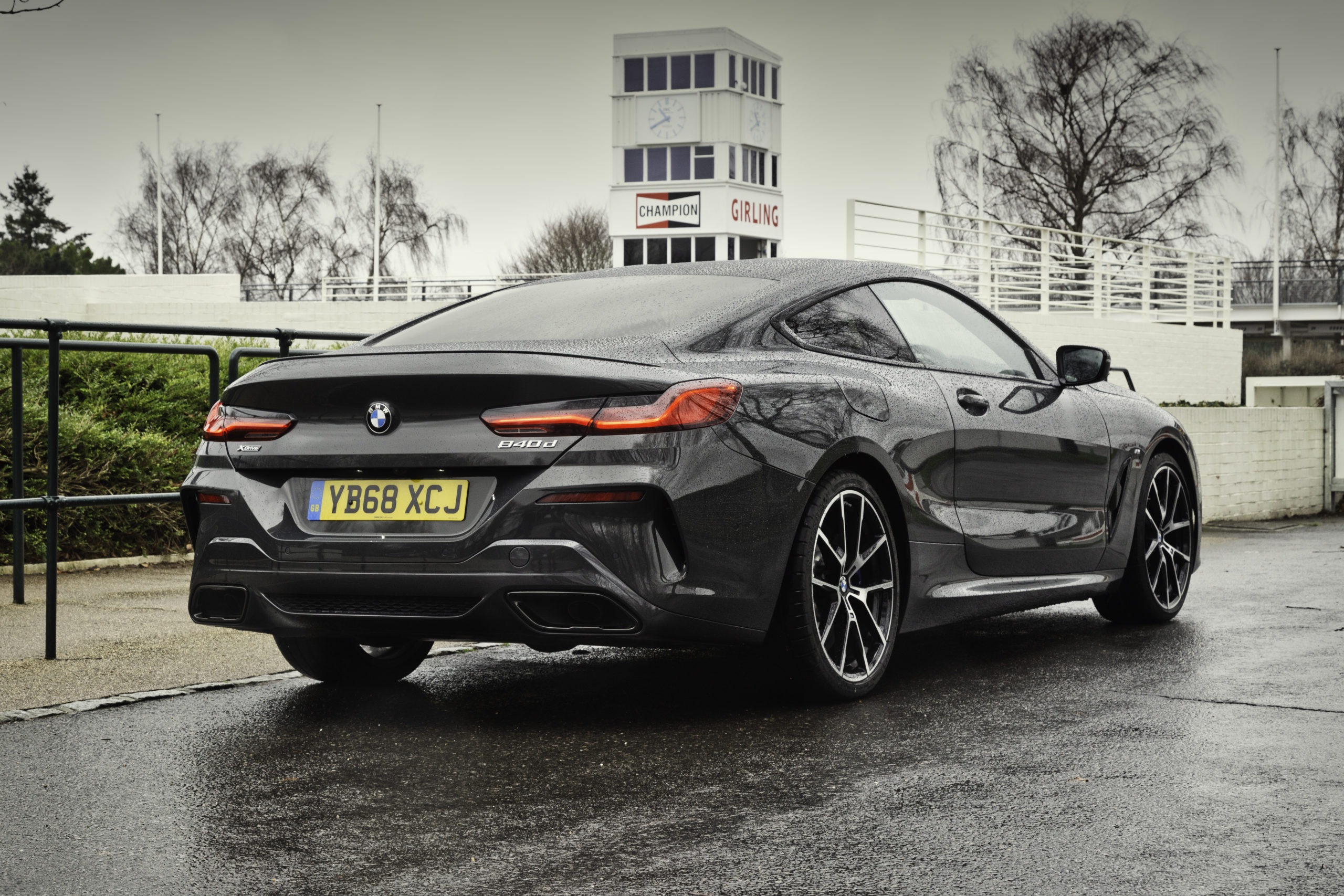 As we arrive at Goodwood, Dean is there to meet us. The heavens promptly decide to do the opposite of the BBC's weather forecast for the day and open up. Undeterred, we give the 8 a quick wash and rinse ahead of the photo shoot. I often find that washing a car allows a lot more of the subtle detailing to start to be appreciated, and with the morning light brightening, so it is with this sleek new 8 series. All of us are quick to share our approval on the design. It may lack a little design cohesion in places and exterior colour is important in this, but there are some truly wonderful design details. The aggressive and reimagined kidney grille, double bubble roof, the swollen rear flank over the wheels, the slimmest icon headlamps and rear swooping LED lights are all standout features. The carryover of the hex design from the grille to headlamps through to the dashboard is a particularly nice design feature and adds to that luxury and bespoke feel. It even does practicality with a boot of 420 litres, which is only a smidge smaller that the current 3 series at 480 litres.
After a windswept photoshoot at the race track, and a few healthy discussions with track management regarding where we can and can't position the car, we finish up and grab a well-deserved bacon and egg sarnie and coffee in the Aero Club Caf. With ourselves refuelled, we head out on Goodwood's back roads. Dean guides us first to The Kennel Club and then off to the race course to grab the last shots of the day.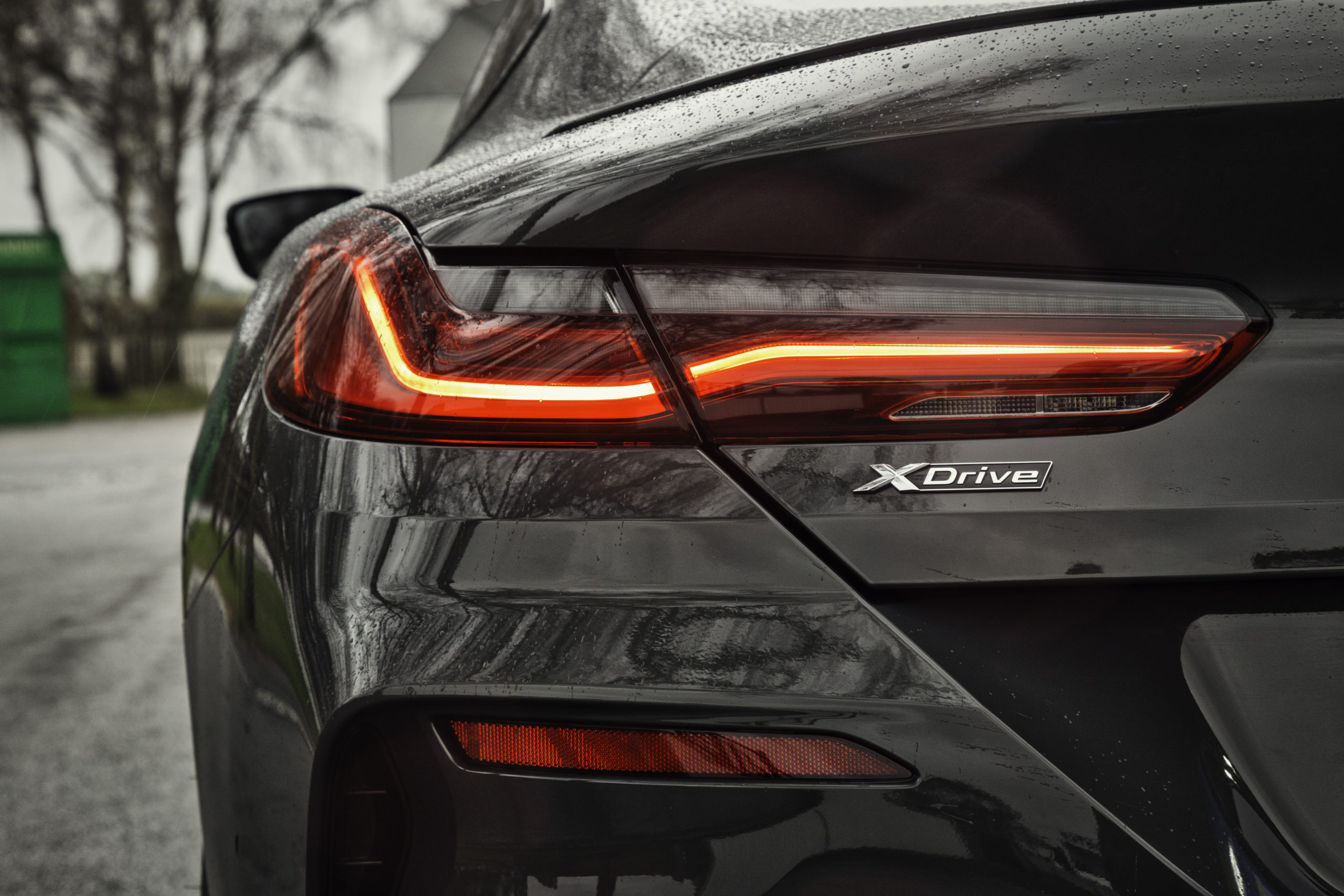 Saying our farewell to Dean and with fuel in the tank, Ian and I decide to head across country on the way back to Brighton. First, up the A286 towards Midhurst. With the road still wet from the mornings drizzle, the 8 simply rolls up its sleeves and gets to work. As I push harder the 8 digs deeper and deeper, its XDrive combining so faultlessly with its active rear steer that I try and fail to unstick the car. Slow, Medium or Fast corners, it simply will not let go, not even a flash from the traction control. This level of limpet like grip inspires huge confidence as we join the A272 and head east. Combining that enormous traction with all of that torque, effortless overtakes are dispatched safely one after another.
The comfort whilst doing this, combined with those low-down seats, is really what accentuates that feeling of luxury. The damping is really impressive in all modes although felt best when personally configured to comfort with the drive train in sport plus. The steering was the slight chink in the chain, feeling a little dead on the straight ahead, but it was a small chink not distracting from the overall experience.
The journey home is a joy, with Ian and I both extremely impressed with how the 8 performs in these wintry conditions. And my acid test? After we had rolled into Chandlers and turned the engine off, neither of us moved for 30 seconds.
Would I have preferred the M850? No doubt. But this entry level diesel powered 840d model has its place in my heart. Part of me wanted to dislike this 'practical' engine combination with the 8, but I cannot. When you find your desired set up in the Vehicle Settings menu, this car will cross counties and countries with pace and grace, doing so whilst sipping the black stuff and achieving 45 mpg or more. You cannot help but be impressed.
They say patience is a virtue. Well, this new 8 was certainly worth the wait and a flagship model to be proud of. M8 anyone?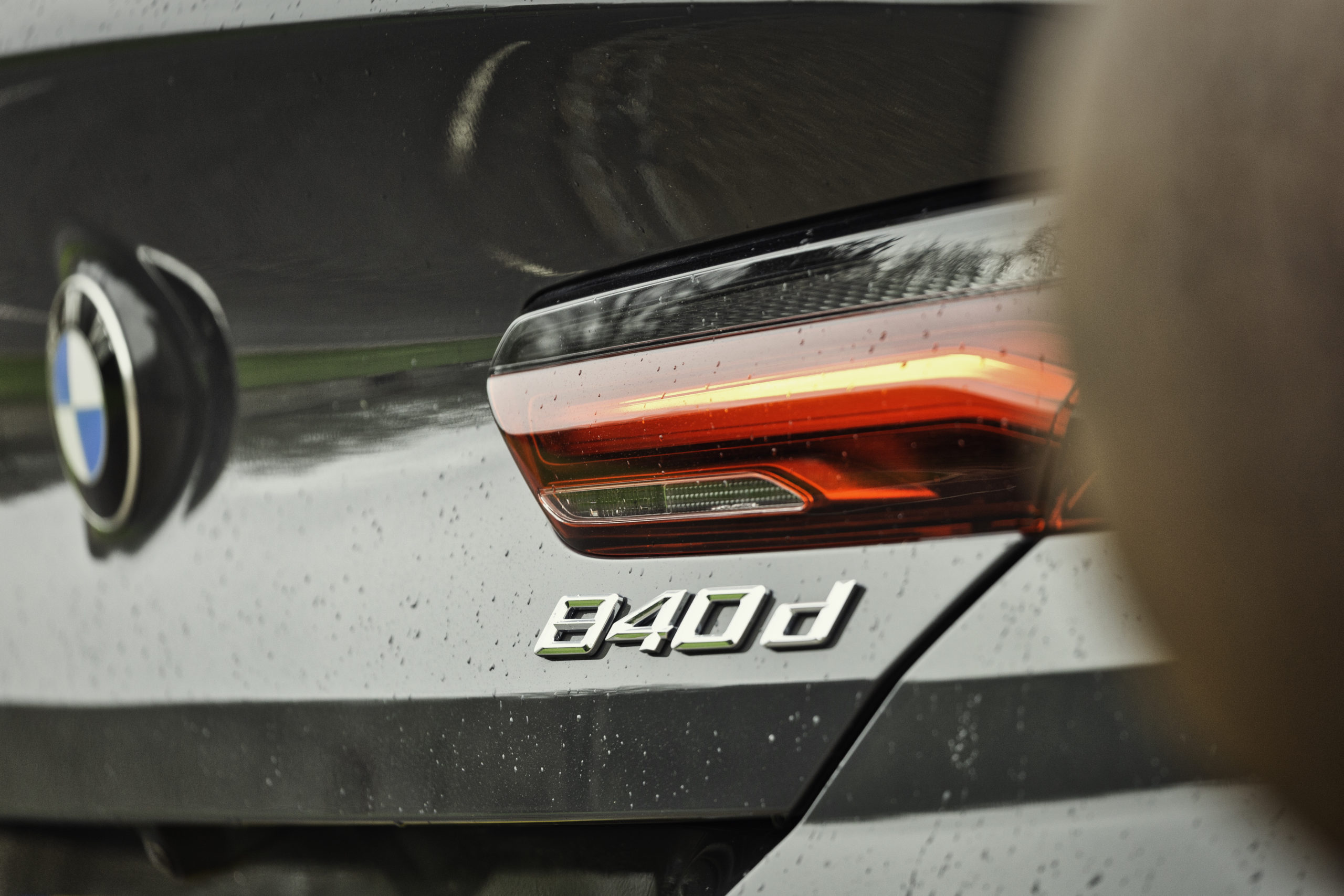 A massive THANK YOU to James Wells, Chris Rooney and all at Chandlers Brighton for their support and energy to make this article happen. Looking forward to the next one.