BMW, BASF and Samsung announce sustainable cobalt mining initiative
Driving emission free cars seems like an amazing prospect, but few people stop to think about what that implies. The sudden rise in demand for batteries led to a similarly abrupt increase in demand for the metals they are made of and that raised questions about how they are sourced. Cobalt is a key component in the production of batteries in the automotive and electronic industries. News reports claim that the methods used in mining are not exactly ethical and it's the companies' responsibility to make sure that they are sourced in a sustainable manner. That's why BMW, BASF and Samsung launched this new initiative in December.
Their aim is to enhance sustainable cobalt mining; the main focus of their combined efforts will be located in the Democratic Republic of Congo, where the world's largest known reserves of cobalt are found. A contract has been signed which aims to improve artisanal mining working and living, including the surrounding communities.
For the moment, this is just a pilot scheme. Over the course of the next three years the partners will not operate the mine but will offer assistance and education to the miners and their owners. The project is limited to one pilot mine site and the surrounding community. If proven effective, these measures could then be scaled up to other artisanal mining sites.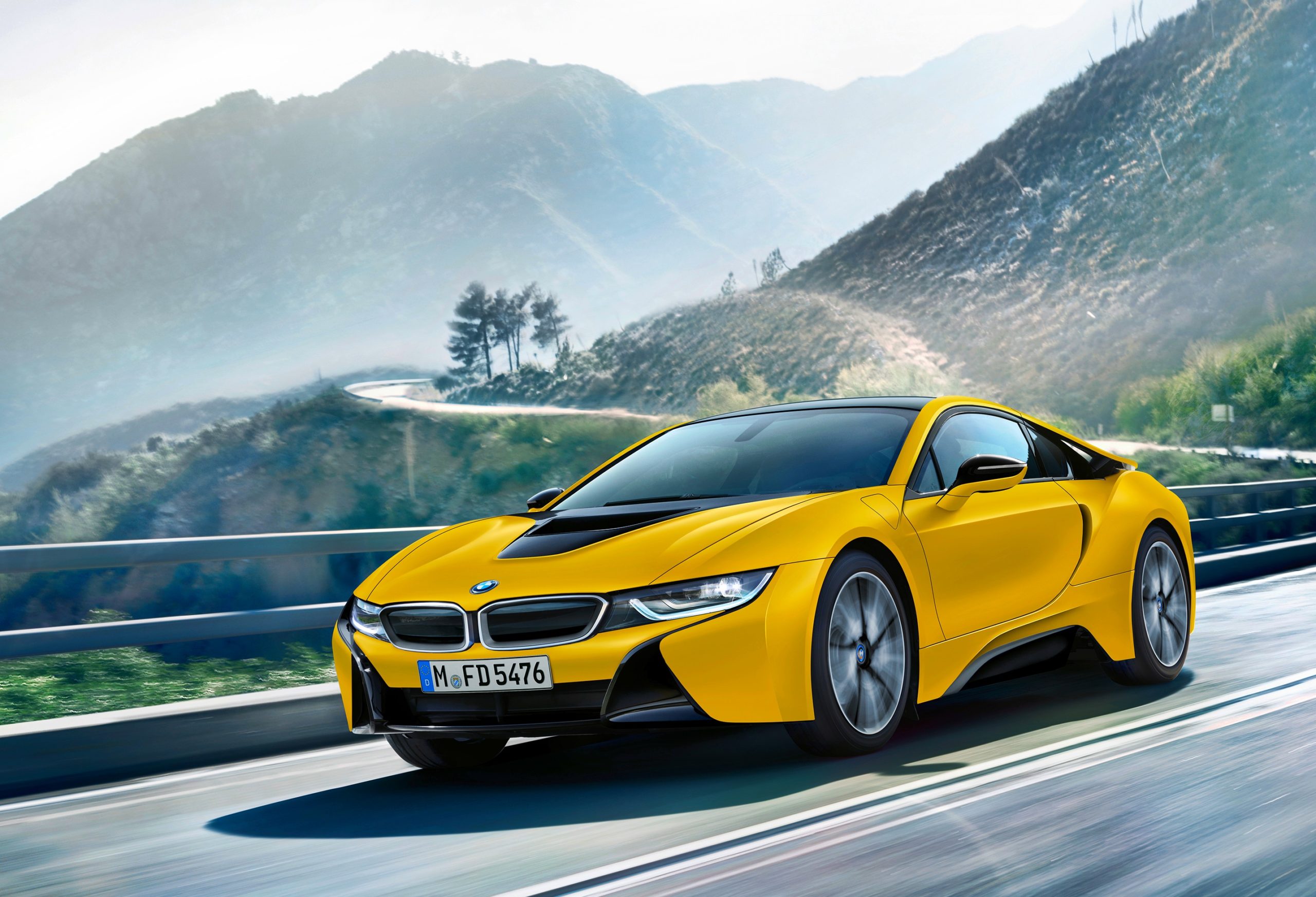 Forthcoming BMW M3/M4 to be manual, 4WD optional…
At December's LA Auto Show, BMW research and development boss Klaus Frohlich confirmed that the new M3/M4 models will be available with manual gearboxes – he said; ""I think, in the BMW portfolio, manuals will disappear. But I think M3/M4 should be the fortress of manual. So the last manual transmission which will die, it should die in an M4, as late as possible. That's my view," Frohlich said. "It will survive in the next generation of M3/M4," he confirmed. "The successors to the current M3 and M4 are all in the development stage. So yes, there will be a manual (option) in the successor to M3/M4."
Why are manual gearboxes heading for the chop? The reasons are pretty obvious: costs and demand. Frohlich added "because we have turbocharged engines with 600Nm+ of torque, to develop a manual transmission that can withstand such high-torque levels for such a small volume isn't financially viable. So we tried to prolong the lifetime of the manual 'box, but we can't invest in developing a new manual transmission. No transmission partner will do that with us. So we are evolving our existing manuals as long as possible."
Frohlich also chipped in on the all-wheel drive topic, saying that while the market will mostly prefer rear-wheel drive, an all-wheel drive model will also be on offer in the M3 and M4. "I think there is still a big market for pure rear-wheel drive. M3 & M4 are our icons. These cars will be rear-wheel drive," he said. "But we will have an all-wheel drive derivative too."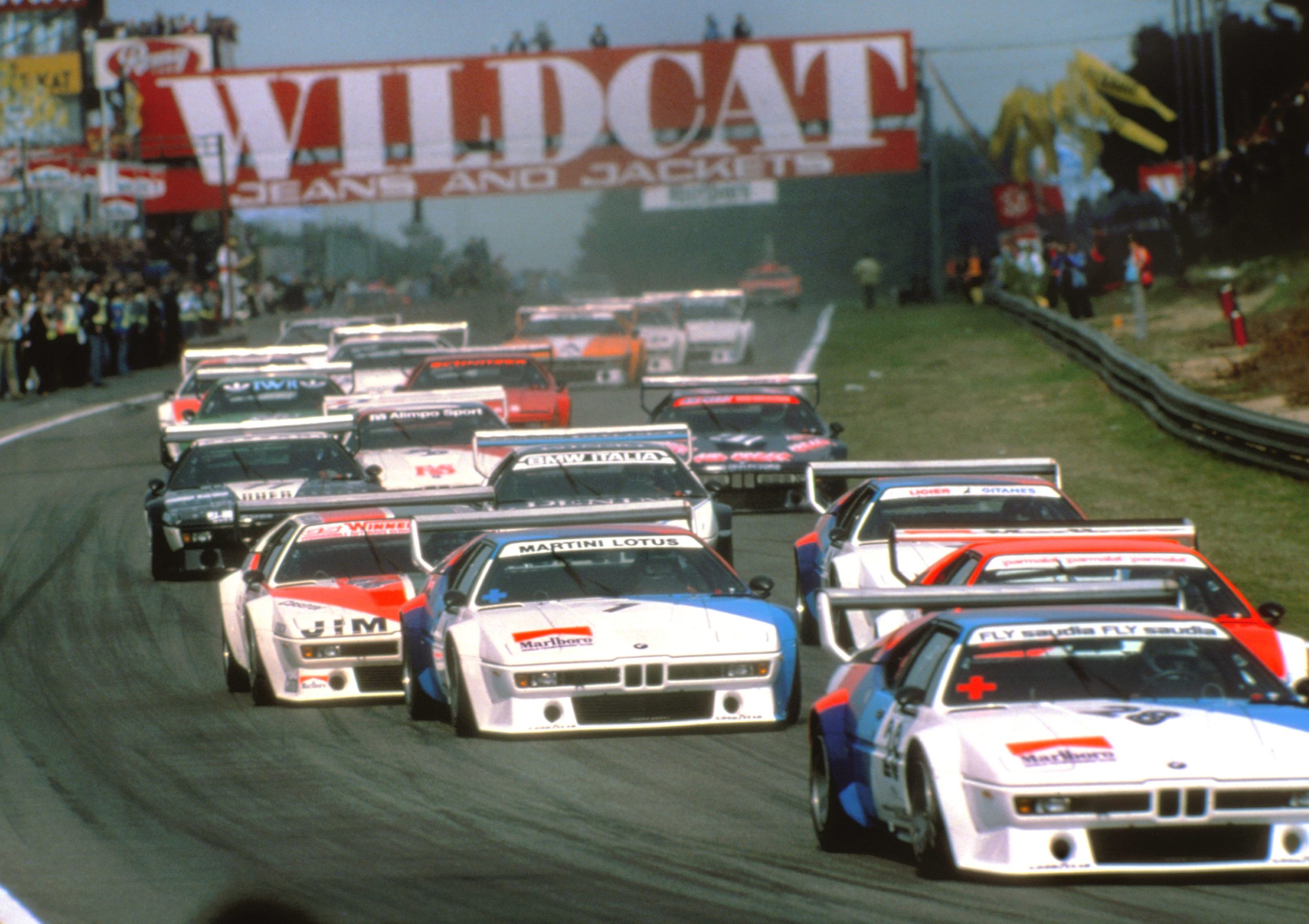 BMW offers improved access to Individual paint colours
BMW and its dealer network has long been (rightly) criticised for not offering customers easier access to the BMW Individual range, including the full range of paint colours, but that's set to change, on some models at least. They have just launched the online 'BMW Individual Manufaktur Visualizer' where you can now access the myriad of Individual colours available to customers ordering a new car. At the moment the 'Visualizer' is only set up for customers ordering 5 & 7 Series models and M cars, but will be expanded soon, but it is worth visiting just to check out the vast array of hues and colours available, and over the festive period if bored, why not play fantasy model building and create your dream BMW!
On the page there is a choice of 'Serial Paints' or the more in depth 'Special Paints' to choose from, and the cost involved – for example, Long Beach Blue costs 2,669 on an M4 Competition while on the new M5 it will set you back 3,128. There are more expensive choices too, like Nardo Grey for example, a colour more associated with Audi, which will set you back over 5,000 on the M5!
To visit the 'Visualizer', insert the following URL in your web browser –
http://visualizer.bmw-individual.com/Ipps/bmwoac?page=imc&market=80001-DE&Header=1&dc=1-1&lang=EN#top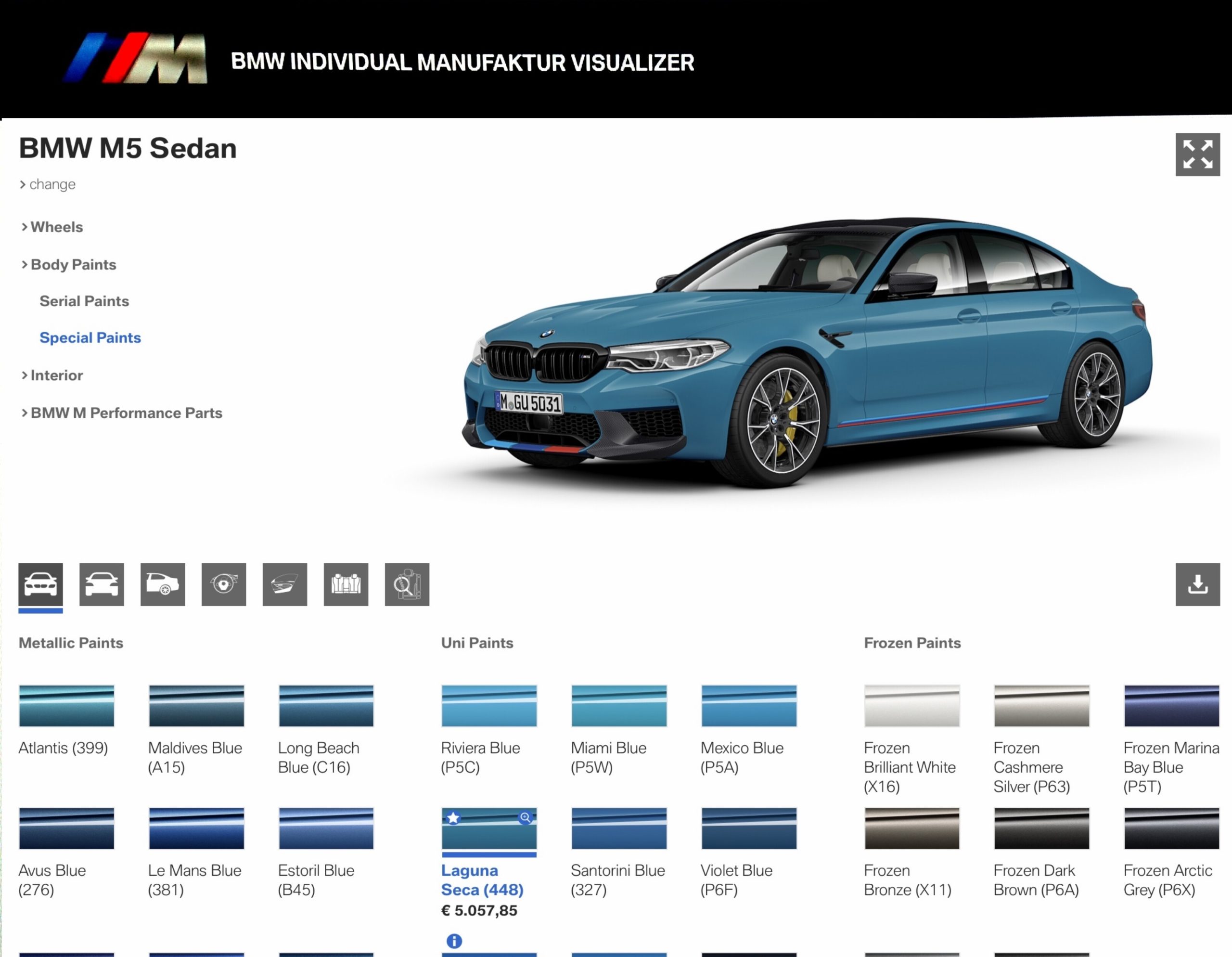 New aero goodies from AC Schnitzer + 21″ wheels for F90 M5
AC Schnitzer have released some aerodynamic goodies for the new F90 M5, which not only make the car look more sporty and aggressive, they also work! There is a cool looking carbon fibre front spoiler 'elements' and a PU lower splitter with centre support, a carbon 'racing' rear wing, a paintable boot spoiler, a set of side skirts, a paintable roof spoiler and a rear bumper protection strip.
The boys from Aachen have also come up with a new version of the AC3 lightweight wheel, the 'Evo', for the new F90 M5 model. Sized at 21″, the Evo wheel has what Schnitzer calls "centre locking optic" which basically mimics centre-lock motorsport wheels but is actually a locking cap covering the wheel bolts. The Evo is available in bicolour silver/anthracite or flipped in anthracite/silver – see photos,
The wheels can be ordered now but will not be available until March 2019.
For more details on these and other Schnitzer products go to www.ac-schnitzer.co.uk or www.ac-schnitzer.de