Words and photography by Andrew Coles
It sometimes takes a tourist to see a city like London through fresh eyes. And don't we know it? They're the ones walking slowly on the footpath, pausing for photos at the most inopportune of moments and standing on the left of escalators.
We're the ones who occasionally get angry at them, mentally yelling 'let me get on with my life in this overcrowded, expensive, dirty and sometimes dangerous city!'
But it takes fresh eyes to realise that we are, in fact, the ones who are incorrect. London is pretty incredible. It is full of world-class landmarks within easy walking distance, it has been home to luminaries including Charles Darwin, John Keats, Florence Nightingale, Charlie Chaplin, David Bowie, Alfred Hitchcock, Ian Fleming, and Charles Dickens, and it is the birthplace of important concepts that underpin the Western world. The Westminster system of government comes from Westminster, and Greenwich Mean Time is measured from the Royal Observatory in, err, Greenwich.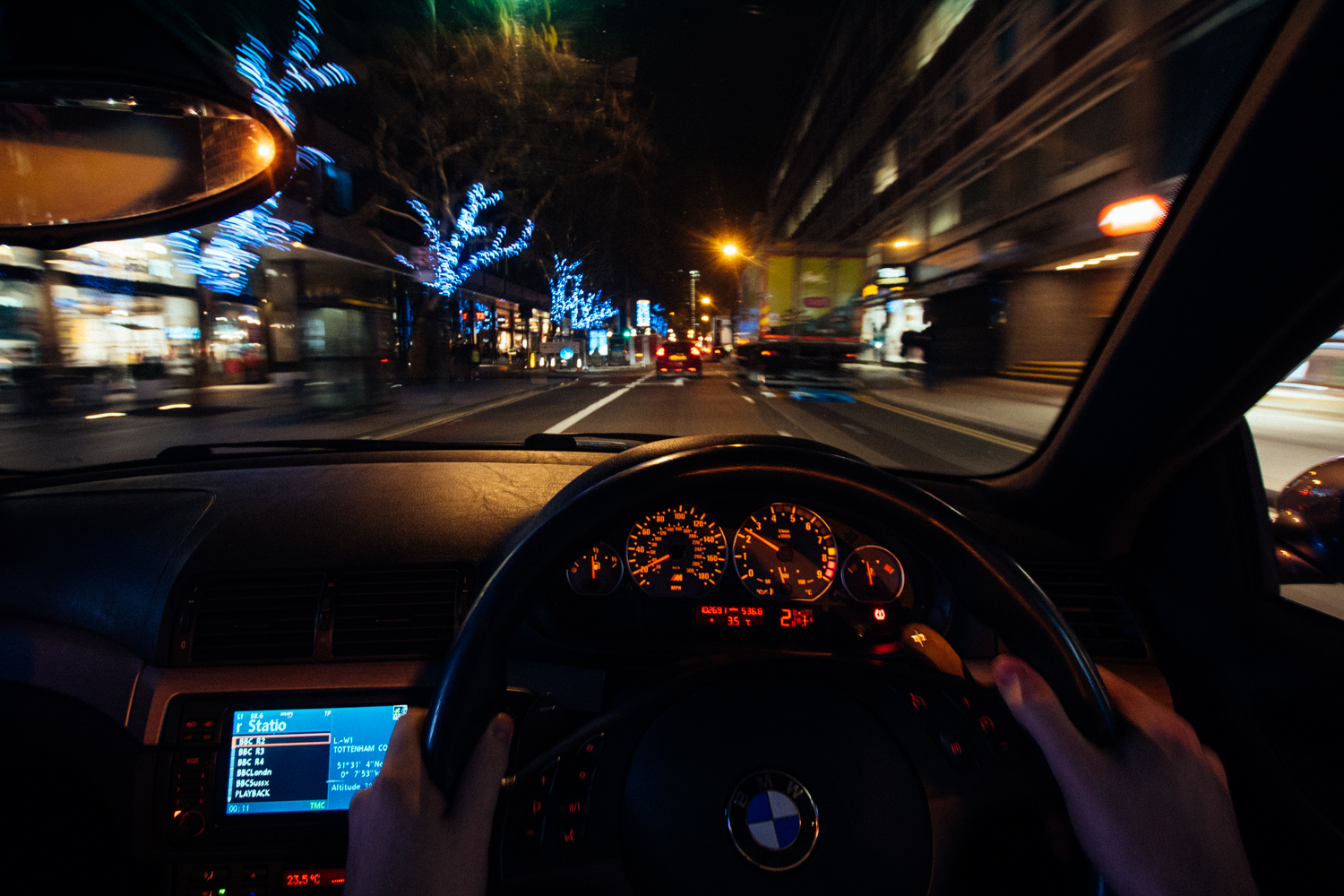 What we learn is that London is not at fault here. It is a true world city deserving of all touristic attention. However, it is the act of being a tourist that is less than palatable, what with all the lining up, the overpriced attractions, and the inability to find a good pub which results in paying over-the-odds for a pint. Not to mention all the pushy, frustrated Londoners just trying to make it to the tube. No wonder the tourists get in the way.
Walk a mile in another person's shoes, they say, so we decided to do some touristing of our own in our fair city. London is a wonderful place to be at Christmas time, and the encroaching darkness plays perfect backdrop to the extensive Christmas light displays strung between the buildings. A roofless vehicle is mandatory to fully take it all in, but the hop-on-hop-off busses make a diehard petrolhead's soul cringe.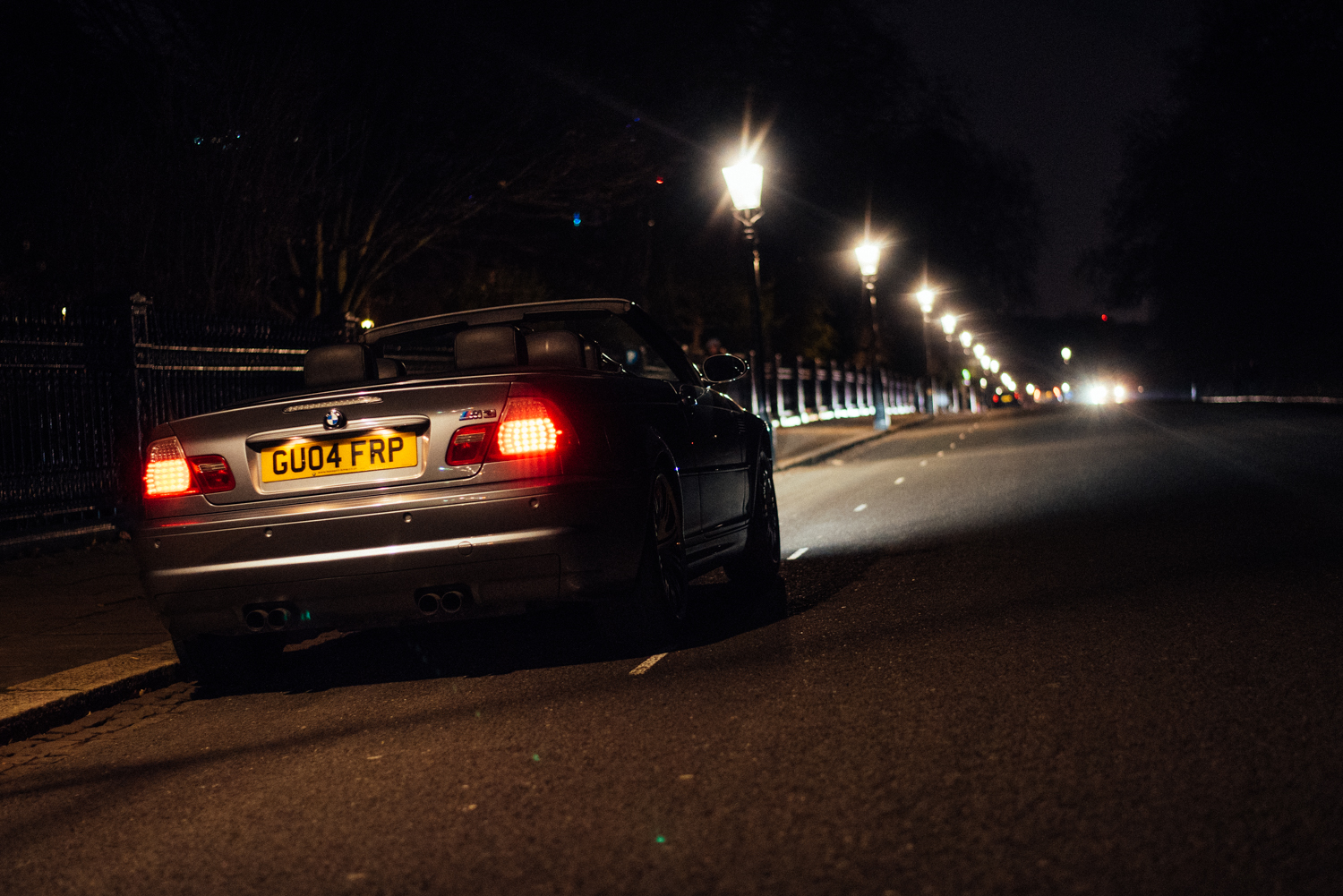 What we need is an E46 M3 Convertible, and thankfully, that's exactly what we have for our nocturnal tour of London. Even despite the comically low single digit temperature, the M3 'vert is a pleasant place to be with the top down, windows up, and seat heaters set to their maximum. We discuss a rough route over a pie and pint in historic Highgate, and set course past the grave of Karl Marx to a bridge which affords us a panoramic view of the city.
We pause to ponder just what he would think of the M3, and decide to quickly change the topic. We head down the hill, through gritty Kentish Town and Camden, to complete a lap of Regent's Park's Outer Circle. We're well aware that the M3 and its screaming S54 engine is not suited to this tour, and even though the wide and empty park roads give us small opportunities to sink the boot in, it is merely a tease.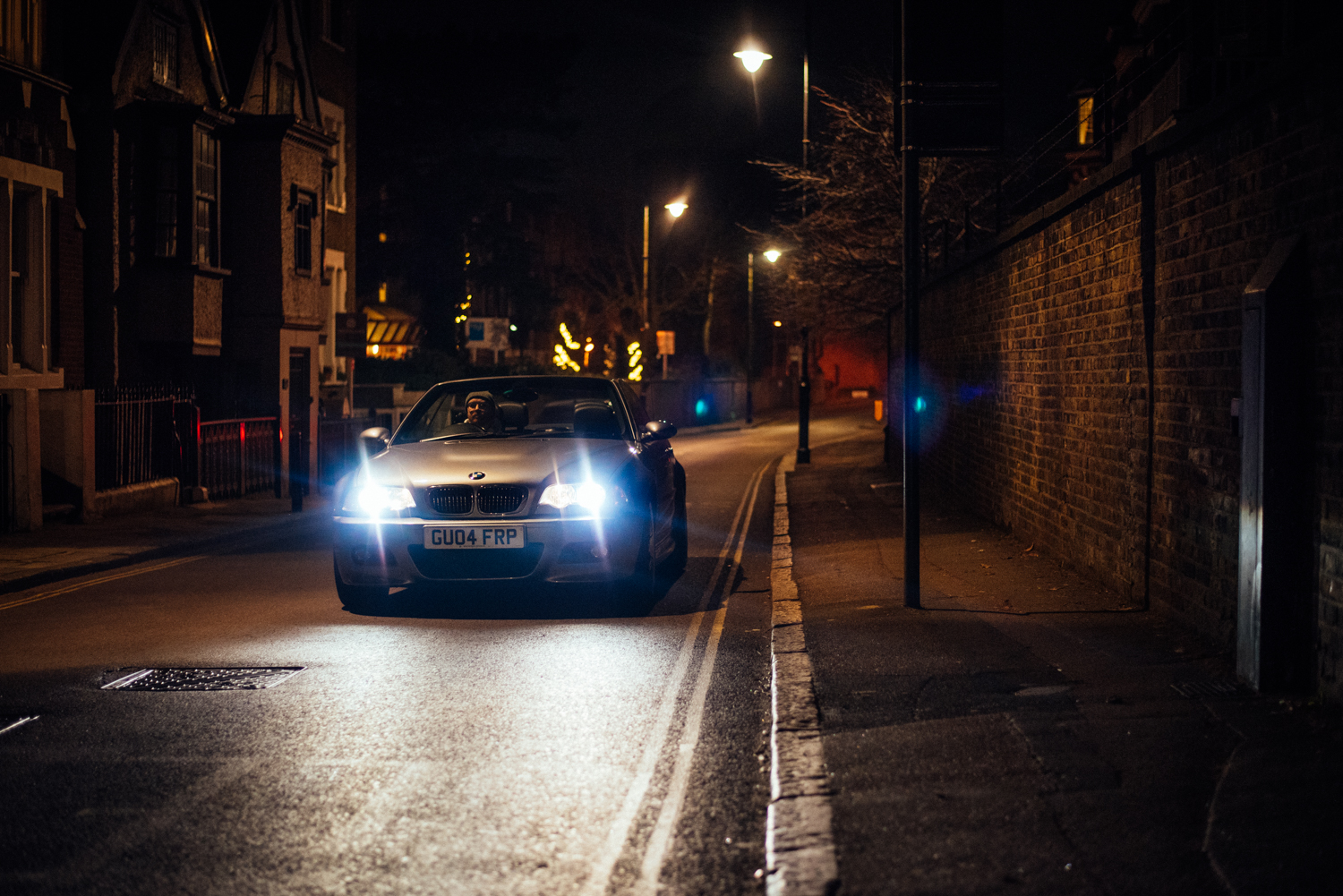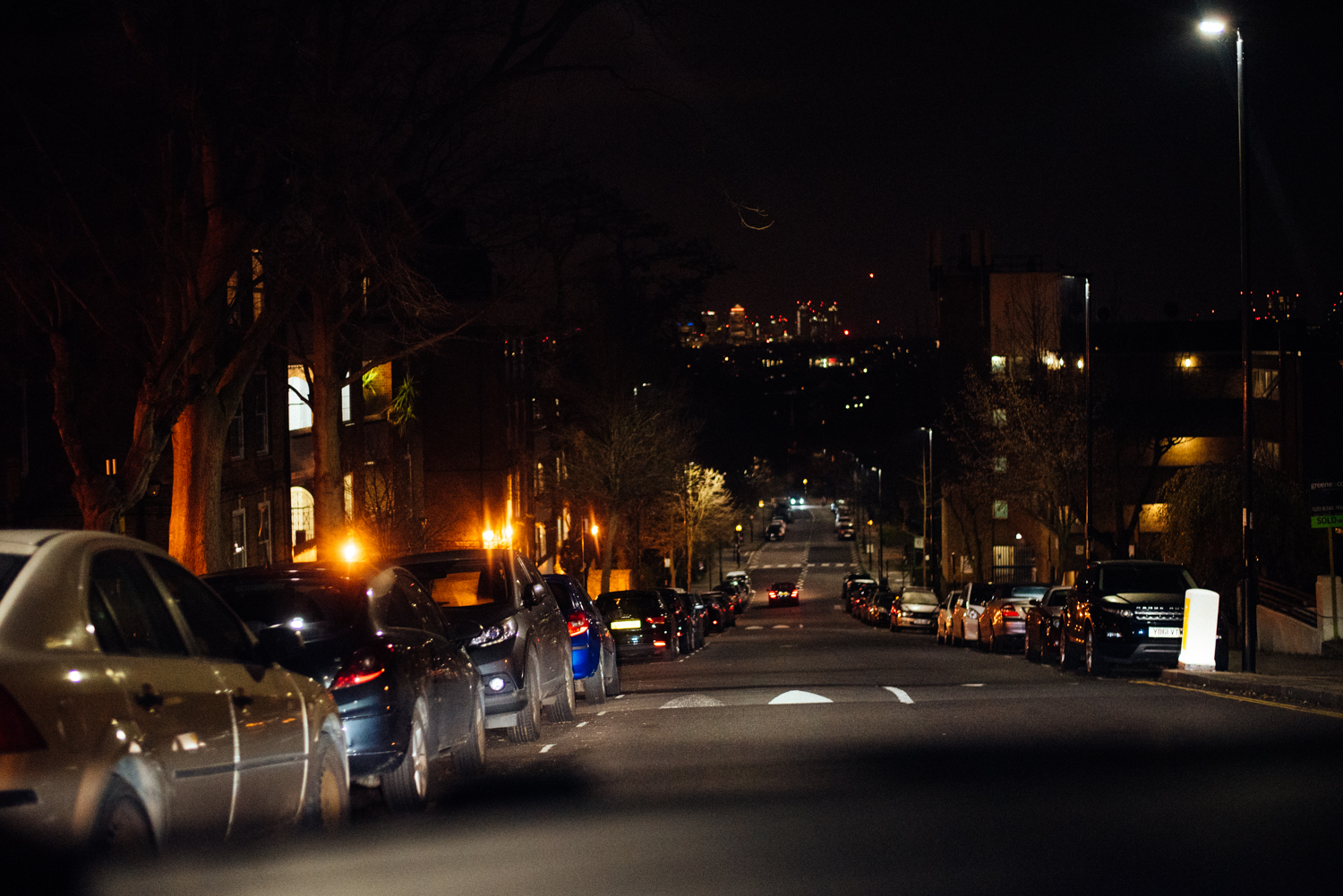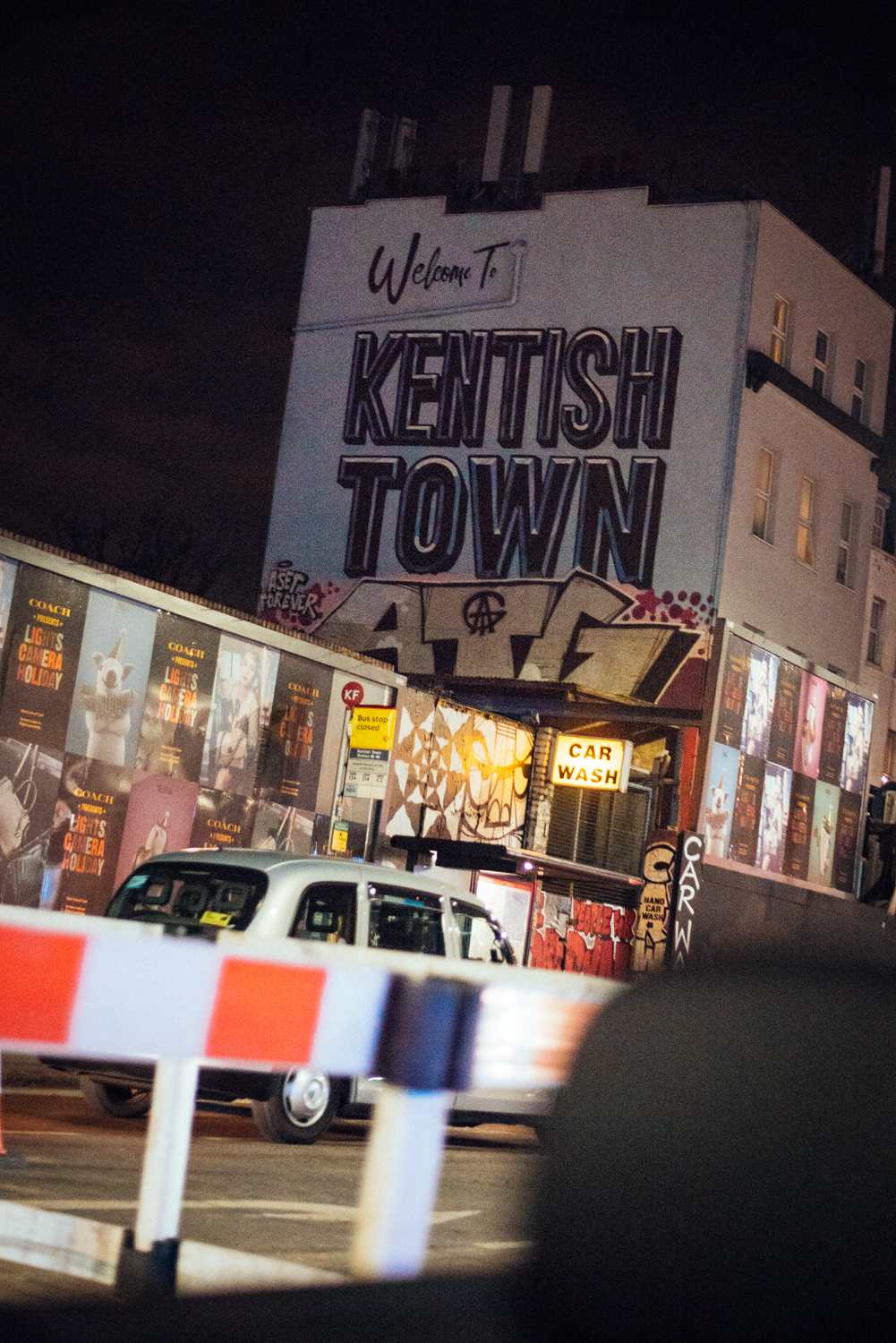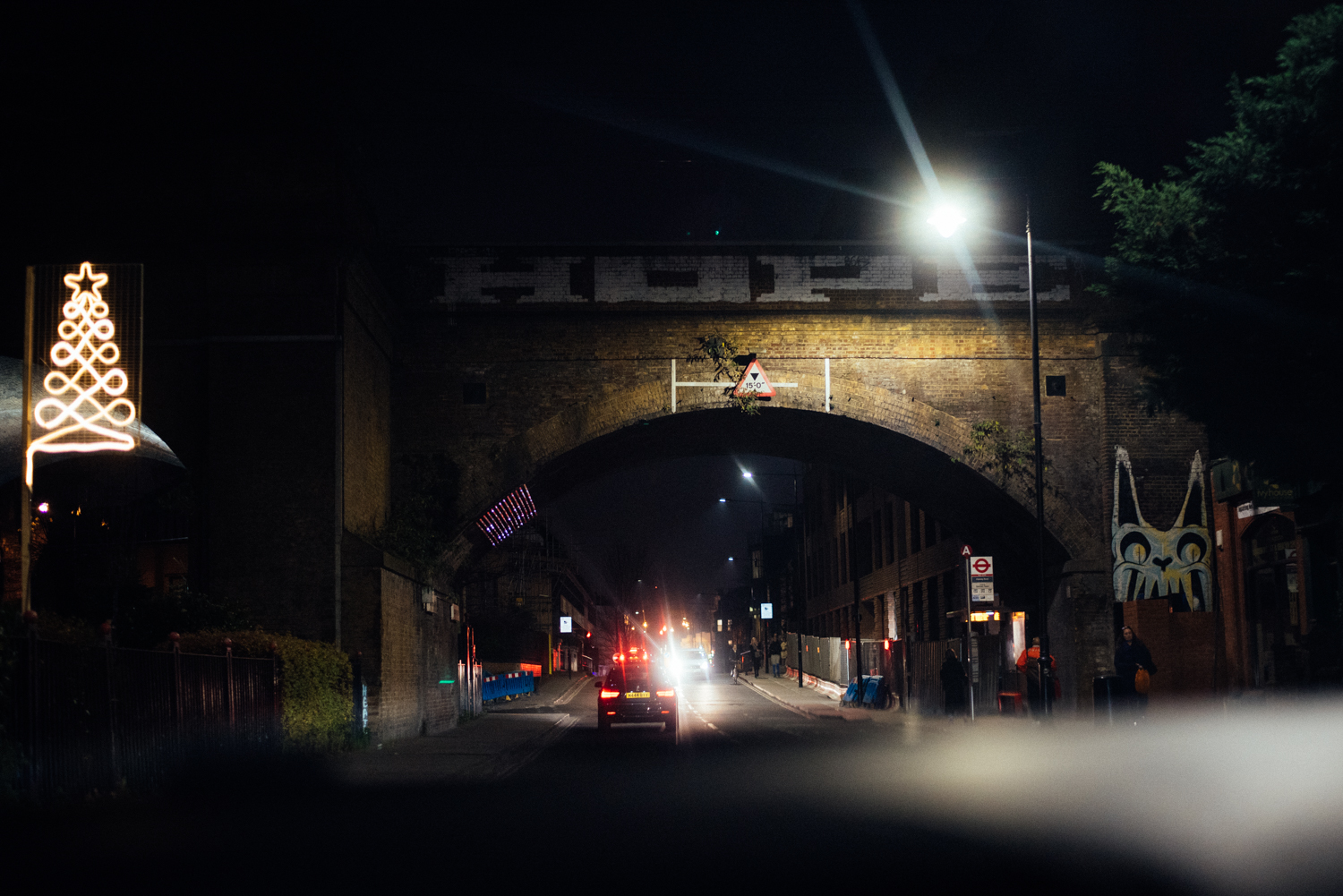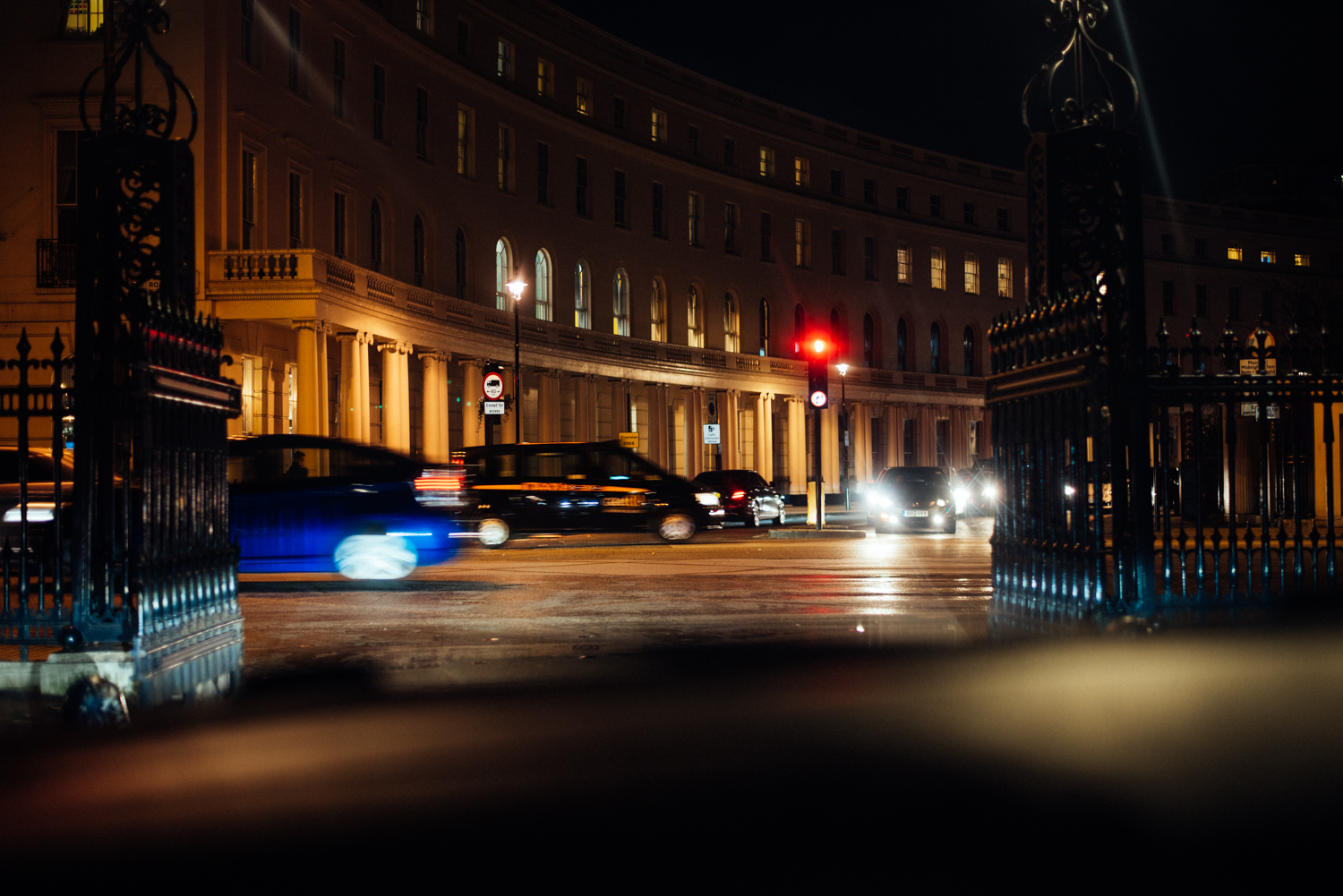 We continue to Regent Street, ticking off what we expect to be the highlight of this tour. The impressive arced boulevard, edged on all sides by imposing buildings crafted from uniform Portland stone, really comes alive during the Christmas period with lights and bowing angels floating gracefully above the traffic.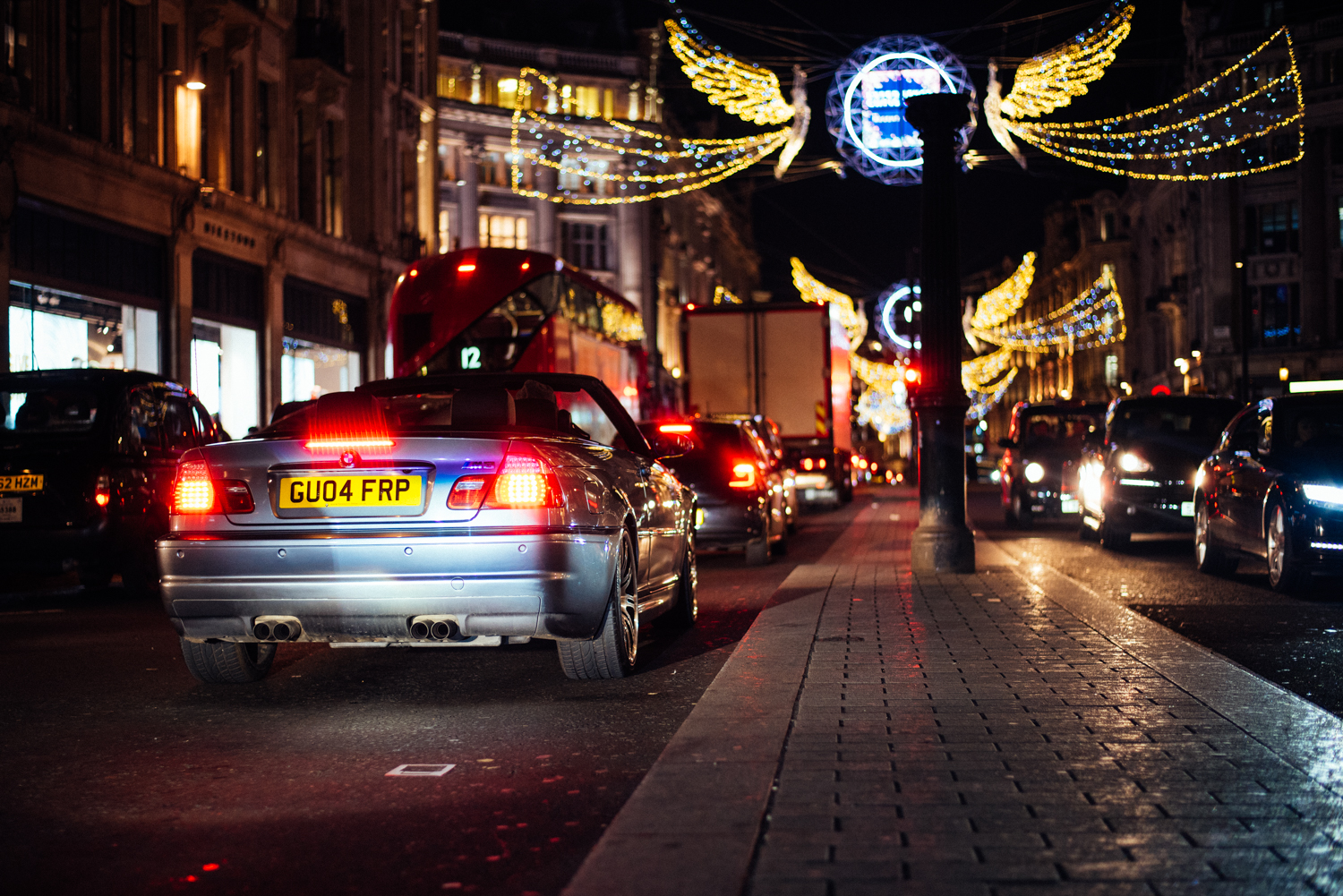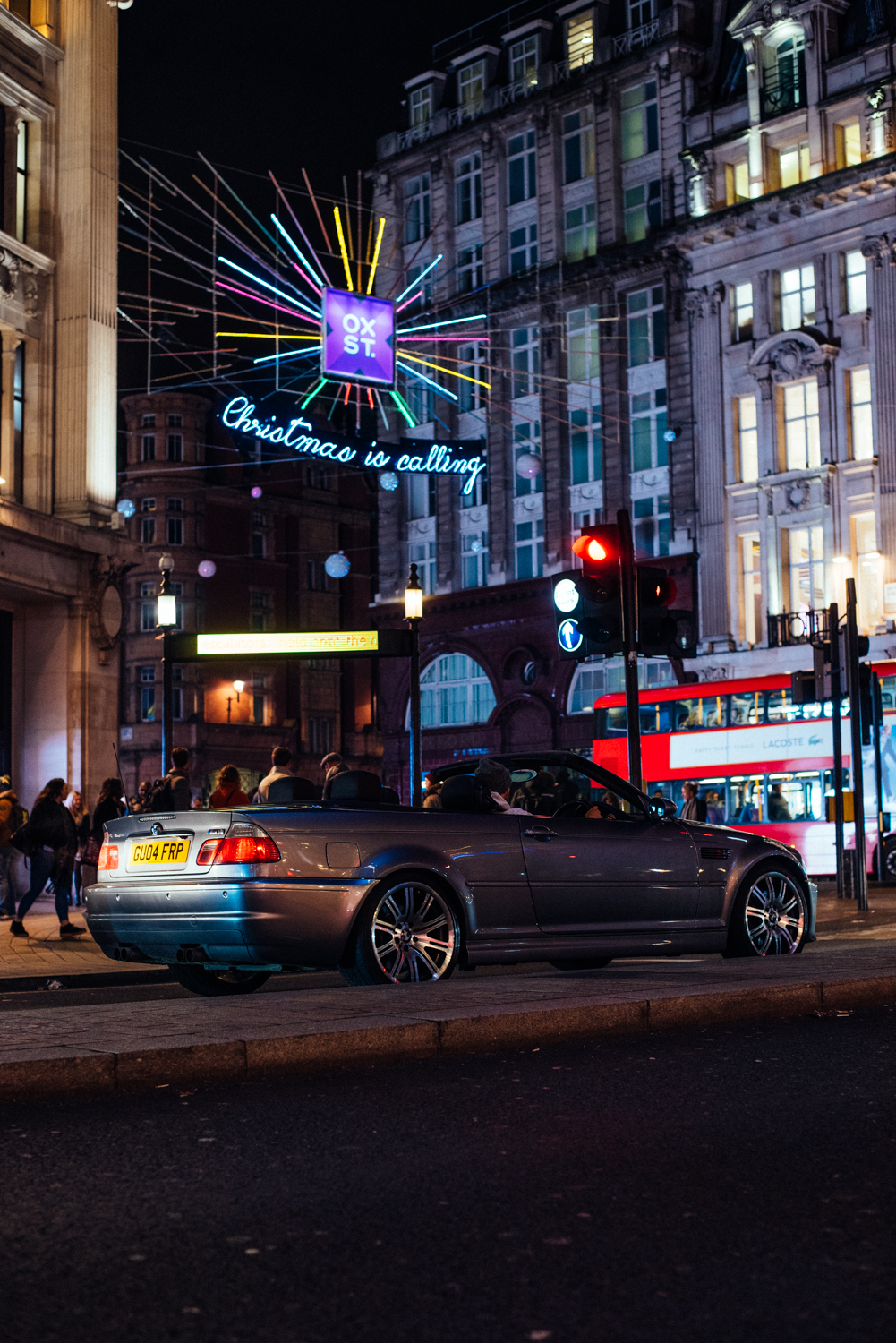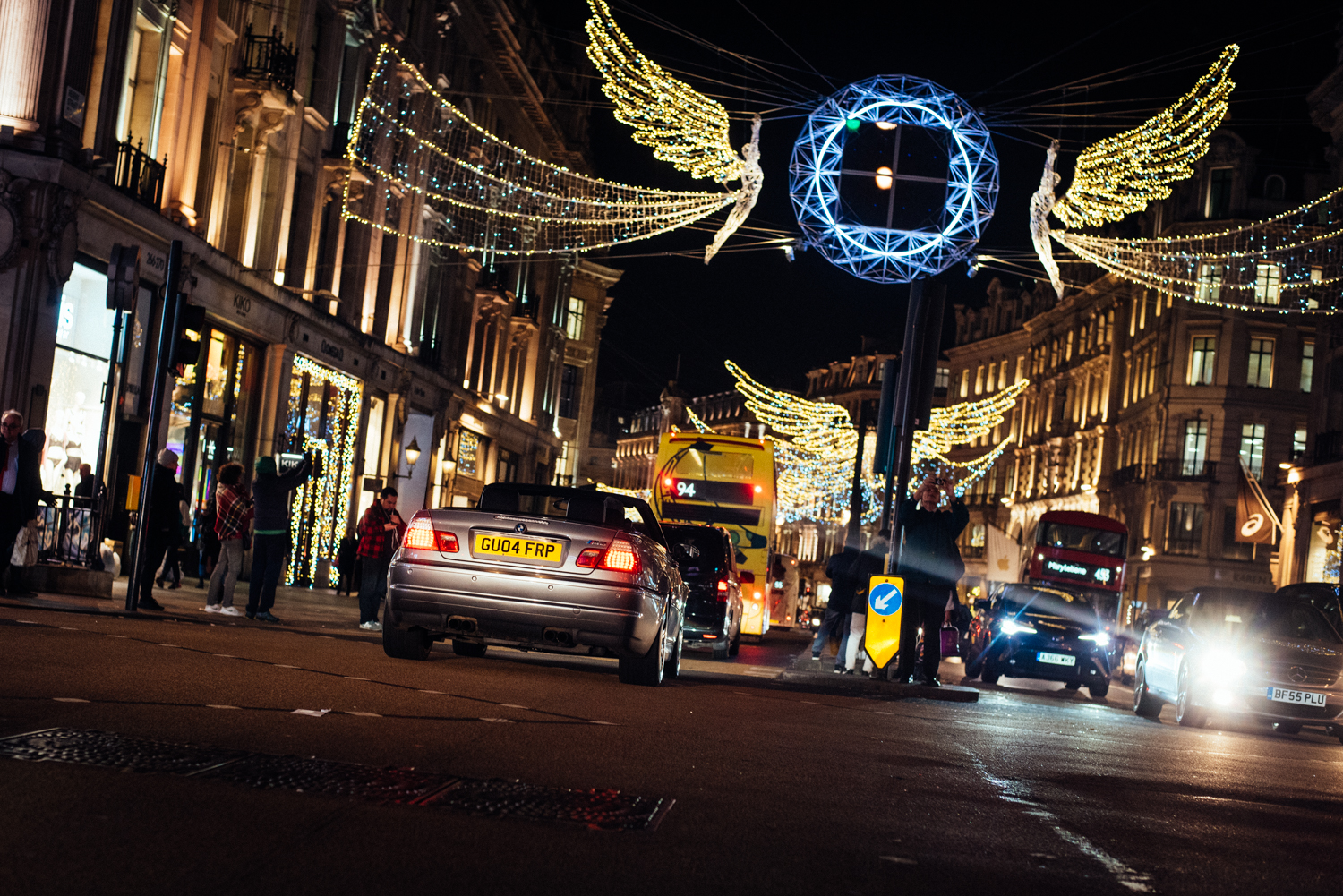 Londoners have been coming to see the Regent Street Christmas lights since 1882, and it's quite something as we slowly cruise under them, the warm haze falling into the cabin of the M3. The lights above us are complimented by the elaborate shop window displays all around us, and on the footpaths, tourists stand with camera phones capturing the display and taking selfies with the angels. The atmosphere is fun and light-hearted, and while I've never much been one for the notion of Christmas spirit as portrayed in cheesy family movies, there's an undeniable force of good here on Regent Street during Christmas. You can feel it.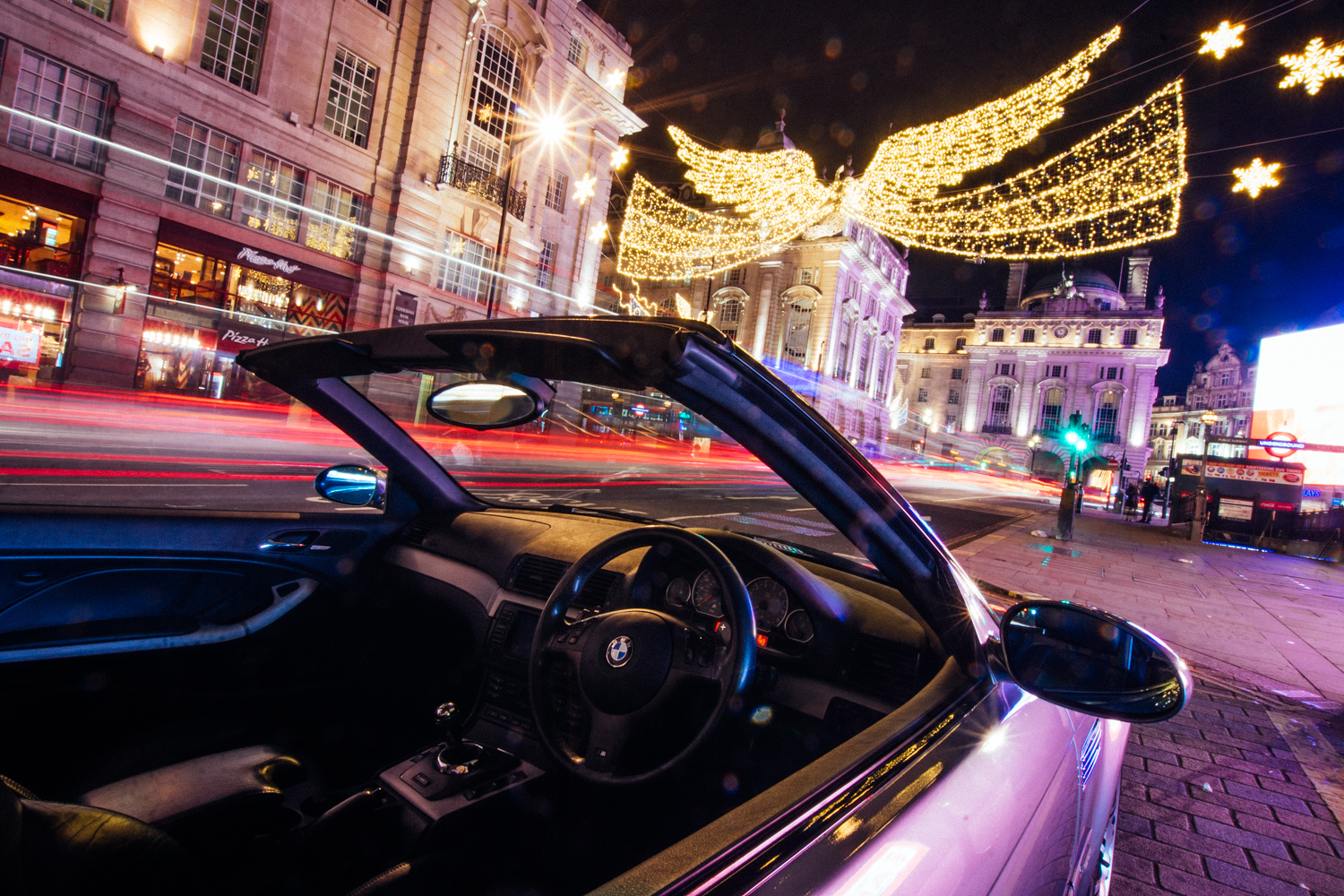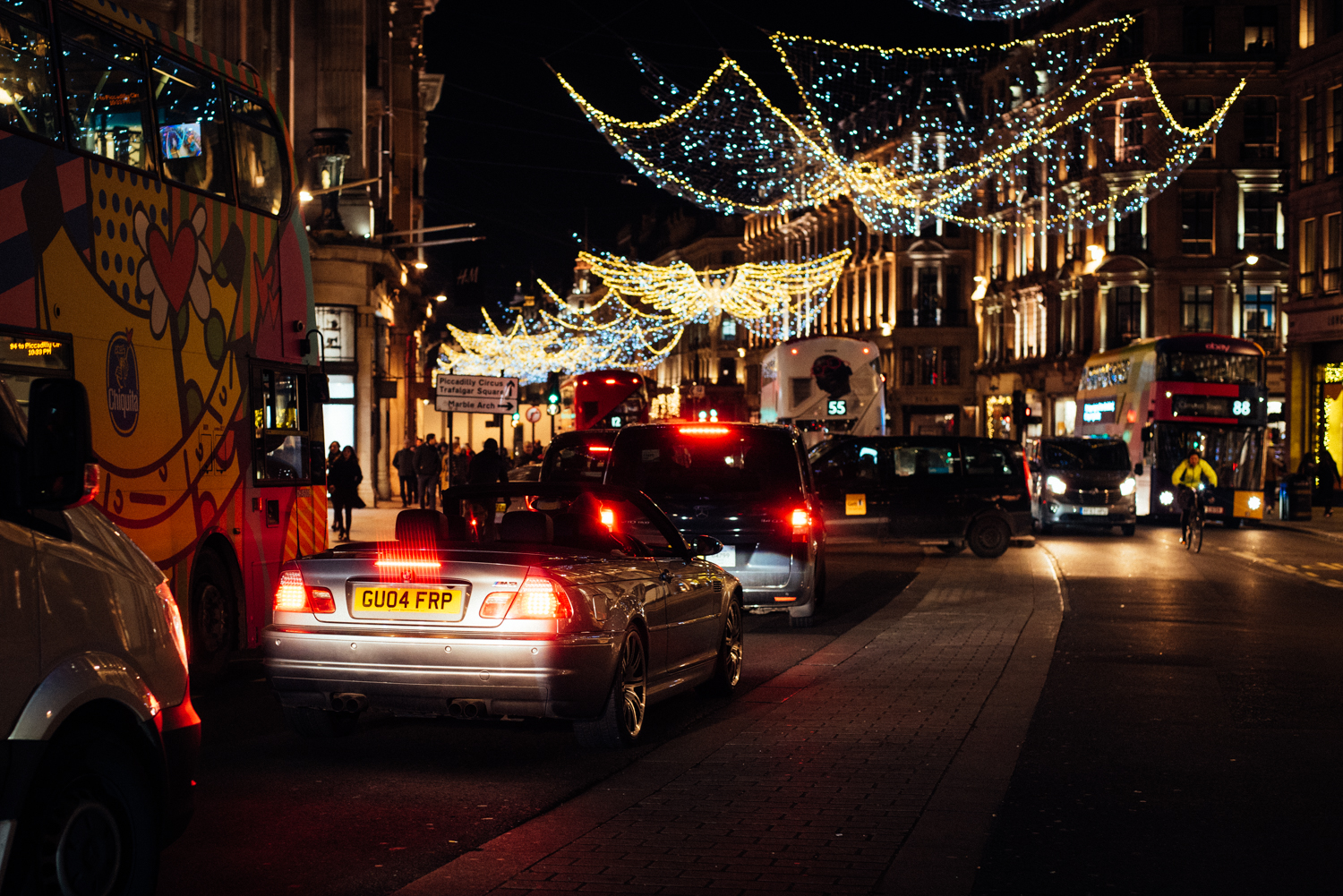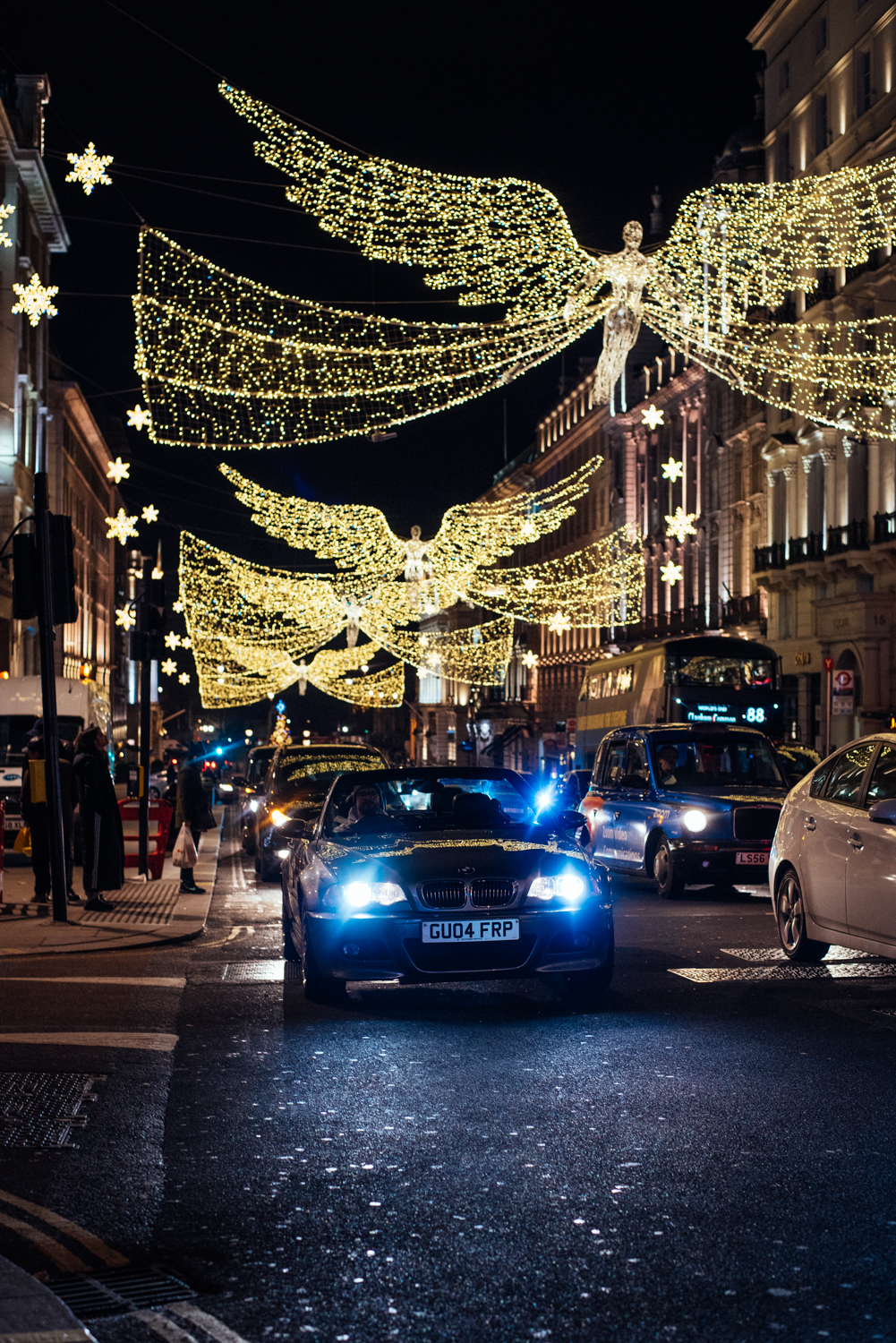 We continue through Piccadilly Circus, our faces now illuminated by the bright corporate lights spilling off the advertising billboards, and after encountering standstill traffic, we attempt a shortcut into Soho. It provides entertainment in a different fashion; the pubs are full and patrons are spilling out onto the roads, everyone awash in a different kind of Christmas cheer. The passing of a top-down convertible in this scenario is bound to elicit a reaction. Some are not so positive, but many are. One guy walks across to us, beer in hand, and yells 'that's a clean M3, nice!' as we slowly motor past.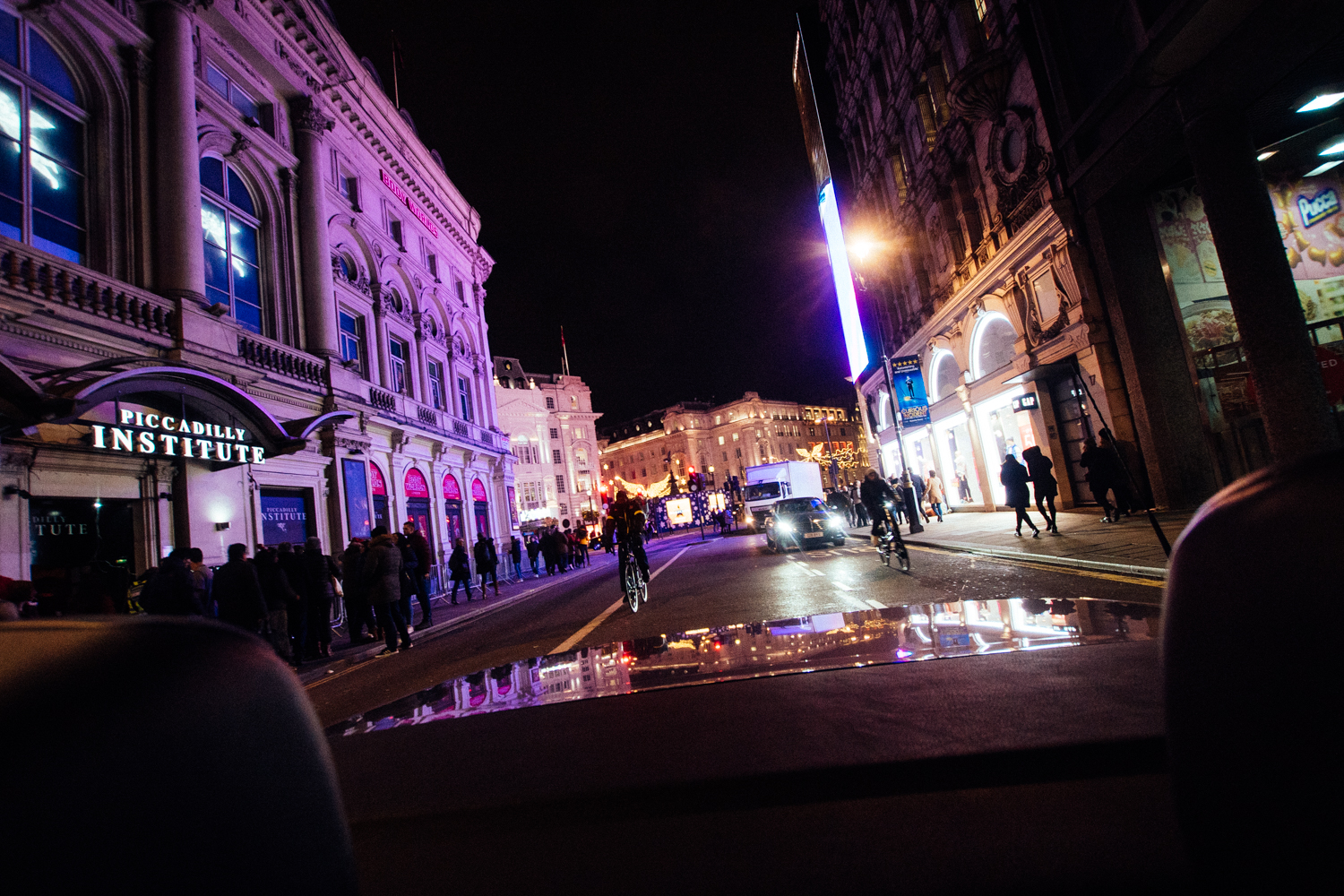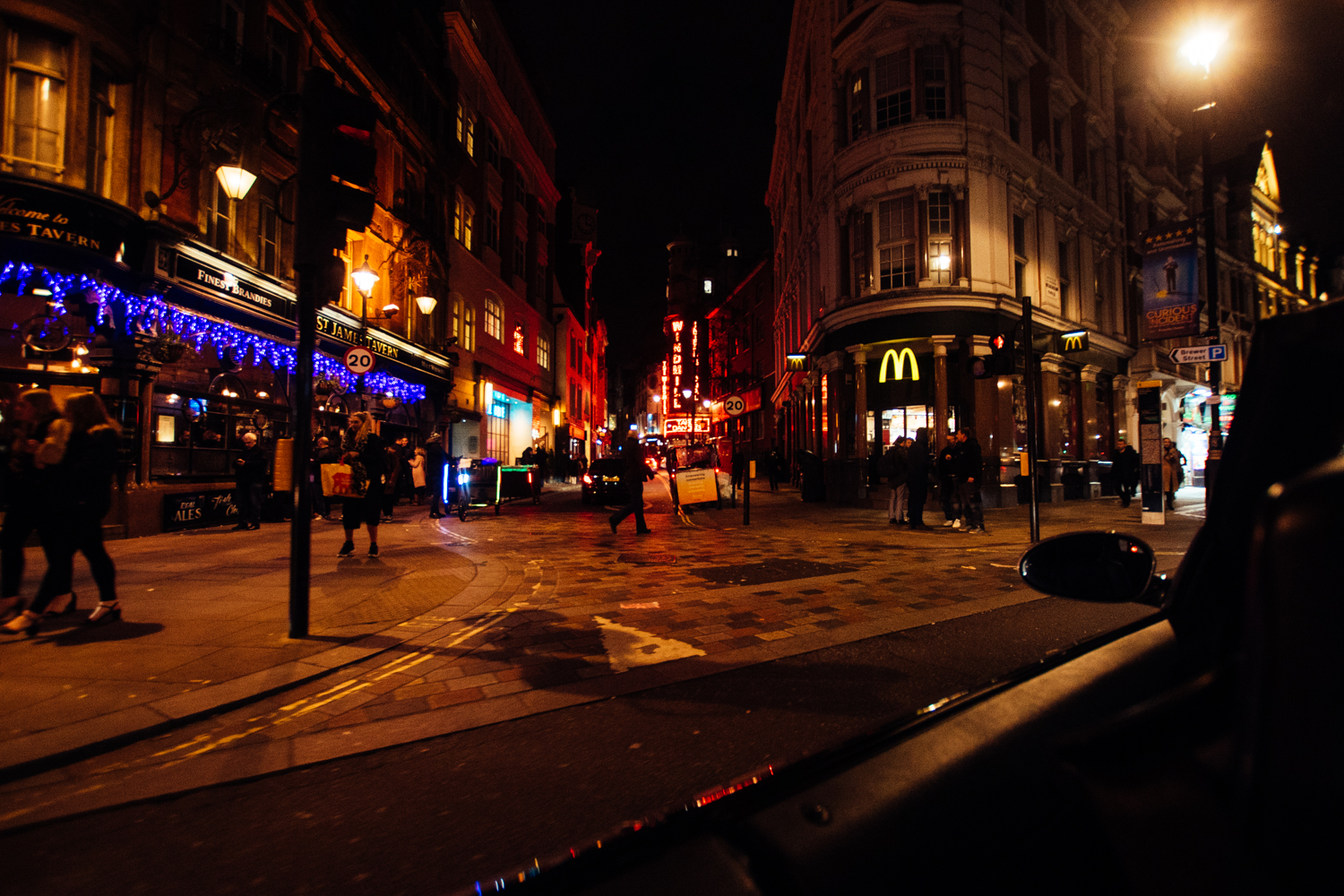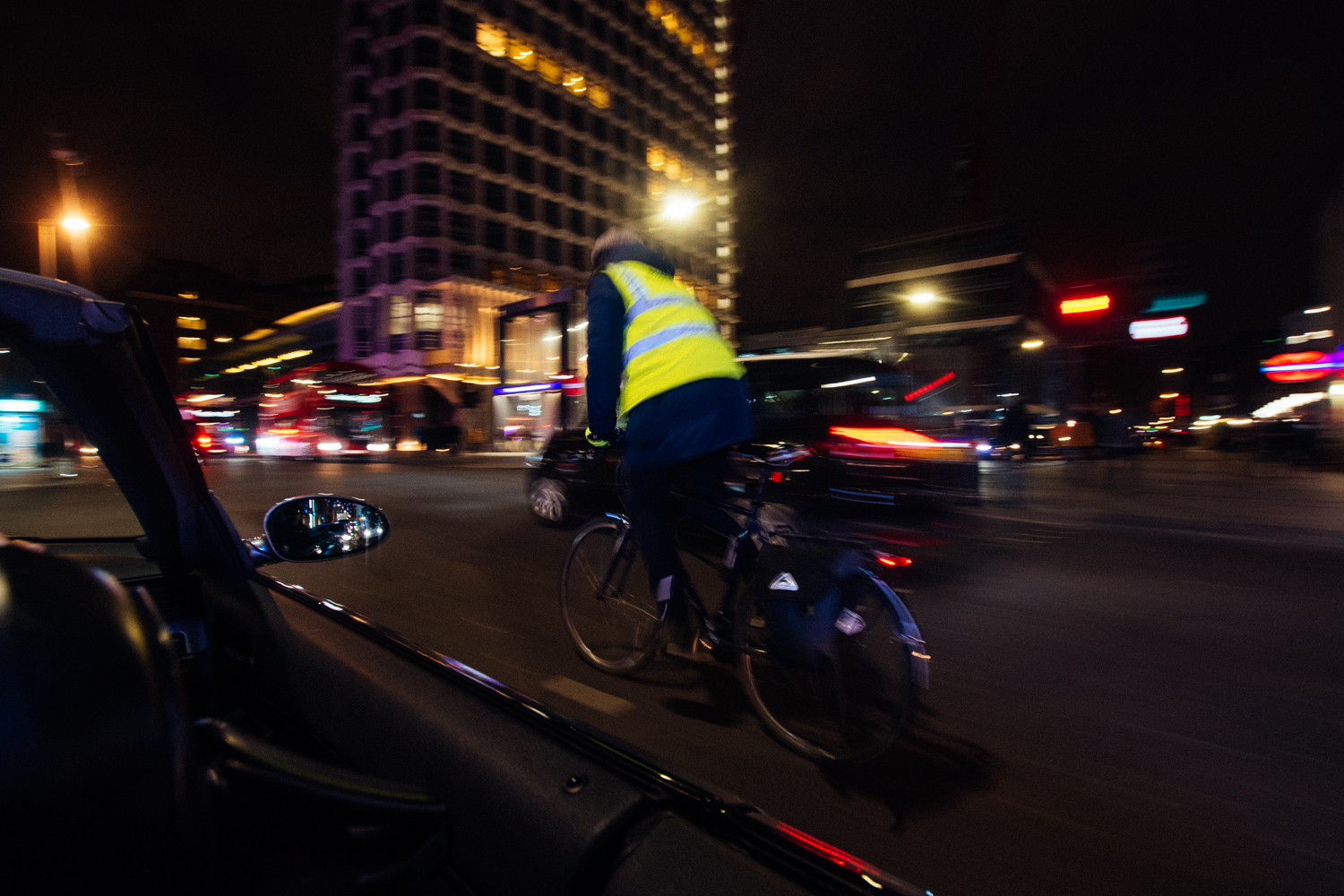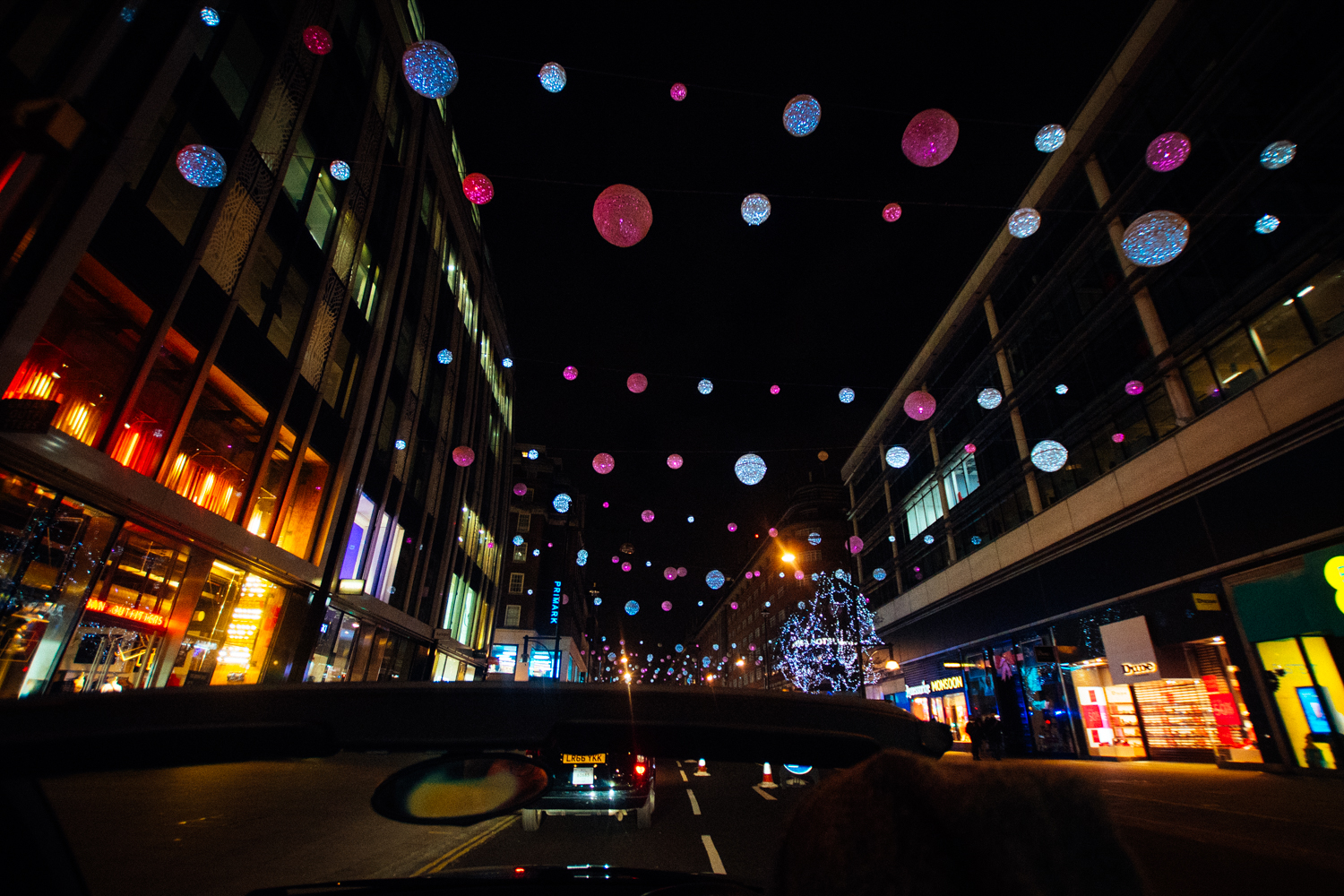 We loop the side streets and eventually find our way to Trafalgar Square, passing under Admiralty Arch and stretching the legs a little down The Mall. No open-top tour of London would be complete without a visit to Buckingham Palace, but we are somewhat disappointed to find it shrouded in near total darkness. Surely the Queen celebrates Christmas?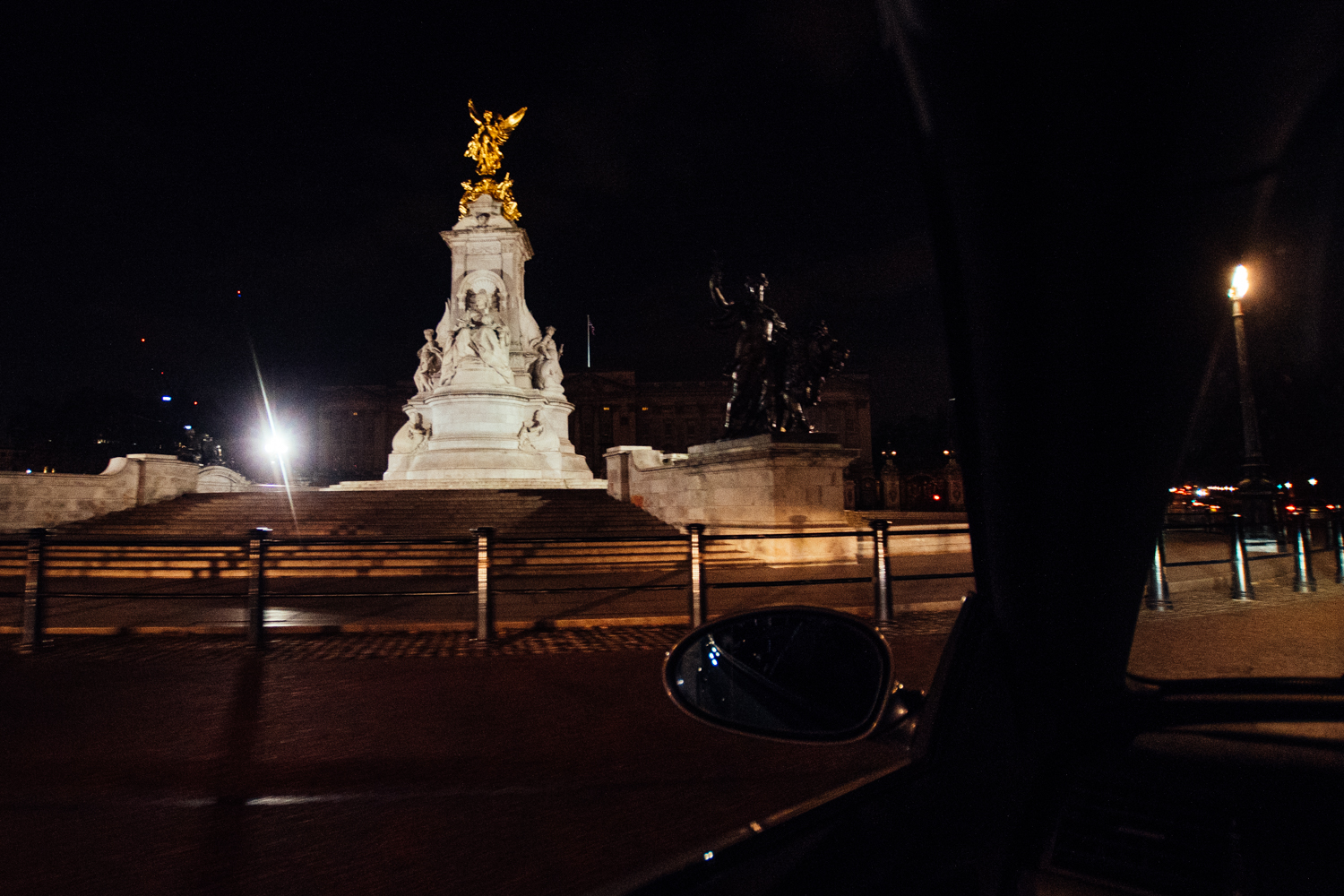 We loop back toward the Thames, passing Big Ben, still covered in scaffolding for renovation works, and across Westminster Bridge. We consider a stop for photos with the London Eye as backdrop, but security in the area is understandably tight and we deem it an unneeded hassle. We make our way South to Vauxhall Bridge and use it to cross back and head in toward Knightsbridge.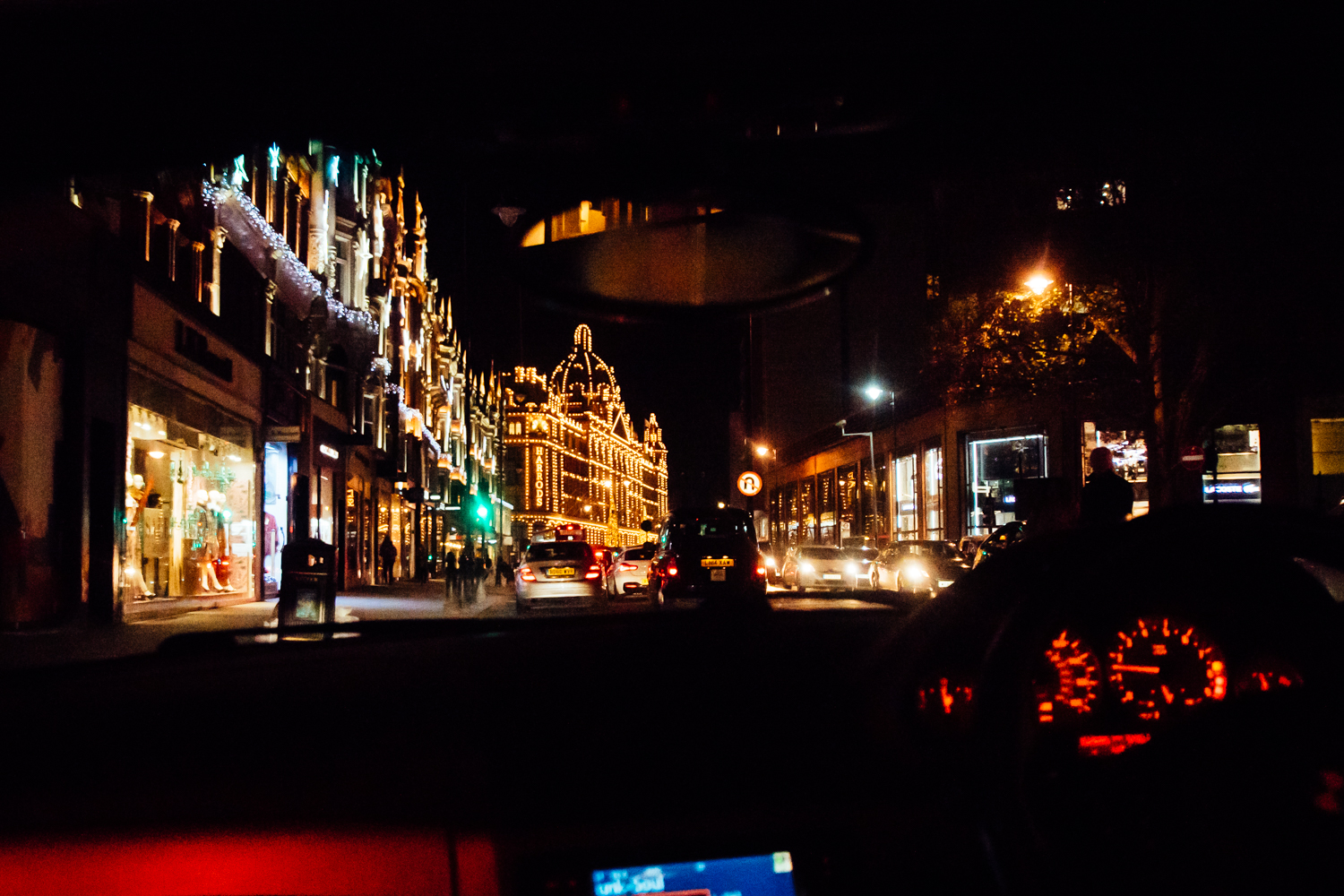 It's getting on for midnight by this stage and it's so cold that the ambient must be close to zero, which tends to explain the lack of supercars out prowling the streets. We pass the usual street parked Ferraris and Porsches, but we are not here for car spotting tonight.
The famous Harrods store is emblazoned with millions of Christmas lights from floor to ceiling, and it's quite a sight. We stop for photos, and are soon joined by a group out cruising their cars – an AMG A45, BMW X6M, Maserati GranSport and Range Rover Vogue, wearing a mix of Qatari and Singaporean plates.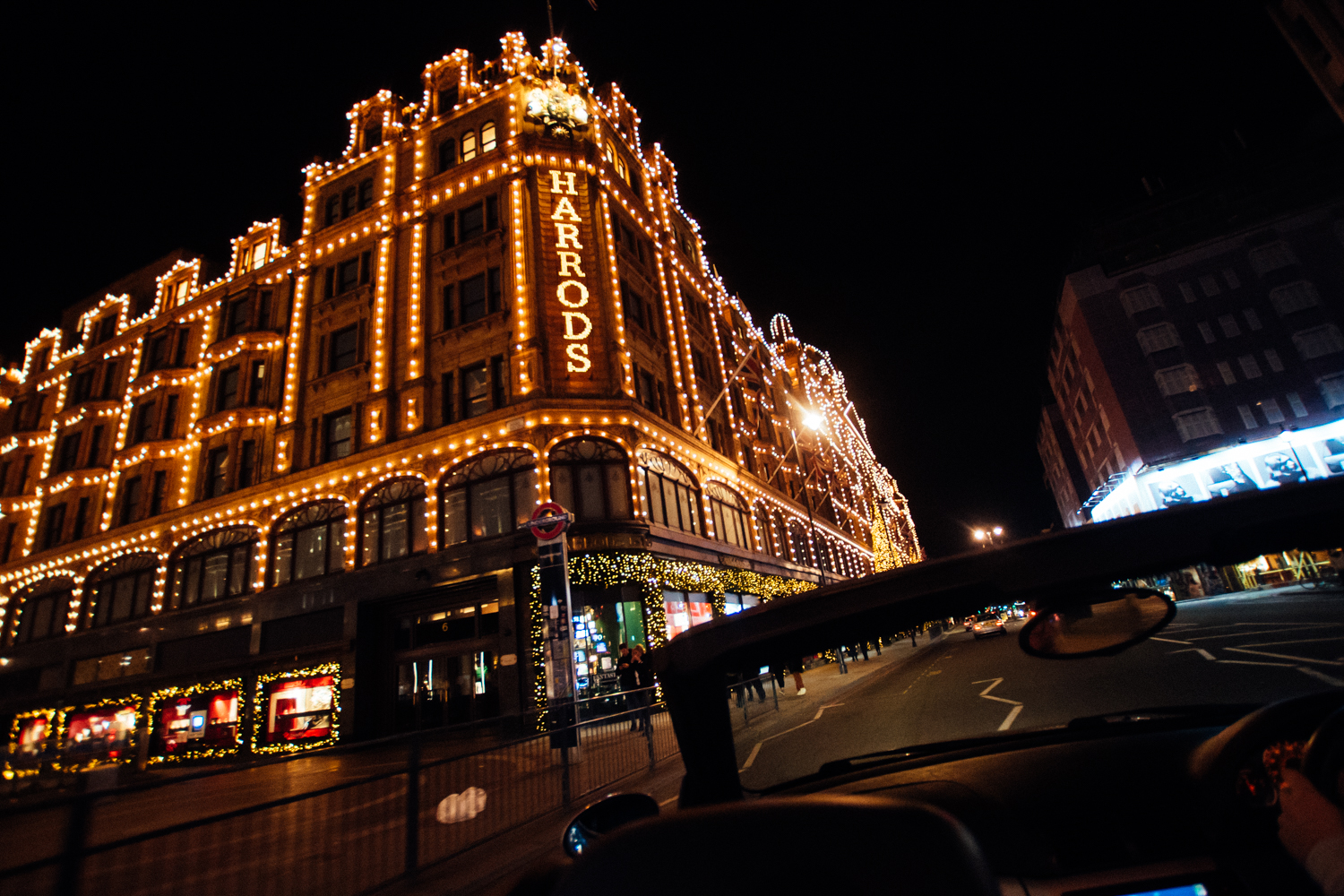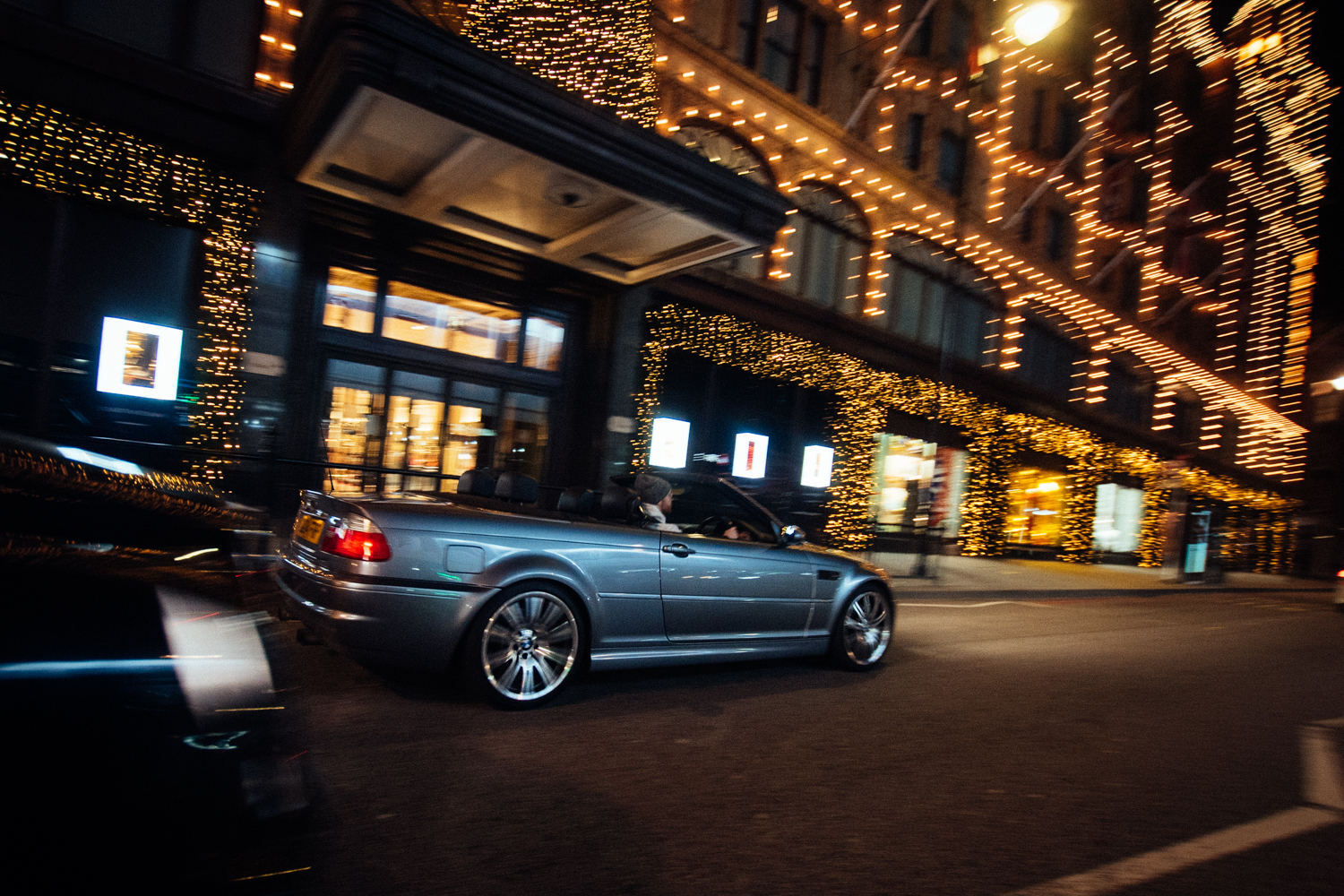 We head to Hyde Park Corner, visit the upper reaches of the rev range along Park Lane, and then go off in search of a late-night coffee. I won't lie. When I'm out of the M3 it's so cold that my fingers struggle to operate the camera, and inside, the heater is only doing a barely passable job of keeping us warm. But then we remind ourselves that the top deck of an open-top tour bus is not always an entirely pleasant place to be either, and we can spin that S54 to 8,000rpm whenever we feel like it.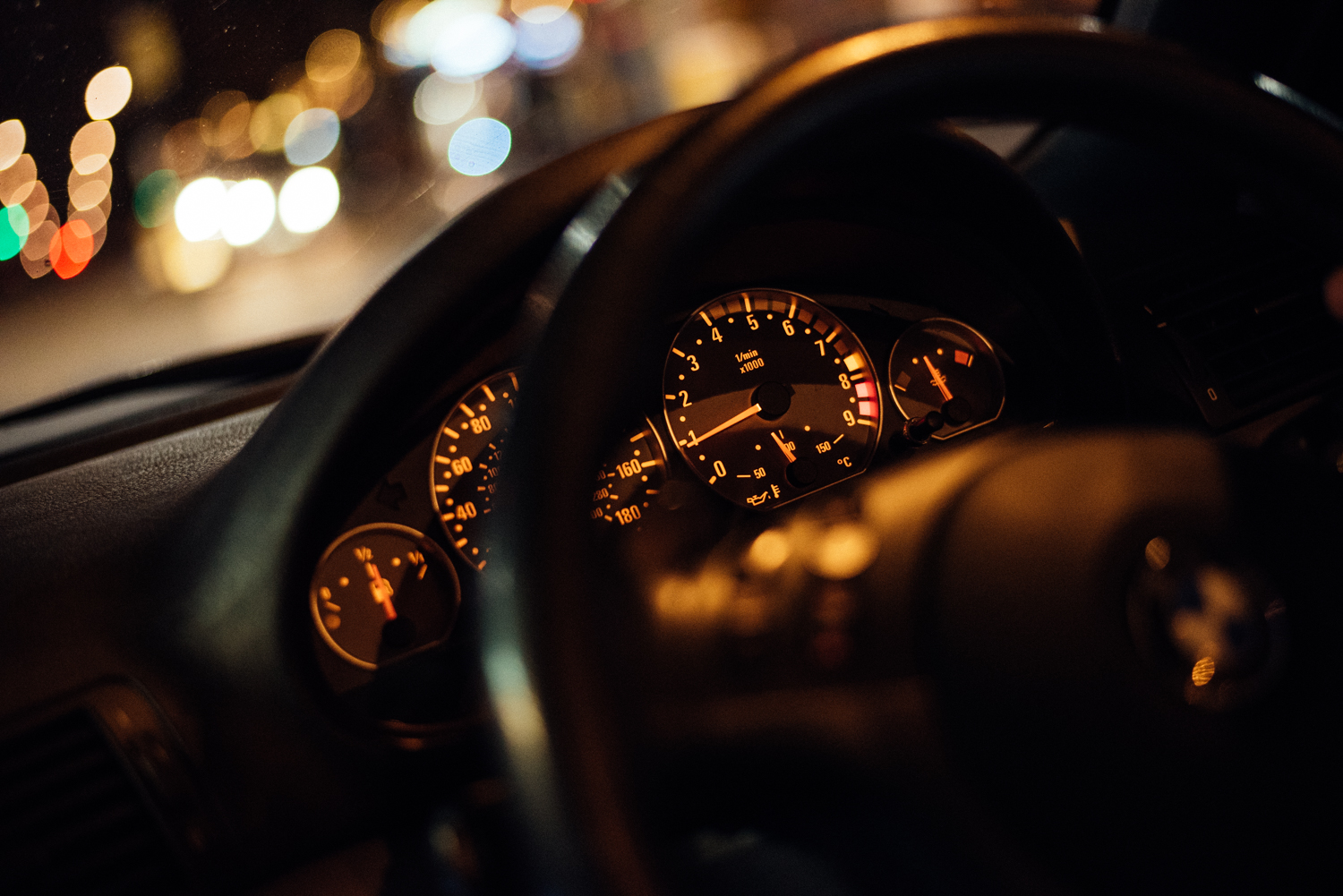 I'd never before counted myself as a proper tourist, and have never had much inclination to do the usual touristy things. But from its Roman roads to its latest monolithic skyscrapers, the City of London is as special as it has ever been, and we should count ourselves lucky to live here. Fresh eyes help, but really what we need is an alternative approach to tourism. And as we discovered that night, swapping an open-top bus for an E46 M3 is a darned fine way to start.