Originally printed in April 2016 Straight Six
We asked club members "what was your first BMW encounter" and they responded enthusiastically with tales of their first recollections of the Bavarian marque and the influence the marque has had on their motoring lives…
Former Club Chairman Richard Baxter opens proceedings with his first encounter…
Respect to a 1602 from our former club Chairman: "It was 1965 and I was travelling with my father in his new and modified Ford Corsair, along Middle Street, Nazeing, Essex. I say modified for it was in all intents and purposes a 1600cc 'Lotus Corsair'. The Lotus operation was then based in Delamare Road, Cheshunt, Herts, a few miles from where we lived. My father had a contact there and from where, over the course of a few months had purchased the Lotus Cortina components and fitted them to the (larger booted) Corsair (the Corsair was actually a restyled Cortina).
There was little on the roads at the time that could out run this 'Lotus Corsair' in fact most cars would be overtaken in short thrift and one became used to its apparent street dominance.
But then one day we came up behind this unfamiliar car on the road for it looked fresh amongst the usual familiar and predominately British cars of the time, the Ford Anglias, Morris 1100s, Morris Minors, Minis, Triumph Heralds, Rovers and Jaguars. Now and again there would be the more unusual or expensive cars such as Aston Martins, Sunbeam Alpines and Rolls Royces. This round rear lighted car had a smooth and purposeful air about it and the bold blue and white boot badge was altogether different. The '1602' chrome script, large glazed rear window, negative cambered rear wheels with a large diameter centred chrome exhaust tip looked meaty!
As we cleared Nazeing heading towards Waltham Abbey and out of the 30mph zone, I noticed my father's demeanour had altered for he had dropped a gear and was preparing to overtake what he told me was "one of those new BMW's". As the oncoming traffic cleared he flicked out to overtake the BMW but it too had dropped a gear and was overtaking a car ahead of him. The road straightened and the two cars were now accelerating hard the BMW not making any appreciable ground but the Corsair neither able to close the gap – we had ourselves some proper competition and a road race!
And so it continued for the next five miles along the twisty back road into Waltham Abbey the hunter and the hunted and neither able to gain the upper hand, the BMW remained composed and had made an impression, this was real excitement. Respect was shown by each driver to the other as our journeys diverged, I can still feel that surge of adrenalin and there was now a new kid on the block!"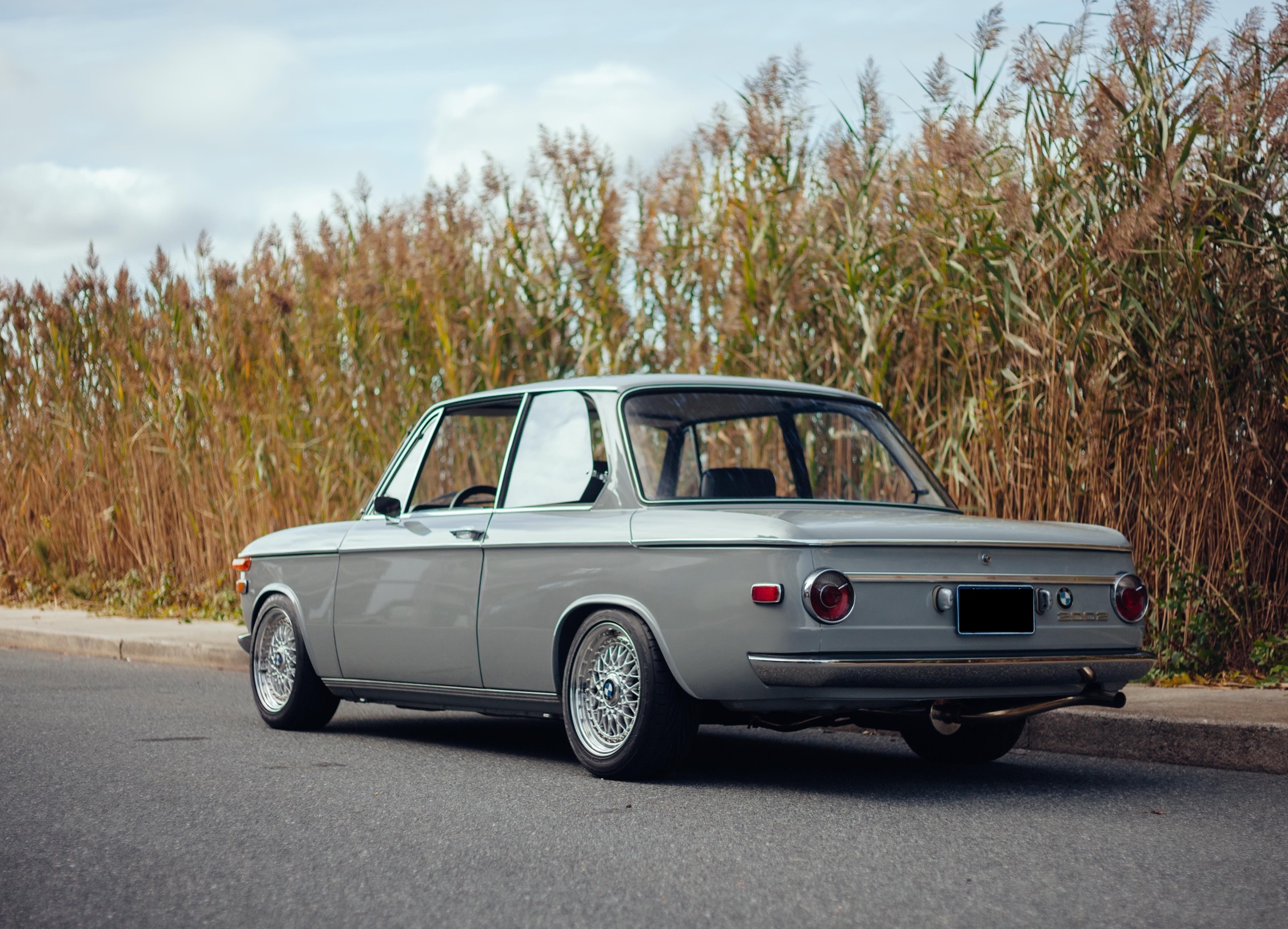 Memories of 02's and a pair of 635's for Andy Scott: My first encounter was way back in 1975. I was a proper petrolhead and though I had passed my driving test the previous October, I had yet to get a set of wheels of my own. My supervisor was similarly enthusiastic and had a wonderful Rosso Red Lancia Fulvia Coupe. These were the last proper Lancia's before the Fiat take-over and had the depth of engineering that BMW became known for. However, one day Dennis announced he had an offer for the Fulvia that he couldn't refuse. He already had a replacement lined up – an Inca Orange 2002tii. I wasn't impressed. BMW's were still rather obscure, expensive and fairly rare machines back then. The yuppy days of the E30 were still a decade off and the 2002 was just giving way to the E21 – the first of the now iconic 3-Series. When Dennis took delivery of his '02 he took me out for a spin. I recall it being quite rorty with the nose lifting under hard acceleration. It certainly had more power than the little 1.3 Fulvia but, power isn't everything, and once the novelty had worn off Dennis was missing his Fulvia with its delicate and engaging handling. When our paths crossed a few years later he still missed the Fulvia but had quite fond memories of his time with the 2002. My next close encounter with a BMW occurred about seven years later. It was 1982 and I was running around in in a Series 1 Opel Manta (a German Capri rival) which coincidentally was rolling out of the showroom about the same time I was getting my first ride in a BMW. I was on my way home from my girlfriends flat in Newcastle, heading down the arrow straight dual carriageway to the coast when two sets of headlights started coming up behind me at a considerably faster rate than I was travelling. The sound of New Order's Blue Monday on my stereo was drowned out by a pair of E24 635's hammering past at what must have been 130mph or more. The shockwave left my Manta bobbing like a cork on the ocean. The E24's belonged to a pair of nightclub owners, one had a black metallic example, the other a red one. As I watched their tail lights shrink in the distance, I thought to myself, "one day I'll have one of those". It took me another 20 years but I did end up getting a 635 of my very own. And yes, I did take it up and down the Coast Road several times but I won't admit to doing it at 130mph!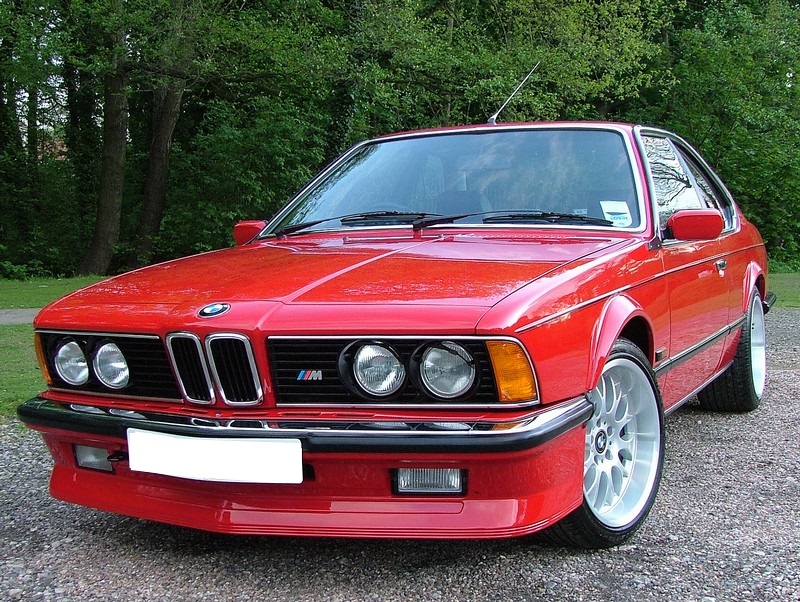 Ian Forbes has fond memories of an E9: It was mid 70's (giving my old age away now!) me in my mid-teens, car daft and all that, when my mum and dad told me that their friends were getting a BMW, it wasn't new, if I remember correctly it was about 2 or 3 years old. Anyway, a few days later – a Saturday, so I'm doing whatever I normally did on this day. My was working, she had a shop below our house / flat, came up and said "come and see this, Margaret is here with their new car" – I don't think I've ever moved so quick in my life, I / we never knew what BMW they were getting, could've been an 02 when I think about it now, but, it wasn't, it was the most gorgeous car I had ever seen – it was an E9, I am not sure if it was a CS or CSL, but I am almost positive it was a CSL as I remember it was silver with the black flash along it's waist, and I can remember the "3.0" and am almost positive there were 3 letter so that'll be C – S – L.
Margaret was alone because her husband was working, so it was left to my dad to take us for a drive, with my mum and Margaret in the back, and me in the front passenger seat. I can remember this so clearly, the oh-so gorgeous dash with the big clocks and lovely wood trim. I remember the sound and the power/acceleration, which was just so awesome for me. Being car daft, I was in love.
They only had the car for just over a year, I think, during which time I had the pleasure of washing it for them a few times.
Even although my dad had a very nice Daimler Sovereign at the time (which was the first car I ever drove on the main road after I got my provisional), this BMW is probably the most memorable cars of my whole childhood! I wish I could afford one now!
I think the BMW E9, Jaguar E-Type and Lamborghini Muira are without doubt the 3 most gorgeous cars ever made, nothing since has ever looked so good, in my opinion that is.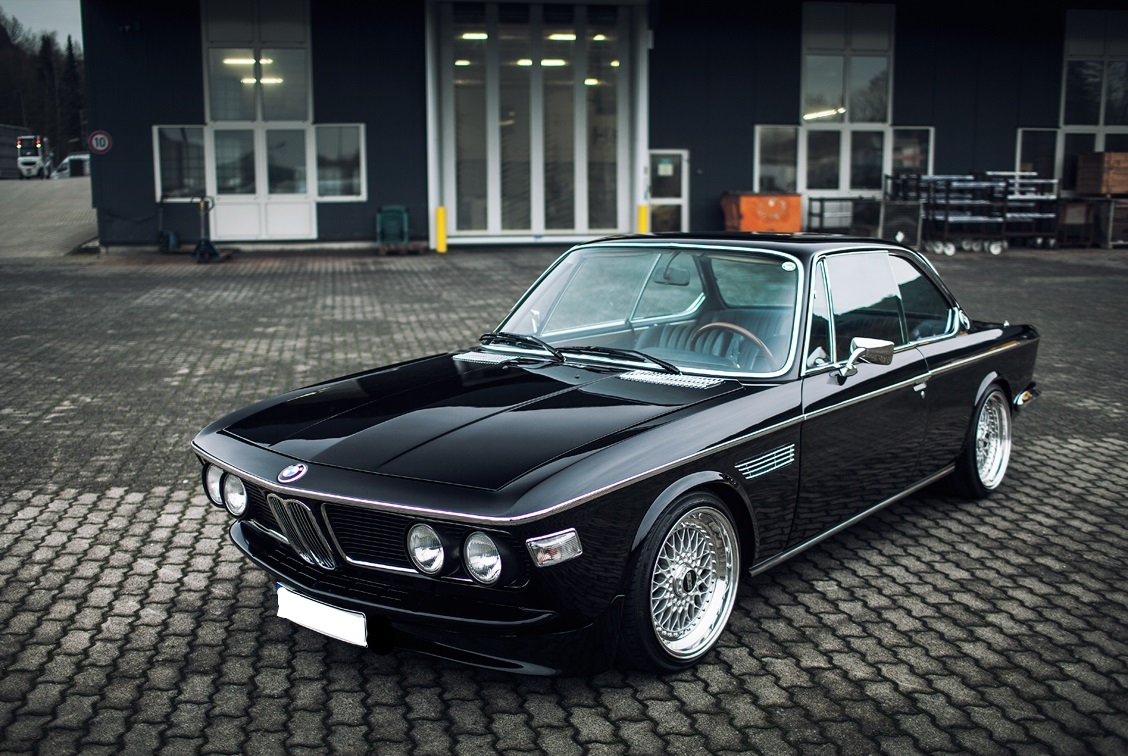 Super Seven for Richard Parkinson: My first introduction to BMW was when my dad replaced his car in 1979. There were three cars on his short list, a Rover SD1 V8S, Jaguar XJ6 and the BMW 733i.
First to be ruled out was the Jaguar; not for a particularly rational reason, but he'd had an old XK120 (I think) which had an issue with getting water in its oil when it rained due to the location of its crank case breather!
He arranged to have both the Rover and BMW for a day or so to try. The BMW arrived first, other than it being an automatic and he really wanted a manual, he was very impressed. I remember him saying how small and nimble the car felt to drive compared with its actual size. A week or so later the Rover arrived, he really did want to try and buy British but the car was a total lemon. Pieces of the interior fell off, quite a few electrical things didn't work, the fit of the doors was awful and the whole car felt like it would shake its self to pieces above 60mph!!
So, the E23 733i was ordered with a manual gearbox in quite a bright metallic Green/Yellow colour that I'm afraid I don't know the name of (probably Cypress Green – Ed). It arrived in late '79 just before some quite significant snowfall which was quite a challenge! Several large suitcases filled with old magazines helped a bit, but it was the first car he'd ever had to which he fitted winter tyres.
We used the car regularly for holidays in Scotland and one memorable time my dad missed his footing, snapped his Achilles tendon and so was unable to drive. At the age of 18 I was tasked with driving the car back home, over 300 miles, an experience that I'll never forget.
After 3 years the car was replaced with the updated 735i with auto transmission, to me it never felt quite as good as that first manual 733i.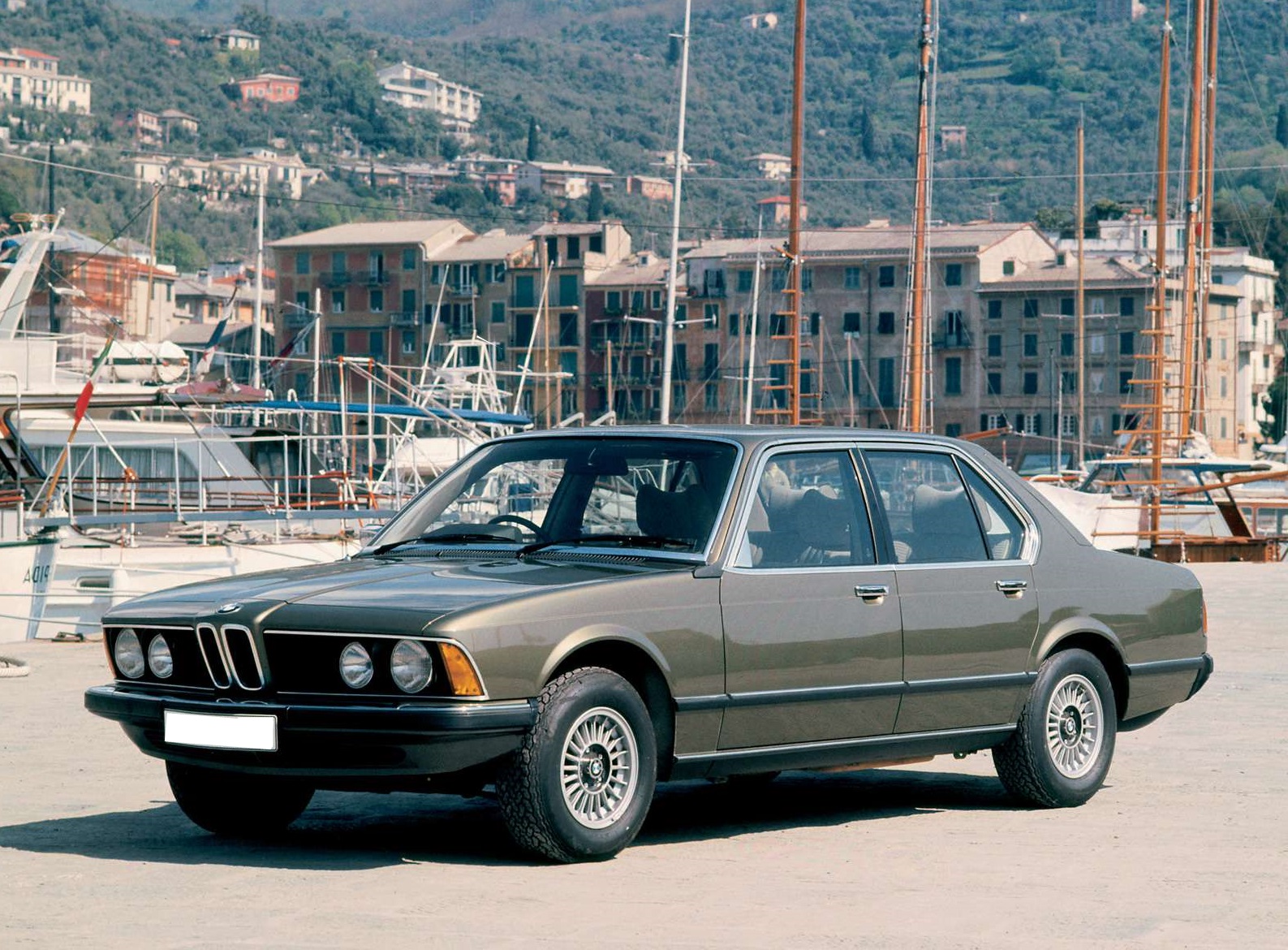 Neill and Maggie James from Cornwall wrote: Our first encounter with a BMW was back in 1984 when a friend bought a '74 vintage dark blue metallic 2002tii. At the time we owned a Scimitar SE5a and could not believe the excellent, squeak and rattle free ride of the BMW and we were equally impressed by its great performance, build quality and superb, all-round visibility. It was also surprisingly comfortable given that, initially, the seats seemed very firm. Our friend worked with a colleague who also had a 2002tii but in light blue metallic – when they were parked together, which was frequently the case, they looked wonderful.
Our brush with these two cars might have been fleeting, but it planted a seed which, although slow to grow and flourish, nevertheless resulted in a long-term search for a BMW of our own. With a young family, money was inevitably tight but the 3 Series seemed to be the one to go for and, finally in 1988, we took the plunge and plumped for an E21 323i Saloon which, as it turned out, was the start of a lengthy love affair with all things BMW. We have never been without a BMW since; frequently owning two at the same time and sometimes three, which at one time were all black and certainly kept us busy with the bucket and hose!
In total we have owned two E21s (323i Saloon and 318 Baur Convertible), four E30s (323i Saloon, 325i Sport, 325i Convertible and 325i Touring), two E36s (323i Touring and 323i Convertible), three E46s (330i Coupe, 330i Touring and 323i Convertible) and an E53 X5, We still have the last two mentioned; both finished in Topaz Blue, which is a lovely colour, with cream leather and wood trim. We also had a brief flirtation with two brand new MINIS, firstly a Cooper and then a John Cooper Works 'S' with a body kit and 210bhp on tap.
All in all, we have owned 45 cars, of which 14 have been MINIs or BMWs and, of the latter, all but one have been powered by six cylinder engines which are, quite simply, in a league of their own.
Now, being retired, we don't see the finances ever stretching to late model prices but, quite frankly, we still cannot imagine a time when we will not have at least one BMW…or maybe more.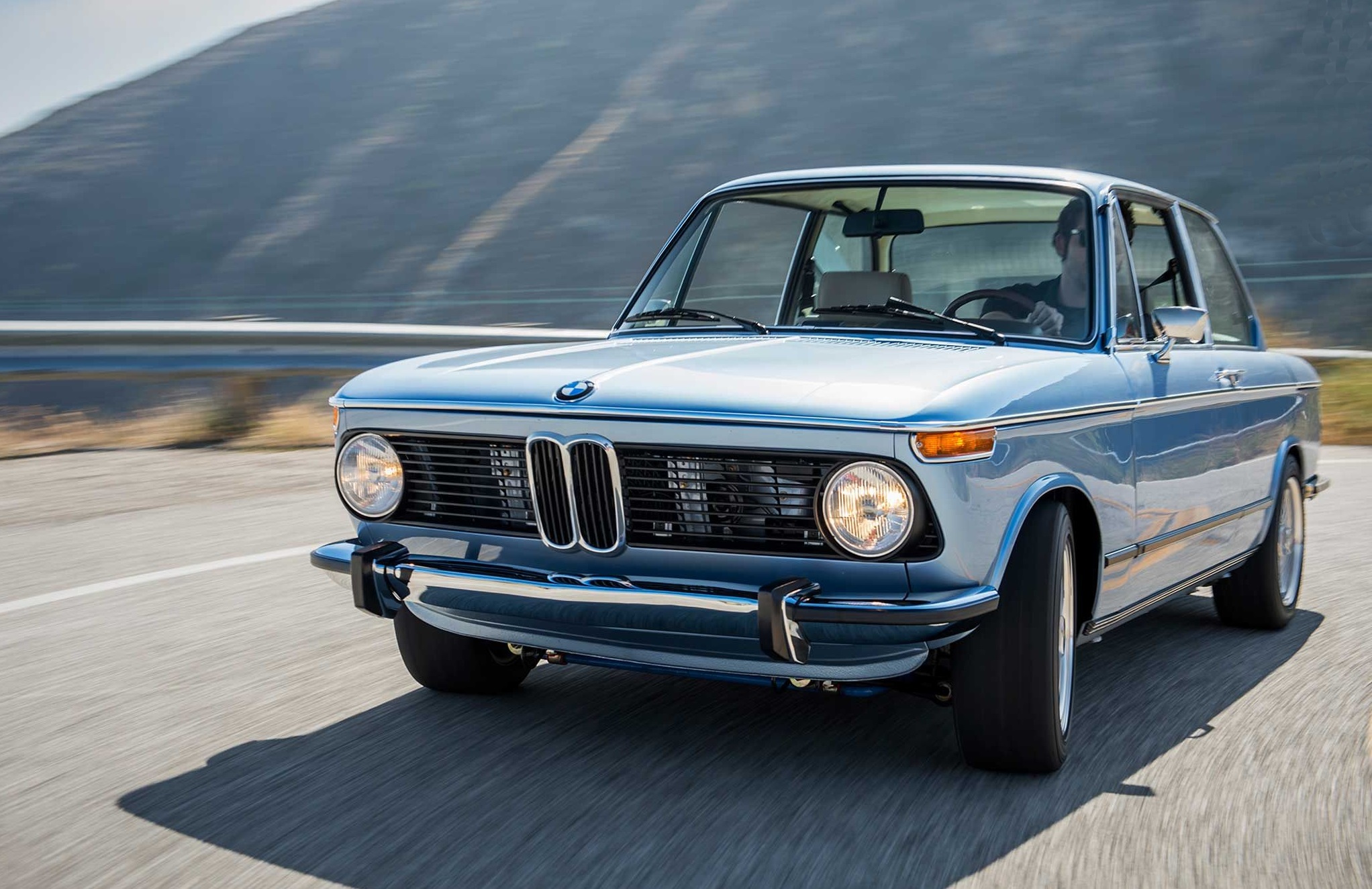 Whilst Lloyd Giles recollects: I Left school in 1979 at 11.30 after my final exam and was in overalls at 12.15 at my father's BL Main Dealer I north London as an apprentice mechanic until he made me redundant in 1983. Thanks dad. Off I went looking for a job and stumbled across an ad for a Service Advisor in a BMW Bodyshop in north London. Service Advisor? What was this posh position I thought? The next day, in a very 1980's interview suit, I found myself in a posh high street in north London looking for a bodyshop that was behind a pub. Now, a bodyshop behind a pub in north London back then always painted a picture of not the best place to take any car, let alone a BMW, but after working with Mini Metros, the much derided Morris Ital and yes, even a bloody Allegro, what did I know…
I found the pub and went through a tiny alley to the side, to find a car park tucked away stuffed full of 50 or so BMW's, all looking like they had lost a recent fight with a solid object, plus a very large white painted building with a roller shutter and the cleanest windows I had ever seen. This was BMW dealer Hexagon's Bodyshop. The interview is another comedy story for another day but I got the job and from that day forward the brand has always been in my life; even today my E36 Alpina (which I found drunk, in charge of a computer) is a car I don't think I will ever sell. That job taught me lessons and skills I have taken with me and still use today. Apart from the 1980's clothing…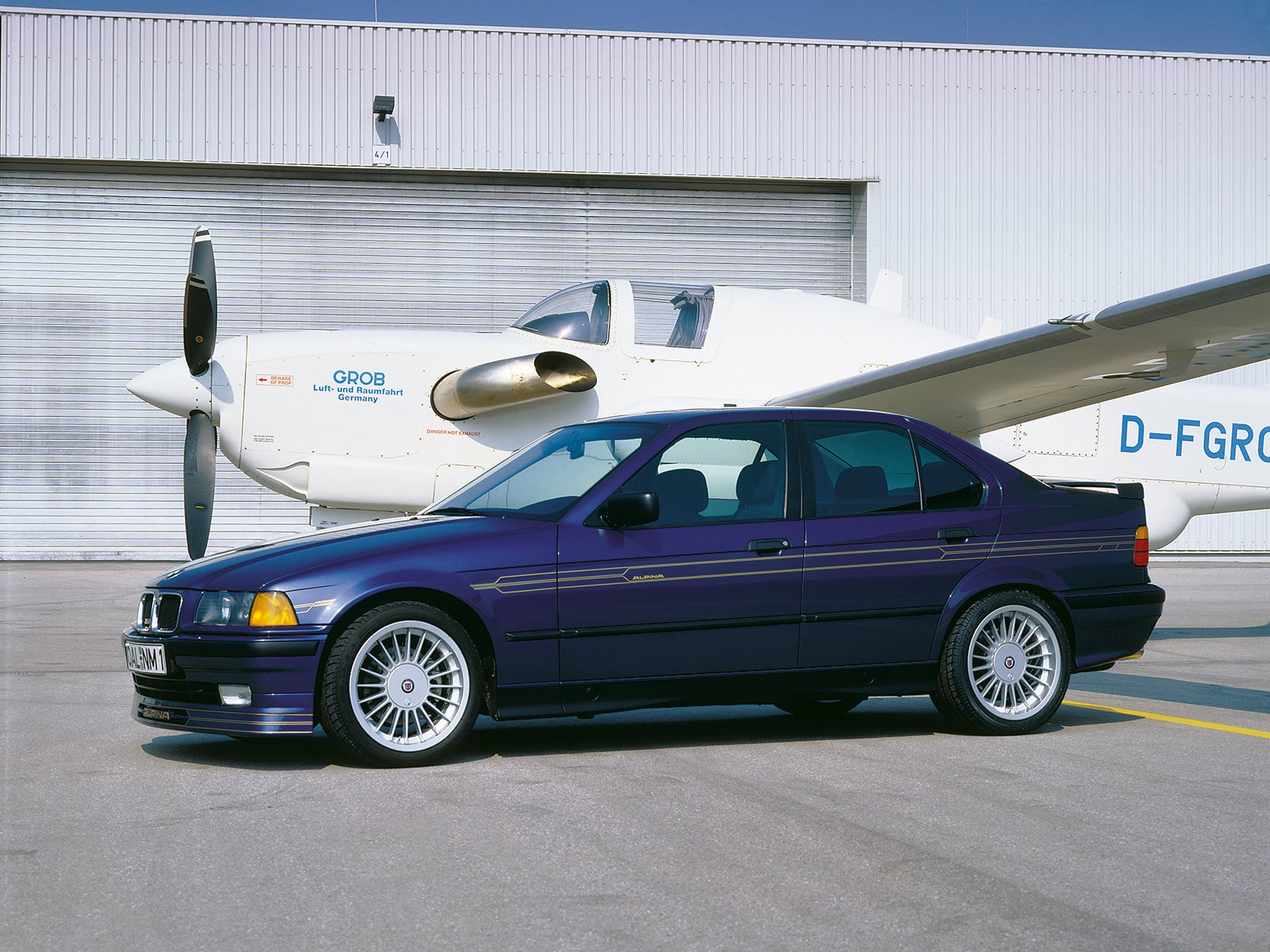 Club photographer/stalwart Darren Teagles goes all misty-eyed for the E30 M3: My interest in M3's goes back about 25 years, I was interested in rallying at the time, most of what I saw was in forests and on muddy roads and very few BMWs were ever seen, however, one year myself and a friend decided to go over to the Isle of Man to watch the Manx Rally, an all tarmac event the likes of which we hadn't seen before, along with dozens of E30 M3s. I was immediately struck by the sound that the M3's made, I was hooked! At the time there was no way I could afford an M3, I had just built a Westfield and bought a house; 25K+ cars were not on my shopping list.
Eventually, a good few years and several BMWs later I began my hunt for an E30 M3, and to cut a long story short I ended up with E2 DAD, a 1988 E30 M3 Evo II in Nogaro Silver.
What I love about the M3 – well, what's not to love! I sometimes just stand a look at the car and imagine what it would have been like to buy one new back in 1988, the time at which they were of course dominating touring car races. I'm not sure I can put my finger on a single reason why I really love the E30 M3, they look fantastic, handle brilliantly and anyone who knows what they are and what they have achieved nods knowingly.
What would I change? Well, you have to admit that at low speeds a straight six does sound better. The S14 is a bit of a rattly lump unless it's really hot but that rarely happens on the road. Once over 5000rpm though they do sound great.
I have changed a couple of things on my car over the years, she now has Eibach springs and anti-roll bars and a Rongineer airbox and Unichip ECU to allow for better fuelling and throttle response. Other than that the car is restored but standard.
I don't do many miles each year but when I do I really enjoy them, the E30 M3 is one of those cars that you don't have to drive fast to enjoy, you can drive briskly and imagine that you are a touring car driver from the 80's driving up to the grid ready for the next race; it's a real shame that a lot of the younger drivers on the road really have no clue how significant a car the E30 M3 was for BMW and for racing at the time.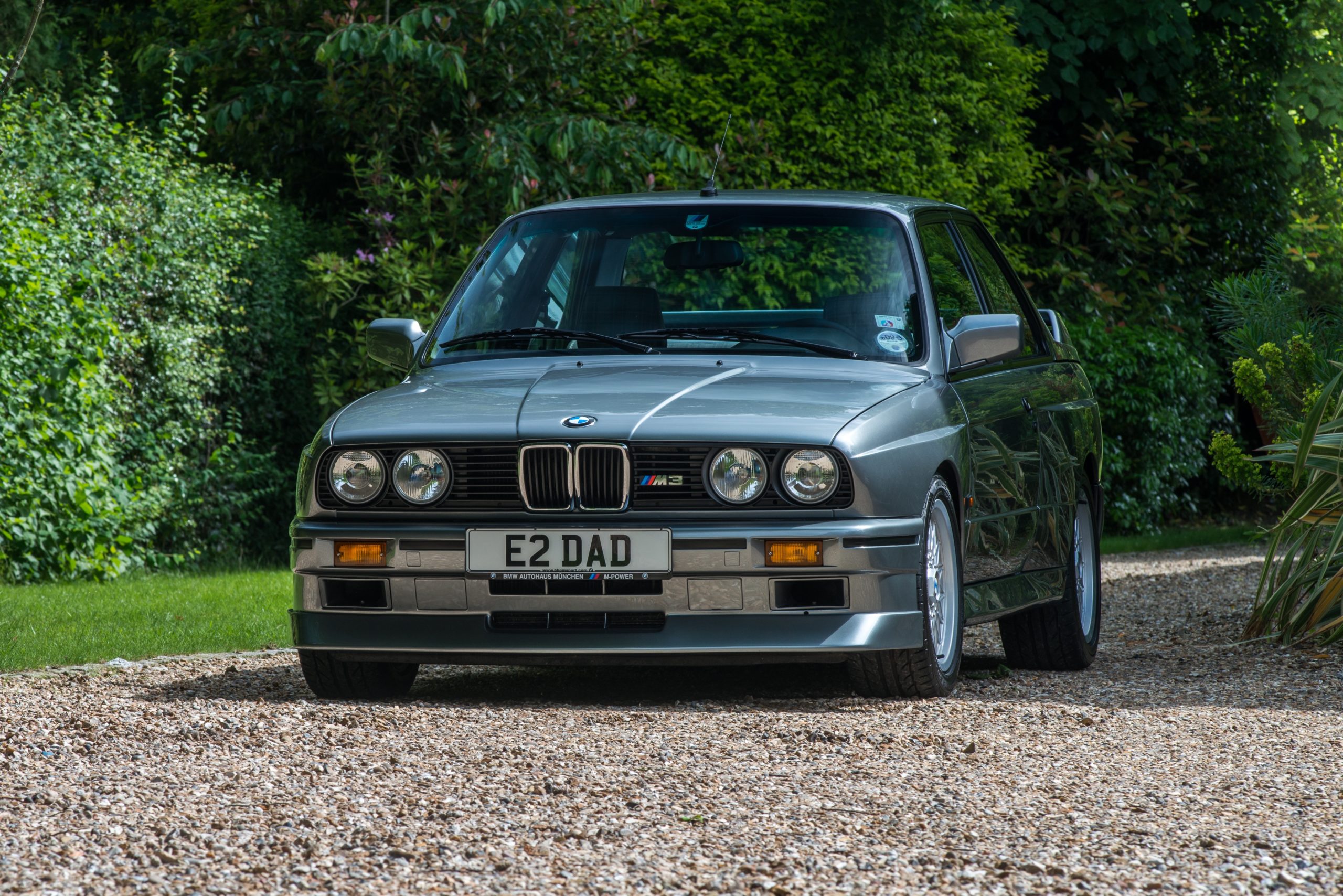 IAM National Observer Chris Milner wrote: In May 2001 I was persuaded by my great friend Keith Gorman to purchase my first BMW; I was a technical trainer at Ford Motor Company at the time and loyal to Ford's. He made the suggestion to prove to me that BMWs are not expensive to run. Even before I joined Ford in 1972 I had a large succession of Fords which were used for all styles of motor sport except circuit racing. As an ardent caravan owner, I only wanted rear wheel drive vehicles. I had previously owned three 2.8/2.9 V6 Ford Granada's, a Scorpio, and a 2.5D Ultima, and wished to purchase another. However Ford stopped making RWD cars, and there was no way I wanted a Jaguar or similar as they were too expensive to purchase and wouldn't even fit into my garage!!
Keith had owned several BMWs and suggested that I buy a second hand BMW to try out the brand. I decided to visit Wollaston Motors, the Northampton BMW dealer. They had a silver E36 323i SE Touring for sale with 41K on the clock. A test drive sold the car to me, 15,000 changed hands, and my allegiance to the BMW brand had begun…
The Touring was a great car and towed my caravan beautifully, just like the Fords, however the best bit with the 323i was the super fuel consumption, with or without caravan. I part exchanged it in March '05 with 100k miles on the clock. The fuel consumption over that time, including local and distance driving, plus a lot of towing, was 28.7mpg – Wow!!
The salesman kept in touch over the years to see if I could be persuaded to buy a new car. I finally gave in and told him I wanted an E46 330i SE Touring. He said "I'm sorry, but that's impossible!" He explained that although the E90 had just been launched, the Touring still wasn't available. I didn't want an E90 so there would be no sale. The dealer searched the country and came back with nothing. Finally, in desperation I think, they contacted the factory in Germany. What a great decision that turned out to be! I was told that a final run of E46 Tourings was taking place to meet customer demand; and that was how my current car KV05 JCU was born. The factory said they would build any spec I wanted. I ordered a 330i SE Touring in blue with sport suspension, cream leather upholstery, detachable tow bar and much more. The "on the road" package was 35,000 and I purchased the car in March 2005 – I have never regretted it one bit!
To date "my baby" has covered just over 91,000 miles from new and the fuel consumption for all types of driving, including a lot of towing, is 28.5 mpg!! Do I love it?? You know the answer to that. The only unexpected problem has been a broken o/s/r spring at MOT in February 2015. I say unexpected because I believed that the E36 problem was sorted for the E46 – obviously not. My E36 broke three springs under my ownership…..
Simon Currell came over all 'luxuriant' on us: My first encounter with a BMW was an orange 2002 YOK 443K. If I recall correctly, I was 6 or 7 years old… My uncle could not afford to purchase the 02 so my father 'pounced' (replacing a Jaguar XJ6 S1), needless to say it did require some fettling but the journey home, with an absent exhaust I hasten to add, will stick in my mind, especially the peace and quiet that ensued when she ran out of petrol (luckily at the top of a hill and we lived at the bottom).
This started a family trend, at one point my father, my (subsequent) brother in law and his brother, all owned 2002s; they couldn't quite manage red, white and blue (mainly due to my father's orange one!), but they made for a very impressive sight when all parked in a row!
Whilst BMWs then became absent (flirtations with Fiats, remember the Strada 105TC?) they latterly returned to the fold with an E30 323i (later 'fell' into my care) an E34 525i and finally an E32 730i; strangely the 730i never received a nickname; are modern cars losing their characters?
Whilst many people can claim to owning various luxury marques over the years my father managed to trump most by owning a BMW, Mercedes and Jaguar simultaneously (why only have one brand new when you can have several used…?)
Another BMW that made an impression was a BMW E9 Coupe at a used car emporium. Sadly my father's interest disappeared when found to be automatic, but as you will see below sometimes these merest glimpses can get locked away and sow the seed of a dream…
It must be in the genes as I have now emulated my fathers "condition" with a '75 BMW 3.0CSA, an '80 Mercedes 280CE and a '76 Daimler Double Six, all pillarless coupes as well! (And if you're going to split hairs on the Daimler/Jaguar front my 'daily' is a Jaguar X-Type, one has to support one's employers doesn't one!)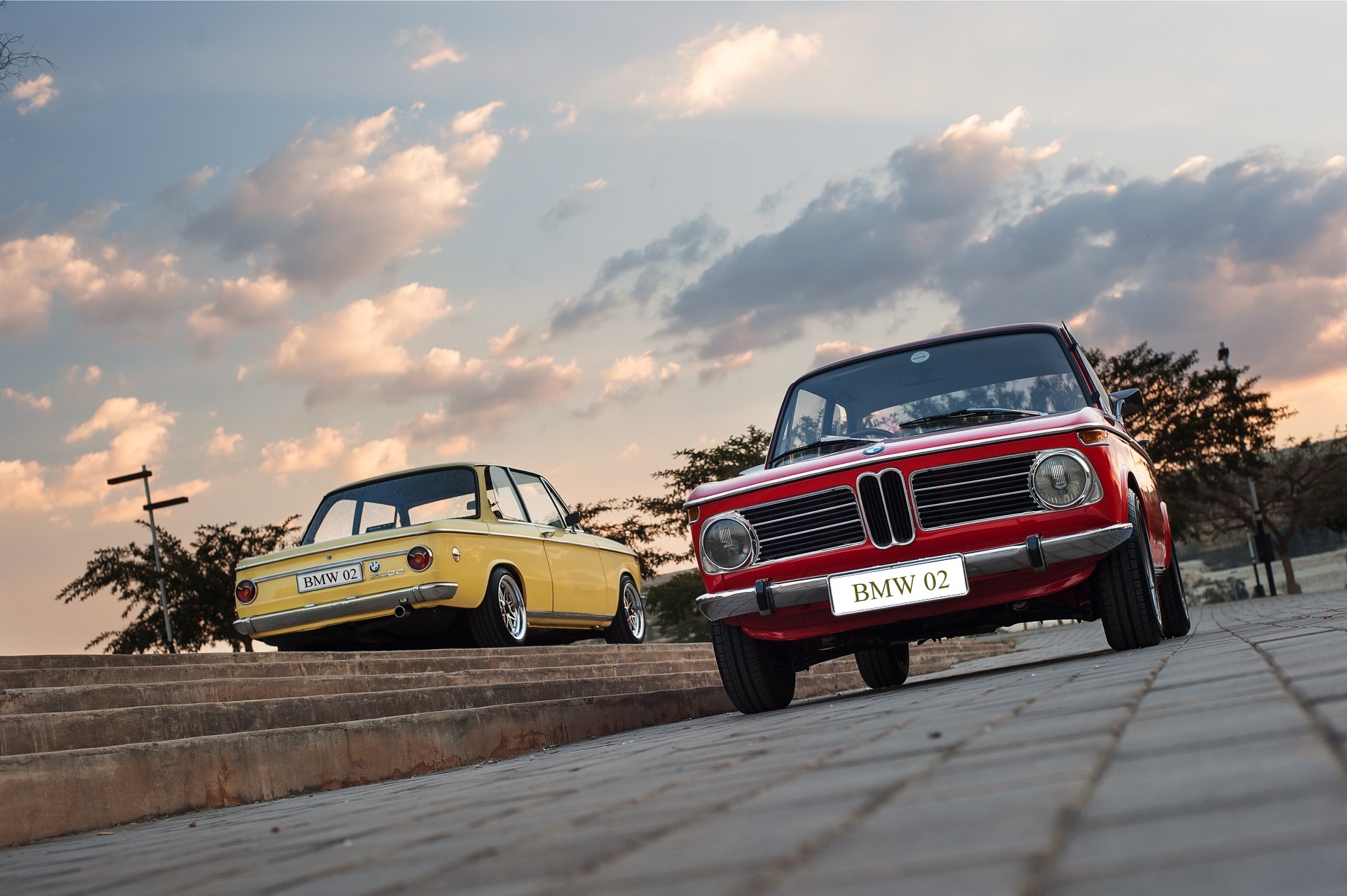 Les Crowfoot has a 'lightweight' memory: Back in 1973 Dick Lovett along with his son Peter were selling some of the most desirable cars around at that time from their premises in Wroughton near Swindon. At the same time my dad was the landlord of a local pub – the Eastcott Hotel; he had been a publican for about five years after many years as a long distance lorry driver. For the first time in his life he could buy the car really wanted; after years of Ford Pops, Consuls, Zephyrs and Zodiacs he now owned a Mk2 Jaguar in dark blue!
When he decided to move on from the Mk2, after trying two Rovers – a 2000TC with wire wheels and 3.5 V8 he decided that another jag was in order – a brand new XJ6!! I thought it was great, but dad was not happy, he said it wasn't a patch on the MK2. So after having it for about eighteen months or so he decided to look around for something else. So I'm now thinking this would be a great chance to steer him towards Lovetts and I might get to sit in a Ferrari Dino, Porsche 911 turbo, or one of the other exotic cars I knew was in their small but well stocked showroom. Dad wasn't convinced that they would have something with four seats, but seeing as it was a nice day with nothing better to do he decided to have a look, what harm could it do?
We parked the Jag in their car park and entered the showroom – WOW!! What a sight. All the cars I'd ever dreamed of sat in front me, but the one that stood out the most was a beautiful Polaris Silver 3.0 CSL… and it had four seats! All I had to do now was convince dad this was the car for him. Meanwhile Peter Lovett hovered in the background, not sure if we were serious buyers or not, but when dad asked for a test drive he was very helpful and keen to tell us all about BMW and their cars.
There was no stopping dad after the test drive; he couldn't wait to chop in the disappointing XJ for this awesome car, probably the best looking and performing car of the seventies (in my opinion).
It cost a small fortune back then (5800.00!) He could have bought three terraced houses in Swindon at the time and put a nice little pension pot in place, but no, he bought the BM and for the next ten years had the time of his life driving his very own supercar.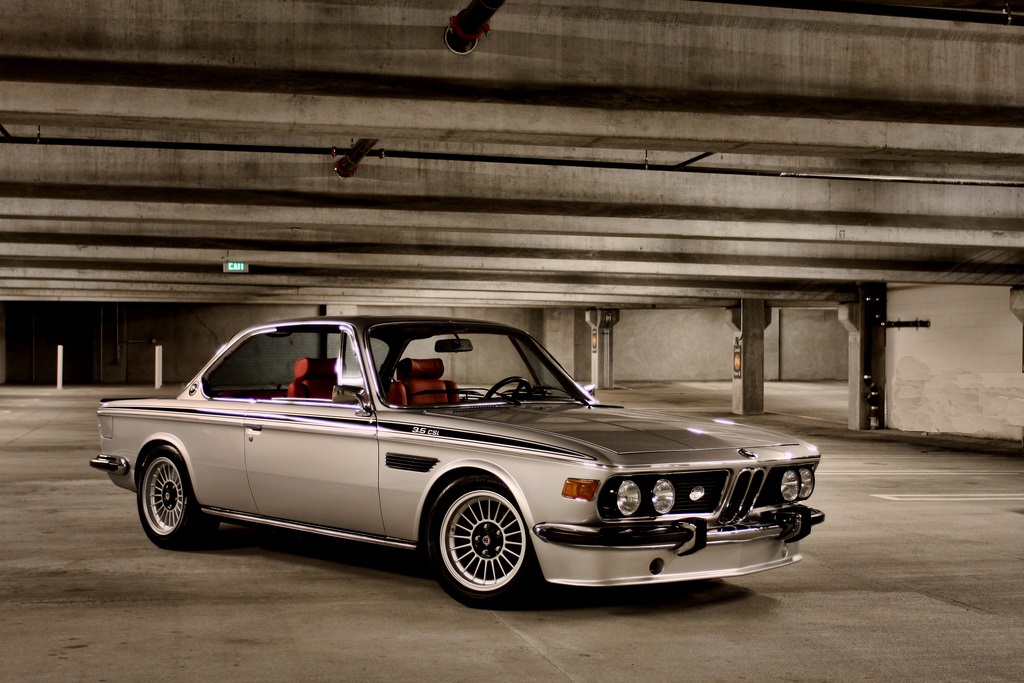 By 1981 I had bought my first BMW, an E21 320i on an R plate. I fitted some wide alloys on it and I was there, I had a BMW like my dad. I did get around to borrowing the CSL a few times if I had somewhere special to go. He knew I liked to show it off, or show off in it, more likely!
Sadly in late 1982 dad had to have a leg amputated due to smoking which he gave up in his late 20s but the damage to his veins had already been done. The car stayed in the garage for a long time; I think he was hoping he might get back behind the wheel again but it never happened. A few months later he had to go back into hospital for a second amputation, but sadly died in the recovery room from a heart attack. He had a good life and some great cars and I know he loved that BMW! In 1984 I sold the car for him for 3k, the biggest mistake of my life. That was still a lot of money then and mum needed the money for her pension pot. I often wonder if RRC 573L is still out there somewhere giving joy to another BMW fanatic? I hope so – dad would be over the moon if it is. PS – I still have the original sales invoice signed by a very young Peter Lovett now owner and top man at Dick Lovett specialist cars (see photo)