Source: Market Engineering
Second-generation ALPINA XD3 to arrive in UK from April 2019
158 mph and 0-60 mph in 4.8 seconds from effortless 700 Nm (516 lb ft) of torque
Sublime combination of real-world comfort, performance and driver engagement
57,900 with significantly upgraded standard equipment
Nottingham – UK deliveries of ALPINA's ultimate all-rounder will begin in April 2019. The second-generation XD3 offers an unrivalled combination of comfort, pace, bespoke engineering and the very latest clean diesel technology in a package ALPINA believes far more manageable, accessible and exploitable than many of its rivals.
The result of thousands of hours of development at ALPINA's R&D centre and on roads from Death Valley to the Arctic Circle, the Buchloe-based manufacturer has created a car that can cruise effortlessly at its 158 mph maximum, sprint to 60 mph in 4.8 seconds and still deliver a 31.4 mpg combined average. CO2 emissions of 238 g/km on the challenging new WLTP test cycle (just 173 g/km and 44.1 mpg on the previous NEDC cycle) endow the XD3 with a longer range and more competitive benefit in kind rating than petrol powered competitors.
ALPINA GB's brand manager Gary Lott is keen to stress the XD3 is about more than just the figures: "Our cars are for driving enthusiasts who value a blend of qualities that can only be delivered by immense attention to detail," he explains. "The XD3 is built with just one powertrain and two chassis specifications, which allows our engineers to calibrate every component and every control system to work perfectly together without compromise. ALPINA's dynamics specialists have spent months optimising the chassis not by hurling it around a race track, but by simply driving as customers would: on roads, enjoying every mile however fast or slow. The result is remarkable ride quality combined with a pin sharp driving experience."
The lighter and stiffer G01-generation BMW X3 provided ALPINA with a state-of-the-art, high-technology development platform in which to integrate and further refine much of the bespoke engineering and driveline optimisation originally developed for the warmly received D5 S. To help achieve the impressive combination of performance, comfort and driving dynamics, ALPINA's 70-strong engineering team received exceptional access to BMW design data and technical facilities as part of a relationship that reaches back to 1964, when BMW endorsed the quality of ALPINA products by awarding the full factory warranty to all BMW ALPINA vehicles. Today, all new ALPINAs carry a BMW-endorsed three year / 124,000-mile warranty.
High-torque powertrain
700 Nm (516 lb ft) from 1750 – 2500 rpm
333hp (245 kW) from 4000 – 4600 rpm
Full tech specs viewable here: http://www.alpina-automobiles.co.uk/en/models/xd3/technical-data/
The heart of the UK-specification ALPINA XD3 is a heavily revised version of BMW's award-winning diesel straight six. To increase power and torque without compromising responsiveness, ALPINA's powertrain specialists have replaced the standard single TwinPower turbocharger with two variable geometry turbochargers – one small and one large, that work in parallel to provide significantly faster response and more linear, progressive power delivery. These are fed from larger intake ducts with optimised radii, allowing the engine to breathe more freely by reducing induction air pressure losses by up to 30 percent compared with the standard system. A 20 percent larger intercooler with flow-optimised aluminium ducting increases the density of the fuel / air mixture to further increase engine output.
Although optimised for fast road driving rather than track use, ALPINA vehicles are engineered to provide consistent performance and high reliability when driven hard for long periods. Managing heat is critical to ensuring consistent responses, low emissions and long-term durability. This thermodynamic stability is ensured by the additions of a secondary radiator and high-flow oil cooler into the engine cooling circuit. Mounted low behind the bespoke front spoiler, these benefit from aerodynamically optimised air flow. Control is provided by a dedicated thermal systems control unit that uses information from the vehicle's databus to optimise powertrain temperatures and reduce parasitic loading by momentarily switching off the uprated fan (taken from a tropical market car) when maximum acceleration is required.
ALPINA has paid equal attention to the hot side of the engine, specifying a bespoke, free-flow exhaust manifold manufactured from a cobalt steel alloy to provide very high temperature resistance. A four-outlet, lightweight stainless steel sports exhaust system has been tuned to both minimise back pressure and optimise scavenging, improving both power and refinement. Two driver-selectable valve settings produce bass-focused sounds not normally associated with a diesel.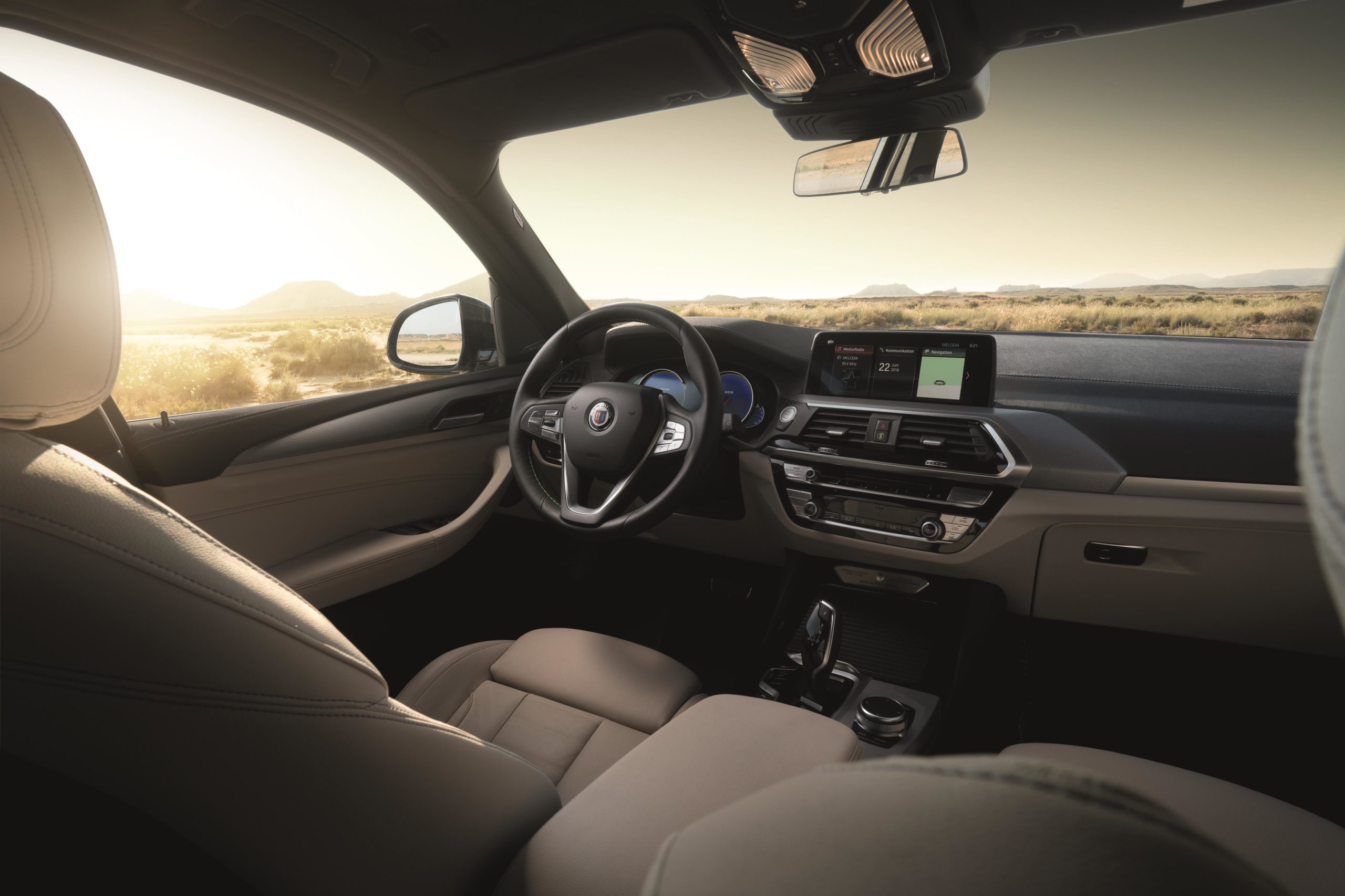 Changes continue further down the driveline, where the eight-speed automatic transmission also receives additional cooling, while 20% of components are uprated including strengthened gear clusters and a larger torque converter. ALPINA's work with transmission supplier ZF is another reason for the exceptional acceleration of the new XD3. Extensive analysis to strengthen the transmission has not only improved durability but negated the need for the torque reduction commonly applied during upshifts. The driveshafts and differential are also reinforced, helping facilitate sub-0.1 second gearchanges that neither stress the driveline nor detract from the XD3's refinement.
The same philosophy has been applied to the braking system. The rear brakes are larger than the front's because they receive less airflow, so need a larger surface area to dissipate heat. This increased surface area also allows them to share more of the braking load. ALPINA says its system provides greater retardation and resistance to fade than many equivalent ceramic systems, with excellent consistency and feel across a wider range of temperatures. An optional high-performance brake system reduces unsprung mass by 2 kgs and introduces drilled discs and a more aggressive, heat-resistant pad compound.
Real-world optimised dynamics
ALPINA's trademark combination of long-distance comfort and outstanding driving dynamics have been achieved in the XD3 without resorting to heavy active suspension systems. Instead, every component and calibration setting was thoroughly analysed and either integrated, replaced or recalibrated as appropriate.
ALPINA's immense attention to detail is illustrated by the use of bespoke front wishbones, specified to provide one degree of negative camber to improve turn-in and steering feel, which is further enhanced by new ALPINA control software for the electric steering assistance. Shorter, stiffer springs with a 40 percent higher workrate sharpen body control while also lowering the centre of gravity and enhancing aerodynamics. Bespoke switchable dampers with softer compression and stiffer rebound offer drivers a choice of settings including a new Comfort Plus mode developed by ALPINA to provide limousine levels of ride comfort.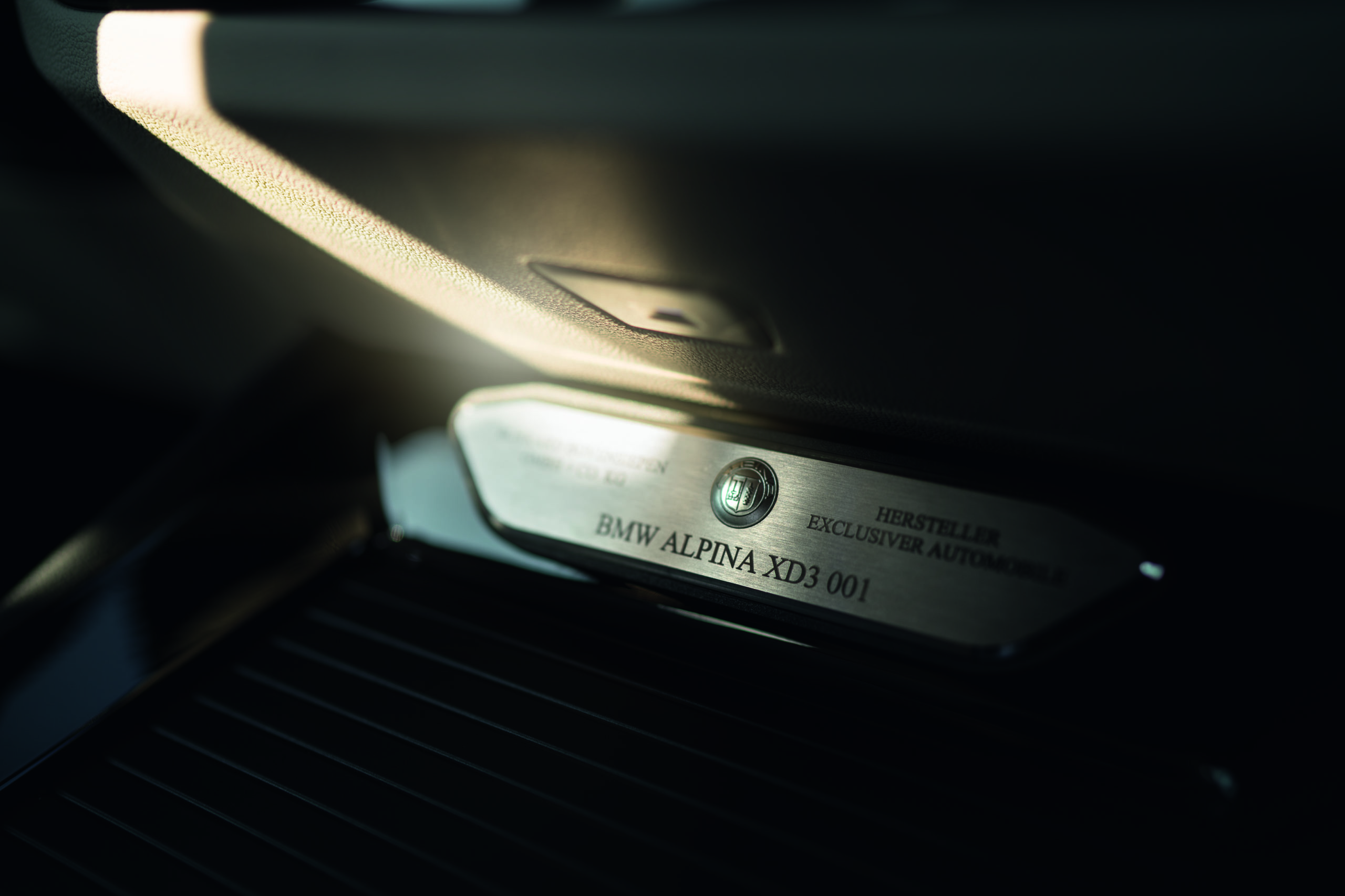 Power is delivered to the road by an extensively recalibrated version of BMW's xDrive system, with the addition of a standard fit limited-slip differential on the rear axle. The system continuously monitors a wide range of inputs, including steering angle, lateral acceleration, yaw angle and speed, allowing up to 90 percent of the torque to be sent to the rear wheels.
Wheels are ALPINA's new lightweight 22″ forged alloys (which cumulatively reduce unsprung mass by 15 kg) or 20″ cast wheels which facilitate a 45-profile sidewall for those expecting to frequently venture off-tarmac, or more likely through urban areas with high kerbs and deep potholes. Both wheel sizes are shod with specially-developed 'ALP' labelled Pirelli P-Zero tyres developed to progressively transfer huge lateral forces without the noise penalties often associated with wide, low-profile tyres. Enhanced tread stability and a new flank reinforcement technology reduces temperature spikes during very hard driving, ensuring consistently excellent grip in the dry complemented by a bi-compound running surface that ensures equally outstanding performance in the wet. Softer sidewalls contribute to the car's superb ride quality and refinement.
Aerodynamics have been optimised in BMW's wind tunnel, with a unique ALPINA front spoiler that substantially increases airflow through the uprated cooling system and a new rear spoiler to reduce high-speed lift.
Luxurious, hand-crafted interiors
Inside, the new ALPINA XD3 can be specified with an almost limitless range of options and leather trims, individually crafted in ALPINA's saddlery. Standard equipment on UK-market cars includes acoustic glazing for better suppression of road and wind noise. Equipping the windscreen and front side windows, this laminated glass is 33% thicker than standard and includes a polyvinyl butyral interlayer to significantly reduce high-frequency wind noise, with smaller reductions in mid-frequency road noise. A 10.25″ digital dash with three ALPINA-specific skins, ALPINA roundels on the seatbacks and a rear-view camera are also standard. The sports steering wheel is hand-finished in LAVALINA leather with blue and green signature stitching to provide a luxurious feel while retaining the firm rim preferred by skilled drivers. The interior of each car is finished with a unique, numbered production plaque.
About ALPINA: half a century of bespoke cars
ALPINA Burkard Bovensiepen KG was established on the 1st of January 1965 in Kaufbeuren. Two years later it adopted the now-famous badge featuring a twin-choke downdraught carburettor and a crankshaft on a shield; a proud symbol of the company's dedication to superb engineering.
Although today the company is focussed largely on road cars, its ethos has been formed by decades of racing success with a driver roster that includes Derek Bell, James Hunt, Jacky Ickx, Niki Lauda, Brian Muir and Hans Stuck. Throughout this time, the close relationship with BMW was developing, with factory support for road car development and collaboration in motorsport that included commissioning ALPINA to develop the light weight race car that became the now-legendary BMW 3.0 CSL.
Today, ALPINA is one of the world's leading manufacturers of high-performance luxury automobiles, selling on every continent yet still in numbers small enough to allow each car to be bespoke. Fewer than 100 cars a year are sold in the UK.
"ALPINA is a company that creates subtly stylish, very high-performance cars that can be tailored to each customer's personal requirements, yet offer the long-term comfort and durability required for enthusiastic daily use," comments CEO Andreas Bovensiepen, son of the company's founder Burkard Bovensiepen. "We have a unique philosophy and a commitment to engineering excellence that we intend to maintain and build on as our company develops into the future."
ALPINA GB website: http://www.alpina-automobiles.co.uk/en/