We bring you the very sad news that Club patron Barrie 'Whizzo' Williams passed away on 8th September 2018; Barrie's passing has robbed both the Club and British motorsport of one of its most enduring characters.
Barrie passed away after a short illness at the age of 79, just two months short of his 80th birthday. For well over 50 years Barrie raced anything and everything anywhere; spectators and organisers alike came to rely on him for entertainment, and the paddock labelled him 'Whizzo' Williams for his exuberant driving style. In his later career he was renowned as a leading proponent of historic racing with his uncanny ability to extract the maximum pace from even the most difficult of race cars.
Barrie Williams was born in rural Herefordshire in November 1938, the only child of parents Frank and Kaye. His father was involved in the early days of karting, so it was no great surprise that Barrie was soon racing karts. On leaving school, he took an apprenticeship at the David Brown group, and before long he was hillclimbing at Prescott, first with his father in a Singer they shared, then in his own Austin A40 Devon. His first car race was in 1959 at Rufforth in Yorkshire. Barrie competed in his road-going Morris Minor and so started nearly six decades of racing. Williams often joked: "Karts must have a lot to do with my stupid driving style, the difficulty I have in keeping the car straight!"
It wasn't all just about racing; Williams famously won the 1964 Welsh Rally in his Mini Cooper S, and in the mid-60s he dabbled in F3 single-seaters: "Foolishly, I won my very first F3 race, the Wills International Trophy at Silverstone in 1966. Suddenly I was going to be World Champion." But when team-mate Chris Lambert was killed in an F2 race at Zandvoort, Williams reappraised his career. He recalls being given good advice by a close friend: "Tony Lanfranchi said, 'If you spend enough time in single-seaters, eventually you'll hurt yourself'." The deaths of Chris and then Jim Clark had a profound impact on him… "If a driver with superhuman skills like Jim could be killed racing, what hope was there for the rest of us?" reflected Williams many years later…
Through the 70s and 80s he made a career racing a wide array of saloon and touring cars, and raced for the works Colt (Mitsubushi) team in the British Touring Car Championship. He was also a star in Production Saloons and became a one-make ace with titles in Ford Fiestas and Renault 5s.
Later, Historics beckoned and proved an ideal fit for Williams' car control and his ability to slide a car to outrageous angles yet keep it firmly under control. He won several times at Goodwood, notably in the inaugural TT Celebration in 1998 in Nigel Corner's E-type.
Barrie always had a million and one tales to tell, one of his favourites BMW related: "Once I was in an M3 at the 'Ring in dense fog at 7800rpm in fifth and I couldn't see at all…I actually radioed the team and said I didn't know where I was!!!"
As his health deteriorated he finally hung up his helmet, announcing his retirement at the end of 2017, calling time on a most remarkable career. He had competed in over 700 races and 250 rallies…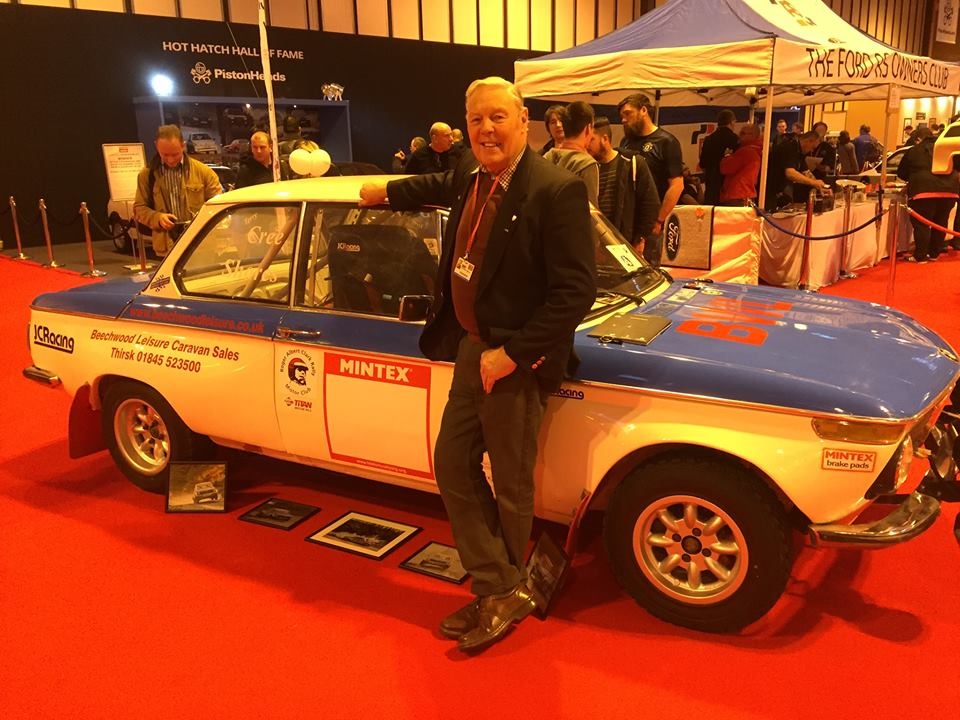 It was with great sadness that I initially shared the news that 'Whizzo' had completed his final stage and it was amazing to see all the replies – he touched so many lives. He was not only a fantastic driver, but also everyone's friend, entertainer and a mentor – always had a genuine warm welcome. He was charming, and a glint in his eye when he was up to mischief – you knew you were going to have a fun conversation every time we met.
Barrie 'Whizzo' Williams shared many of his stories whilst after dinner speaking and we were fortunate that he treated the BMW Car Club members at the annual celebration. Once he had the mic in his hand it was always going to be a challenge to keep to any timings but a pleasure to listen to him. He attended the National Festival at Gaydon several times and in 2016 I was treated to a guided tour of the museum with Barrie – his knowledge of all things mechanical and motorsport, mixed in with the stories, this is still my best memory of the show.
I once asked him due to his Mini rallying history, as I knew his compatriot Tony Fall, if he was one of the drivers in the 'Italian Job' and the response – 'I couldn't say' – was not a yes or a no; however the look on his face implied he could have been – it was just part of his banter and kept me on my toes.
He was always happy to attend all Club events when I invited him and was pleased to be a Patron of the Club and support in any way he could. It's a great loss to the Club and motorsport; it was a privilege and an honour to have known him. I often said that he came from an era when drivers would and could drive anything they were presented with, happily, and drive it to its full potential with no complaints.
Barrie also attended the Club Trackdays and stood in to do some instructing. I recall Ronan McGrath saying that he was getting a prod from Barrie when he was doing it wrong – he soon improved and Barrie had made another friend.
He was an amazing man who touched so many lives and I know everyone who met him will have stories to tell. Our thoughts are with his family at this sad time.
I hope the gates are wide enough for you Whizzo to enter sideways… but under control!
Words by Neil McDonald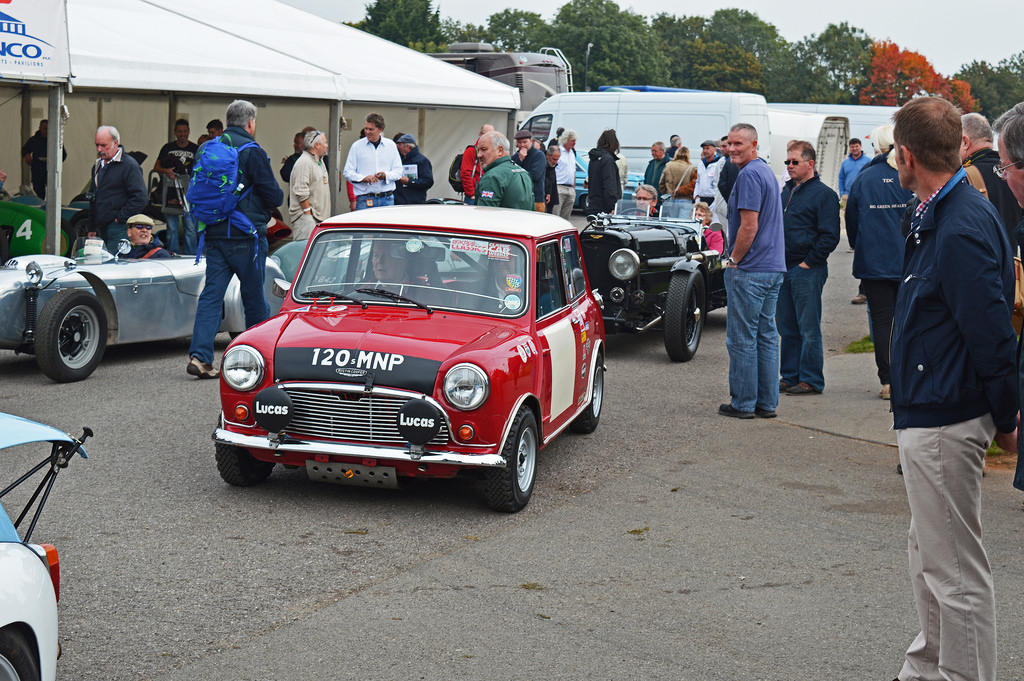 'Whizzo'
Whizzo has gone, it's almost unbelievable, surely the man was going to go on for ever? From making his motorsport debut in 1949 at the age of 11, navigating for his father on the Hereford Motor Club Hereford Welsh Marches Rally, 69 years of every kind of motorsport followed, Barrie only retiring from competitive motorsport earlier this year.
His achievements are far too vast to mention but up there with the greatest has got to be his Welsh Rally win in 1964 in his Mini Cooper S 120 MNP. He also finished third in the 1971 Escort Mexico Challenge and followed this with many Touring Car appearances, many finishing on the top podium. Latterly he drove for various owners, winning in many assorted different makes including Jaguar E-type, ERA R3A, Connaught, and BRM P261.
I first met Whizzo when introduced to him by Richard Cound, the then owner of the Gloucester BMW dealership. I said: "If you fancy coming to the BMW Car Club CSL Register Trackday at Silverstone you would be very welcome." Duly Barrie appeared on the day and came to most if not all of the days I organised over the 24 year period that followed. Always the life and soul, always there to help beginners, particularly ladies, Barrie would tell stories about his career, his life in motorsport, pleasure it had given him and obviously continued to do so for many years. He shared that enthusiasm with all he met, giving many people a good laugh in the process.
My favourite story, and I won't try and tell it word for word, nobody could do that, was when he and a mate were travelling back across Europe after a particularly gruelling race weekend. Both were dog tired, I am not sure who was driving but they obviously both fell asleep and woke up with the car (a 323i I think) wedged between the overhead road and the stanchion on an Autobahn bridge. Barrie was always full of stories and he entertained wherever he was, and as I have already said was always the life and soul of the party. I was once with him at Castle Combe on a dealer trackday when some poor chap put the dealer's brand new BMW into the barriers. Barrie got me to drive round to the scene, then asked me to get out and walk back to the Paddock whilst he put the unfortunate guy into another new BMW. As Barrie put it: "You have got to get straight back in!"
Barrie raced hundreds of cars in his long and distinguished career but he named the Connaught A Type owned by David Wenmann as his all-time favourite. Also high on the list was 120 MNP, the Welsh Rally winning Mini Cooper S which he was still driving until not so long ago.
Barrie 'Whizzo' Williams will be sorely missed. The last time I saw him was at a BMW Car Club Trackday at Donington Park; he had come along just for a look, and we joked about having to get back to the home soon as time was getting on. RIP mate.
Words by Brian Bradley