The passion for M cars drives deep in the very heart of the driving enthusiast, whether or not one has been denied, or chosen not to participate in, ownership. To achieve such status is a direct result of hitting the world with cars of enduring and everlasting appeal, starting with the M1, and emphatically driving home the point with rave reviews of the E24 M635i, the E28 M5 and then, if that was not enough to serve intent, a sledgehammer blow appeared in the timeline of greatness: the immortal E30 M3.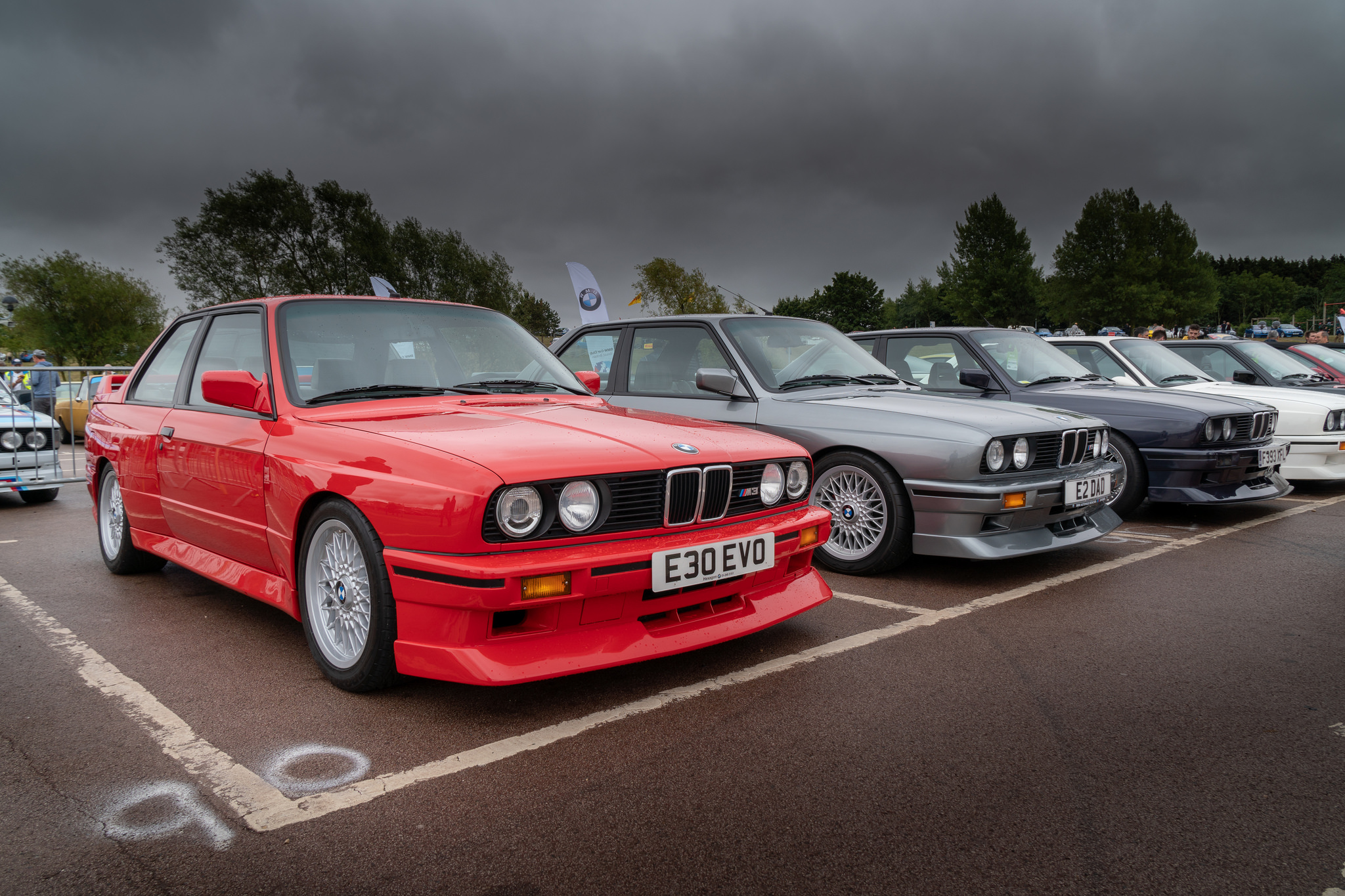 In the world of selling cars, the most subtle and effective approach I have experienced was not about 'a good price', 'best trade in' or being tortured into submission by the salesman anxious to reach his monthly target.
He stood six feet tall, middle aged, a quietly spoken engineer from the M Power home of Garching, and in his Teutonic accent – "Would you like to experience the M3?" "Yes please!" and so we climbed aboard a brand new, brilliant red E30 M3 convertible on a pleasant sunny September day in 1991, at main dealer Sewells of Bishops Stortford.
We arrived at a roundabout, and with the speed we were carrying, one would have expected to exit at the second outlet, but for his party piece, he took great delight in sweeping round the complete circle at unabated speed.
"You see, we make cars that are not only very fast and dynamic, but also very safe." I was incredulous for there was no drama, which certainly would not have been the case in any other car of the day. "Where's the pen, I'll sign up…" and indeed I did, with no idea that the term would be 24 years and counting…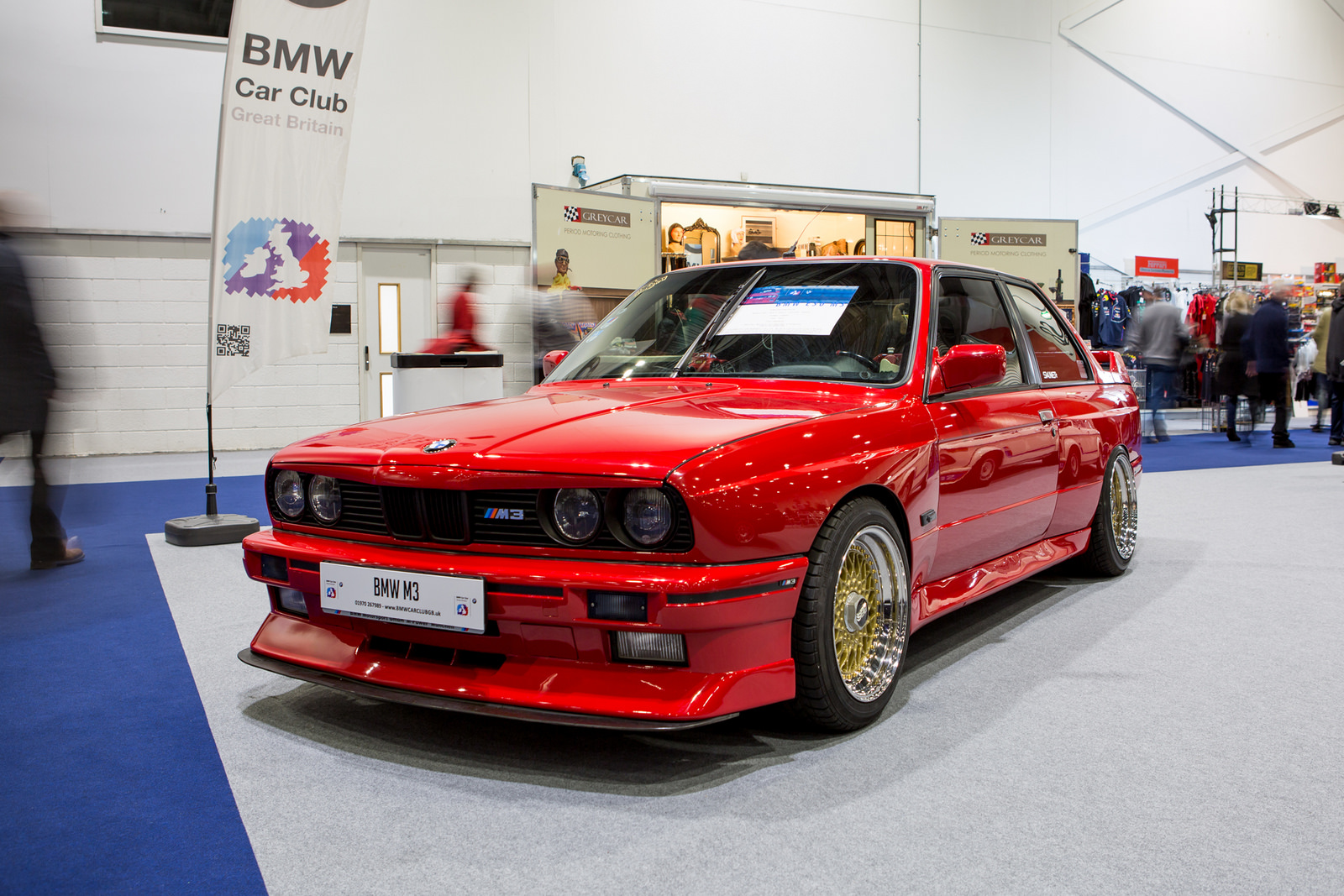 Limited Editions
As if any M power car could be classed 'ordinary' there exists from time to time the 'limited edition' cars. These really are something very special to enjoy, not only because they are bespoke manufactured items, but because over the term they are often (not always) the models which are the most sought after, with strong and increasing values.
These cars will usually have special features, sometimes just cosmetic, with special seats, unique cloth/leather interiors, carbon fibre, but also exclusive colour schemes, exterior detailing and sometimes with performance enhancements.
The most infamous of these, but by no means an exclusive list:
E30 M3 Sport Evo *(600) 200k
E34 M5 20 Jahre *(20) 110k
E36 M3 GT *(356) 40k
E46 M3 CSL *(1400) 60k
E90 M3 GTS *(135) 120k
*(numbers produced) Current values for examples with exceptional history/mileage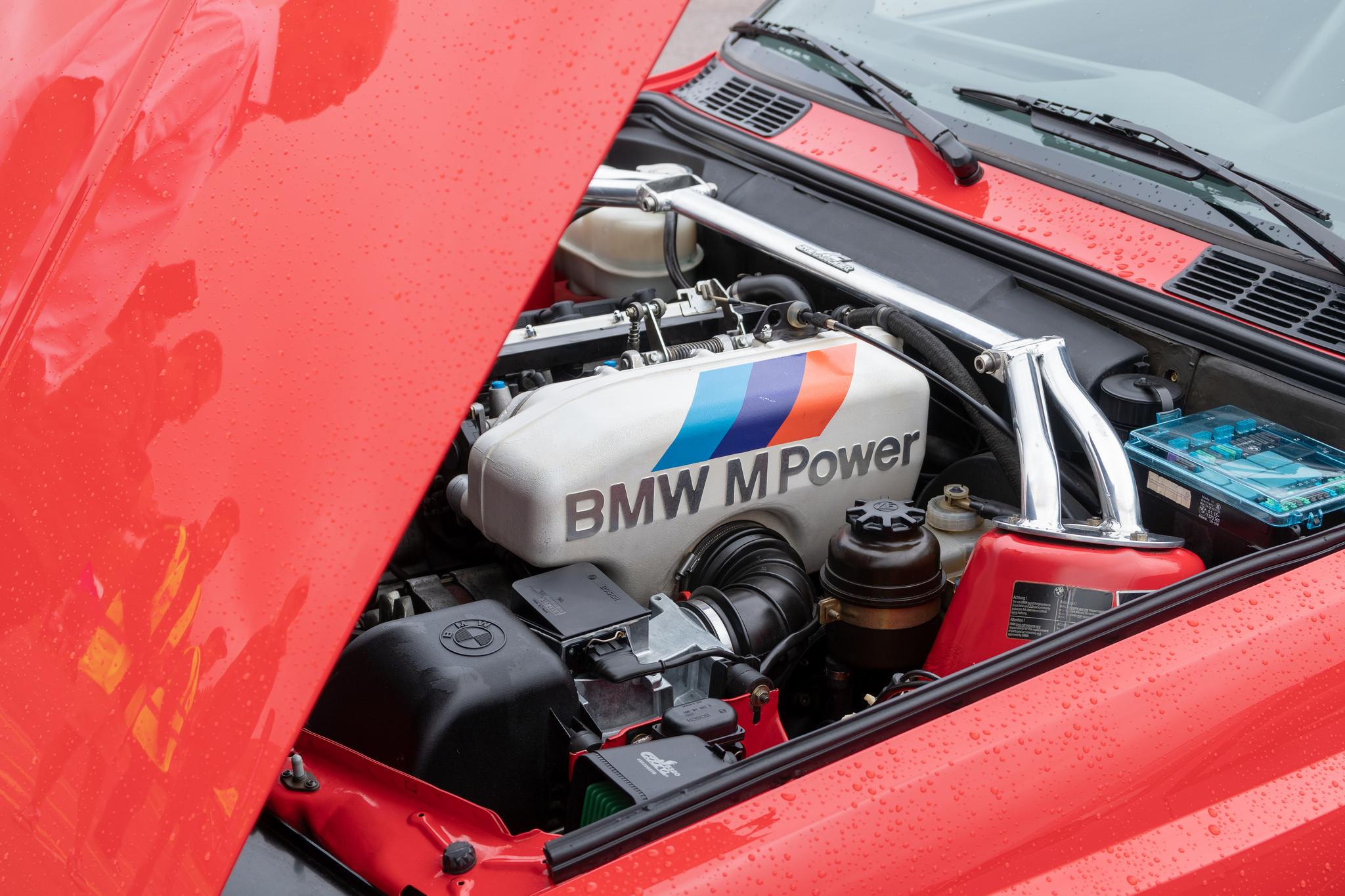 E34 M5 1992 20 Jahre
Whereas the 20 Jahre was built to commemorate the 20 year existence of BMW M Power GMBH, only 20 plus 1 prototype were produced. The 30 Jahre, 300 produced, is to commemorate the passage of time since the first (E28) M5 was manufactured in 1984, clearly a better marketing image than the 42 Jahre!
Recently one of the 20 Jahres, a 4,000km 'since new' car, was marketed in Europe for approximately 45k euros. It sold quickly, and soon reappeared with a 125k euro price tag! It appeared to have sold immediately, such is the perceived appetite for low mileage cars with perfect provenance.
The specification varied slightly between each of the 20 cars but was broadly as follows:
Mugello Red Paint
Motorsport mirrors
Black wheel centres
Recaro SR Sports Seats
Special 'motorsport' cloth seats (and door cards) with black amaretta seat bolsters
Dark coloured head lining
Carbon fibre dash/door inserts
Steering wheel, gear knob and hand brake lever in 'rough leather'
Red 'motorsport' seat belts
No performance enhancements
0 to 62mph – 5.6secs
F10 M5 2014 30 Jahre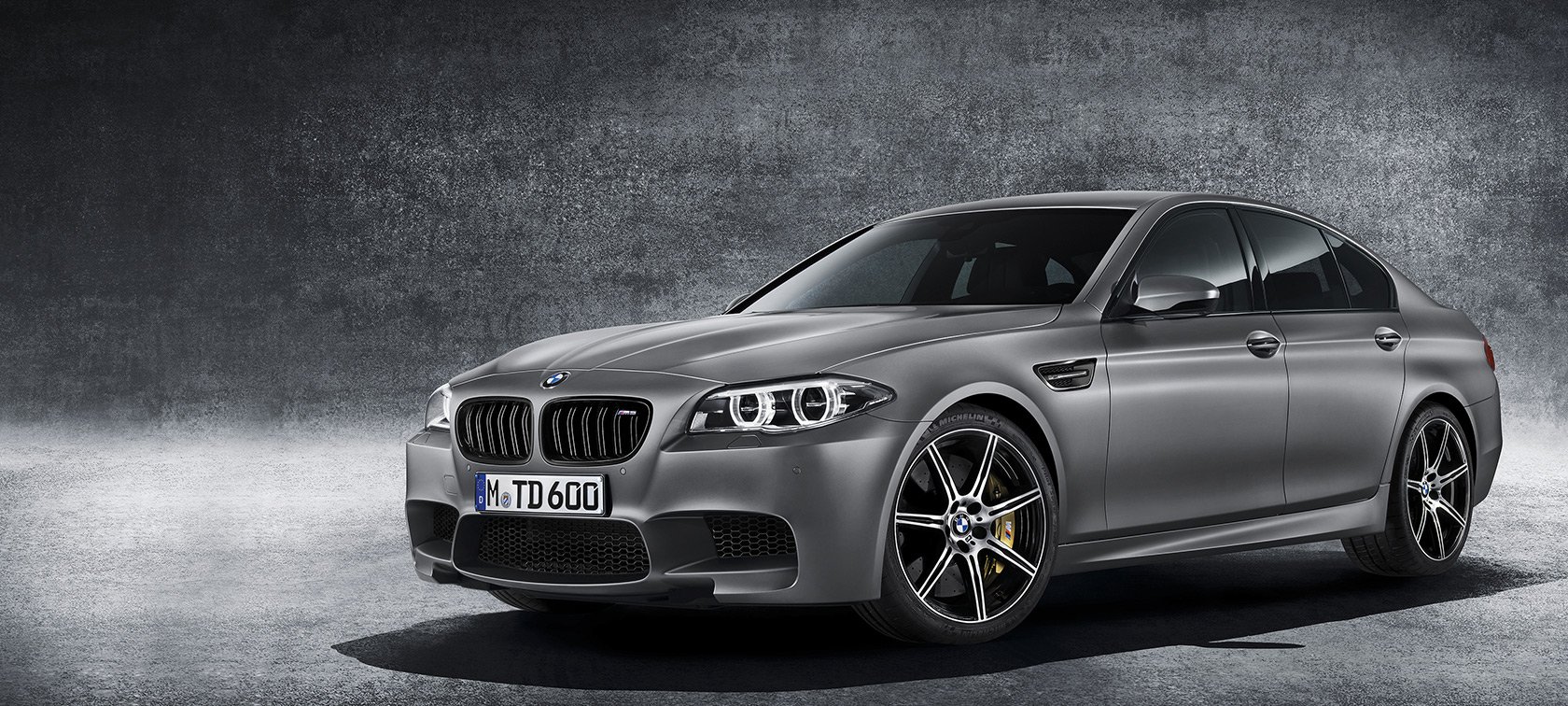 Specialist Cars, the M Power dealership in Stevenage, is a veritable hothouse of all things to do with the M Power cars, not least because their master technician Paul Travers 'bleeds M Power' any time he might graze his skin under the bonnet.
A Frozen Grey '30 Jahre' was sold to a client who wished to make this already special car even more special! – by ordering some BMW upgrades. Mostly these items are about weight saving. Paul called me to urge a quick visit; these installations are a rare thing, and he wanted to share his appreciation of the exquisite componentry, and to marvel in particular at the lightness and fabrication of the exhaust system.
Paul installed the upgrade, and saw the fleeting opportunity to capture images of the 20 Jahre (of which only two exist in the UK) and the 30 Jahre together. The two models were passing each other like a total eclipse, and we managed in the nick of time (the 30 Jahre was due to be collected) to photograph them at the dealership, and in the workshop during the fitting stage.
The upgrades as fitted consist of the huge M Ceramic brakes, enlarged calipers, special lightweight exhaust system, and the unique wheels.
Who would not wish to be the lucky person arriving at the dealership to collect this car? With 300 units being produced worldwide and just 30 of these destined for the UK, the M5 30 Jahre Edition is poised to become a collectors' item at 91,890 on the road.
Featuring the largest power output of any production BMW at 600hp (40hp more than the standard M5), the M5 30 Jahre Edition achieves 0 to 62mph in just 3.9 seconds, which is also the fastest time of any production BMW car.
The BMW Competition package is fitted as standard, with exclusive 20″ Double-spoke M 601 M light alloy wheels in a sporty Bi-colour look.
Developed in collaboration between BMW and Akrapovic, the lightweight sport exhaust system is made entirely from Titanium, for the non lightweight price of 6,645, and produces a rich, powerful, whip crack sound to amplify this characteristic M Twin Turbo V8 sound. The 92 mm M logo tailpipes create an unmistakable appearance. However the alternative, as fitted to this car, is to have the really cool 95 mm tailpipe finishers in Carbon-fibre, for a bargain additional cost of just 245.00!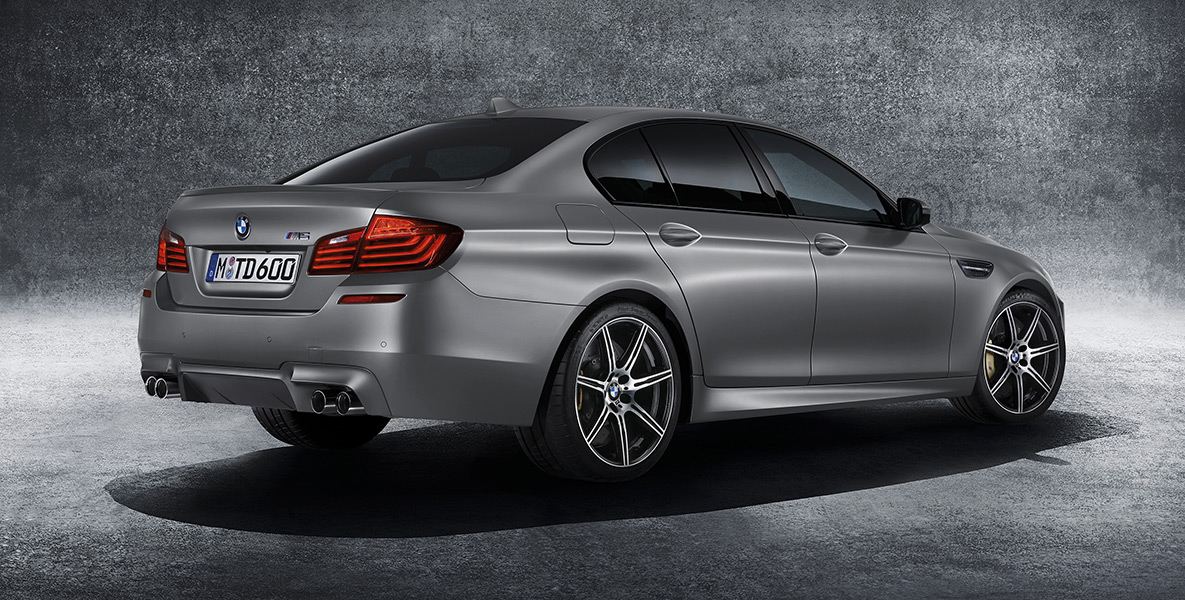 Befitting of such a unique edition, the M5 30 Jahre Edition comes equipped with a host of bespoke features:
– 600hp and 700Nm power/torque output
– 20″ light alloy M Double-spoke style 601M alloy wheels in bi-colour
– '30 Jahre M5′ stitching on front and rear seats
– Anthracite Alcantara centre console, armrests and door pulls
– BMW Individual Black Alcantara / Full Merino leather upholstery
– BMW Individual Frozen Dark Silver metallic paintwork
– Dark Chrome tailpipes, side gills, kidney grille and door handle inserts
– Door sill finishers with '30 Jahre M5′ designation
– Interior trim, Dark Aluminium Trace with Dark Chrome finisher, '30 Jahre M5′ and '1/300' designation
– M Sport Anthracite Alcantara multifunction steering wheel with gearshift paddles
– Side gills with '30 Jahre M5′ designation
Additional BMW M5 30 Jahre features
In addition to the exclusive content, the M5 30 Jahre Edition features the following equipment as standard above a regular M5: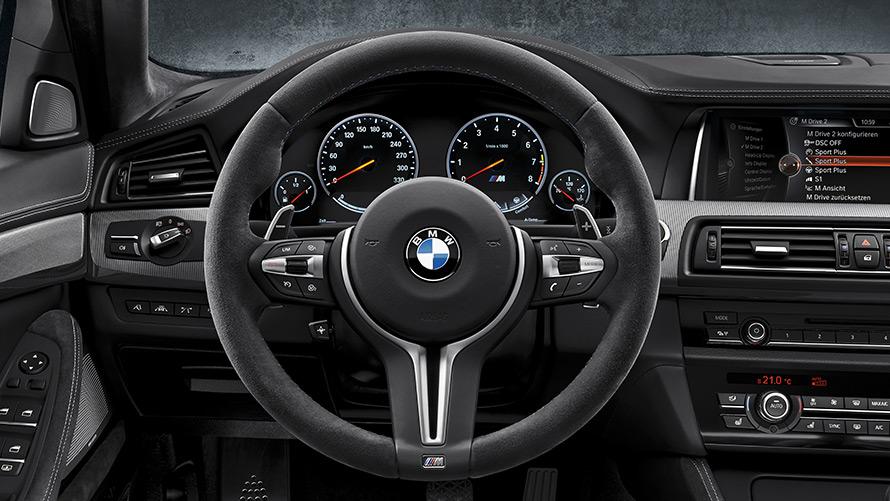 – Adaptive LED Headlights
– Comfort Access with smart-opener
– Competition package
– Driving Assistant
– Headlining, Anthracite Alcantara
– Instrument panel upper and lower sections, Nappa leather
– Loudspeaker system – Harman/Kardon
– Lumbar support, driver and front passenger
– M Sport multi-function seats, front
– Split-folding rear seat with additional 12 volt rear power sockets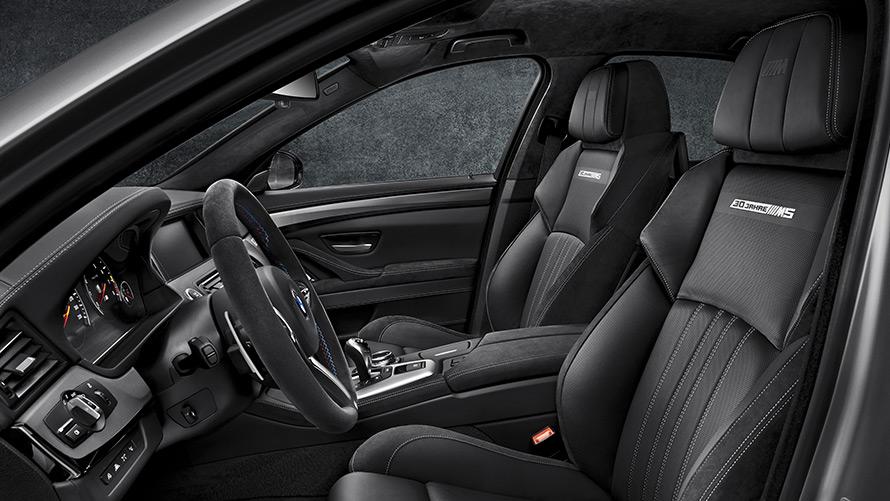 Optional Equipment
For those that wish to enhance the specification of their M5 30 Jahre Edition further, many of the regular M5 options are available to specify, including:
– B&O Advanced audio system
– M Carbon ceramic brakes
– Reversing Assist camera
– Sun protection glass
– Surround-view.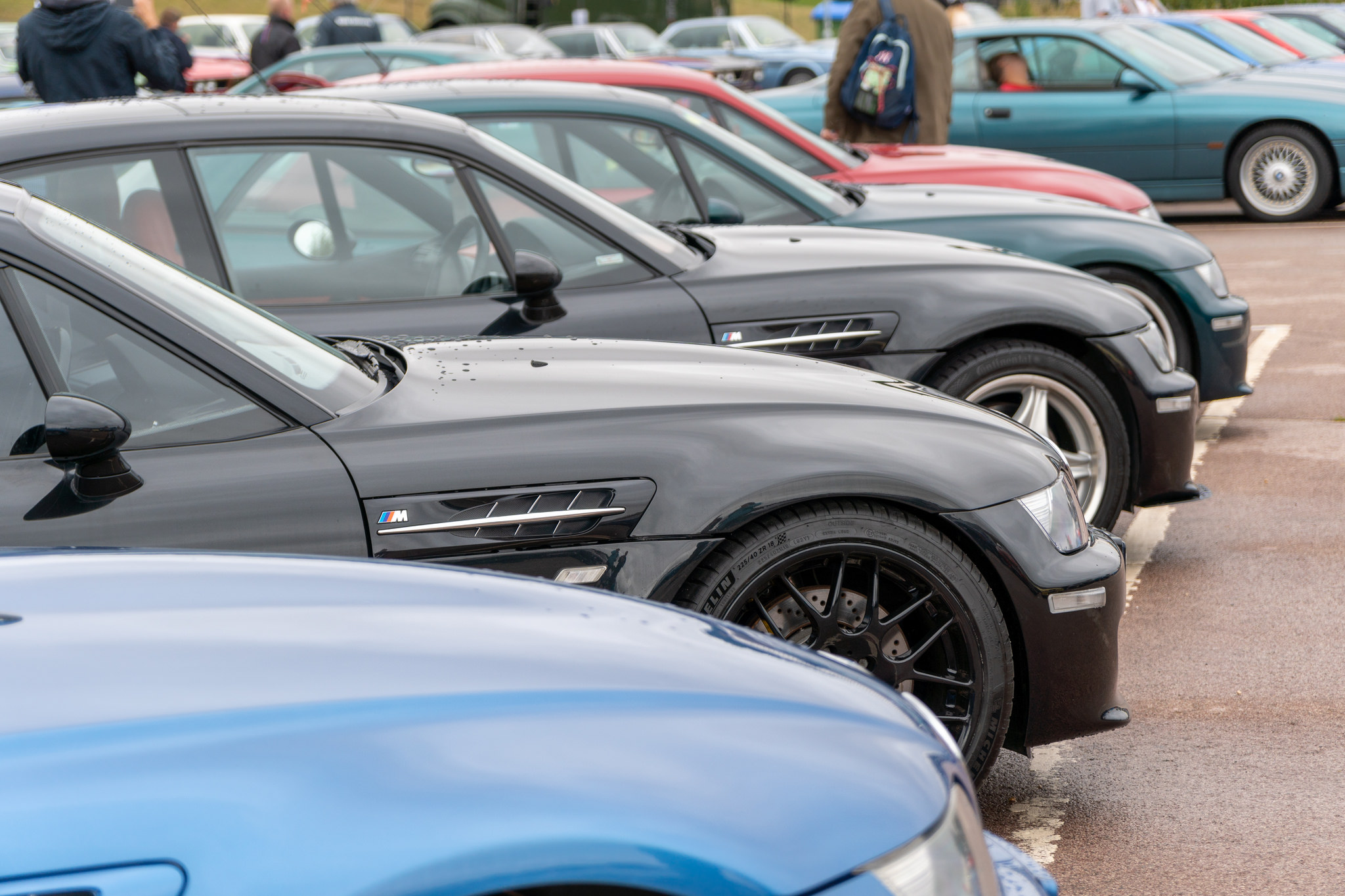 From the archive- April 2015
words by Richard Baxter