Images by Darren Teagles, Jasmine Davies and Brian Elliott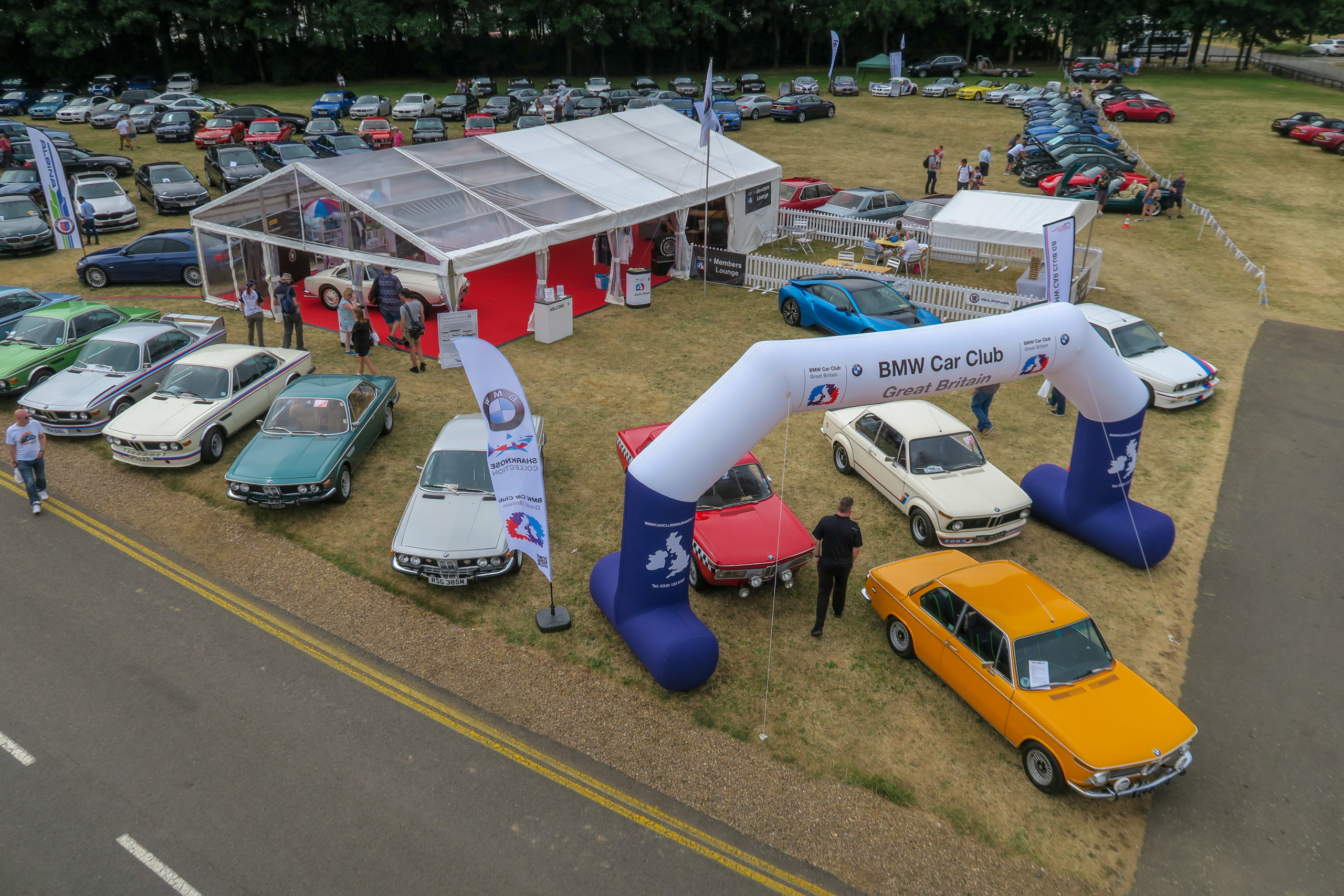 Silverstone Classic has always been a personal favourite of mine, since I first attended back in 2015. The atmosphere at the show is electric and it is always great to be a part of it! We know event season is in full swing in Club HQ when Silverstone is upon us, and we always look forward to putting names to faces at our national events.
We arrived on the Thursday morning to set up and ensure everything was ready for the arrival of our members the next morning. The ALPINAs, kindly supplied by Sytner Nottingham, were already onsite, and the stunning 507 kindly loaned by BMW UK arrived, and everything was ready and perfect!
We were onsite by 7:30am on the Friday and members were already arriving thick and fast. We quickly spotted some familiar faces arriving from the Scottish and Channel Island Regions; we only see them once a year, but it is always a pleasure.
The highlight of my weekend was driving the i8 roadster around the Silverstone track during Friday's Supercar parade. I had been asked earlier on in the week by BMW UK if we could drive the i8 and the M1 around the track, I guess someone had to do it!… so Jamal and I put ourselves forward! Once I finally figured out how to open the doors *face palm* and manoeuvre myself in, the i8 was incredible to drive, my foot was only hovering on the accelerator and it was already getting increasingly difficult to stick to the 40mph speed limit!!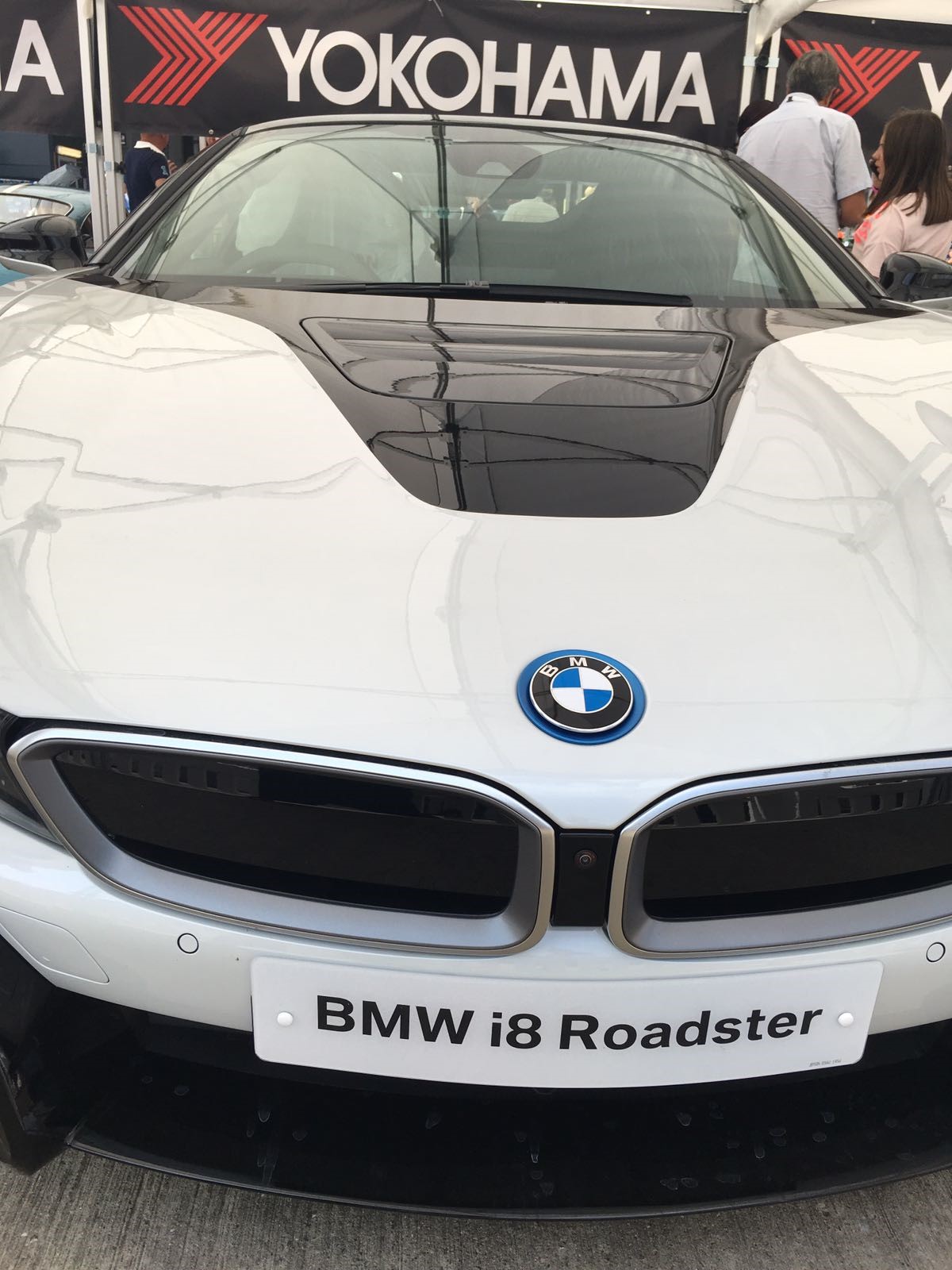 With Saturday being our busiest day, the Club stand was full of Bavarian beauties from Z1s to the M3s; we had an incredible display, in my opinion the best at the show. The Sharknose Collection was also out in full force, and what a head turning display they had! From the multi coloured 02s to the stunning CSL we had a fantastic representation of the Classics.
On Sunday afternoon I was cornered by the Silverstone TV crew to show them around the Club stand and give them some facts on the 507 that we had inside the marquee. I know a few of you saw me on the big screens around the show, thankfully I missed my big screen debut!
The newly launched Club clothing and our new-look marquee gave the whole weekend a more polished feel. With Michelle working hard behind the members' bar to keep you all refreshed, to the face painting and games in the members' lounge, there was something for everyone this year and we hope you all thoroughly enjoyed yourselves as much as we did!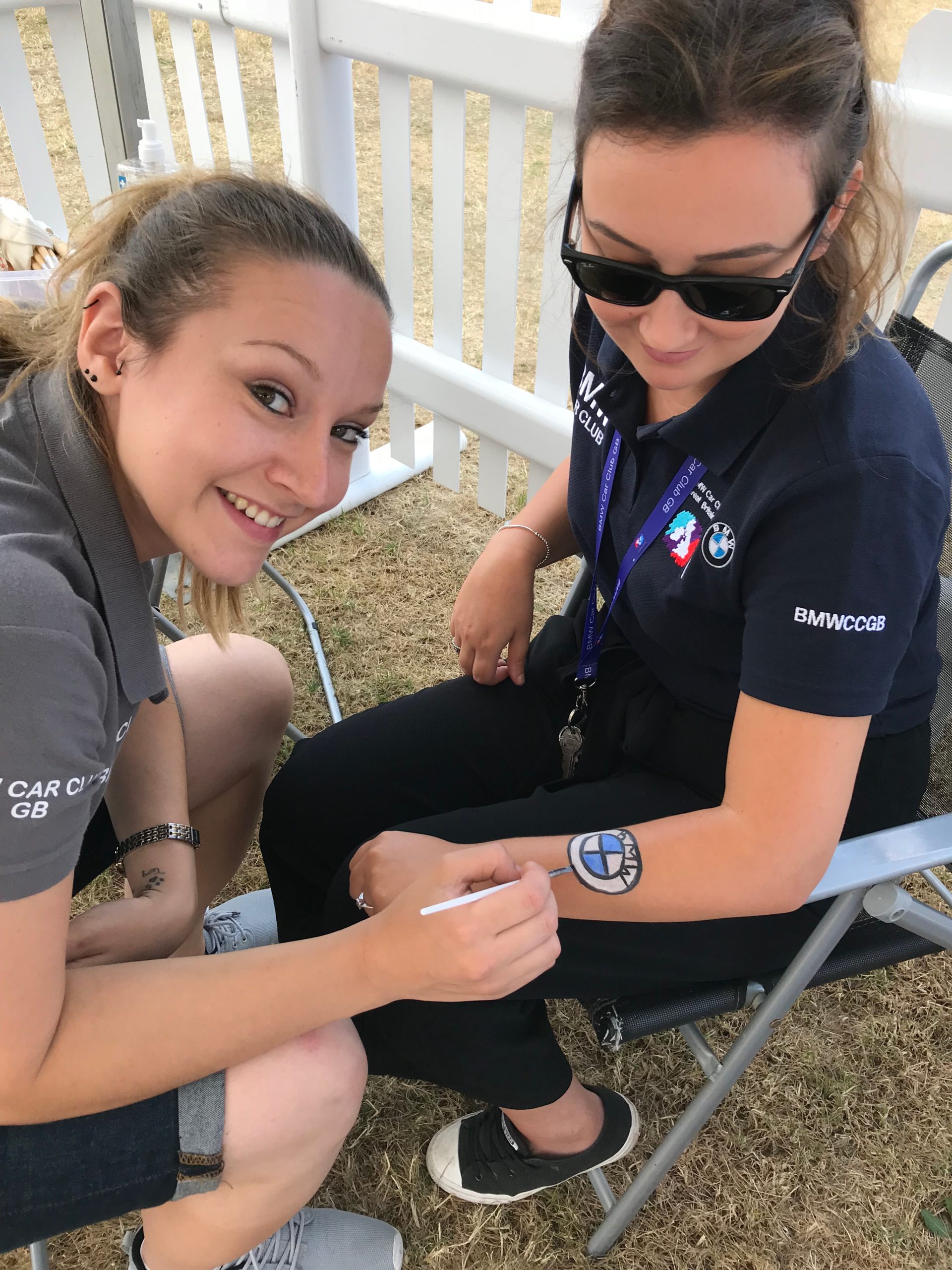 Big thank you goes to our Chairman, Jamal Blanc for organising another fantastic Club stand and to Michelle, Jasmine and Amy for all of their hard work. To BMWCCI, Simon Alcorn, Tim Maltby, Richard Stern, Richard Baxter & co for all of your help over the weekend, Jonathan Noy and Garry Lott from Sytner Nottingham for the array of amazing ALPINAs we had on the Club stand and to BMW UK for the classic 507!
Words by Alex Evans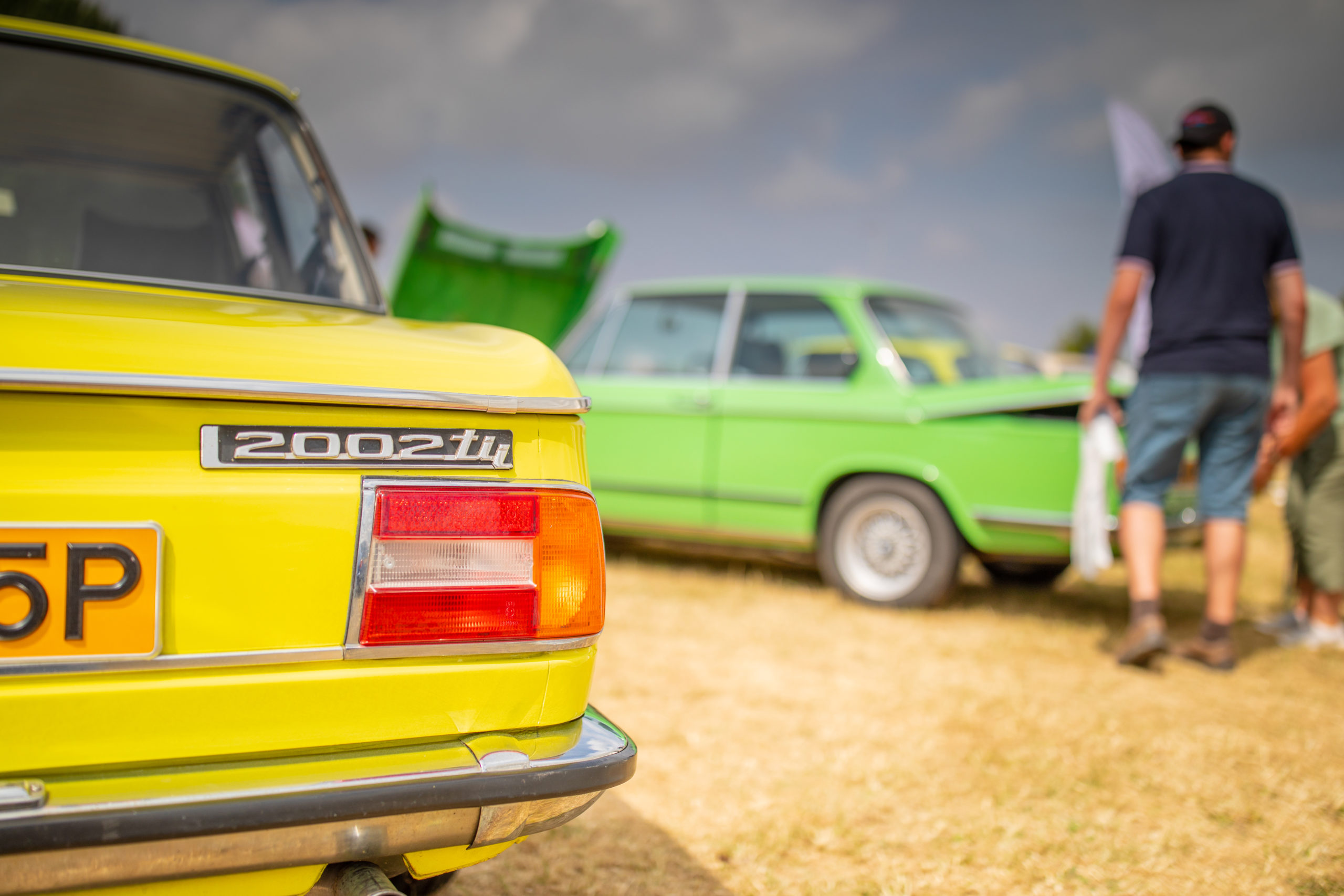 The big weekend was ahead of us. 'Welcome to the Silverstone Classic' – the banner beaming like the fairground illuminations. As this was my first year at Silverstone, I had very high expectations and let's just say I was not disappointed, but in fact blown away.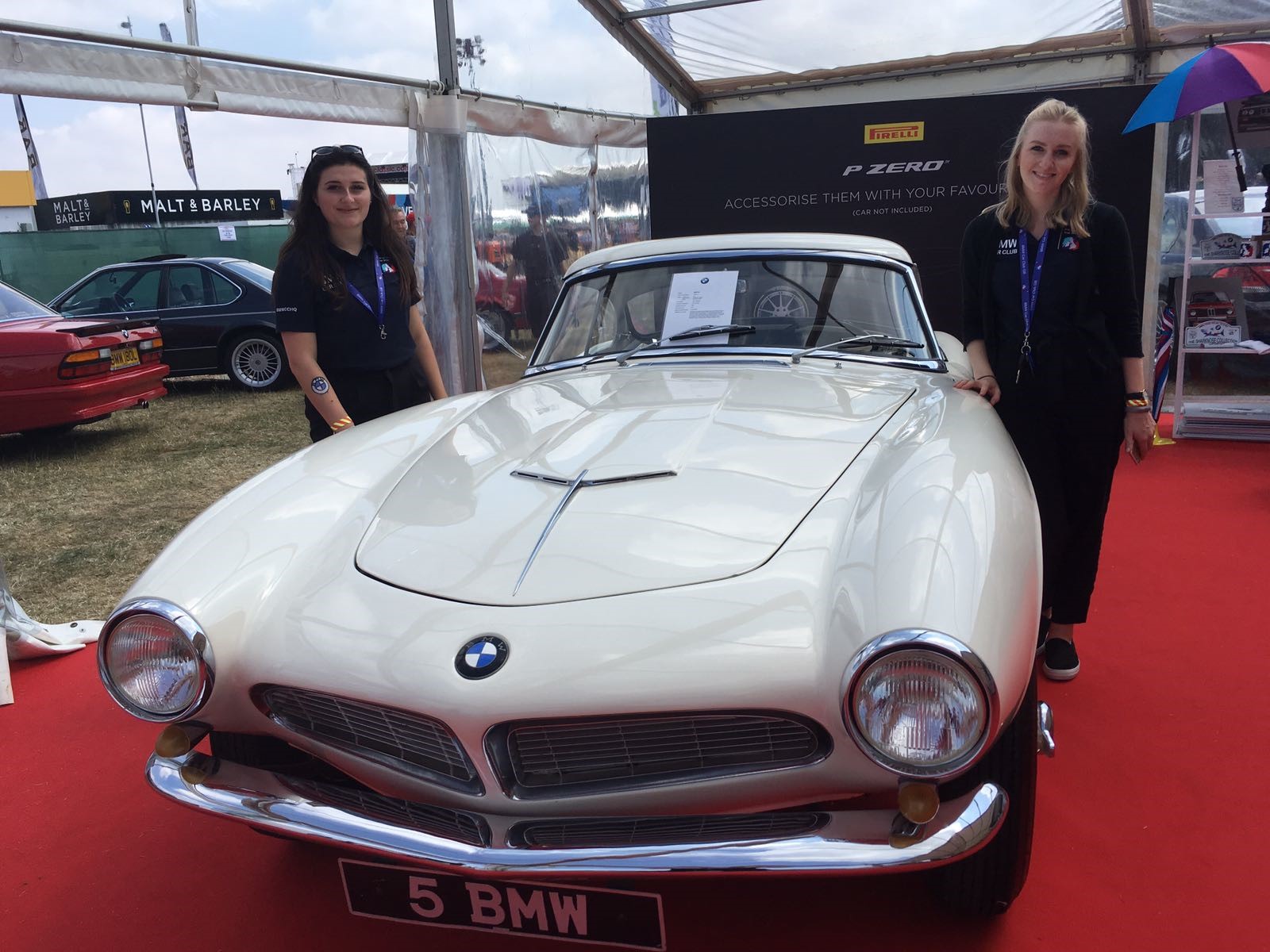 The Club stand enticed all; from the Classics to the M5s. One of the highlights has to be the privilege of having a feel of the track in the i8 Roadster. This beast would make anyone feel enchantingly familiar with the track, by the way it dived into the bends. I valued the way it cocooned us in its low and snug seating. I say if this is the future of BMW supercars, bring it on.
I realised however that looking back is a good thing when it comes to BMW cars. Parading with Jamal alongside us in the M1 was just the cherry on the cake. It's not every day that you drive alongside one of BMW greatest treasures. It was a true moment; car, track and an audience experiencing a mutual feeling of awe and respect.
The 507 stole the show. It has been known that the King Elvis Presley bought two of these models and that there are only around 278 surviving. To see it in the flesh was incredible, it was one the most beautiful things I've ever had the pleasure of sitting in. "Can we have a picture with it?"- selfie sticks extended and people snapped away, all mutually wishing we could own one, one day.
In the sweltering heat, it was comical yet heart-warming to see the relief on the members' faces when they were offered refreshments. As members relaxed in the members' lounge, Carlie was decorating the children with face paint versions of BMW roundels.
From Michelle's taste bud tingling teas to the roaring sound of the 2002s; I knew from these small moments that our Club was something to be proud of. A big thank you to Simon who made sure I kept hydrated, and for Tim helping us keep the float inflated. Also a massive thank you to Stern who demonstrated why we don't wear sun cream that's outdated! Putting names to faces, it was lovely to finally meet the people I speak to over the phone daily and hearing the motor cars making my heart racy.
Within a blink of an eye the weekend was over. A wave good-bye and even a little tear was shed by Scottish Stevie. Even though our feet were sore, we would never have looked back at this festival as a chore. The arch was down, boxes sealed up and before we knew it we were heading back to our hometown. Members became friends that weekend, and insects became enemies! (If you know, you know).
What an experience. What a club to be a part of.
Words by Amy Evans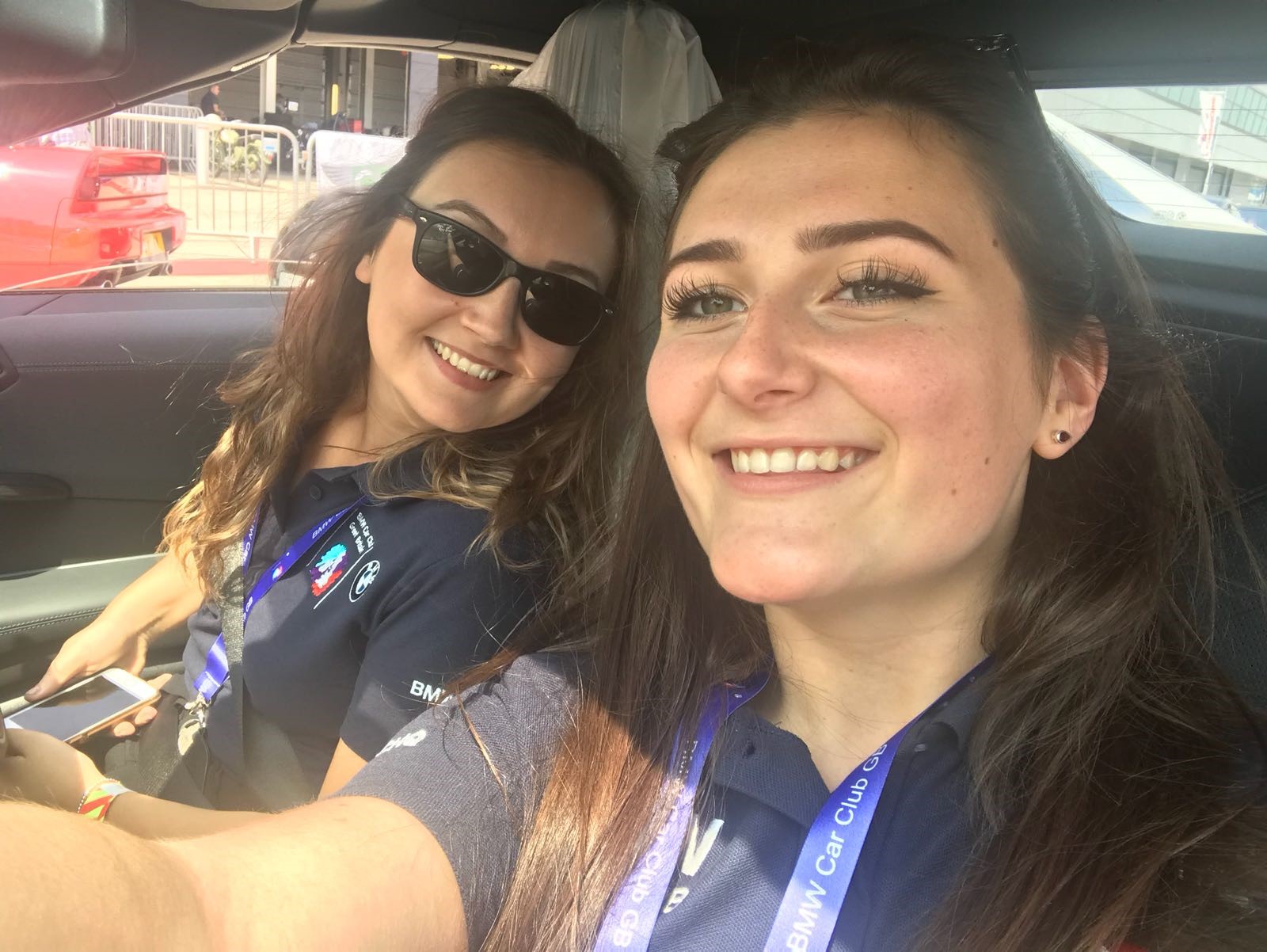 This was my second year visiting Silverstone Classic, and I have to say, it is my favourite event that we attend as an office. For us, the weekend started on the Thursday morning where we travelled from HQ to Silverstone to start unpacking and ensuring everything looked amazing for the first day of the show.
As it was one of the hottest days of the year, and trying to unpack was proving a challenge in the sweltering heat, Simon Alcorn and Tim Maltby soon appeared in the extraordinary ALPINA XD3 which was kindly loaned from Sytner Nottingham. To much of my satisfaction, Simon soon said "Go on, hop in and enjoy the aircon." Well, how amazing was the interior specification!!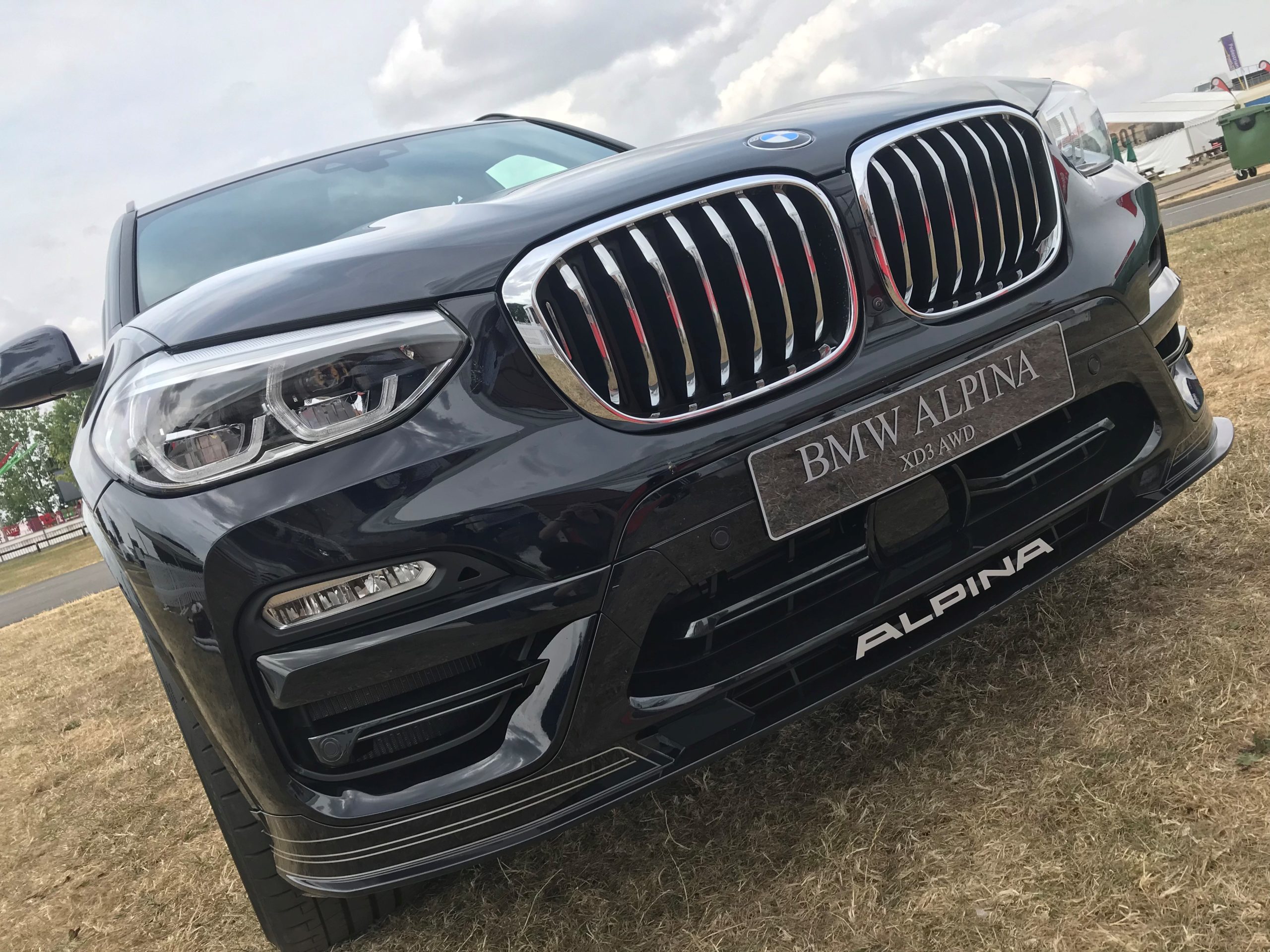 The highlight of my whole weekend this year was attending the 02 parade lap to celebrate 50 years of the 2002! As the speed limit was only 40mph, I still had a great feel of what power these amazing, Bavarian classics could reach. The array of colours on the track from all of the 02s was pretty spectacular. Thank you so much Vivian for letting me jump in with you, and Richard Stern for letting me experience this once in a lifetime opportunity! The celebration for the 02s could not have been any more amazing if it wasn't for the super enthusiastic and outgoing 02 Register captain, Sterny!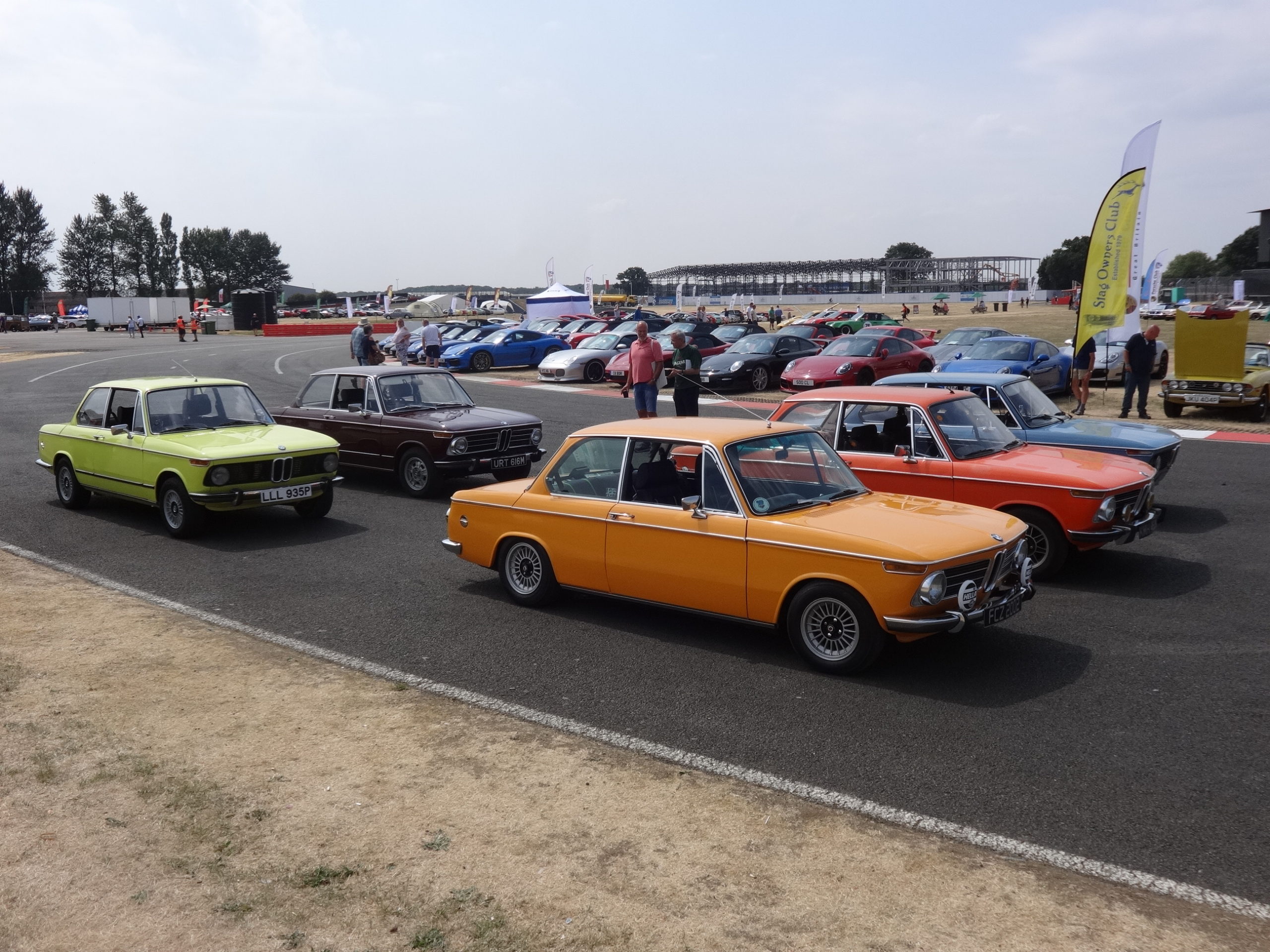 Seeing returning members from last year's Silverstone such as the iconic Scottish Region, like Stevie and Garry; and the double trouble pair, Stuart and Olivia. It's great to have a catch up with all of the members throughout the weekend. Putting faces to names is a great way to get to know members a little better, such as finally meeting members like Rob Norton, Michael Pang and Tony Wawryk.
This year's Silverstone Classic was such an amazing turnout with various 02s, The Sharknose Collection, ALPINA Register, Zeds and Ms. Social media was buzzing with excitement from all images and videos of our members' special BMWs. This truly was a successful and spectacular year at Silverstone which would not have been possible without all of you incredible members with your amazing BMWs! Thank you. Following from the success from the weekend, we signed up 31 new members, whom we look forward to seeing at future shows.
We would like to thank Richard Stern, for your humour and knowledge throughout the whole weekend; Simon Alcorn for being BMW Car Club's very own Bear Grylls with sorting the inflatable, marshalling and helping with the amazing ALPINA section; and Tim Maltby for being Simon's right hand man with marshalling and using your friendly charisma and to help members. Finally, a massive thank you to Jamal for yet again, making Silverstone Classic such an epic event!
Words by Jasmine Davies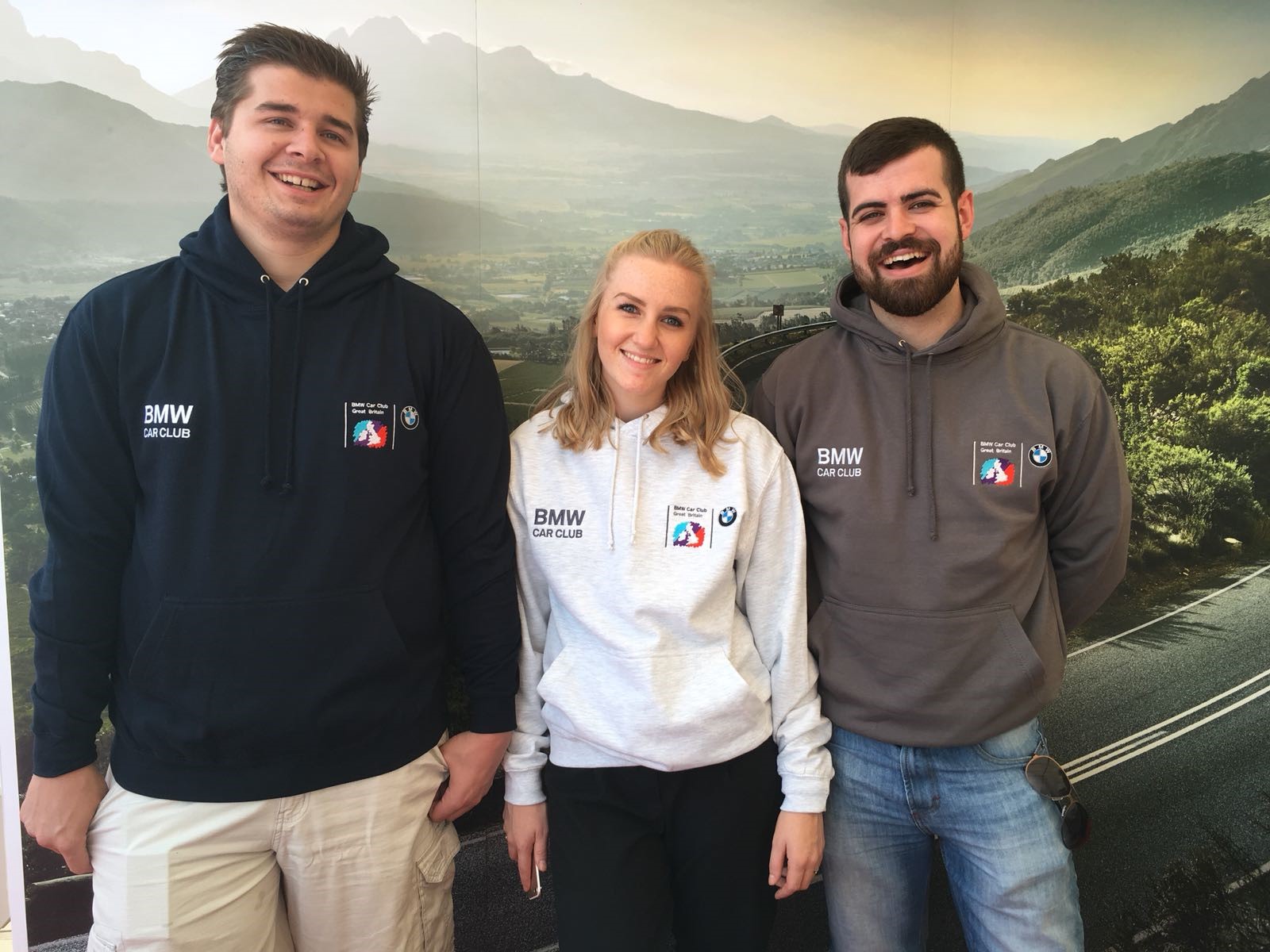 Silverstone 2018
With a fully packed car and loaded sat nav route.
Jasmine in the back seat and Amy… she's in the boot.
We set off through the Welsh hills, no signal on our phone…
Yes it's that time of year again, we are off to Silverstone!
We have to swing by Bicester to pick some supplies.
Alex carries the heavy stuff, she is strong for just pint size!
Dean arrives just in time and loads the lot in his truck.
Tables, chairs, flags and poles; it fits by a stroke of luck!
Back in the car, we are almost there when Amy shouts out loud,
"There's the sign for Silverstone, over-by-there beneath the crowd"
Jasmine takes some pictures. "I need them for Instagram"
"I'll put them on our Facebook and send one to my Nan."
We carry on to Zone 19, it's where we find our stand.
The Marquee is up with a members' lounge and boy does it look grand!
The carpet is laid, it's Verona Red and looks very VIP.
The Bar is in, the Urn is on, and it's where I'll make the tea.
Sun burns high in the sky, the day is about to begin,
Cars start arriving in their droves and the Marshals guide them in.
BMWs from far and wide, travelled over the land and sea.
It's "Hoo are ye" to the boys from Scotland and the ever joyful Stevie.
There are ALPINAs, Zs, 02s and Ms with owners proud and 'Beeming'
The line-up of cars is a sight to behold, parked up shiny and gleaming.
Beautiful colours Red, Orange and Gold, there's Green, Black n' Silver and Blue.
The laughter and chat rings out across the stand as old friends share a coffee or two.
We watch Mr Stern as he lines the 02s, he really does move rather swiftly.
He darts here and there, he's all over the stand – he really should sign up for Strictly!
The temperature gets hotter the sun beats down, on go the hats and short sleeves,
"Any one got sunscreen, I'm burning out there," he sprays factor 50 and leaves.
The Silverstone weekend, well, it's a wonderful event,
We get to meet our members and enjoy the excitement.
We hope you all enjoyed your time, the hospitality and the leisure,
I'm sure that you, like us, will have good memories to treasure.
And as the day draws to a close and members head for home,
We take a moment to reflect on another great Silverstone.
But it's not farewell, it's au revoir, we will see you again next year,
So save the date and count the days and Stevie, dry that tear!
Words by Michelle Evans