This write-up was first features in the July 2014 edition of Straight Six and follows on from my 'Choices, choices, choices' article that appeared in the February issue of Straight Six, which chronicled the process of elimination we went through before choosing a 650i M Sport Coupe as our new car of choice. Did you know we had all issues of Straight Six available online back to 2013? Read them HERE.
The car was ordered in October 2013 and duly arrived for us to take delivery in January 2014. The whole deal and delivery was a painless affair handled professionally by Williams BMW Rochdale, who deserve full marks for how they conducted the whole transaction, from first enquiry to handing over the car. At handover, the car was presented in perfect condition, the paintwork properly prepared to remove any trace of wax or polish residue, and no nasty machine polisher induced swirls or holograms – top marks! They also scored 5/5 by presenting a lovely bunch of flowers to my better half (always a nice touch) and a v-nice BMW '6' key ring to myself, plus a smart BMW Motorsport golf brolly in the boot!
I can fully recommend Williams Rochdale to anyone contemplating the purchase of a new or used car. They are more than happy to offer the very best deals for club members.On the drive home the 650 immediately felt 'special'. The 640d M Sport that we previously owned was an excellent piece of kit, but the 650 felt like a totally different car. The twin-turbo V8 gives it so much more effortless punch (even though the 640d was no slouch) and it's all conducted in turbine-like near silence which makes it sound and feel so smooth and refined.
I know it sounds silly, seeing as they are both 6 Series Coupes, but the 650i feels like a step above the 640d, and quite a large one at that. That's not to say the 640d is a poor relation in any way, it's just that the 650i is so quiet and refined yet so muscularly powerful and aurally thrilling when provoked makes for a killer combination.
Within a week I had removed the standard 19″ M Sport wheels and run flat tyres and fitted the 20″ AEZ wheels that were fitted to the 640. Before fitting I had the wheels professionally detailed by club member Paul Kelly – the wheels are in perfect condition and Paul did an excellent job bringing them up like new – they really help to fill the arches on the 650i and the ride has also improved as well on the 'standard' Yokohamas – a win-win double! (Paul Kelly Detailing 07894 708356). I also changed the AEZ centre caps with BMW ones, to give it a more stock/stealthy look.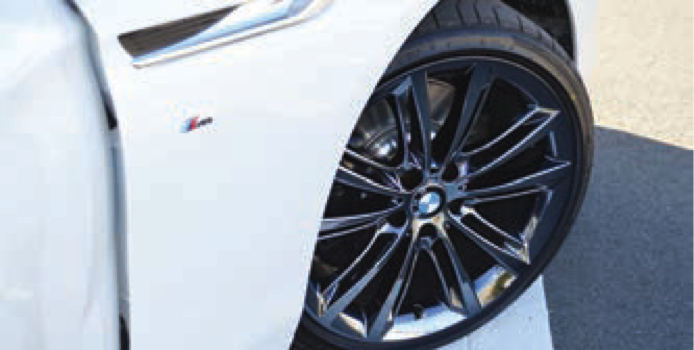 The only other gripe I had with the car is the proliferation of 'M' badges that BMW have seen fit to sprinkle onto the front wings of its M Sport cars, where they look like their placement was an afterthought. I fully understand that the letter 'M' is a massive marketing tool for BMW, but please don't overdo it! I did notice in a recent article written by good friend and BMW Car Magazine Editor Bob Harper where he too pointed out the boy racer-ish look of 'M' badges stuck on the front wings etc. of an M Sport X5 he was testing, so I'm not the only person irritated by the 'M' badge placement!
I decided to leave the badges in situ, thinking my views would mellow over a month or two, but to be honest, they jarred on the eye even more, looking more and more like an afterthought, so with some nylon fishing line and more than a little help from Paul Kelly, we removed the offending 'M' badges from the front wings. Any residue left by the sticky backing was gently polished away and then both wings were re-finished and treated to a fresh coat of Zymol wax.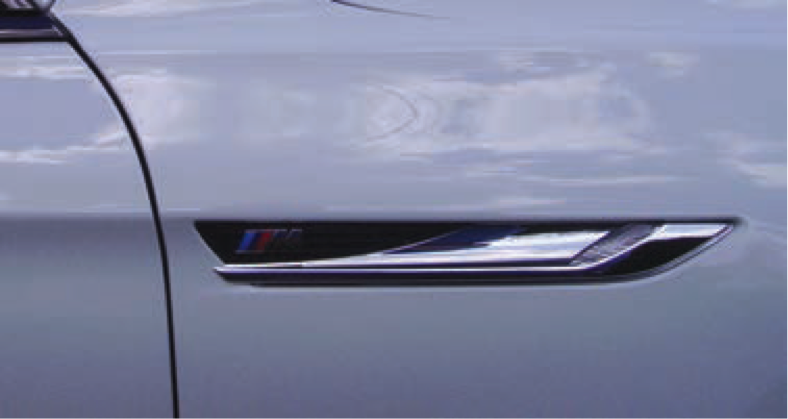 Having noticed the cool side grilles fitted to an M6, where the indicator and M6 badge are incorporated in the same unit, I thought about doing something similar with the 'M' badges removed from the front wings. I cleaned any sticky tape left on the badges then applied super strong double sided rubberised tape, the stuff used to hold double glazed windows in place, thinking that if it can hold a window in place it can certainly stick an 'M' badge to a grille! I placed the badge onto the tape, carefully cut around the badge with a scalpel so it was factory neat, and then applied them to the stock side indicator grilles fitted to the 6 Series Coupes – see photos. I'm sure you'll agree they look fine and more to the point, they look as though they should have always been there and not 'slapped' on the side of the wing!
So what's the 650 like to drive I hear you ask? – bloody awesome! Our business circumstances have changed since I stepped down as Car Club Chairman, so the car is used locally and more sparingly during the week, with the odd jaunt further afield. This means it hasn't covered as many miles over the first four months (1,739), but the miles it has covered have been more enjoyable, leisure miles covering longer distances at the weekend, allowing the car to shine in its role as a Grand Tourer, whilst also driven with gusto when the right opportunity presents itself…
The car feels proper quick, and friends agree after some demo runs supported that theory, producing proper 'press you firmly back in the seat' acceleration from zero to… well that would be telling.