This article was first featured in Straight Six May 2016 and can be found in the members' area by clicking HERE. Did you know we had all issues of Straight Six available online back to 2013? Read them HERE.
Words & photographs by Jeff Heywood
It's a hybrid, but not as BMW intended! We go back to school to learn how hybridization works as mad professor Michael Oberhauser experiments with a CS into M5 transplant, with not an electric motor or charging point in sight!!
This article carries a HEALTH WARNING for all BMW purists -Fans of classic BMWs and of theE9 CS in particular may be shockedand upset by the following article…
The first MKO project I became aware of was their crazy V8-powered 1602. While the V8 into '02 conversion was impressive, it was more an in-house project/customer demonstrator to show what MKO can do rather than a completecustomer 'turn-key' project. No, the car that really caught my attention was still a work inprogress at the time. Tucked away at the back oftheir workshop was an immaculate, silver BMW3.0CS which caught my eye straight away.
Still looking as elegant today as it did in its heyday four decades ago, the CS is one of my favourite coupes of all time. I noticed from photos that the car was far from standard. Its wide wheels and lower, more purposeful stance gave it a modern air of confidence, and, after asking for more info/photos on the silver beast I saw that its rear wheel arches had been subtly extended. On closer inspection (my eyes aren't what they used to be!), it became obvious that the sill area just before the rear arches had also been neatly and sympathetically flared out. It was then that MKO's boss, Michael Oberhauser, explained that the 3.0CS bodywork had to be modified this way to accommodate the shortened floorpan and mechanicals of… an E39 M5!
I call such vehicles 'Frankenstein cars', as the engineering challenge to make such a car is almost akin to having the body parts of one car transplanted onto the chassis of another, making it a hybrid in the classic sense. But unlike Mary Shelley's original shocker, I hasten to add that I use this description in the nicest possible way, because what we have here is a thoroughbred, not a monster…
Viewed from underneath one can see how perfectly the 1970s Coupe body has been grafted on to the late 1990s M5 chassis. This is the kind of engineering that I appreciate when it is done to a very high standard, but how is it going to drive…a few months later and I was about to find out. MKO boss Oberhauser was as keen as anyone else to see just how his 'hybrid' drove – here are Michael's first impressions: "I drove out of our workshop, which is situated in the village of Wrth (about an hour east of Munich); I had given the CS M5 a final 'going over' before heading out to some of my favourite driving roads and a suitable photo location. As the photographer waited for the strong afternoon sun to abate, I thought I'd take you on another journey, venturing down the long road everyone at MKO had travelled in the previous year or so to get this beautiful chimera across the finishing line.
The MKO concept is a carefully considered and professionally executed marriage of a modern BMW engine, chassis and technology with a classic BMW coupe body shell. The CS M5 is the second car to benefit from this technology transfer, following on from our V8 2002.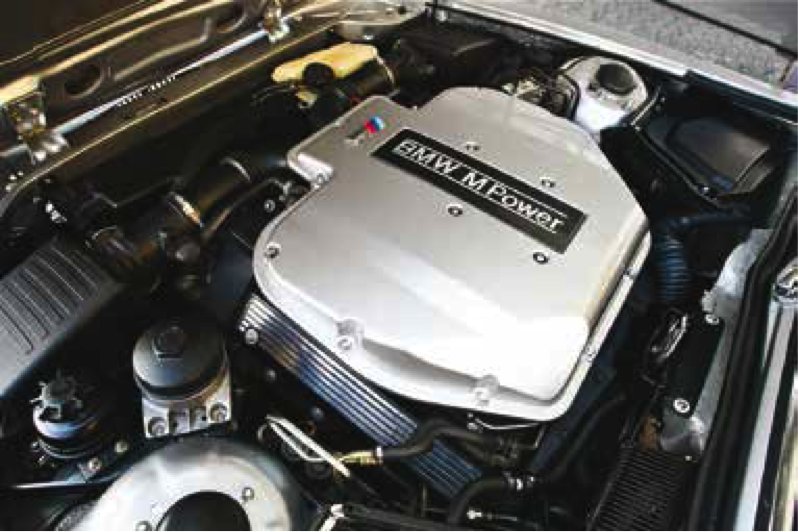 This prototype involved three donor cars; one E39 M5 and two E9 CS coupes," Michael added. "I already had the first CS before I bought the M5, but then found I needed another for parts. "The second CS was a metallic green 2800CS originally owned by the famous Bavarian TV chef, Alfons Schuhbeck. Like the first one, it had a lot of rust, but I was able to use most of the body shell parts. It was important that an MKO car should literally be like new," he explained. "So I spent a further 8,000 euros buying new lights and various chrome pieces. I had to get most of these bits from BMW Classic, and they are not cheap. A headlight unit costs 400 euros alone, and a complete bumper is 1,000 euros, for instance."
Because of the high cost of labour in Germany, the bodywork is done by a specialist body shop in Romania. Thus, despite the 3,000 man-hours it takes to build, the turn-key CS M5 costs 'just' 150,000 euros. "The labour cost in Romania is one third that of Germany, otherwise the car would have to sell for over 200,000 euros," said Michael. "I would like to sell two or three CS M5s, and then I will start work on a similar conversion for the 635CSi coupe, which I have in storage back at the workshop. "The Romanian body shop we use have some of the best metal craftsmen in their country, and they hand-made some body parts to such a high standard that once the car was painted you simply cannot believe that it did not leave the factory that way," Michael explained. "We once had craftsmen like that in Germany in years gone by, but they are now very hard to find as people think it is easier and more cost effective to simply replace broken or rusty parts with a new one," he continued. "Under the communist regime, Romanians did not have access to new parts, so they had to re-furbish or even make anything they could not get hold of.
"The M5 and the first CS went to Romania on a trailer, but as the green CS was driveable after I had fixed its seized brakes, I drove it there myself," said a grinning Michael. The Romanian workshop separated the M5 shell from its floorpan, and repaired and replaced all the rusty panels on the CS body. They then shortened the M5 floorpan, propshaft and exhaust system by 210mm to fit the CS's wheelbase. Next came the arduous process of adapting and welding the CS body to the M5 platform, which has 60mm wider front and 100mm wider rear tracks.
The rear arches and surrounding metal as well as the sills all had to be modified, with many new parts made up from sheet metal. The high standard of work that is obvious when you look closely is a tribute to their craftsmanship.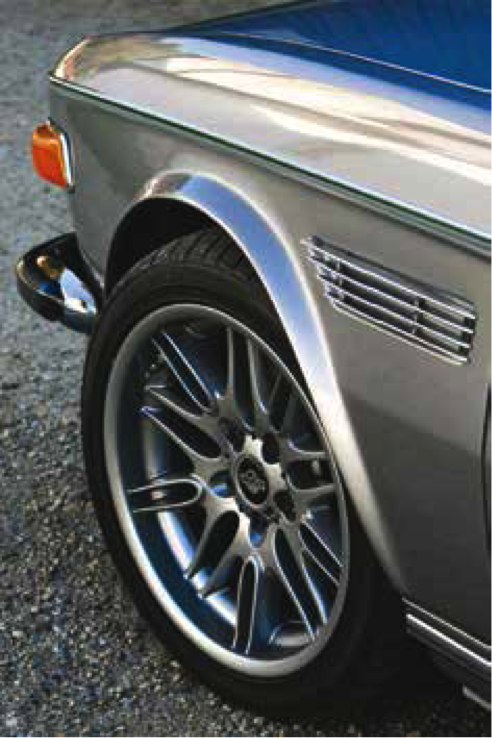 The front spoiler looks period because it is an original CSL part, although the new rear valance had to be made up from scratch to match the wider rear bodywork. It looks very good though, as it sits lower than the original and hides the big M5 rear silencer boxes, leaving only the four bespoke exhaust end pipes exposed at the business end. Once the rolling shell was complete, it was returned to MKO where Michael began the mechanical installation. "Back in Germany, installing the engine, gearbox, wiring loom, the mix of CS and M5 interior trim, new Recaro seats and a ton of other bits, making modifications here and there as necessary, took about seven months," Michael recalled. The M5 engine was in good working order, but a high mileage unit. So Michael's technicians stripped it down and rebuilt it, and it subsequently proved its mettle by delivering 431.6hp on the dyno, something mentioned by Richard Hamann about the S62B50 V8 in our piece on the 888hp Z8 in March's Straight Six.
The M5 suspension was replaced with fully adjustable KW suspension. "KW have a department that caters to small volume tuners and individuals, and they were extremely helpful in re-valving their M5 height-adjustable, coilover suspension kit to suit my car," said Michael. Michael explained that when he took the car to the TV authorities for registration, they concluded that so many changes had been made it could no longer be classified as a BMW. "The biggest fear I had was the emissions test," he said. "The procedure in such cases is to test it as a new car, to the Euro 4 standard that the M5 was certified in its time." In the end, the TV decided that MKO should be registered as the manufacturer. Thus, the official designation of MKO CS M5 as approved by the licensing authorities speaks volumes for the excellence of the finished product.
Once the CS M5 had passed its licensing hurdle, the next stop was the annual end-of-year Essen Motor Show for its official public debut. The only question mark left at that point was over how it should be badged. Michael asked
someone he knew in BMW's legal department, and was told that since he was putting MKO
badges on the car, all the BMW badges should be removed along with the 'M' logos on the alloy wheels, which would otherwise have been next to the MKO branded centre caps – although I have pointed out to Michael that I personally think a set of classic multi-spoke BBS wheels or period Alpina rims would look 'better' on the CS M5… All visible BMW badges/branding removed, and it was off to Essen where the car aroused a lot of interest, including from me, and we now have come full circle to how I first saw the car in the metal.
Open the door of the MKO CS M5 and you will do a double take the moment you see the late 1980s style Recaro seats and find yourself facing an E39 M5 dashboard, instrument pack and Airbag steering wheel. It all looks M5 but the windscreen pillars are elegantly thin and the front windscreen is more upright. If you own or have driven a 3.0CS, you will know the feeling when you put the spindly all metal key in the ignition, turn it and hear the starter churn a few times. Then the straight-six motor bursts into life with its characteristic roar, settling down to an idle as stable as the 42-year-old Bosch fuel-injection can manage. In this 'CS', you twist a chunky, modern BMW key in the ignition, and the 4,941cc semi-dry sump, double Vanos M-motor bursts into life with a deep V8 woofle-woofle-woofle, and immediately settles into its rock steady digitally stabilized idle. Blip the throttle and the motor rocks slightly on its mounts as the bent crank V8 rumble pulses through the car. This is the point at which
a 3.0CS owner who had not been told of this car's special provenance would be feeling very confused indeed.
At 1,672kg, with a three-quarter tankful of fuel, the CS M5 is about 150kg lighter than the M5, with weight distribution within a few kilos of the ideal 50/50 as BMW intended. It is also good to know that since the mechanicals are a total transplant, all the modern electronic safety systems like ABS and DSC are intact.
Back to driving – "On this beautifully sunny afternoon, it is a toss-up between driving the car with its side windows down, or utilise the air-conditioning with all windows shut. That is a choice never available to a new, showroom fresh CS in the 70s. As nice as it is to drive with the windows down, the pungent smell of freshly applied 'fertiliser' from the nearby fields means the modern air-conditioning system gets the nod over dropping those gorgeous frameless windows!" The car feels very 'pokey' in gear, and from rest the 0-60mph sprint takes around 4.7 seconds, whilst covering a quarter mile in a whisper over 13.0 secs. "Journalists always want to know -how fast?" Michael continues. "However, I do think this is largely academic in a car built to be a practical useable classic, even though it can happily be used as a daily driver with all its modern electronic driver aids if an owner so wished, although I can tell you that owners of vehicles like the CS M5 tend to use them more as weekend toys."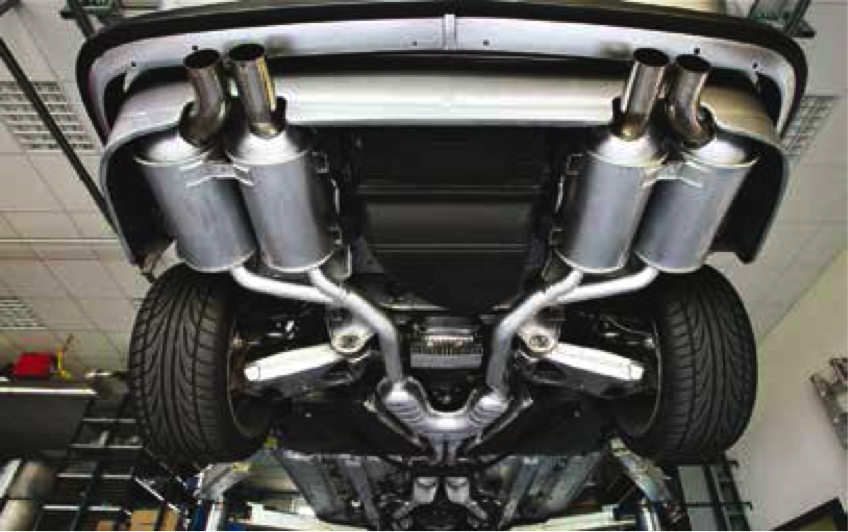 The M5's 245/40ZR18 and 275/35ZR18 Michelin Pilot Sport tyres on massive 8J x 18 and 9.5J x 18 ten-spoke alloys are unique to the M5. Repainted silver from their normal satin grey, they squeeze most of the daylight out of the MKO CS M5's flared wheel arches, and actually suit the overall look much better than you would expect, but they can look like the guy who's picked up a CS and has stuck on a set of modern BMW rims for no other reason than 'they fit' – like I pointed out earlier, I think classic BBS or Alpina's would work much better. . . Back to driving: "Like the original M5, the CS M5 slices through bends with as neutral a stance as any Swiss politician. If you sense slight understeer in a fast bend, all you have to do is increase the throttle a tad to rotate the tail around a bit more. The car remains poised right to the point where ultimate grip is breached – it has more traction than most people can sensibly use on public roads. The car feels very composed and unruffled by anything you throw at it, and is a joy to hustle cross country. On fast cross-country roads, with over 400hp on tap and slightly less weight than an E39 M5, the CS M5 quickly climbs up into three-figure speeds between bends."
Balance is the operative word here, until you switch off the DSC. Then the BMW M Differential is there to help you if want to indulge in the power-on-oversteer slides that the M5 is so good at – a clich I know, but one can enjoy the best of both worlds. Michael still finds the best way to drive any BMW (or Porsche for that matter), is to utilise the stopping power of those big M5 rotors and brake early, turn in and feed in the power progressively as you exit the bend, before planting pedal to the metal as the torque slingshots the car onto the next bend. Drive like this and most powerful BMWs (and Porsches!) are very quick point to point. "The M5 brakes are huge; 345mm vented discs in front and 328mm discs at the rear, with four-pot callipers and Bosch ABS. Braking hard and late into corners in the lighter CS M5 puts even less stress on these powerful anchors and they manage anything one can throw at them. On Bavarian country roads like this the whole engine-chassis-braking flows together to make the CS M5 a real pleasure to punt along."
The dynamic behaviour of the M5, which places equal store on comfort and performance, carries over to the MKO CS M5, but is delivered with even more visual style and panache. Sure, it is going to offend the purists who will think it is a sacrilege to use two CSs in the build of this car and be left with the hybrid we have here, and there are E39 M5 people out there who will also mourn the demise of another V8-engined M5, which we must not forget is the sole naturally aspirated V8 powered M5. But this is Germany. BMWs are more widely available, and that includes, unfortunately, E9s, and it seems that models like the 2800CS and any CS that doesn't have a badge that starts with the number 3, is fair game to anyone wanting to build something quite unique.
This car is a unique and wonderful way to relive the past, sans the fragility of the original 42-year-old mechanicals. No doubt a tiny handful of (wealthy) BMW enthusiasts or keen car collectors wanting something different, each with a spare 150,000 euros burning a hole in their pockets, will find the MKO CS M5 a very attractive proposition.