Taken from Straight Six May 2014, available to BMW CC GB members online HERE.
The BMW Sports Trophy Teams Marc VDS and Schubert finished the qualifying race for the Nrburgring 24 Hours in the top four spots. Victory went to Maxime Martin, Marco Wittmann and Uwe Alzen. The trio in the number 25 BMW Z4 GT3 relegated the car of BMW Sports Trophy Team Schubert, driven by Jens Klingmann, Dominik Baumann and Claudia Hrtgen, into second place. Their team-mates, Dirk Werner, Dirk Mller, Lucas Luhr and Alexander Sims, in the number 19 BMW Z4 GT3 finished third. The second vehicle from BMW Sports Trophy Team Marc VDS with Bas Leinders, Markus Palttala, Nick Catsburg and Dirk Adorf rounded off the one-two-three-four result perfectly after six hours.
Starting from 10th, 11th, 12th and 13th on the grid, the BMW Z4 GT3s drove consistent lap times throughout the race, and didn't show any signs of technical problems. With a clever strategy and their rivals suffering various problems, the BMW teams kept moving up through the field and were able to spend the last hour of the race focusing on bringing the cars home. All four BMW Z4 GT3s celebrated a world debut on Saturday when they were the first to be kitted out with the innovative BMW laser light technology.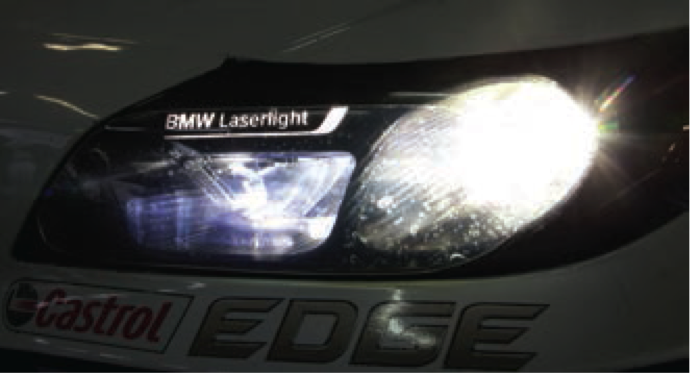 "It is no coincidence that the first time we use the new laser light technology in a race will be on the Nrburgring-Nordschleife," said BMW Motorsport Director Jens Marquardt. "As a demanding test laboratory, this circuit has always played a key role in the development of BMW cars and our racing cars. For this reason, I am delighted we can now achieve another milestone there with the first use of laser light at a racing event. Highly-efficient laser headlamps are an important safety factor, particularly at the 24-hour race on the Nordschleife. This qualifying race gave our BMW Sports Trophy Teams – Schubert and Marc VDS – the ideal opportunity to run the new technology under competition conditions for the first time before the big race at the end of June."
This article and many more can be found in the members' area by clicking HERE. Did you know we had all issues of Straight Six available online back to 2013? Read them HERE.