Today BMW confirmed what performance car fans have long been awaiting -the BMW M2 will receive the S55 twin-tubocharged straight-six engine from the F80 M3 and M4. When test drives and media reviews found the regular M2 to be underpowered and lacking in dramatic power delivery, the rumours spread of an impending engine swap for the baby M-Car.
Well now the news is official, BMW's littlest car receives one of its punchiest engines, and there is much rejoicing across the Kingdom. The M2 Competition, as it shall be known, receives a 40bhp power increase over the standard car to 410bhp all delivered to the rear wheels. Handling is improved via a stiffer front end, and carbon fibre fans will be happy to learn that the M2 competition will use the boomerang strut brace from the M3 & M4. This is another mark in a long history of swapping a factory BMW engine for something else – but why do people change, and what do they change for?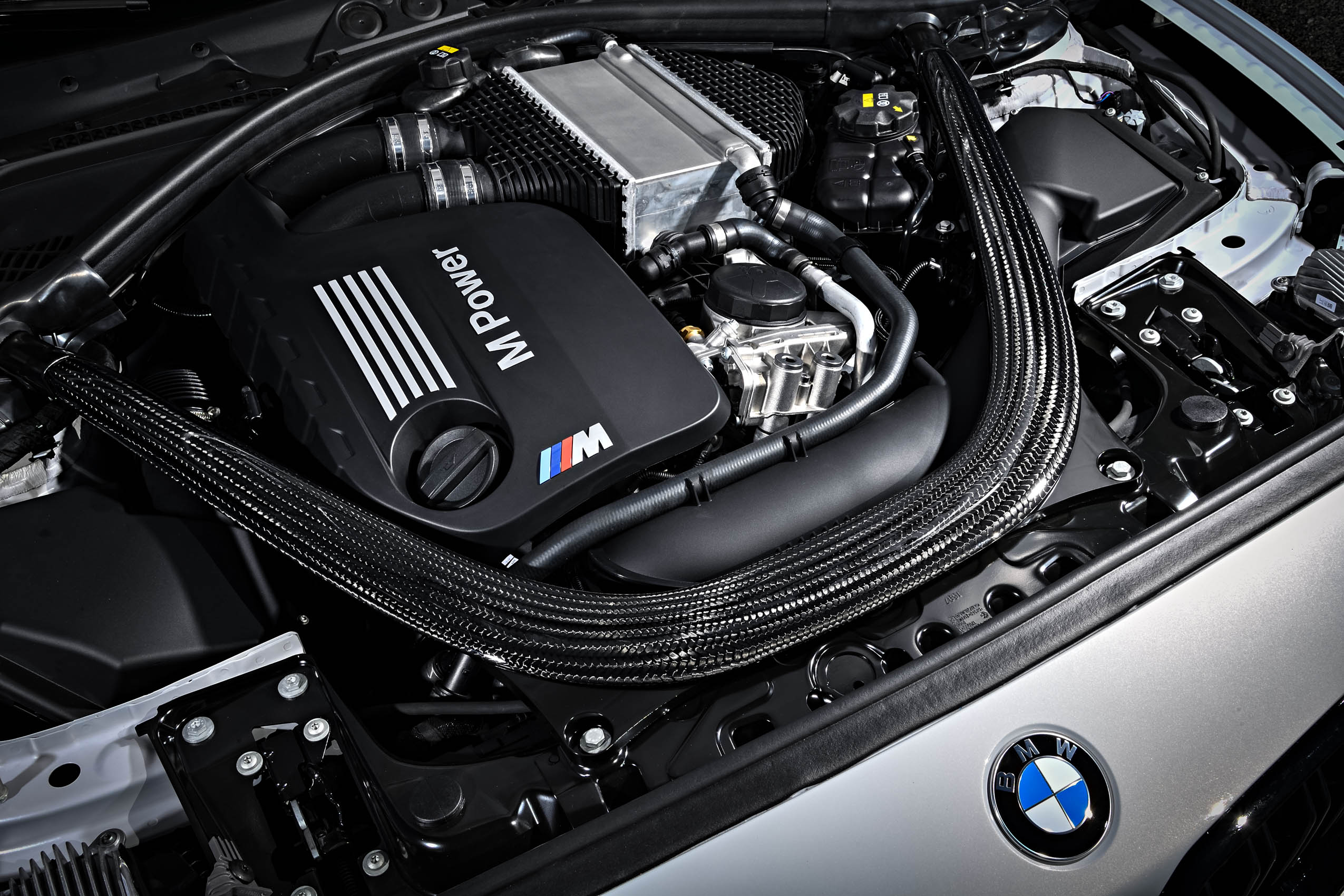 Traditionally it is the smaller BMWs that receive engine transplants. The short, performance focused chassis are the purists and the track driver's choice; think the M3 lineage, 1M coupe, Z4, and now the M2. A straight six is a stalwart of any performance BMW so why would you get rid of it?
For some the power delivery of the straight six doesn't suit their style, and for others a new engine is roughly the same price as a rebuild – so why not try something else in one of the best performance chassis around?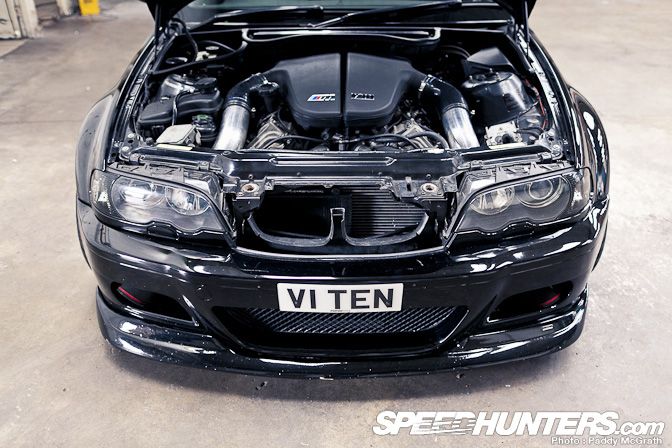 Credit: Speedhunters.com & Paddy McGrath
BMW offer a range of fantastic engines, none better than the S85 5.0L V10 found in the E60 M5. With some gentle fettling the chassis can support this 545bhp motor and you have yourself one hell of a car. The S85 is a popular swap for E46 owners, the Midlands based Driftworks team proved that with time, money and imagination you can build a car that goes like heck and sounds like an F1 car.
Similarly ludicrous are the SRT Viper V10 swaps. If 5.0L isn't enough capacity for your V10 there is always the trusty 8.3L V10 unit from the SRT Viper. Although not the easiest swap, it can be done, and again is most commonly seen in E46 M3s but also shoehorned into a Z4. A mini Viper perhaps? The engine doesn't fit too well under the M3's bonnet, requiring a chunk of Germany's finest metal to be cut out. What this engine lacks for in practicality it makes up for in noise, head to 3:33.
Credit: BMW Blog
These days a crate motor swap is an easy thing, and although various companies offer an LS1 V8 Corvette engine swap, the internet is awash with these swaps. And there are far more interesting swaps to be ogled at. Moving on.
Swapping a stock engine out is hardly one for the purists, however for those wanting rid of BMW's engine but want the balance and power delivery of a straight six, Japan has no shortage of awesome inline sixes. Swapping for another straight six (a la M2 Competition) keeps the car's balance just as the factory intended, but what are the popular swaps?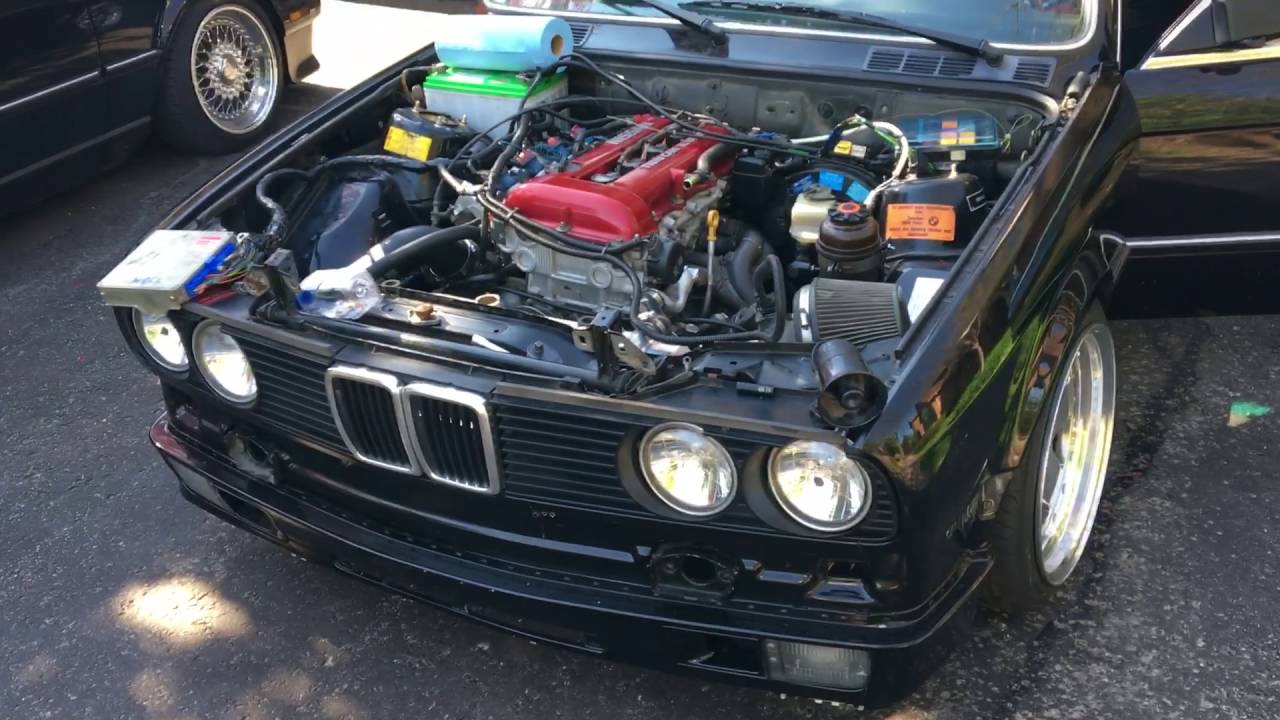 From SR20 and RB25 to 2JZ, most of the Japanese crate motors have been squeezed into a BMW Chassis. For good reason too, the ubiquity and strength of these engines mean that racers and drifters worldwide can make use of some of the most well-balanced and smooth engines of the last 30 years. What's more the strong internals are famously able to handle high boost pressures and higher compression than the BMW unit, meaning those wishing to single or twin turbocharge their BMW are better suited to running one of the Japanese units.
While engine swaps may not to everyone's liking the variety of engines that fit a BMW chassis means that there is something for all tastes and purposes. Even BMW are doing it, and with their crop of great engines, you'd be mad not to consider it yourself!