Words by Richard Baxter
I wonder if an analysis of members cars might show a divide between two camps, 'low mileage garage queens' and 'high mileage' cars whose life has been spent doing what they were designed to do?
There is a pure contradiction between speculative investment and driving pleasure. I personally know this truculent pony only too well, for on the one hand my 1988 11k miles E28 M5 has slumbered in its air drafted/battery top up capsule since it was last on promotional duty when the F10 M5 was released in 2011.
On the other hand I'm fretting that my E36 M3 daily driver which is now nudging the 100k mark, is a milestone which should have been acknowledged at least 10k miles ago? Because once it is over that big hurdle it somehow becomes less of a valuable asset and of interest to anyone, that's my programming exposed!
Those who follow the BMW classic market will of course be aware that a very low mileage E46 M3 CSL will be knocking at the 100k door, while one with 70k miles can be yours for 40k.
What I wonder is the future for all these 'low mileage garage queens' for the owners sit on this asset in the full knowledge that any kind of use is going to exponentially reduce it's value, or are they to spend the rest of their existence simply moving from one owners motor storage facility to another's? The new owner simply picking up the baton of 'speculative investment' – like a Van Gogh destined to live its life forever in a light starved but good for the paint – security vault?
There is a reality of course, very few extremely low mileage e46 M3 CSL's exist, so being able to own such a car is something of a rarity and there was enough driver experience for it to have gained a reputation of being well balanced, fast and with that demonic DTM induction roar to die for…
Certainly back in the day, it was difficult for the M3 CSL to sell at its list price of around 60k and a sharp hit could be anticipated for those who found it too compromised as an everyday car, but that did not stop it from becoming a very popular car as its value dropped and it was gratefully picked up by the driving enthusiast who could afford it at 30k…
Time moves on and the speculator now endeavours to predict the market in advance (as opposed to liking the car) 'buy a new M4GTS' and immediately mothball, so it becomes the perfect future classic with delivery only mileage, kerching!!! Only problem, there are just so many of them squirreled away, they are never seen on the road and have had too little exposure to create any following – a real shame for this car is a worthy challenger to the art of driving.
In the old order of things; M4GTS – 20k miles for 60k – yes please!
Shortly after the run of 700 odd worldwide sold out, I did a cursory check to see how they fared on the secondhand market and how many were being flipped? Any number to choose from, prices ranged from 135k to 250k, all with very similar specification and under 2k miles – bad call for a quick profit then!
M4 GTS Plenty around on the speculative market, few to be seen on the road.
There was however a recent story in Classic and Sportscar magazine, of a lord who purchased a low mileage BMW 635CSi with the express intention of using the car because mostly "he just liked it" and with the low mileage, enabled him to anticipate some trouble free motoring for years ahead just as if he was purchasing the car back in the day. He will still be a happy man should prices fall.
So what about the high mileage M cars, what becomes of those? What of their desirability? (Each model will have its own foibles). Actually these tend to offer a good future, especially for the enthusiast. It is not difficult to find some with between 200 and 300k miles still with the original engine! Such is the reward however for a car receiving the correct servicing.
My E30 M3 SE for example, I purchased in 2000 as a track day tool and has as a consequence of the rise in car values, become quite an asset, however the joy is that the mileage is close to 250k and therefore is not like a precious low mileage car destined to be wrapped up in swaddling clothes. Since retiring the car from track and completing a restoration a completely new 'on the road life' has been added back in.
E30 M3 SE – 250k miles, not so precious and can be restored.
Providing the body is in good sound rust free condition which many of them are, the mechanical issues can be sorted as and when required for quite a reasonable cost, either by having an engine re built to give it years of reliability or by tracking down a good motor from a crashed or dismantled car. The life of the car is not therefore an issue and most would agree that for all the technological advancements, the latest cars are not known for their fun factor whereas the earlier M cars most definitely are.
As time goes by and specialist appear to supply the market with specific NLA parts and seat fabrics just like Jaymic in Norfolk or Walloth and Nesch in Germany (who do a great job in supporting the owners of 2002's, E9 CS Coupes etc). BMW themselves are known to re manufacture items (but have a long way to go to satisfy the increasing demand).
Worth noting that if one wishes to own a classic as a recreational vehicle, the annual mileage is likely to be in the 3k bracket and therefore one is not likely to impact a high mileage vehicle substantially.
Which all leads to me mentioning a classic M car that got me thinking hard and deep about these issues. I have long been a major fan of the AC Schnitzer tuning arm and in particular the 360mm pre airbag steering wheel and their suspension systems which were developed by ex racing driver Manfred Wollgarten.
So when I heard that Carolyn Barker who was a fellow entrant at the Nurburgring driver training programme in 2001, and who pipped me to the post as 'driver of the day' at Cadwell Park in 1998 (yes it still hurts) was contemplating selling her fully Schnitzered Cosmos black E36 M3 3.0l (the ex Rossitter demonstrator) my ears were fully pricked!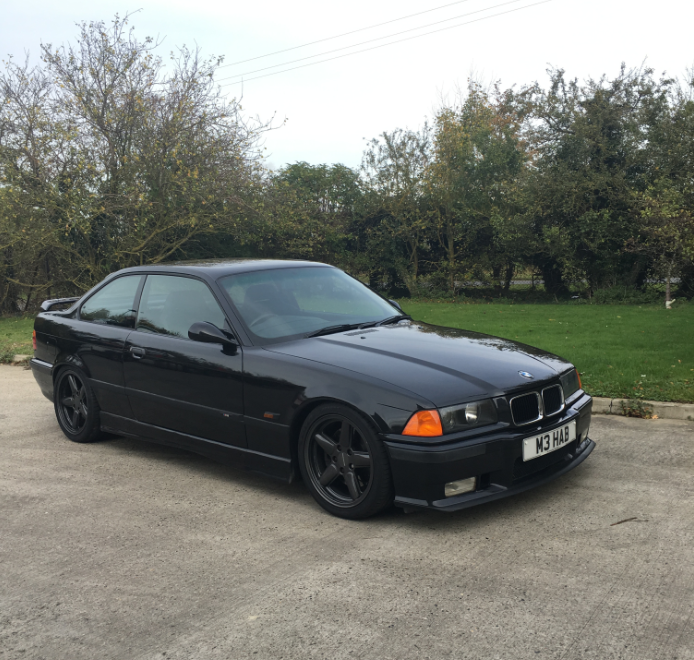 I could not resist her invitation to try out the car, and the ever enthusiastic Carolyn threw me the keys for what turned out to be a thirty odd mile spin. The odometer is reading 169k miles but this car felt as fresh as a daisy, the engine was on song and with the Schnitzer camshaft performance upgrade she simply picked up her skirt and just flew, the car that is not Carolyn!
The fitted Recaro seats in place of the vaders are so comfortable and one sits a smidge lower but nicely held which truly connects you to the car.
The black art of the Schnitzer suspension is to be firm in the corners and compliant on the straight sections, no bones to be rattled here, it loads up precisely in the corners so that you make a mental note to go in faster and deeper next time, the smaller 360mm diameter thick rimmed steering wheel (385 standard) make any corrections a mere flex of the wrist.
I'm not a great fan of stainless steel exhaust systems but the pitch of the system fitted was just right. This is an extraordinary car (and turned the car from one that I am very familiar with in the standard form) to an exciting and talkative companion, in short if you love the art of driving and you like the lightweight E36 M3 this car will reward its new owner with not only a solid classic car but one to savour and enjoy in a way that any low mileage garage queen is nothing more than a sleeping beauty…
The watchword here, if you have promised to treat yourself to an M car, don't necessarily be put off by high mileage, do however take time to read carefully through the servicing history and advisories and enlist the services of a specialist who is familiar with the model and who can prepare a report on its condition, providing all is well you could own a very special car for a reasonable outlay and join the ranks of a driver who puts satisfaction at the fore front of ownership.