BMW recently announced bold plans to enter the ultra-luxuy off-road segment in 2018, with the upcoming X7.
Taking the basic concept of the stellar X5 but refining it even further, the X7 will be a size bigger, and will offer genuine seven seat capability. It will be BMW's first entry into an already crowded marketplace, and will join cars such as the Range Rover Vogue and Bentley Bentayga. However, given that SUVs now make up over a quarter of all cars sold in the UK, it makes great business sense for BMW to increase their presence in this market.
The X7 will not have an easy task in convincing the well-heeled to grant it driveway space, as it will be joined in the coming years by uber-off-roaders from Rolls Royce, Lamborghini, and believe it or not, Ferrari, as well as competition from slightly cheaper alternatives in the Land Rover Discovery 5 and Audi Q7.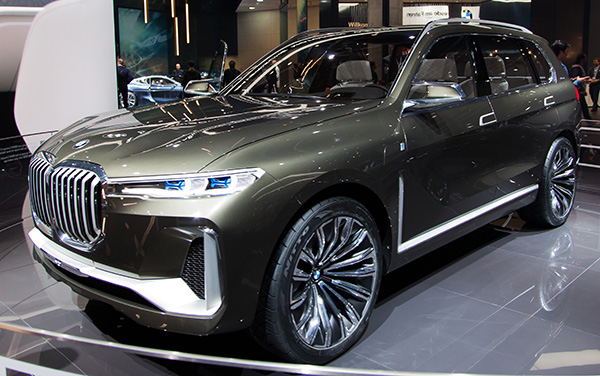 The X7 will share its underpinnings and a lot of its tech with the accomplished 7 Series sedan. The top-spec xDrive50i model is tipped to feature the quad-turbo B57S 3-litre straight six engine, which will likely be joined by eDrive hybrid derivatives. The exterior styling is brash and in-your-face, which is a definite antidode to the understated elegance offered by Range Rover and Bentley, but this will surely appeal to plenty of customers looking to asert themselves. The only sticking point is the oversized kidney grille incorporated into the concept car – whether this makes it to the production version is yet to be seen. Here's hoping it doesn't.
It's a different story inside, where high-tech minimalism is order of the day. Most of the switchgear has been relegated into digital screens leaving only the essentials with hard controls, the cheif of which is surely the gear selector. It is formed from clear glass crystal with back lighting and haptic buttons – it would be a shame if this work of art did not reach the finished product. Through the use of generously sloping front and rear windows and an expansive glass roof, the interior will be open and airy, with an impression of luxury created by an abundance of space. Naturally, materials and build quality will highlight the absolute best of what BMW is capable of.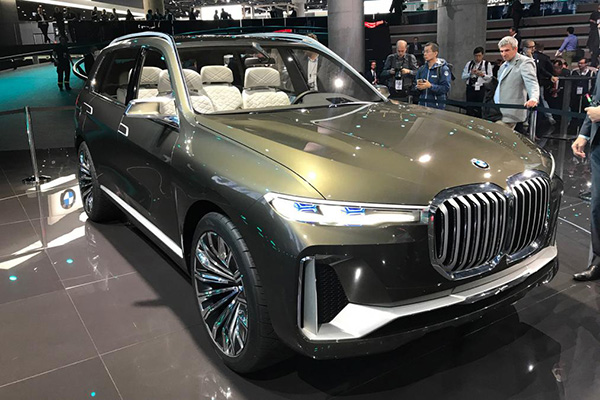 There will surely be few surpises when it comes to driving dynamics. The X7 will be swift and smooth, with enough sound dampening to isolate its lucky occupants from the noises of the uncouth world outside. Off-road ability will likely be sufficient to enable some inspirational brochure photos to be taken of satisfied-looking people driving through streams and up steep inclines, but in reality most X7s will see little more than a slippery grass car park at the polo. Like the X5 before it, on-road dynamics will take a commanding role.
As much as we would love to see a BMW with proper off-road ability (we even waxed lyrical about it last week), this is not that car. This is the BMW for transporting five or six of your closest friends and family in absolute comfort and style, be that on a continental trip across Europe, or just down the road to for a meal.
The X7 is tipped to be launched in late 2018, as a 2019 model.