Social media has opened up our lives to new levels of correction. Where a seemingly small error may have gone unnoticed two decades ago, is now etched on the screens of tens of thousands of people. And someone, somewhere, will almost certainly point it out.
There we were a few weeks ago, on the BMW Car Club stand at the NEC Classic Motor Show, enjoying a display of six M5's representing each generation of the storied badge. Photos were posted to the club Facebook page, and then the inevitable comment came.
'Do we need to say the E12 isn't an M5? Am I being a little pedantic?'
Collective sighs emanate from around the room, but hey, at least our commenter is self-aware enough to realise the implication of his comment.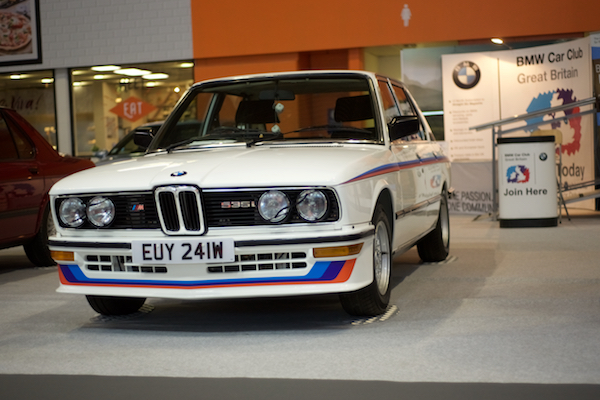 And the other, slightly harsher truth, is that he is correct. There's nothing more satisfying in life than incorrect pedantry, but this was not one of those occasions.
To clear the air, we thought it best to take a quick look into the E12 M535i – the M5 that isn't.
In the late seventies, BMW's storied Motorsport department was in its infancy, and with a strict mandate to focus on building racing cars. Their only road car, the 3.0 CSL, was a homologation special, and until this point they had not built a car solely for road use.
The E12 M535i was very much a toe-in-the-water exercise, a project kept on the down low. It wasn't exactly secret, but it wasn't made a sensation, either. You've got to remember that these were tough times for performance cars. The world was coming out of the oil crisis which had made supercars practically sale-proof, so the business case for a motorsport-inspired luxury saloon must have been pretty shaky.
Nonetheless, the Motorsport department took the humble E12 and fitted the bigger 3.5-litre M90 straight six, with a Getrag close-ratio five speed gearbox sending drive to a limited slip differential. Fat Mahle mesh wheels hid bigger front brakes and stiffer suspension. A deep front chin spoiler was fitted, a rubber rear spoiler sat on the boot, and iconic M striping was applied down its flanks. Inside, the driver sat on a Recaro seat and operated a steering wheel lifted from the M1 supercar.
The 220bhp produced shifted the M535i from rest to 60mph in 7.5 seconds, which was an astonishing figure for a full family car, and 139mph could be reached given a suitable road. Those are heady numbers for 1980.
BMW Motorsport had revolutionised the otherwise pedestrian E12, but it was really an experiment more than anything else. Just 1,410 examples were built by BMW Motorsport during a thirteen-month production run. 408 cars were delivered to the UK, but many of them went unrecognised and unloved for years, and their valuable M bits were robbed for installation in other projects.
The M535i had obviously satisfied the accountants, and it proved the business case for the high-performance saloons that we enjoy so much today. BMW Motorsport repeated the trick with the replacement E28 generation, formally producing an M5 model for the first time, and creating a legend that lives on today.
So thank you, Facebook commenter. You are technically correct, that the M535i is not an M5 as we stated. However, I am sure we can agree that whilst it might not be an M5 by name, it is certainly an M5 by nature.
*this article is written in good humour – we welcome all comments and discussion on our social media feeds, no matter how detailed they may be. We'll keep our eyes on the feeds for any future story ideas!