Earlier this year, we saw BMW unwrap its new M5 super saloon at the Frankfurt Motor Show. The stats on paper are what we expected from a new M5, with a 4.4 litre V8 with two turbos producing a tyre shredding 592bhp. To try and deliver as much of that power to the tarmac, BMW opted to equip the car with its four-wheel drive xDrive technology and also fitted a new eight-speed semi-automatic gearbox. This is the first time the M Division have built an all-wheel drive car. They are hoping that it will give the car some real-world usability with all of that extra power it's now producing.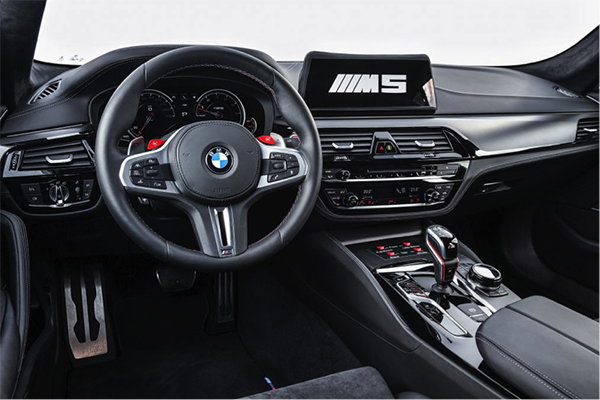 While the engine unit is the same unit out of the older F10 M5, it's been fitted with a pair of revised turbos and exhaust manifolds that have seen power increased by more than 40bhp and the torque increase by 70Nm over the older car. BMW claim that the new M5 will do a 0-62 sprint in a mere 3.4 seconds. That's the same as a Bugatti EB110 SuperSport, except you'll have room to carry your shopping and the entire family in the M5!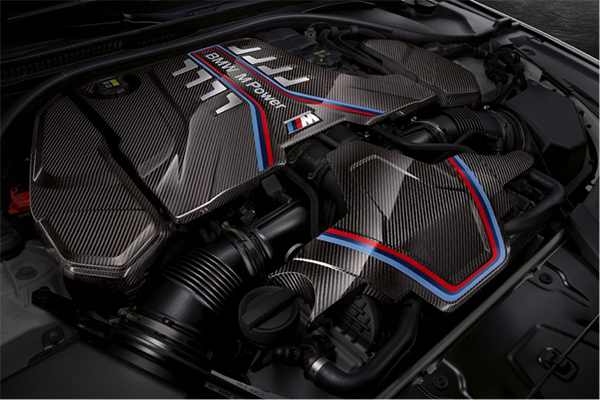 So on paper, things look promising for the new car, but in the flesh, BMW took heavy criticism for the car's styling as things look a little sedated. Fear not though, with just over four months until the car hits the streets, BMW have announced the car can be spiced up with a new M Performance pack.
The M Performance pack includes a generous helping of carbonfibre, such as intake surrounds on the front bumper, side skirts, mirror caps, a rear diffuser and a lip spoiler and grille surrounds. The M Performance pack isn't just a simple styling upgrade either, it comes with a new titanium exhaust with yet more carbonfibre wrapped around the tips! While BMW aren't saying if the exhaust has made any significant performance increases, we all know titanium and carbonfiber is lighter than steel and plastic so you can expect the car to be a smidgen lighter than those fitted with the standard trim.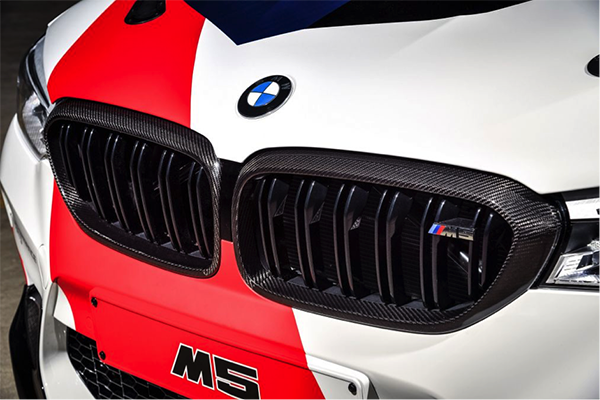 We can only speculate at what the M Performance package will bring for the Interior of the car since the announcement came along as BMW unveiled their new safety car for the 2018 MotoGP.
But taking a look inside the safety car we still see the usual quality we come to expect form BMW. Continuing with the exterior theme, there is a smattering of matt-finished carbonfiber gracing the cars control panels, dash and doors. It also comes with a pair of fixed back bucket seats from the M4 GTS that we hope BMW will confirm as available on the road car.