CELEBRATING 100 YEARS OF BMW WITH WELLSWAY BMW AT THE SOUTH GLOUCESTERSHIRE SHOW
Thanks to:
Wellsway BMW, Bath. Tel. 01225 448145, www.wellswaybmw.co.uk
Louise Duke, 'The Duke of Cakes', www.the-duke-of-cakes.co.uk
Paul Lynch, Elmtree Garden Contractors Ltd, www.elmtreegarden.co.uk
Mill Lane Automotive, 0117 9678 665, www.milllaneautomotive.co.uk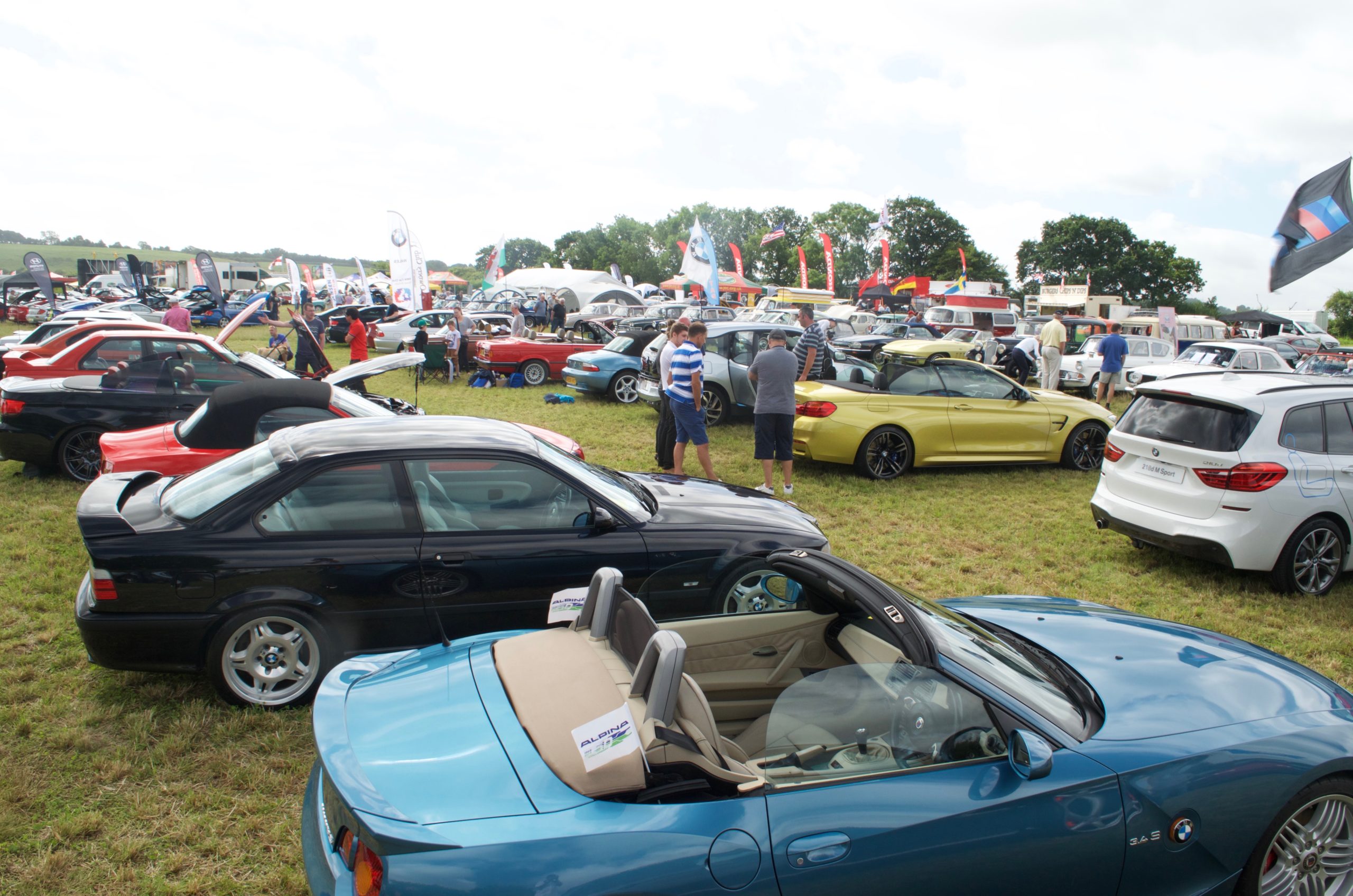 Over recent years, the South Gloucestershire Show has become a fixture in the Western Region calendar. This year was no exception, and supported once again by our good friends at Wellsway BMW of Bath, we set out to celebrate the BMW centenary year.
Wellsway BMW provided a selection of new cars for display which included the i3, 218d Gran Tourer, 730d and M4 Convertible with M Performance Package.
This is a weekend event, which is getting bigger and bigger each year. Saturday saw a group of us attend; many thanks to Ron Parish, Norman Burnham, Marianna Damsio, Dan and Stacey Hill, Chris Colbeck and family, Kal Arshad and family and Clive and Connor Bishop for displaying your stunning cars on the stand. Throughout the day, we spoke to a range of people, showing them around the Wellsway cars which gained a great deal of interest.
Sunday is the main day for this event and once again, we were the most well attended club stand of the show, displaying 50 BMWs ranging in age from 1968 to the present day – many thanks to the Western Region marshals for their hard work parking all the cars. We were also, thanks to Paul, Stuart, Josh and Simon from Elmtree Garden Contractors Ltd, the most well-presented stand of the show!
We were delighted to be joined by our friends from the South Wales Region who turned up with an excellent range of cars – thank you to 'birthday boy' Peter Sherratt for your excellent organisation of this, we hope you enjoyed your birthday cake!
A big thank you to everyone who entered the Show 'n' Shine event, the quality of cars was extremely strong!
Show and Shine Results
1st Place = Nigel Smith E36 M3 Evolution
1st Place = Robert Scanlan E24 635CSi
3rd Place Seb Coneybeer E93 330i
Wellsway BMW – Car of Show Christopher Colbeck E30 320i Convertible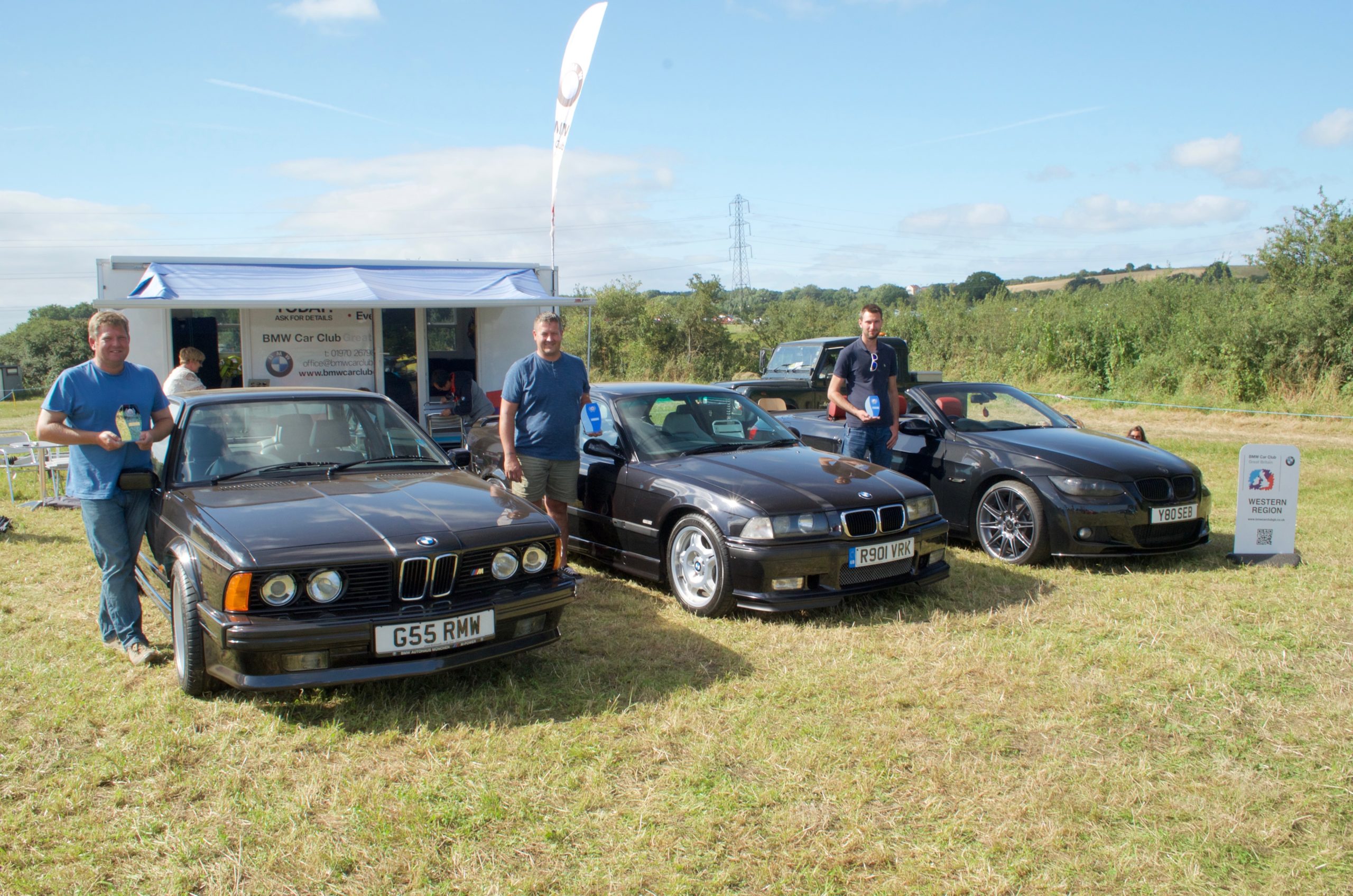 In addition to the Show 'n' Shine, Wellsway BMW took a great deal of care and effort in choosing their 'car of show', resulting in the presentation of a fantastic trophy to Christopher Colbeck for his stunning 1989 E30 320i Convertible finished in Brilliant Red. Christopher bought this car new from Wellsway BMW, a genuine one owner car, and it was most fitting that the last ever Wellsway BMW Car of Show Trophy went to this stunning example. Why was this the last ever Wellsway BMW Trophy? They are set to become Dick Lovett's, so watch out for the sign changes at the dealership soon.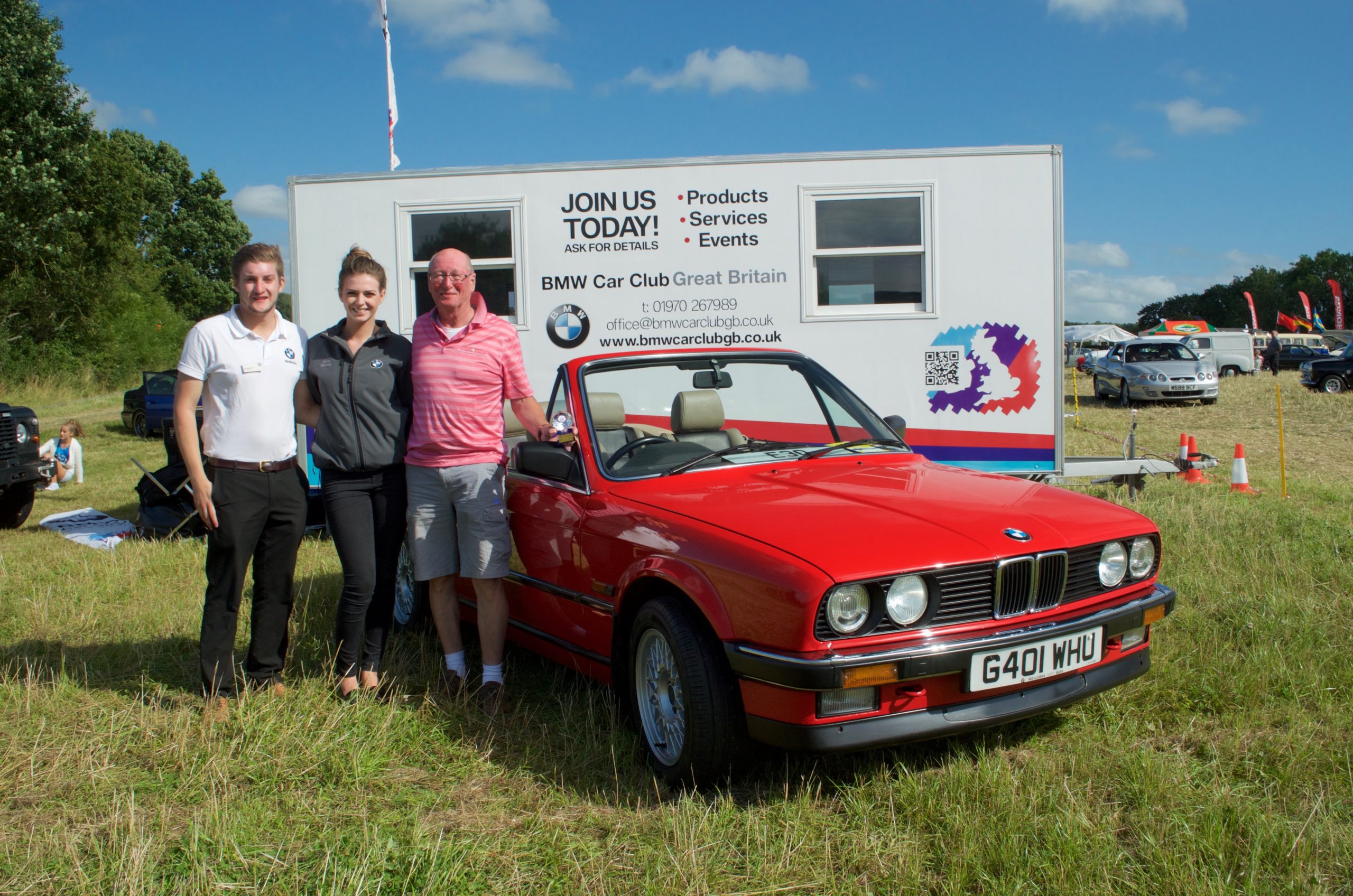 We also had a particularly noteworthy raffle prize kindly donated by Wellsway BMW of a new car for a weekend as our top raffle prize, won by Mike and Paula Pang – congratulations to you both, we look forward to hearing about your adventures in the car!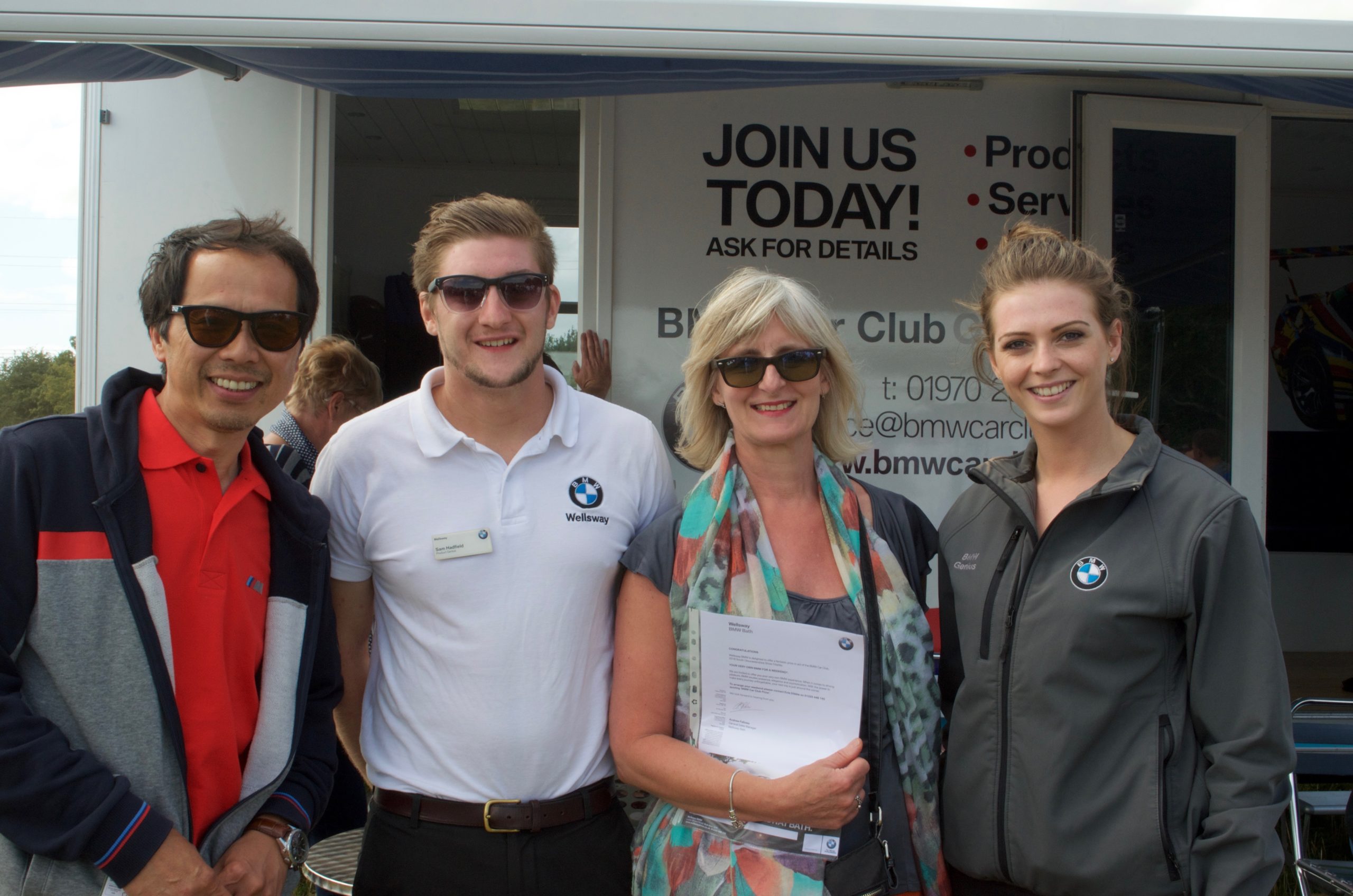 In recognition of the centenary year, Mill Lane Automotive, a South Gloucestershire based independent specialist in BMW and MINI cars, also donated a 100 voucher to the raffle. This garage is extremely highly regarded and thank you to owner Terry Baker for this kind donation.
We also had 100 cupcakes professionally made by Louise Duke – 'The Duke of Cakes' – depicting the BMW logo over the ages, which everyone agreed were both delicious and amazingly presented!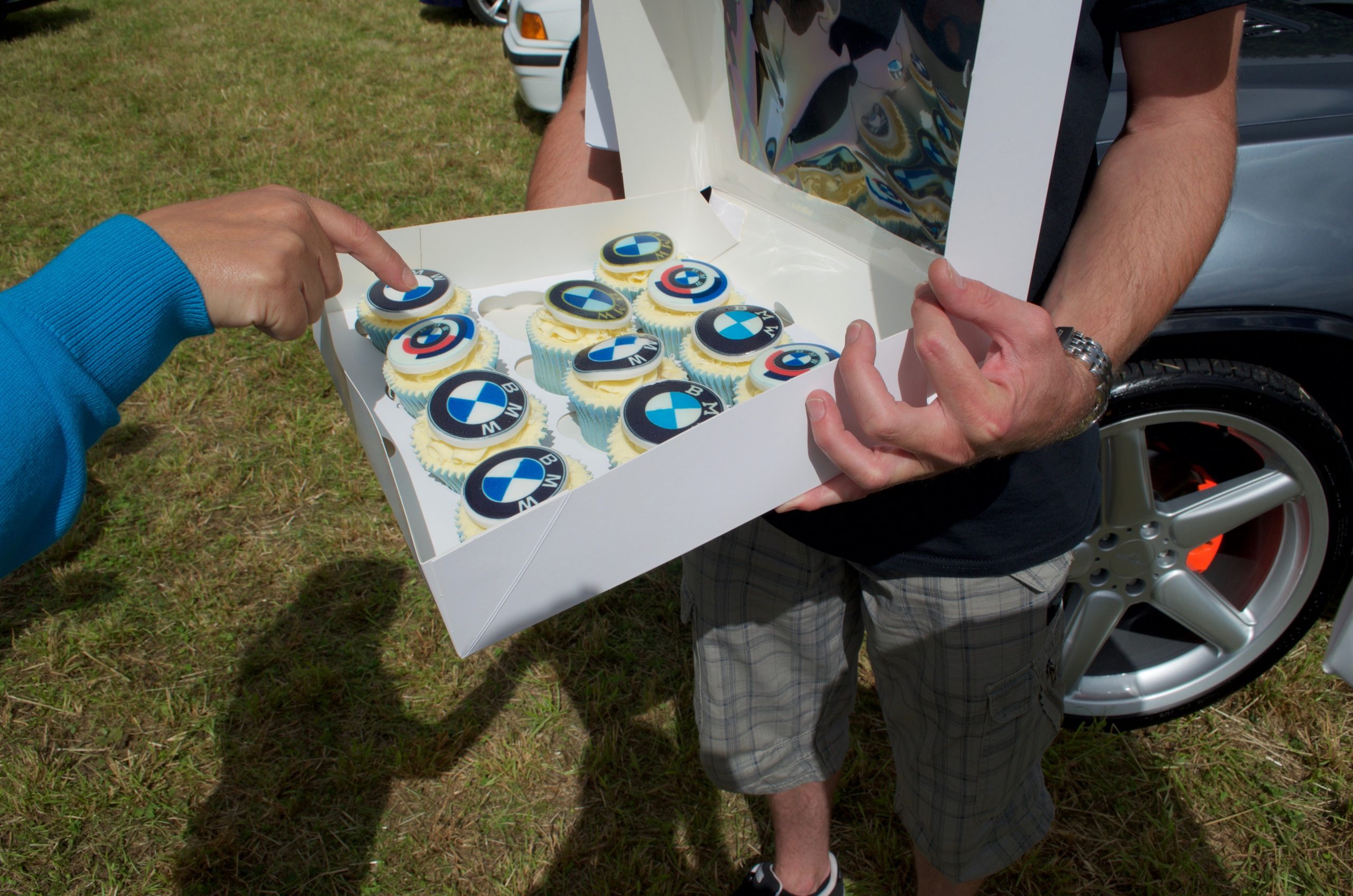 A big thank you to everyone who attended and made this a great event once again, and to those of you who travelled from far and wide to be there, including Norman Burnham, Brian Watkins, Denise Wyllie and Brian Kimpton in their simply gorgeous Alpinas (B7, D3 Bi-turbo Touring, Z4 Roadster and E46 B3.3 respectively), Ray Molloy in his 850CSi and all the guys from the South Wales Region.
Once again, we thank Wellsway BMW of Bath for their fantastic support of both the Club and the Western Region. I hear nothing but positive feedback from members and non-members alike about their experiences of Wellsway. Look out for the signage changes to Dick Lovett's coming soon and we very much look forward to continuing our excellent relationship far into the future.
A lovely day out was once again had by all -we look forward to seeing you there again in 2017!