Nowadays, nearly every car BMW makes comes in two or three body shapes. BMW hasn't always been so adventurous however, here's 4 cars we wish they made estate versions of.
As a maker of sporting saloons, perhaps BMW's relatively late arrival to the estate game is unsuprsing. The E30 3 Series Touring showed us all what we'd been missing however.
Not only does the estate body mean your dog can come for the ride, but BMW's 'touring' bodies have often been some of the best looking models in the lineup. There's something in the way that the long, boxy rear combines with the Hoffmeister kink, creating an awesome 'shooting brake' appearance.
Thought this was an artcile about practical family cars? Hell n…well technically, yes, but that's not the point!
So here's our list of 4 BMW estates we've found, that we wish made it to production:
1. BMW E28 5 Series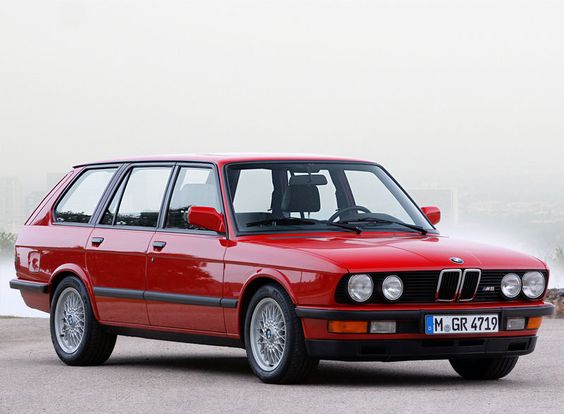 So let's start with something sensible. We were probably only a couple of years away from getting an 'E28 Touring', given that the 3 series received the estate treatment just before the E28 5 Series' discontinuation in 1988.
Indeed, the suceeding E34 5 Series also gained a Touring model in 1990. It's a great shame we didn't.
Following very much the pattern of the contemporary 3 Series Touring, numerous E28 estates have been fabricated by aftermarket firms, the fact they all look so similar and factory-ish, is testament to how feasible this body shape would have been.
We're sure the only reason BMW didn't make an E28 Touring was because they were too busy designing the car's successor, otherwise it seems a no-brainer. The long-roof E28 if anything, makes even more sense than an 3 Series estate, given its increased size and practicality.
We'd argue the 'folded paper' lines of the E28 are only enhanced by the car's elongation. We're sure if this had been made, it would have been one of the most desirable E28s going. A prefect partner for the 525e's torquey and economical engine, this could have been BMW's answer to the ubiquitous Mercedes 'W123' estate.
2. BMW E31 8 Series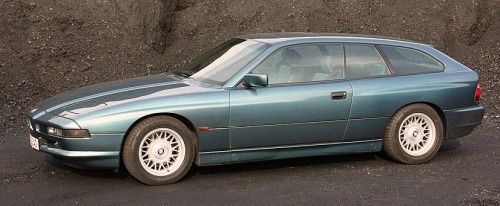 This might not be one for the purists, who will be sad to see any 8 series having significant bodywork changes, but bare with us one minute.
Yes the 8 series was already a 'tourer' in one sense of the word, but imagine a V8/V12 shooting break which has room for the kids and all your holiday gear?
Sounds good doesn't it? Sounds like the succesful Ferrari FF in fact, minus the four wheel drive of course.
There's been a couple of these made by fabricators, which again, looks impressively factory-like. Complete with the car's trademark pop-up headlamps, these 8 Series 'Tourings' cut torpoedo like shapes which suggest speed without moving.
3. BMW E24 6 Series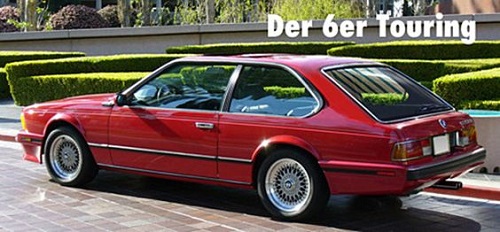 In a similar vein to the 8 series, the 6 series is another BMW GT coupe that was ripe for the estate treatment. Certainly a shooting brake 6 series seems a handsome car, following a MGB GT/Volvo P1800 ES sort of example.
There have been a couple of photoshopped versions of this car, as well as a rumour BMW once made a fake release announcement on April Fool's Day, although we're yet to find a confirmed real world build.
We would argue it's no laughing matter however, given how good some of the mock ups look. Presumably BMW was too concerned with upholidng the sporting image of the 6 series coupe to bother.
4. BMW E3 'New Six'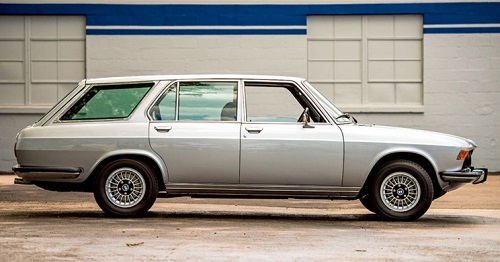 The predecessor to the 5 series, the E3 was a key car for BMW, establishing the brand in the upper-mid market, where Mercedes had long been dominant with their six cylinder cars.
However, the E3 was only ever made in saloon form, so we never saw an estate version. This isn't especially surprising, as we have explained, the estate bodyshape wasn't seen as especially compatible with BMW's sports saloon image during the '70s and '80s.
What is surprising though, is that 10 E3 estates were made and sold by a delar in Britain. In 1974, BMW's London dealer comissioned 10 of the cars from Crayford Engineering. What emerged was a somewhat bizarre looking car, borrowing the rear hatch from a contemporary Austin Maxi.
While all the cars sold, build quality wasn't exceptional and some of the rigidity was compromised due to the deletion of the rear bulkhead.
Still, with a 0-60 time of 8.5 seconds, it was something of a super estate, powered by the venerable M30 3-litre six. At least one is still on the road, with the car pictured having being restored in 2013.