The eagle-eyed readers amongst you will remember that we concluded our coverage of the E3 Club of Germany's 50th anniversary celebration of the launch of the model in Bavaria last September with a 'watch this space' teaser. It was during that weekend of fabulous sun, scenery and sheer driving pleasure that a plan was hatched to organise a similar event in the UK, in order to celebrate the half century since the E3, E9 and the M30 engine were introduced here in 1969.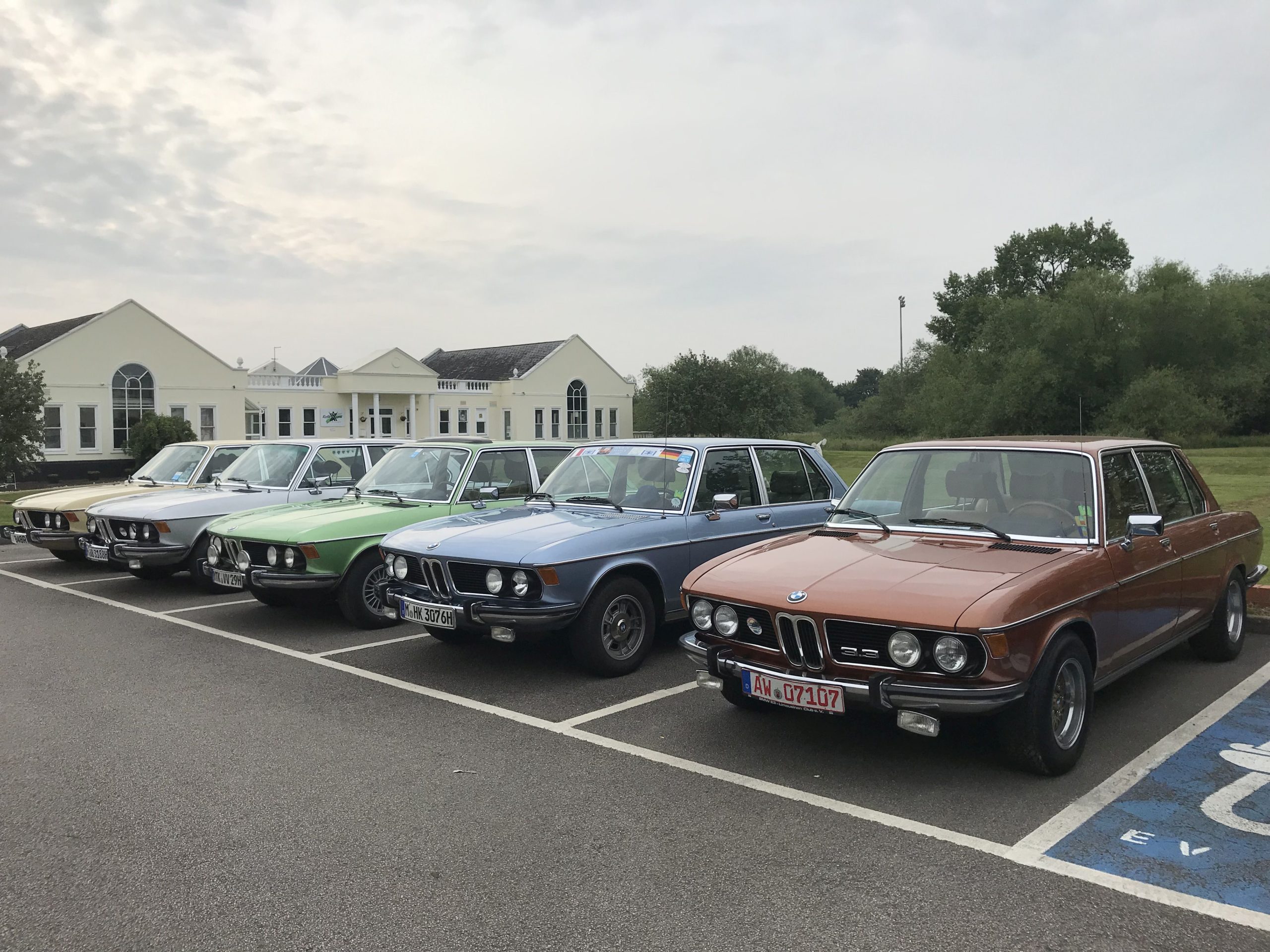 Planning in earnest started in January this year, and it didn't take long to decide to centre the weekend of events on the former RAF station at Bicester. Our German friends were fascinated by the idea of a classic car show held in the grounds of a preserved and restored wartime airfield, which has been transformed into the hub of the British classic car scene. A cursory glance at the map illustrated just how close we'd be to the beautiful Cotswold countryside and its fantastic driving roads, so it seemed logical to incorporate a mini road trip exploring the area in our schedule of events. Leading the visiting contingent was German E3 Club Chairman Reinhard Queckenberg in his stunning Topaz Braun 3.0L, fresh from a recent engine rebuild and upgrade to 3.3 litre capacity. The result of this work is probably the quietest M30 I think I've ever heard, as well as a very useful increase in torque and driveability. He was joined by a 3.0S, a late L Jetronic model 3.0Si and a 3.3Li (the latter two cars travelling all the way from Munich). On arrival in Dover, the intrepid team made their way to former Club Chairman Richard Baxter's workshop for a private viewing of Richard's fantastic collection of classic BMWs, before reaching their hotel for a well-earned rest. Saturday morning dawned bright and early and we were treated to some magnificent weather which set us up well for our Cotswold adventure. Five E3s, an E9 3.0 CSL and an E23 728i set off to discover some fabulous driving roads through picturesque countryside.
Our first stop was at the excellent Daylesford Organic Farm shop and caf, where we enjoyed a hearty breakfast before moving on to Dominic Surdi's Cotswold Garage, via some more great driving on quiet lanes. Dominic is an avid BMW fan as well as a professional E9 restorer, so we very much enjoyed exploring his workshop and listening to E9 guru and local resident, John Castle, telling us about all the ongoing projects in great detail. Many of you will know John and his irrepressible enthusiasm for all things classic BMW related, and he was really in his element entertaining our German visitors.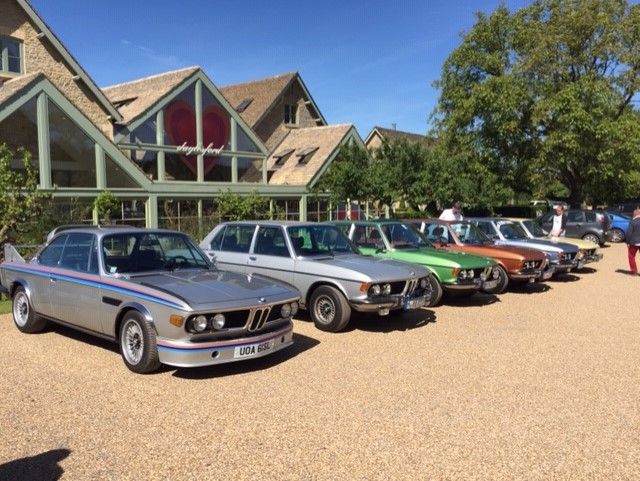 Once we'd moved on from Dominic's garage, the next stop was the Hook Norton Brewery, where we had a fascinating guided tour of this traditional family owned business, followed by a delicious lunch (as well as sampling some of the produce too).
Finally, it was time for the return loop of the route back to Bicester carefully selected by E9 Registrar, Nick Hull, and it was also time to turn up the pace a bit. I'm reminded every time I get in to an E3 of what a design masterpiece it really is; it's not just the comfort, or the superb ergonomics of the driving position, but also the sheer pleasure that can be derived from a spirited drive on any road in any conditions.
The second phase of our weekend of celebrations saw our attendance in force at the Bicester Heritage Super Scramble on Sunday 23rd June. I was absolutely delighted to have 11 E3s on the Club stand, which is more than we've had for many years. Not only that, five of these were very rare long wheelbase cars which are now down to single figure survival rates. Speaking of unique E3s, David Maughan brought along his 3.0Si estate which is believed to be the last remaining one of the 10 or 15 cars converted by Crayford and sold via Langley Motors in the early 1970s, and Bob Harper turned up in his recently acquired 3.0L, which we believe to be the only model of its kind on the road in the UK. E3 Register stalwarts Graeme Lynch and Nigel Gibb also attended with their spectacular 3.3Li and 3.0si respectively and I was pleased to welcome along our newest member, Luca Hutchings, with his stunning Anthracite 3.3Li.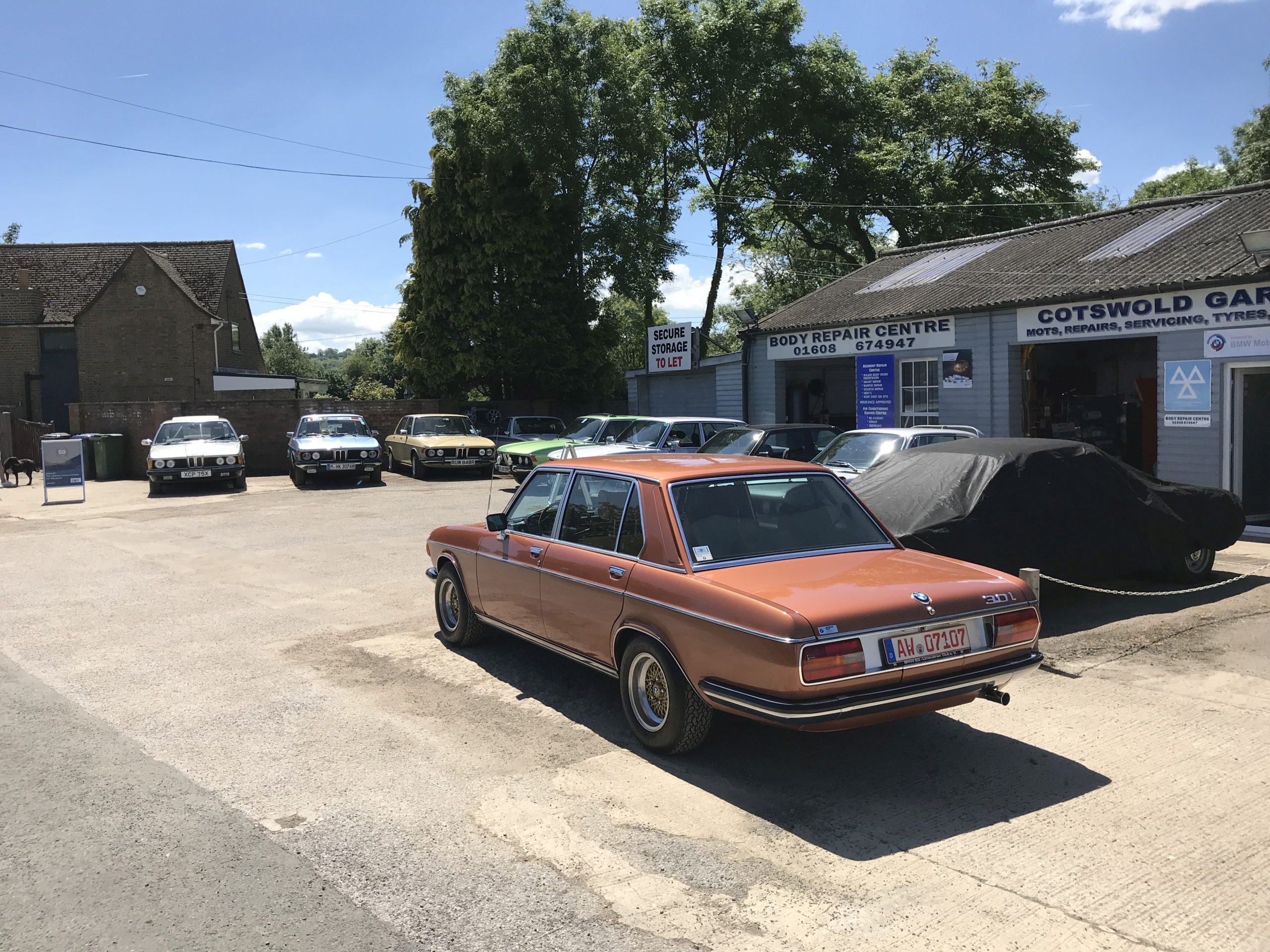 I felt rather smug when I overheard a member of the Jaguar Owners' Club complain that 'there are more BMWs here than there are Jaguars'. There is no accounting for taste.
Overall, we had a fantastic weekend which was made possible by the dedication and hard work of a number of Club members as well as the commitment of our German friends, some of whom travelled over 2000km just to be there. I must thank Dave Evans, Tony Skerrett, Nick Hull, Richard Baxter and John Castle for all your help in making this magical weekend happen.
So, what's the next engagement for the joint British/German E3 driving adventure? Well, a road trip centred on the Dutch/German border is being run on the 20th/21st/22nd September and the invitation has been extended to all UK based E3 owners. If you'd like to attend, contact me at: E3register@bmwcarclubgb.co.uk
words by Tony Wilkes