This article was first featured in Straight Six February 2016 and can be found in the members' area by clicking HERE. Did you know we had all issues of Straight Six available online back to 2013? Read them HERE
With plans and ideas up in the air for 2016, I couldn't help but reflect on what a great year 2015 had been. I guess it all started at a pub meet towards the end of 2014 when ideas were mooted to take in a couple of road trips the other side of the Channel, as well as our usual UK events. For the ALPINA folk, it seemed fitting to try and incorporate celebrations for the 50thAnniversary of ALPINA.
A lot has been written documenting the history of ALPINA, but we would like to share with you some of these trips from the perspective of being both a BMW Car Club member and part of the ALPINA Register.com.
Last year several of us had considered going to Bimmerfest. This has been held in Holland for the past couple of years and was gaining in popularity so we reckoned that the Third Edition in 2015 should be on our list. Initial investigation showed that this was to be held in Venlo on Sunday 7th June, so planning started. This was a tough decision for some of us in Wessex as this would clash with the Classic & Supercar Sunday being held at Wilton House, Salisbury. ALPINA themselves were hosting their 50th Anniversary towards the end of June at Buchloe, which is an hour's drive from Munich in Germany. Previous celebrations in the preceding years at Buchloe had shown such a high level of support from owners that numbers on each day had to be capped to prevent gridlock.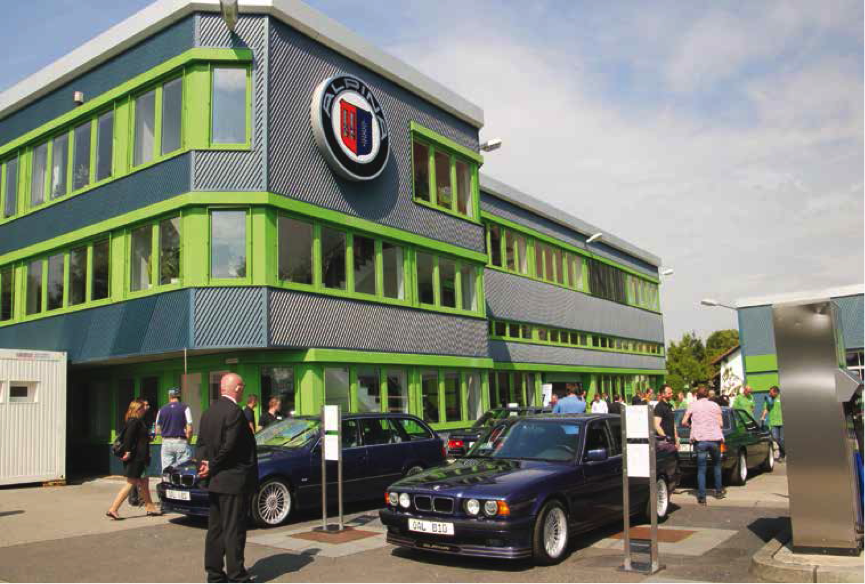 Armed with this, enquires were made as to the feasibility and indeed how many places would be available for those coming from the UK. The diary dates were optimistically booked with the chance that some of us would be able to participate.
Bimmerfest
One of the great things about developing friendships over the years is meeting new people with a shared interest in cars, exploring new places and trying different things. Cars set off from the UK in several groups, one from Luxembourg, taking in different routes, using different sea crossings or Eurotunnel, with a majority meeting up on the Friday and staying at the Bilderberg Chateau Holtmuhle, Venlo which was a 20-minute drive to the Bimmerfest venue.
This gave us Saturday to explore Venlo and for some to hop across into Germany to explore further. For others, it was our chance to get the green emissions sticker for the Munich trip later in the month. Just reading Norman Burnham's perspective takes one straight back to Venlo.
"There will have been much written already in relation to the history of Alpina and its 50thyear, therefore I do not intend duplicating or recreating any of that excellent work. I should like to give you my perspective on some of the activities Club members and friends have enjoyed in 2015.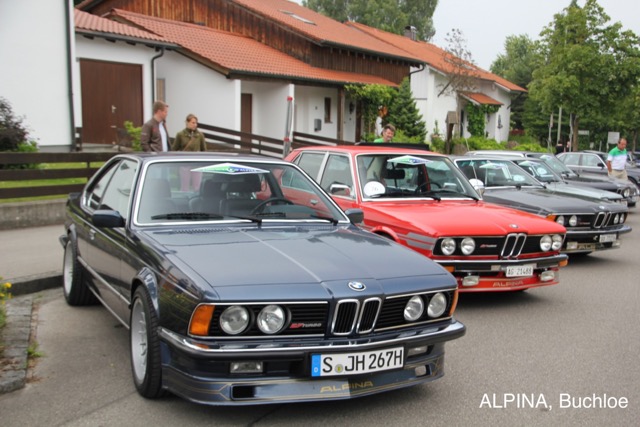 "June was the start of an adventure to Bimmerfest in Venlo, Netherlands, close to the border with Germany. This event organised by GT Events Netherlands has virtually doubled in size each year and 2,000 vehicles were anticipated. Alyssa from GT event was very enthused that a group would come from the UK.
"My first task was to try and choose a hotel which ticked all the boxes, comfortable, affordable, safe and secure with ample parking and facilities nearby. The Bilderberg Chateau Holtmuhle, which was more like a castle than a Chateau, did not disappoint and around 25 of us stayed. "Most people arrived on the Friday evening and we had a separate dining area for ourselves which made a convivial start to our weekend. On Saturday, those of us who were planning to go to Buchloe for the 50th Anniversary of ALPINA headed across the border to Nettetal to obtain our emissions stickers.
As we had booked to stay in Munich and would be entering low emissions zone, we would need a permit to do so. These are obtainable from BMW dealers in Germany for around 5 euros on production of the V5C document.
"Autohaus Timmermans GmbH, the local dealer, was most helpful and to obtain the disc permit is not just a simple procedure. The receptionist found the manager who had a strange group of UK ALPINA owners in his office. Most requests were going smoothly, but the C2 2.7 owned by Simon Alcorn proved to be a challenge as it 'did not exist' on their database. After a series of in-depth telephone calls to the German authorities by the manager we got a definite statement: 'Sorry, you cannot get the display permit, however we are told the police will love your car in Munich, so please do not worry.
This article was first featured in Straight Six February 2016 and read the rest in the members' area by clicking HERE. Did you know we had all issues of Straight Six available online back to 2013? Read them HERE