Croft Hospitality for BMWCCR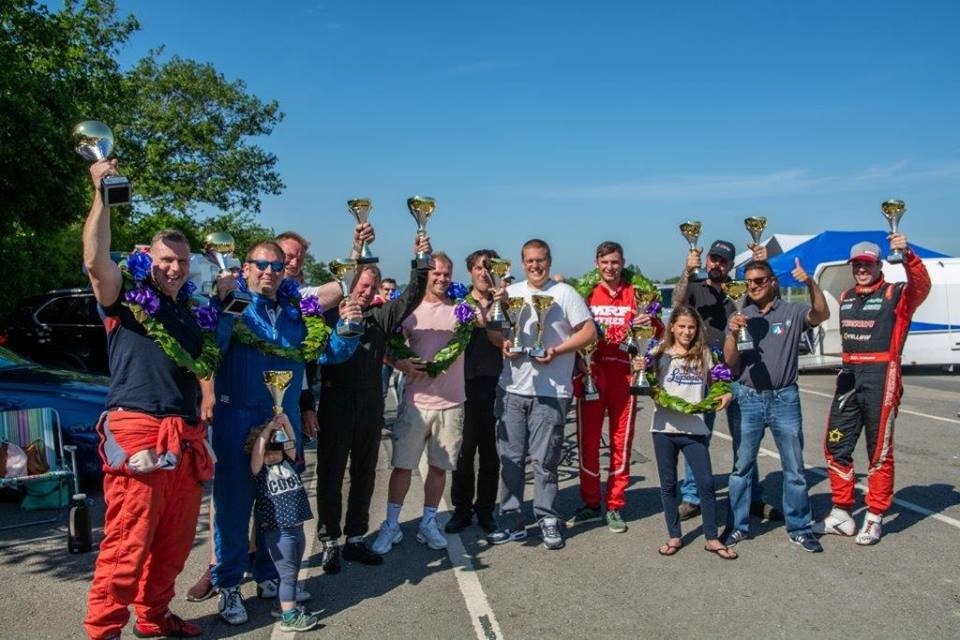 Visiting Croft is always an enjoyable experience. A great circuit, technically challenging, with fast flowing and slower sections that test drivers. The people are also an important part of these meetings and with Croft, as anticipated, we had support from the Eastern and NE Regions of the Club. The Club members came out in force putting on a great display, but also helping the drivers and families enjoy the day. This was always going to be a vital part in making the Club racing a success.
The competitors and supporters received a warm and friendly welcome from the security staff at the gate and the organisation by 750MC at the meeting was exceptional, the Club put on a great display and offered tremendous hospitality. Nick Wright rallied the troops and even organised one of his famous raffles with fantastic prizes so it involved everyone – so a real Club feel about the event.
We were fortunate to have a mix of experience in all the classes – for some it was their local circuit as we boasted two Northern Saloon Champions in Mike Cutt and Kirk Armitage. We also had some BMW Trackday regulars in Richard Marsh, Rahim Baloo and Jason Holyhead. We also had experienced racers Rick Kerry, Michael Vitulli and Luke Sedzikowski who had not been there for several years. In the mix we also had some of the emerging drivers like Robert Davidson and Darren Ball, who were familiar with winning races, along with novices for 2018 Joe Geach, Matt Page and Stuart Pywell.
Qualifying on Saturday evening did not disappoint, with the less than a second between the first six cars. I commented earlier in the year how BTCC would be pleased with how close the cars are, but this was reminiscent of F1 qualifying many years ago. The honour of the first BMWCCR pole at Croft went to Richard Marsh, closely followed by Cutt, Armitage, Sedzikowki, Davidson, Kerry all very close. With the other classes all bunched in particular Class 6 was going to be fun to watch.
Race 1 on Sunday was a spectacle with good clean racing from all the drivers – you could see they were enjoying it but also it was great to witness the spectators with big smiles on their faces. Off the start Mike Cutt and Kirk Armitage managed to get past Richard Marsh – but wow was it close for the whole race – the fastest laps between the three was 3/100 of a second. The fastest lap was by a charging Michael Vitulli who had started from the back and finished fourth. Robert Davidson, Luke and Rick Kerry were very close behind and battling for position for the whole race. Class 6 honours went to Lee Deegan, edging out challengers Holyhead, Ball who was busy all day winning both 330 Challenge races, and Stuart Pywell in his first meeting with the Club.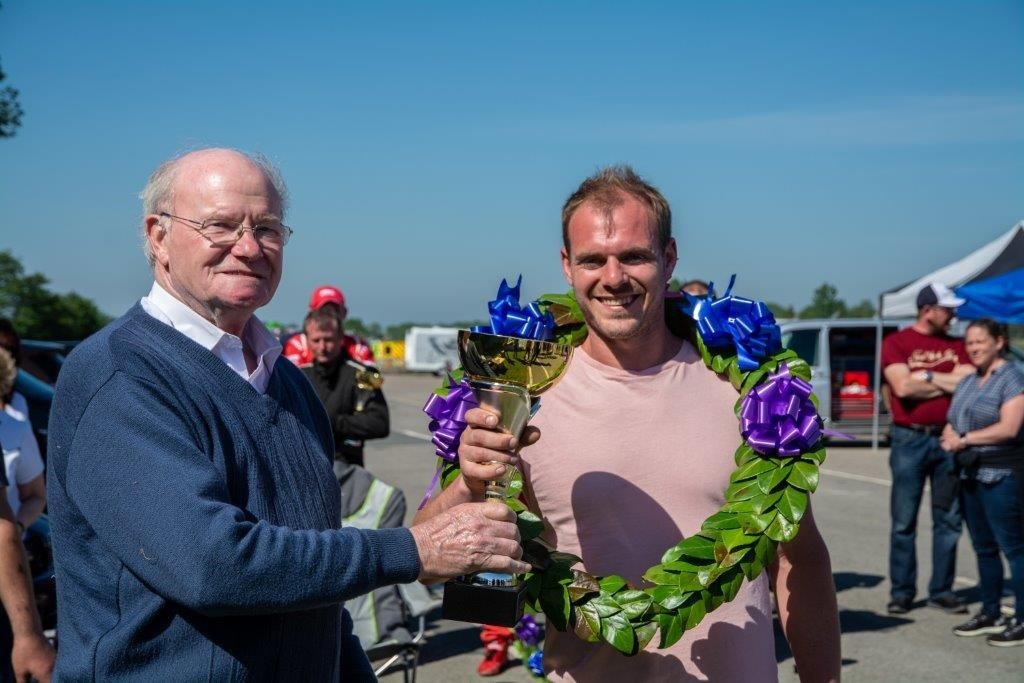 In the BMWcup Matt Page won his first race. He is still learning, but enjoying every minute of the experience this year. We also managed to turn a negative into a positive, in part due to the great support we received from the spectators. Rahim's car broke in the first race, but with the supporters and Club members offering support everyone rallied round and we managed to get it ready for Race 2 – big thanks to Andrew Everett, Steve Bostock, Wayne Schofield, Mark Townsend and others who assisted – this is the spirit we have within the Club and it makes me very proud to be a part of it.
Yes it's great to see the celebrations on the podium to win races, everyone wants to win but in club racing we want to encourage people to come and take part and learn from the experienced racers and then progress to podiums – but most importantly enjoy the participation.
Race 2 started with Mike and Kirk on the front row, but the challengers were queuing up behind with the track now more familiar and having benefitted from local advice between races. Kirk managed to squeeze past his good friend Mike with them both keeping their lines to avoid touching. The driving standards this year and the respectful drivers have been another bonus that we hoped for when the regulations were drafted. Richard Marsh was the fastest driver in Race 2 but he was unable to catch Kirk, Luke enjoyed coming third, whilst Robert Davidson was left rueing opportunities with two fourth places from the day. Rahim, following the Club members' repairs, took the M2 win, with Lee Deegan winning Class 6, but it was pleasing for Stuart to claim third place, having only finished his car days before. In the BMWcup Matt Page took the win, after his nearest challenger Joe Geach retired with a steering issue.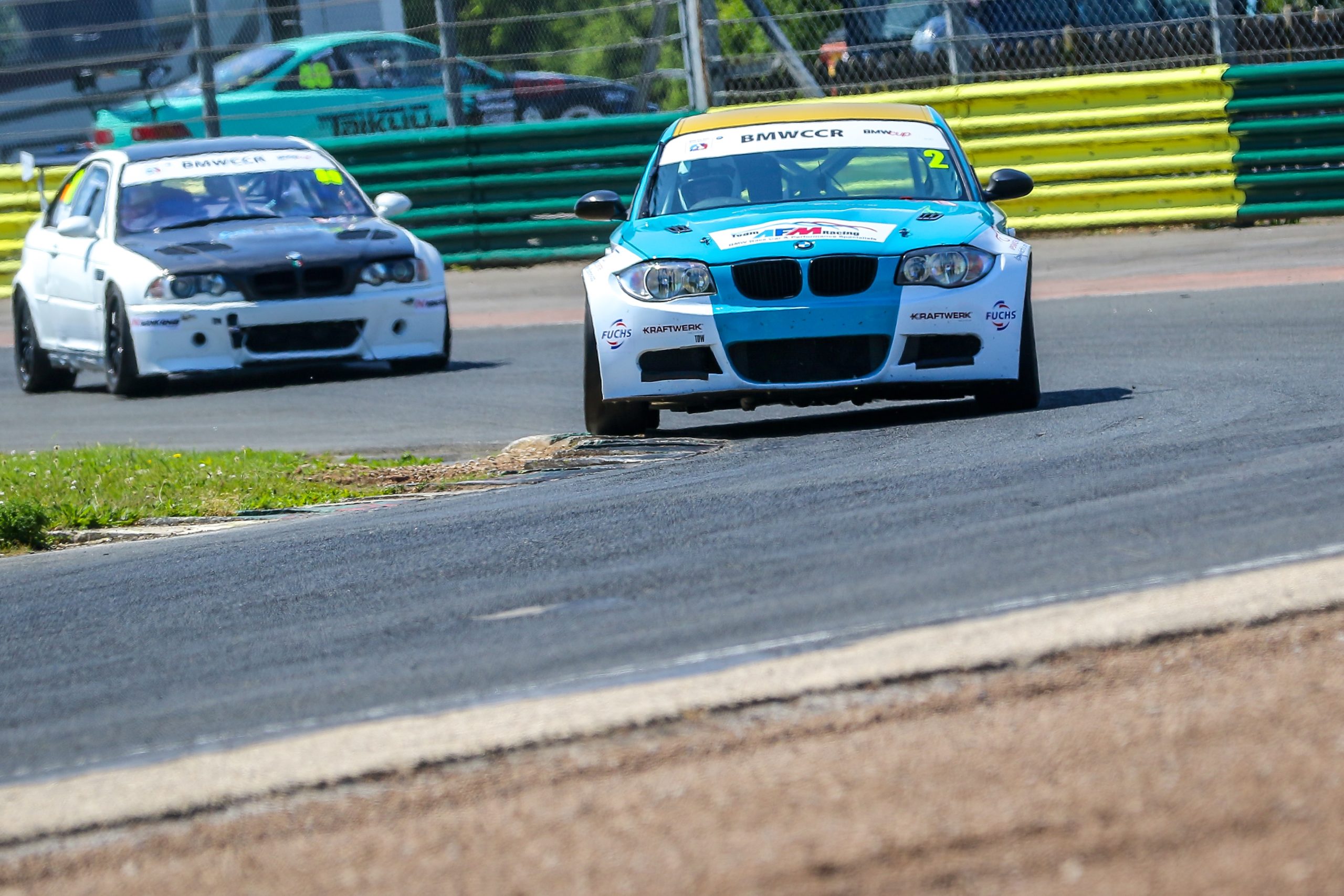 Another successful Club event with many members enjoying the day; whilst the weather did help, being able to catch up with members from Yorkshire and the North East made it one of the best this year.
At the awards we were privileged to have in attendance Russ Cockburn, who has been a great supporter of the BMW Car Club Trackdays for many years, presenting the Race 1 awards, and Howard Walker, who has been a great supporter of the Club and our racing plans, awarded the Race 2 trophies. Steve Bostock, who many of you will know from Concours or the E30 Register, took some fantastic photos you can view on the BMW Car Club Racing Facebook page. Also thanks to Nick Wright for organising the Club display and members, and also the raffle that was enjoyed by all, in particular Paul Rice, Eastern Chairman, who won the signed McLaren F1 cap, and Bill Holyhead who, after complaining he never wins anything, took home a bottle of whisky.
It was another meeting of many firsts and successes, with everyone enjoying the day, with families mixing, sharing knowledge and experiences. Eastern and NE Regions also judged the Club's display cars and awarded Viv Bostock's E36 as the car of the day. It was Kirk's daughter Yasmin who stole the show by learning to ride without stabilisers; what a huge smile that gave her and others, she can now chase after her brother Eric! It won't be long until they are driving.
A HUGE great BIG thanks to ALL those who attended and supported the event and I hope to catch up again soon – I must owe a lot of people a drink or two by now.
I am not alone in looking forward to next meeting – please come and join the future Club displays and meet the drivers and teams.
Future Events include:
Birkett 6 hr 27th Oct Silverstone GP
Motorsport Live 2nd to 3rd Nov Silverstone Wing
Trackday 9th Nov Oulton Park
Autosport January NEC Birmingham