This article is reprinted from the April 2015 issue of Straight Six. Club members have access to online copies of Straight Six – click here to learn more.
By Dan Norris
Looking for motoring kicks is a funny thing really. It's all very well running around in brand new Active Tourers and X6Ms, but you can never underestimate the joys of cheap, uncomplicated motoring. There's a pleasure in driving a car that won't give you a heart attack every time you get a little scratch or kerb a wheel, where you can chuck your muddy shoes in the foot well, or leave it parked at the station all day without dreading finding some oik's initials carved in the side when you return.
I recently conducted a poll on the Munich Legends social media pages, asking followers what they would like me to write about in this column, and the overwhelming answer was that people wanted to know what my favourite 'ordinary' BMW was – the sort of car that doesn't cost 40 grand or isn't so rare that you'll have to search the whole internet every day for a year. If we weren't talking about BMW, it would make pretty boring subject matter for an article, let's be honest. But luckily we are.
We know there are many contenders for the Greatest BMW ever made – E46 M3 CSL or E30 M3 come to mind – even the beautiful E9 coupe or the superb M1, all cars that made motoring history. But you can't say that any of these are generally affordable or accessible, or an appropriate place for muddy boots. However, for less than 5,000 you can buy what in my opinion is one of BMW's absolute masterpieces – and you can find them for sale everywhere in one configuration or another. Want something classy, spacious, fast, comfy, good looking, reliable and cheap to run? It has to be an E39 5 series.
Launched in 1995 the E39 had a tough act to follow. Its predecessor, the E34 5 series, was the midsized saloon that propelled BMW into the public consciousness – its quad light and kidney grille configuration followed the traditional form intrinsic to BMW design since the company turned its fortunes around, and was instantly recognisable as the aggressive, sporty but classy machine for the successful and discerning motorist. It is easy to argue that never before or since has the entire BMW range looked so co-ordinated, so confident, so perfect as that late eighties E30/E34/E32 line up – before Chris Bangle, eco modes and hybrid crossover designs. The E34 had a substantial feel to it, and a superb stance on the road, but most of all it looked expensive – aspirational.
As an E34 owner at the time of the launch of the E39, I'll be honest and say that I was not initially over impressed. I thought the design lacked the poise and gravitas of its predecessor and – whisper it – wasn't it a bit of a jelly mould? I have this theory that when BMW launch an all new design, you're not supposed to like it straight away. Some of my favourite cars have been 'growers' – perhaps it's down to pushing the design envelope or being so far ahead of their time. I don't remember exactly when the worm turned for me, but what I do remember is my first drive in an E39. The car in question was a 525tds, which, whilst not my first choice of test car, certainly left an impression. Firstly, despite its looks, I remember noting how well made and solid everything felt. The cabin and dashboard layout was a complete departure from the E34.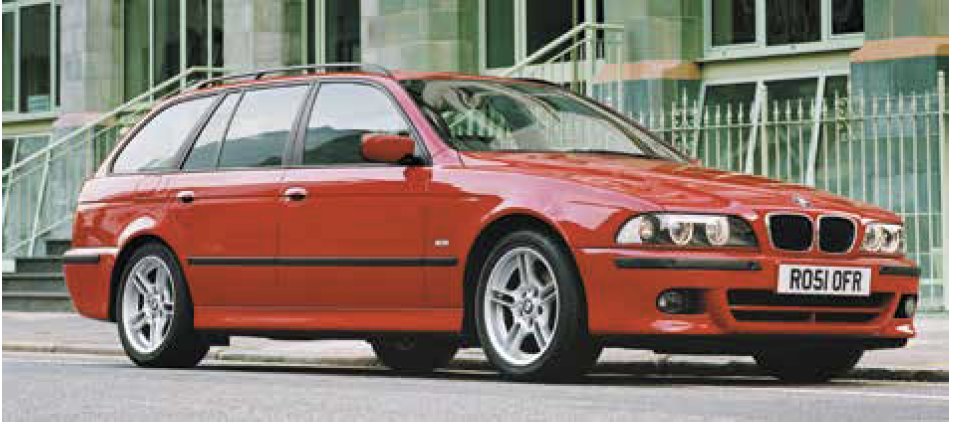 Gone was the slightly austere, Germanic design. Instead the E39 had a light, airy, relaxing interior, with graceful curves – the dash tilted away from the driver instead of straight up, giving a feeling of spaciousness and well being. The seats were much more comfortable and the centre console was in the form of a wide armrest, instead of the little skinny coach-type thing in the E34. But the most remarkable aspect was the drive. The leap forward in chassis technology seemed breathtaking, with a light, balanced feel that the previous generation always lacked. The E34 was a very good car, and I never complained about the handling or feel, but the E39 was on a whole other level. And it wasn't just me – the press were making a massive fuss about the E39 – every review you read was glowing.
As the range grew, the diesel cars benefitted from a much needed upgrade, the 525tds being replaced by the stronger 530tds – an engine considered robust enough to power the colossal Range Rover during BMW's brief tenure at the helm chez Landy (although you may well disagree). The 528i is a little hidden gem – it's not unusual to find these floating around 15 years on, with 200+ thousand miles on the clock, and the 530i that replaced it isn't half bad either.
In 1999 BMW released the E39 touring, and I dare you to find a sexier, sportier estate car – particularly the face-lifted M sport versions with those fabulous deep dish M parallel rims. The touring really is a masterpiece of all-round design – practical, reliable, fast and classy – and if you can find one in 540i configuration, just grab it. Whilst the E39 M5 is without doubt one of the loveliest M cars ever made – and fast appreciating in value – it doesn't fit our criteria, so we won't talk about it here. Luckily, the 540i does.
The E39 540i is one of the best kept secrets in the history of BMW. Fast, smooth, grunty and flexible, the 4.4 litre motor that powers the 540i is just as happy sprinting across continents as it is tearing around the country lanes. Available with an auto box and enough toys to match up to most of today's spec lists, the 540i is an out-and-out gem. I should know – my 540i is soon to click round to the quarter-million mile mark – most of which have been done foot to the floor.
As we all know, the E39 was replaced by the Bangle designed E60, a car that seemed to throw away all the great lessons learnt with the E39. Many customers struggled to migrate to this next generation – maybe the E60 was so far ahead of its time we'll all be raving about it in five years – but I'm not so sure. Luckily, they sold squillions of E39s, and they built them so well you'll easily find one in good order – and just look – they haven't really aged at all.
So if it's kicks you're after, but the budget doesn't stretch further than a few thousand quid, go and surprise yourself, buy an E39 5 series. I think it's possibly the greatest car BMW have ever made.