The MINI Cooper S with John Cooper Works GP Kit was loud, obnoxious and inappropriate – both aurally and visually. The car had too long a name, no rear seats, and silly red wing mirrors. By all accounts the Works GP made no sense, but we think that the world needs more cars like this.
The R53 Cooper S, first launched in 2000, was always known as a feisty and crowd-pleasing little car. But the status quo was shaken even further in 2006 when the John Cooper Works GP hit the market. A collective gasp was taken at the impractical and aggressive phase that the darling Cooper S was going through.At the time the Works GP was misunderstood and deemed unnecessary – a low volume, shouty hatchback with no rear seats and a strut brace? You'd have to be mad to buy one! This meant that only exactly the right kinds of people actually bought them.
Bar that Italian company with the scissor doors, the industry lacked lunacy, especially in the hot hatch market. For such a creation to come out of Germany was even more bizarre. When it was launched, the Works GP received high praise from those mad enough to take it on, with some calling it the true baby M Car or a junior CSL. The Works took an already impressive formula, distilled it further, and created an unapologetic car that pushed the hot hatch game further than ever before.
It is unsurprising that the GP was critically acclaimed on launch, as Andreas Decher, leader of the Chassis Validation team, saw the Works GP as a 'chance to do it properly'. Properly means 149mph and 218bhp from that notoriously high revving supercharged 1.6L, and a chunky carbon spoiler that paved the way for proper aero on cars that you can take to the shops.
All shopping car jokes aside, this was arguably more practical than the rest as the rear seats were removed in favour of a large strut brace – it would also conveniently cut your 'pop to the shops' sprint time in half.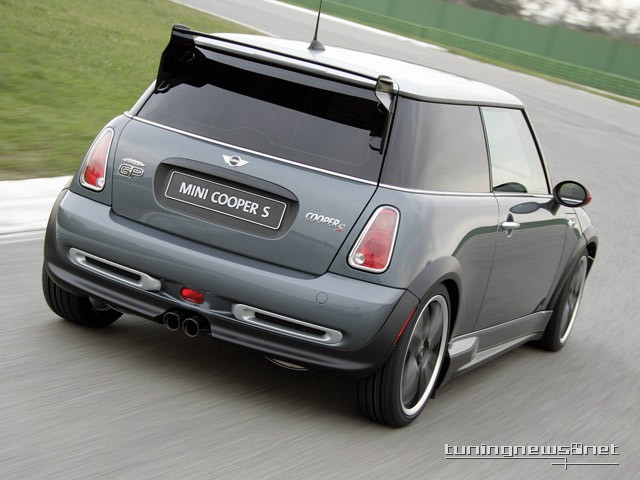 So far the Works GP sounds like a winner, as well as a mouthful. One of the defining characteristics of this little car was that crackling exhaust note. Raspy up the rev range and snap crackle and popping on the way down, the sub tonne pocket rocket had a soundtrack so unapologetic that it left ears ringing years after it had passed – which is exactly why we love it.
Twelve years after it first assaulted us, we are fonder than ever of the over-titled MINI Cooper S with John Cooper Works GP Kit. If you're left pining for the noisy days or are motivated to create your own project, just make sure to give it a short title, join our MINI register HERE and join the Nation's best support network of MINI owners.