BMW's new i8 Coup Qualcomm Safety Car has made its first appearance at the recent Santiago de Chile round of the FIA Formula E World Championship, ahead of its use at all rounds of the growing global series. A handful of select modifications, designed to make the i8 more suitable for track use, inject a serious shot of excitement into the eco poster car, ramping up the desireability considerably in the process.
This is clearly a step toward BMW's vision of having 25 all-electric or hybrid cars by 2025, and it's got us questioning – could a future M3 become electric? And could that actually be a good thing?
But first, lets take a look at the i8.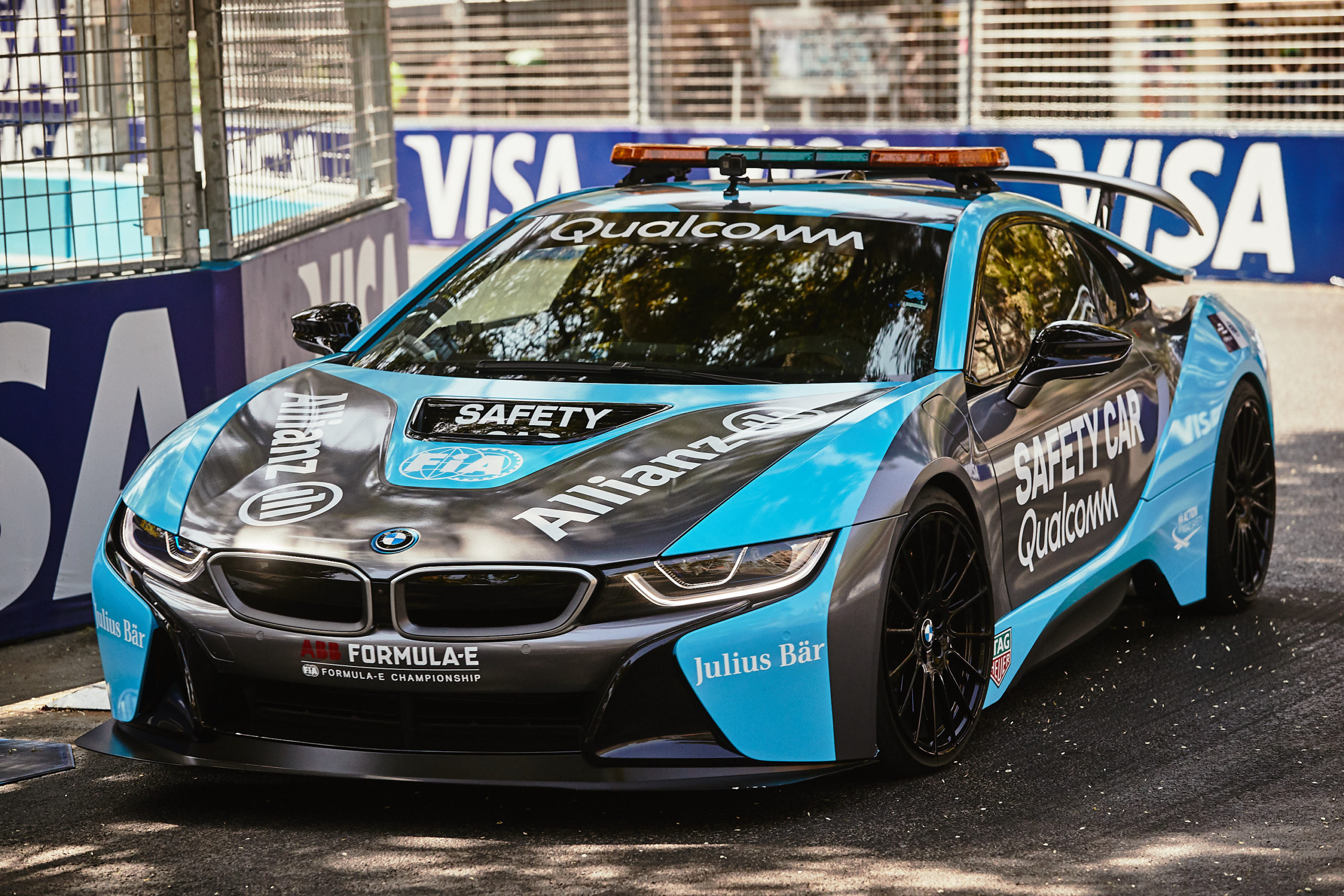 This is, without doubt, the best looking i8 to ever have rolled out of the Munich factory. In fact, we'd go so far as to suggest that this is one of the best looking modified i8s, period. The car sits 15mm lower on bespoke Bilstein dampers, with modified upper wishbones and suspension pick-up points moved for better geometry, and the spindly eco-friendly wheels of the original have been replaced with 20″ ATS racing wheels wrapped in Michelin Pilot Super Sport rubber. That change alone lends the i8 a much meatier stance – 285/30 section rear tyres replace the 245/40 section of the standard car.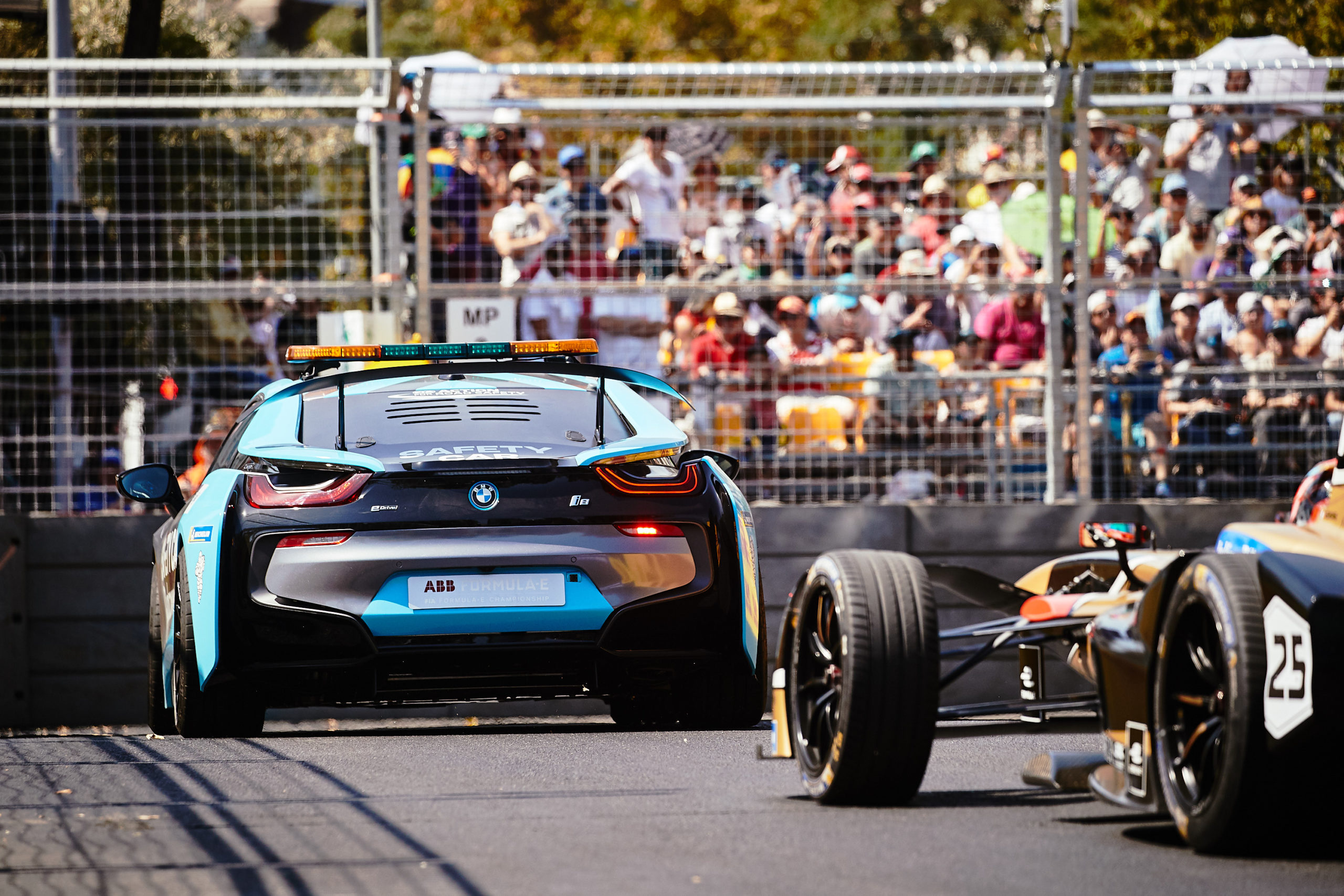 Behind those wheels sit new motorsport-specific carbon ceramic brake rotors, clamped by special 6-piston front and 4-piston rear calipers. The ducting and undertrays of the i8 have also been modified to direct increased cooling air toward the brakes. Several modifications have been made for aerodynamic gains, including increasing the size of the rear diffuser, and adding extra carbon diffusers under the front and rear of the car. That large rear spoiler is now mounted to a specially vented plastic engine cover, designed to extract as much waste heat air as possible.
The i8 Safety Car also features a new prototype system of inductive charging from Qualcomm, which is the first application of their new 7.2kw system on a vehicle.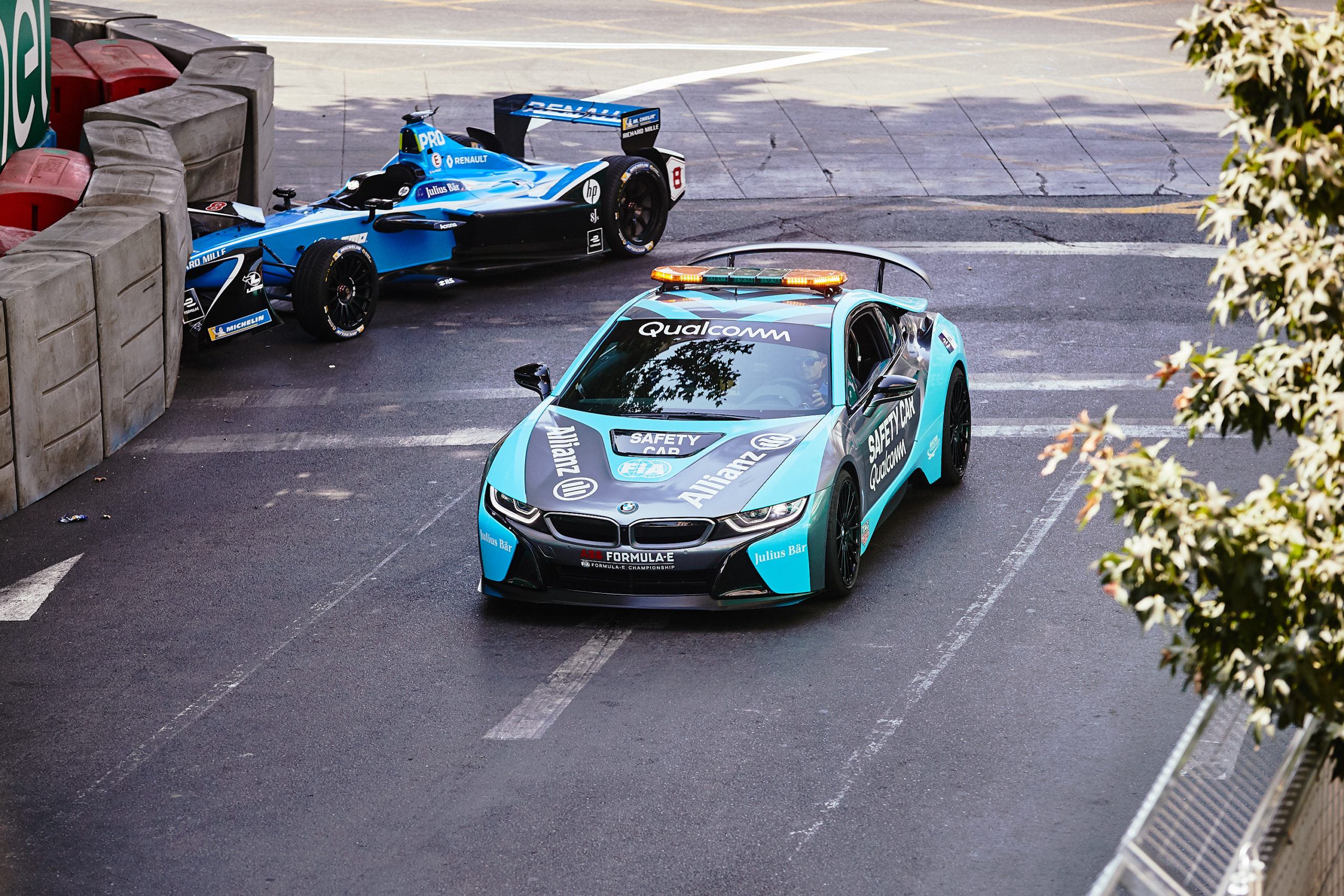 Inside, the usual factory built racer modifications have been made to comply with FIA regulations. There is now a full roll cage bolted to that exquisite carbon tub, there are leather trimmed fixed-back racing seats, full six-point harnesses, and all of the communications equipment and lights required of a safety car. Coulpled with that striking new livery, it is probably the most attractive i8 that we've ever seen.
Unfortunately, there is no mention of any drivetrain modifications, and in this regard we assume that the i8 remains mechanically standard. The i8 has always been a little under-endowed in the performance stakes; the beautifully built carbon chassis has true supercar genes, but it doesn't quite have the poke to back it up. Of course, we dream of BMW making a true M1 successor (imagine an i8 style of supercar with the twin-turbo straight six from the M4 and hybrid electric torque fill!), but even still, it would have been interesting to see an i8 with a little more punch to match those suspension and aero changes.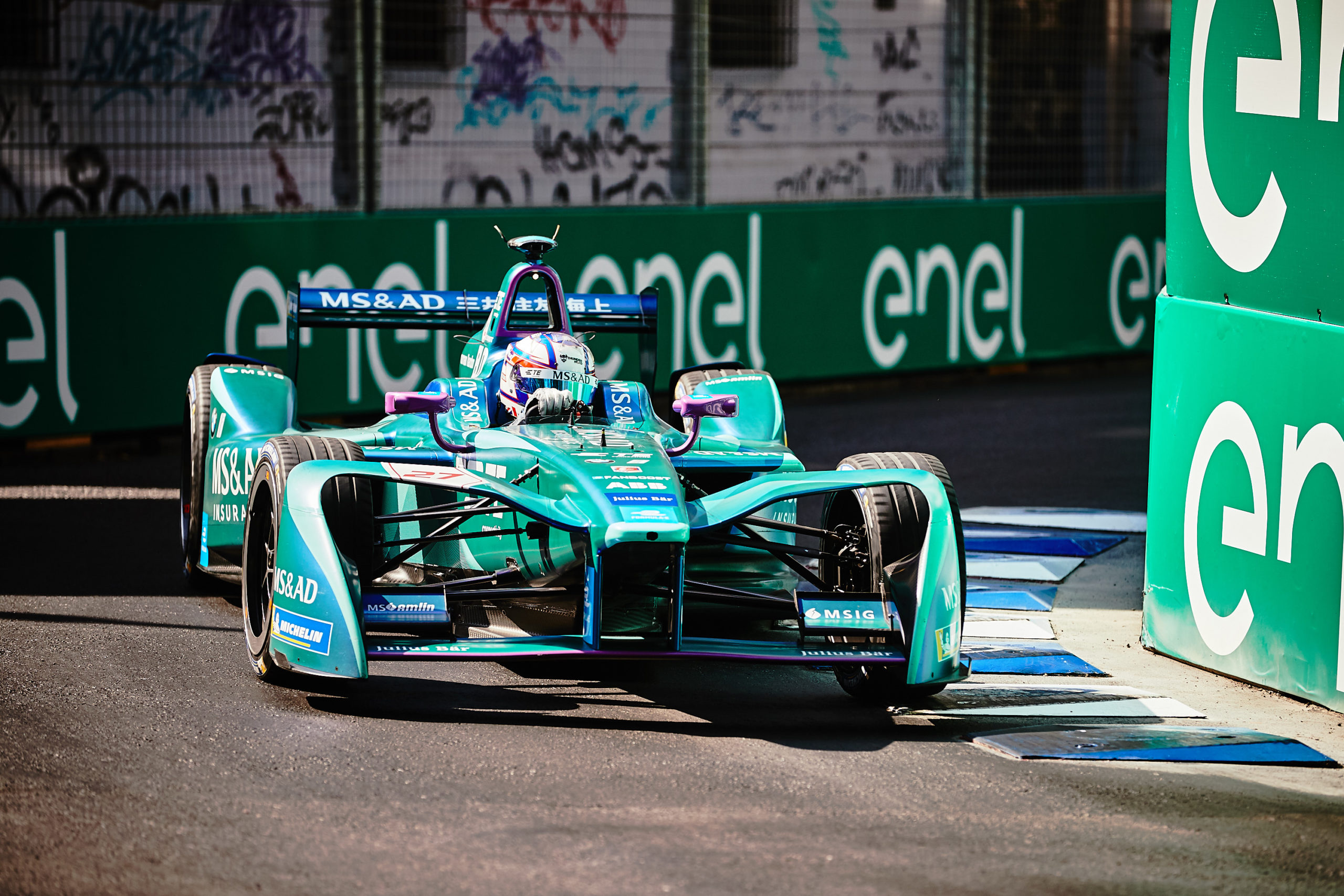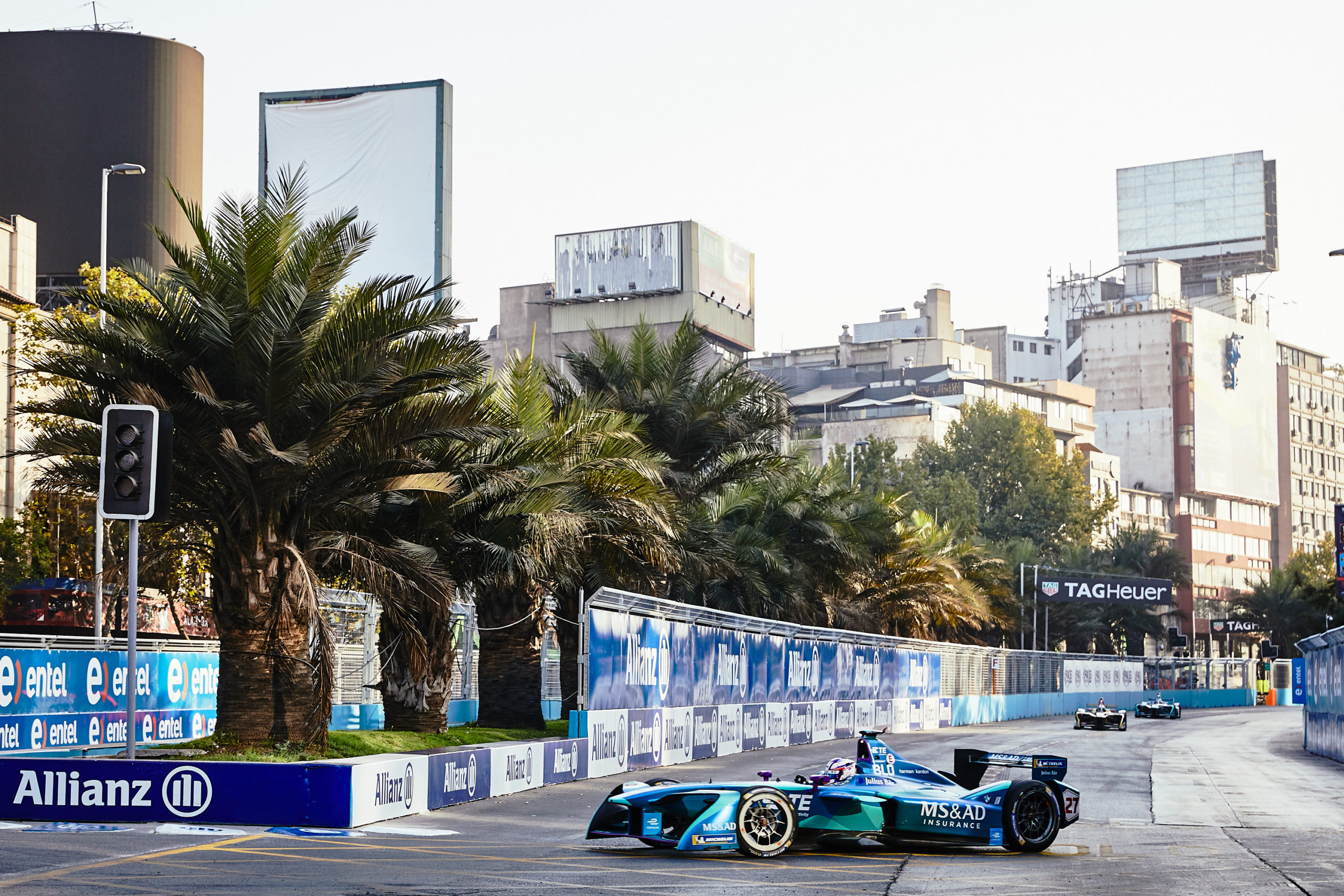 BMW's involvement in Formula E extends a long way beyond providing the safety car, as they are one of nine manufacturers to have an official presence in the competition. They don't have a fully-fledged factory backed team, however for the 2018/19 season they are powertrain suppliers to the Andretti team.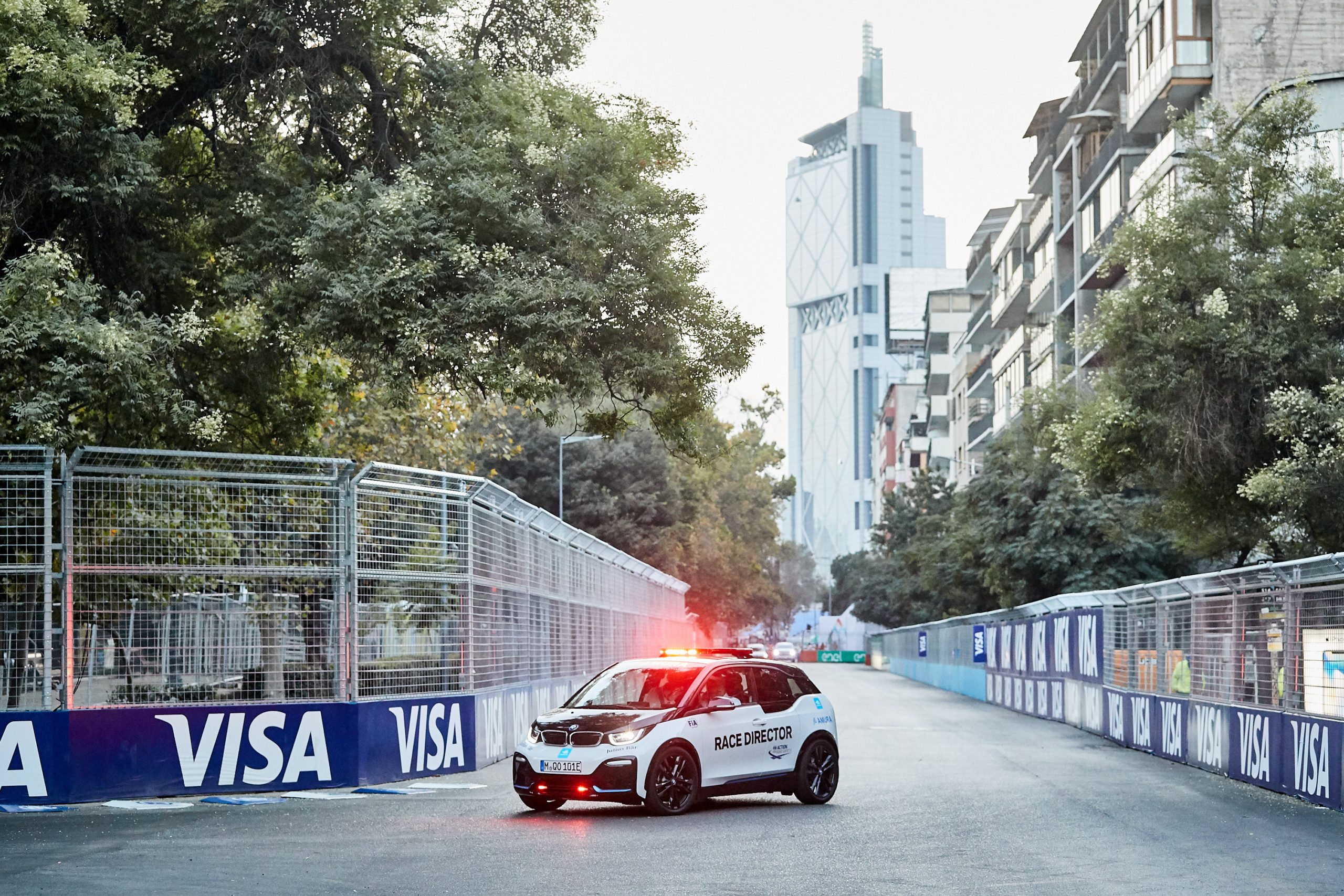 BMW are also the official vehicle supplier to the category, and a pair of i3s can be regularly seen on-track, acting as the Race Director and Medical vehicles. BMW also supplies a small fleet of C Evolution electric scooters and several of the plug-in hybrid X5 xDrive40e for use by category officials.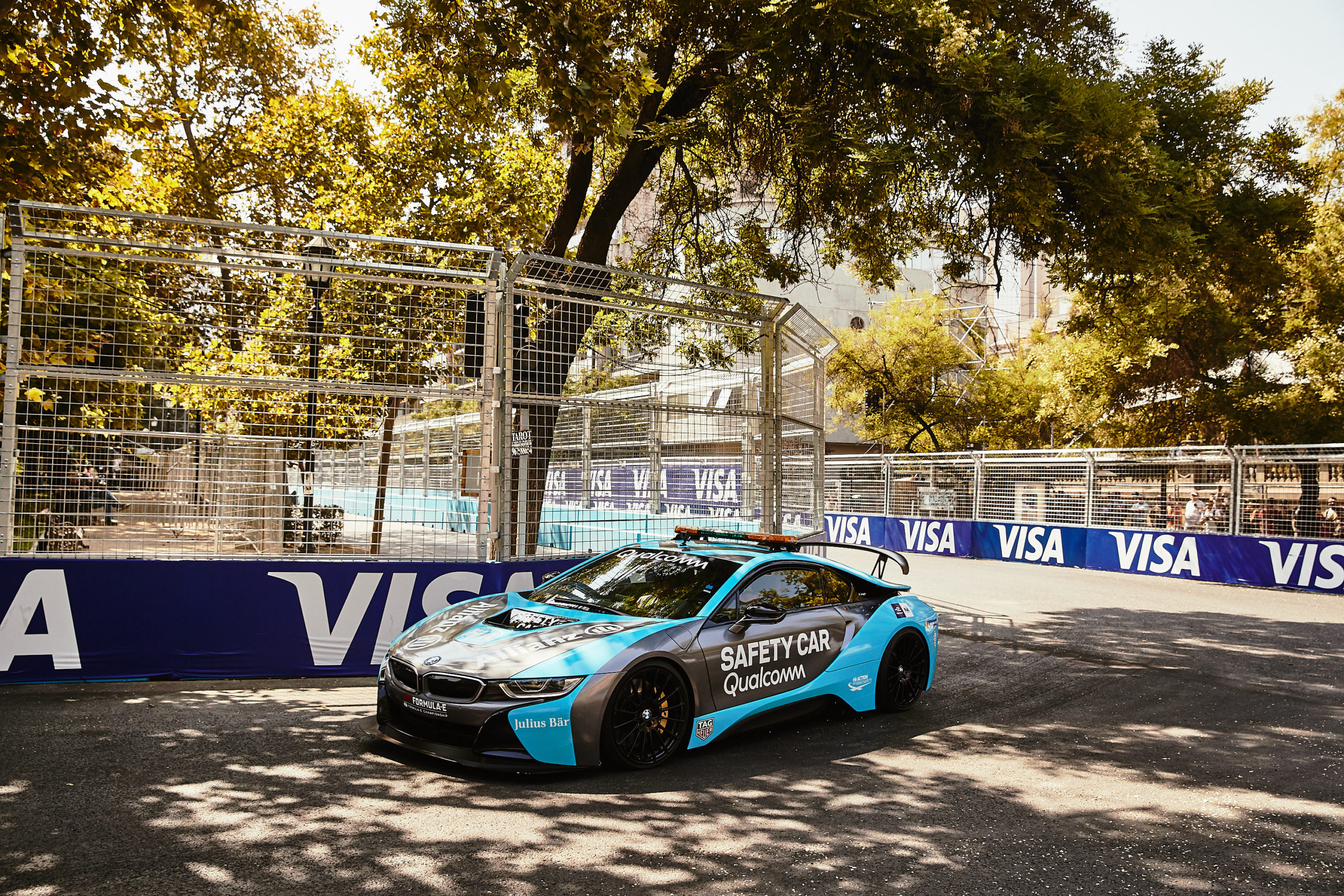 Until now, the aims of the BMW iCar division seem to be concentrated on urban commuting, but the increased involvement in Formula E potentially points toward a more performance oriented future. If nothing else, the i8 Coup Qualcomm Safety Car shows us that electric cars aren't necessarily dull. As long as there is demand for exciting cars, which there always will be, BMW will undoubtedly build them.
It raises the question – will we ever see an all-electric M3? It has always been a performance car based on a family daily driver, and given how daily transportation is quickly moving to alternate fuel sources, it's not beyond the scope of imagination that the M3 flagship would follow suit.
Of course, we would never argue that an electric motor could ever compete with the sheer shrill of a straight-six at full throttle. But it doesn't have to – electric technology brings other benefits, many of which are aimed squarely at everything the M division stands for.
An M3 with 100 percent of its torque available from 0 rpm? That's a car we'd love to drive…