Giorgetto Giugiaro is a widely known designer who played a large part in BMW history and the automotive & design industry.
Born in 1938 he seemed destined for a life of creativity, as both his father and grandfather were painters. This likely influenced him to follow in their footsteps and attend art school. However, he soon realised that his true passion lied in automotive design and at the age of just 17 took his first design job working for fiat. This job would be the springboard into a long and interesting career.
In his career, Giorgetto created some of the most iconic supercars in industry that to this day still are considered achingly beautiful. He was involved in the infamous DeLorean DMC-12, the Lotus Esprit S1 and BMW's 3200 CS and the legendary BMW M1 (E26) as well as the Nazca concepts.
His talents weren't just confined to the car industry as he designed the 860 GT for Ducati, and the RE5 for Suzuki. Furthermore, he worked with the one of the leading camera makers, Nikon showing that he knows how to capture hearts and minds both from behind and infront of the lens. And as if he hadn't tried his hand at enough he also can put his name to a number of Beretta Handguns, shotguns and submachine guns – how many car designers can say you say that of?
It is also a testament to his keen eye for striking design that his designs have ended up on the big screen. The DeLorean obviously featuring in the Back to the Future trilogy and the Lotus Esprit S1 in For Your Eyes Only and The Spy Who Loved Me. These cars have become synonymous with their films and it's clear as to why the directors chose these cars. Giugiaro had a talent for creating distinctive car many of them featuring the wedge-shaped design that was popular from the 1960s all the way up to 2000s.
His work was extremely influential such as in the case BMW the 3200 CS as stylistically this car become the template for many later BMW coupes. For example, you can see the influence of the 3200CS's low beltline, tall greenhouse and thin pillars in the 2000 C and CS coupes.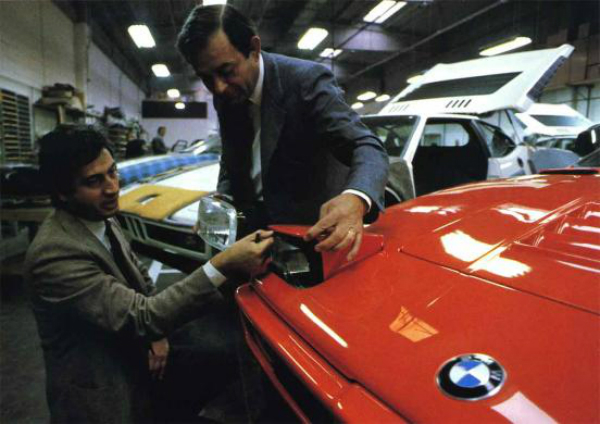 The M1 is of course striking and significant for several reasons. This car was the result of a somewhat problematic agreement with Lamborghini in the late 1970s which ended with BMW solely manufacturing the car. It was sold to the public from 1978 to 1981 and was the first mid-engine BMW to ever be mass produced.
Although mass produced may not be the best phrase for this car as only 453 were ever produced, making it such a highly sought after classic to this day. During his career, while being a prolific designer for several cars manufactures and establishing some iconic BMWs he also set up his own automotive design company Italdesign-Giugiaro. So, while he is now retired his legacy will live on through the new and exciting work coming out of Italdesign-Giugiaro, and his iconic cars.
Dominic Munson