Silverstone Classic 2017 as featured in September issue of Straight Six
Images by Darren Teagles, Jasmine Davies and Alex Evans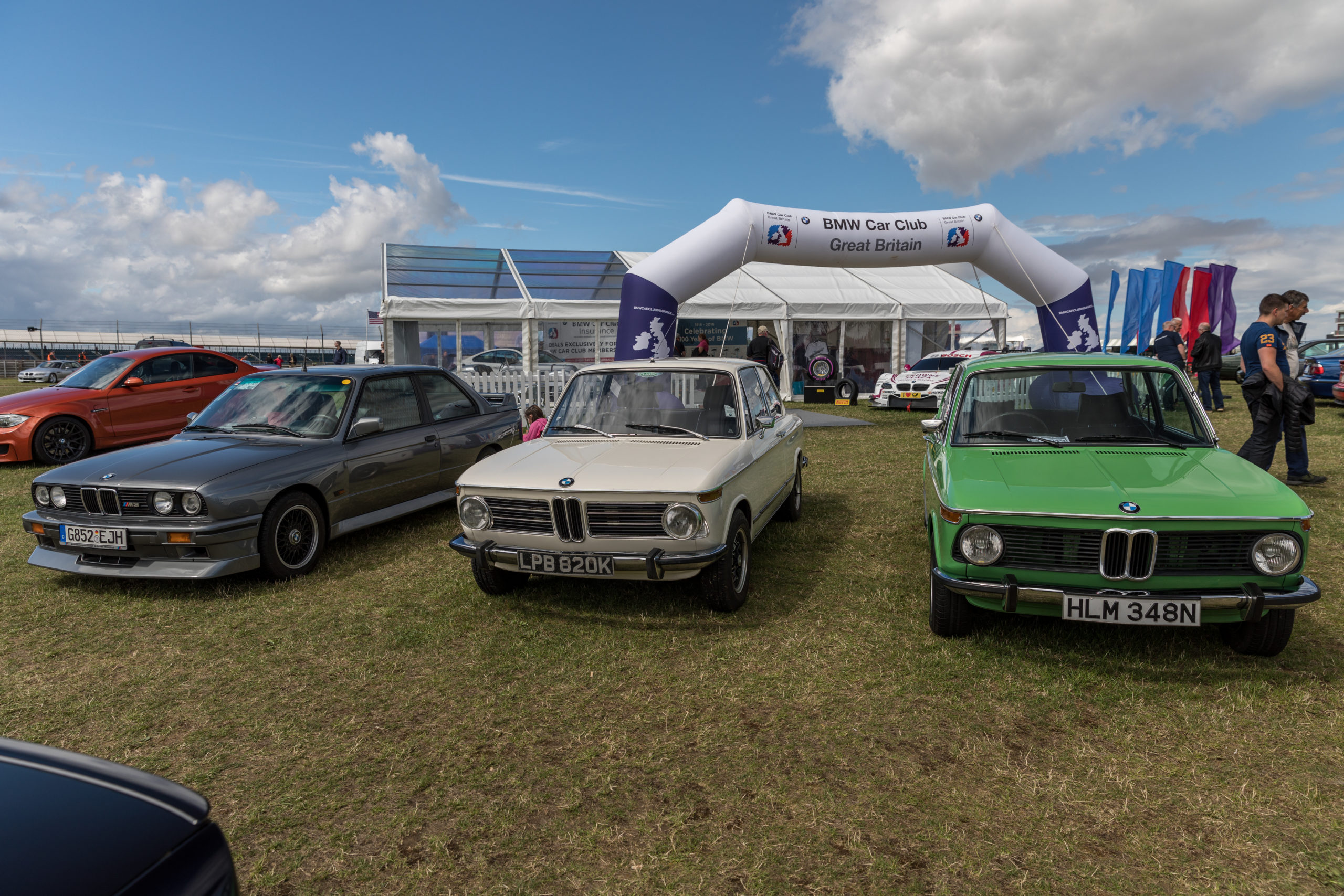 Just to say a massive Thank You to all the Club staff who served us refreshments and helped with our Car Club purchases and adding to our Club membership, they worked tirelessly. The tent was a massive improvement on other years. Genius, warm and welcoming to all, thank you to all who made it possible.
We had a brilliant show of BMW over the three days: Ms, Zeds, ALPINAs, and all the series that arrived, from new and old.
I must say it's not all about the cars; it's about the people too.
Meeting old friends and making new ones, catching up with each other over a coffee in the tent.
My family and I had a wonderful time over the three days, especially as it never rained. I brought my two grandsons on Sunday. They did spend a lot of the time at the Jet fair on the rides and on the racing simulators. The youngest had a mission to be photographed with a red Lambo. We obliged (will talk to him later on re BMWs).
Brilliant time. Exceptional value and thank you again to all who made it possible.
Morganah-Dawn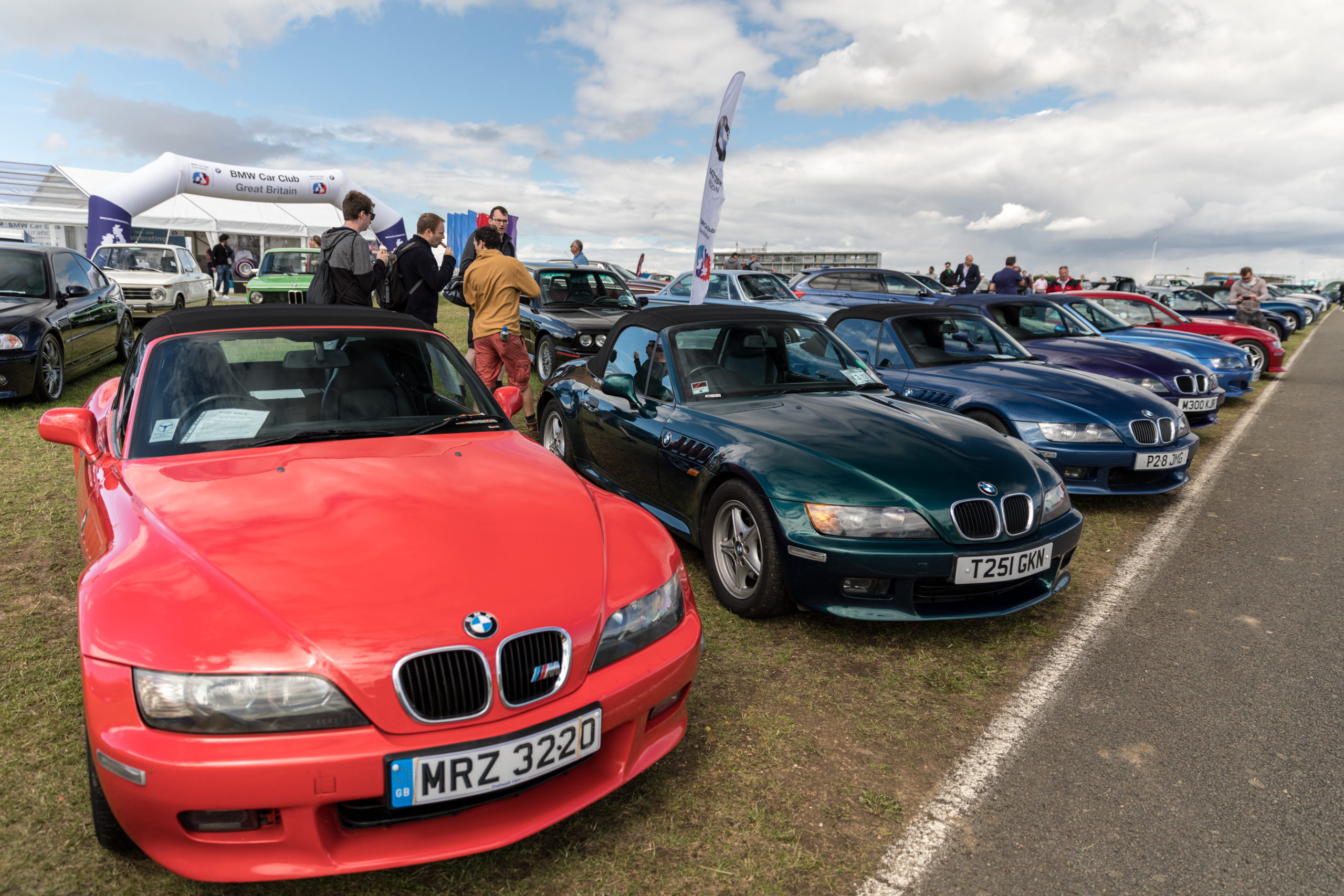 Thank you all for the rather fab Silverstone Classic.
On behalf of Matt, Darren and myself, thank you for your hospitality and your immense hard work in putting everything together. You always had smiles on your faces and that cannot have been easy given some of the 'grumpier punters' around. Truly brilliant.
As for the marquee, well, I know I'm repeating myself, but the marquee was a very welcome addition – a true focal point for all of us to gather (and obtain great tea and coffee… and biscuits!).
Given this was my sixth successive Classic, the 'marshaling' was also a welcome change to the norm (see photo – I feel at home in yellow!). Without question, under Stacey's strict supervision (wasn't she brilliant – please pass on our thanks to her), we would do it again – if we're ever invited to assist in the future! For me, acting as 'doorman' at the entrance to the BMWCCGB site, it was a real pleasure to meet all the drivers and their passengers.
Right, that's it for now. Again, a GIANT thank you for looking after us all and for making us feel so at home. Whilst the event itself is really excellent, the cream is feeling part of such a wonderful Club.
Jonathan Harris
It was our first time to the Silverstone Classic and I must say it was a very enjoyable and well organised event, with the weather just holding off, and being made to feel very welcome at the BMW marquee. The Ladies in particular are to be congratulated on their friendly service and welcome refreshments. We also enjoyed meeting up with other 3 Series members, and our line of cars looked very impressive.
Unlike the F1 race a couple of weeks earlier, being able to get fully into the pits and engage with the mechanics was a great experience and on the whole they were very accommodating. I thought the Austin A40s were immaculate, and looking in the engine bays at the very basic engineering made you realise just how far motor technology has altered over the last 50 years.
One of the highlights for me was the Nigel Mansell 1992 Williams FW14B, and we were lucky enough to be in the Williams garage when they fired it up for a warm through prior to the demonstration. After going through a very lengthy start up procedure with water system pre-warm up lines hooked up to the cooling system (65 deg C required to enable cranking) and pneumatic charging of the valve operating system, the engine was started and the noise was just mind blowing, with the exhaust manifolds, a work of art in themselves, starting to glow red prior to shut down. It was a bit disappointing that after all that, on the Saturday they were only allowed on the track for six minutes!
Martyn Hague on behalf of Central Region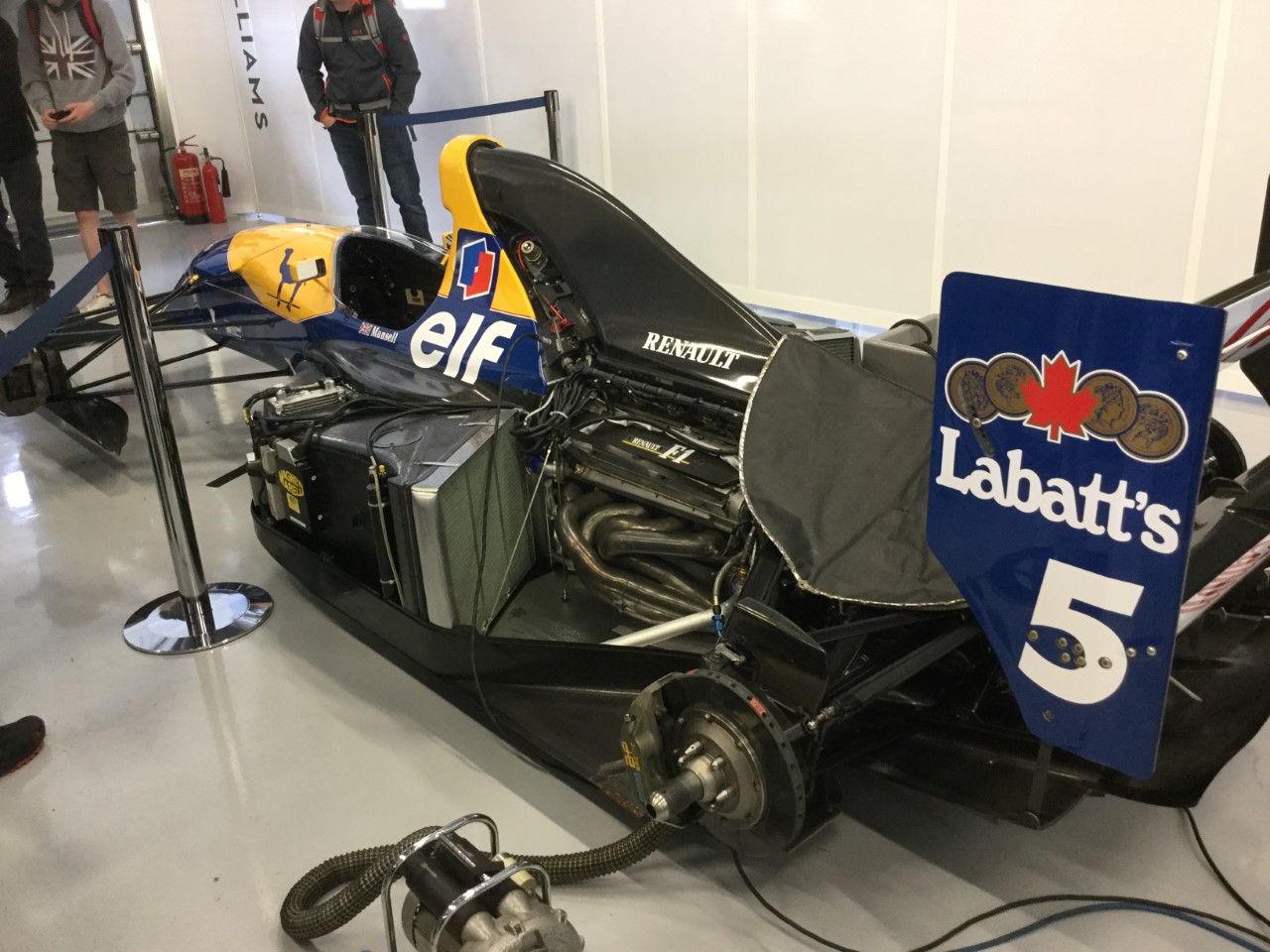 The Silverstone Classic which is organised by Goose had come around again at the end of July, advance three-day ticket with one Club parking pass and one free additional entry ticket cost 99, around 17 per day per person if one does all three days, pretty good value for a large event.
Those who have never attended will be interested to know it includes Classic track action racing competitions, approximately 120 car club displays, live music entertainment and many car related products and merchandise. It attracts approximately 30,000 visitors a day on average.
Our Club had been allocated the same location as the previous year, the not very inspiringly named Grey 13, however do not despair: it's a good spot, close to the track and opposite the old Brooklands area, not far from the main entrance.
I was struck by the new look BMW Car Club set up. We were greeted by volunteer marshals who had been briefed, and parking was made easy as directed into allocated areas for model types. The old trailer, in which some people are never sure if they are welcome or not, was nowhere to been seen. The area was transformed by a large and professionally erected marquee with a transparent roof.
Inside we had a Classic BMW alongside the new M4 GTS, both provided by BMW UK Limited, a wonderful spaciously and comfortable meeting and relaxing area which included conservatory like sofas and coffee tables to relax and chat. Complimentary tea and coffee was charmingly dispensed by Michelle Evans, who did a super job under pressure at times from demanding members; it was free, however the water takes time to boil. My personal thanks to Lisa from the catering department of the Silverstone Racing Club who I managed to persuade to sell us a catering size coffee tin to ensure we did not run out, such was the demand from members.
New Club merchandise was also available and well received, the marquee lent itself to an environment where members felt comfortable and were happy to engage in conversation, whilst prospective members were enticed and encouraged to take advantage of the space. The planning was a task taken on by Jamal Blanc and I am sure we offer him our thanks and congratulations on this success.
Visitors to our Club display were not disappointed, with over 150 Club members' vehicles on show on Saturday and Sunday, reasonably dry weather and great atmosphere. I am sure we will be back in 2018.
Many thanks to the Staff, Club Directors and volunteers who made this a much-improved offering.
Words by Norman Burnham
Setting off from home with another early start, it was hard to believe that another 12 months had flown by since the last Silverstone Classic. Having quickly parked up I was suitably impressed by our Club stand, made even more impressive by our spacious marquee. In my opinion this was a vast improvement over the Club trailer, and was welcoming from the outset. With so many cars and so much racing to watch it is hard to take everything in, but there were two standouts for me. The first was the impressive lineup of 40 or so Jaguar XJ220s, the likes of which I doubt will be assembled in the UK for many a year, and the icing on the cake was Tiff Needell in the Martini Racing XJ220 and his ensuing banter with the onlookers! The second standout was the black BMW 635 csi in the John Player & Sons livery. This was built in 1982 in Australia by JPS Team BMW as a Gp C touring car. What was fascinating for me was talking to Pip Barker who has restored this car and was the head mechanic for the race team in the 1980s.
This event for me is one of the highlights of the season and did not disappoint. I would like to thank our Club board for introducing the marquee and give thanks to the girls, so ably headed up by Alex and Michelle, for their hard work and hospitality. Great event and a great Club!
Words by Tim Maltby
We knew from the moment we arrived at Silverstone and saw the Club's hospitality marquee that this was going to be great few days… and great it was.
The splendidly presented Marquee was the perfect invitation for everyone to simply step inside, relax and chat over welcome cup of coffee or tea. This was complemented by our members' array of beautiful BMWs which were so proudly displayed on the Club stand. The atmosphere was great and it was, to date, one of the best Silverstone Classic weekends for the Club by far and something that we were so proud to be a part of. All in the office would like to say thank you to our members, guests, wonderful marshals and volunteers for supporting us at the Silverstone Classic, it was lovely to able to spend time with you all. We would also like to send our big THANK YOU to Jamal for all his careful planning, preparation and hard work in putting it all together… a brilliant job well done.
Office Team
These were some of the comments left on the Club forum:
Many thank-yous to our Club's office ladies for all the background hard work prior to arriving on site, for all the many action subjects that must be carried out before the opening day. We just find all systems and displays are working and looking good, without appreciating the efforts that our Office has made to welcome and support our members.
Thank you, Richard and all the board members who worked with regional members to make the Show a success. We appreciate all the hard work and planning, for this and other events.
Safe1
It is easy to criticise when things go wrong, but we seldom praise when things go well.
Having returned from my first visit to Silverstone Classic weekend, I have to praise the Club and in particular the Girls, who made us feel extremely welcome, and nothing was a bother for them. They are a great asset to the Club.
Thanks also go to Jamal, who on Friday was more than delighted to have us on the Club stand, again making us feel extremely welcome.
Lastly, the Car Club and all those involved in setting up the stand/display. A massive well done, ladies and gentlemen. The Marquee and the front of house display were every bit as professional as I have seen. So a big pat on the back for yourselves.
WELL DONE!
Gary
Another endorsement here for the effort that went into the Club stand at the weekend. The marquee was the perfect focal point for members, not to mention a shelter from the rain towards the end of Sunday, and as Gary has already mentioned, the tea and coffee were most welcome in the mornings especially. It's often said, but it's the little things that make the difference. Thanks to Jamal for the welcome on Friday and finding space for us on the Club stand, and of course the Girls in the Marquee who were brilliant all weekend. Always happy to have a chat and a laugh as well as keeping the hot drinks flowing. It was great to meet Richard and some of the other officials and members as well, and the turnout and variety of cars on the stand was immense. Just to top the weekend off I made enquiries with the Car Club insurance yesterday on the back of a conversation with Claire on Friday morning, and I now have both my BMWs insured through them on much better deals than I was on previously. A fantastic weekend and one I will definitely be doing again in 2018. Well Done.
HAM 328
Thank you to BMW UK, Sytner Nottingham and Pirelli for supporting the club stand at Silverstone Classic